September, 11, 2014
Sep 11
6:45
PM ET
ENGLEWOOD, Colo. – In the end, the goal is likely somewhere between better and much better.
The
Denver Broncos
aren't on a quest to take what was the league's highest scoring offense in history and remake it into something it's not. In these pass-happy times, the Broncos can chuck it around with the best of them.
Even after the Broncos scored 31 points in a season-opening victory over the
Indianapolis Colts
on Sunday, the team has spent a lot of the past week discussing missed opportunities, dropped passes – they had five – and lost touchdowns – they said there were a few. And the Broncos also still want to run the ball better.
They don't want to be a running team, but a passing team that runs it better when they want to.
[+] Enlarge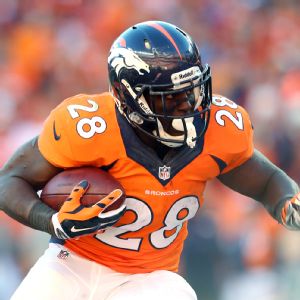 Elsa/Getty ImagesMontee Ball rushed for 67 yards on 23 carries in the Broncos' season-opening victory over the Colts.
"The run game is a focus for us," said tight end
Julius Thomas
. "We have to run the ball efficiently, but if you're running the ball well on third-and-short, it's going to extend drives, so we'll take that. But we'll keep working."
After the Broncos cleared away the debris from a 35-point Super Bowl loss, they went into the offseason with adjustments to their run-game scheme/personnel on their minds.
Knowshon Moreno
was allowed to leave in free agency,
Montee Ball
was named the starter at running back, they moved one of their most physical linemen,
Orlando Franklin
, from right tackle to left guard and they tweaked some things they were doing on handoffs.
In Sunday's opening act of the new season, Manning threw for three touchdowns, all in the first half. At times, the Broncos' passing attack looked every bit as dominant as last season, with Thomas having taken the next step as a player and
Emmanuel Sanders
fitting in quite nicely.
But as the Broncos now consistently talk about "efficiency" in the run game, they weren't always able to reach their desired output. On first down, they had eight of their 18 carries gain one or fewer yards – four for no gain, one of 1 yard and one for minus-1 yard, all by Ball.
As a result of those runs and the down-and-distance situations they created, the Broncos then had just five second-down carries in the game and just three third-down carries. They did convert all three of those third-down carries for first downs, but all but eight of their rushing attempts in the game came on first down, and from a defensive standpoint, there is some predictability there.
"You have to focus on the plays that didn't go so well," Ball said. "We're going to carry the good plays to the next game. But from an individual standpoint, you want to focus on the bad plays where if you made a mistake, you can correct it and become better for the next team. For me, there are some holes out there that I missed. I'm looking forward to correcting them and getting better."
Broncos offensive coordinator Adam Gase said Ball is "being a little hard on himself. He did a pretty job hitting them … A lot of times he's doing what the scheme allows him to do."
It all presents an odd sort of riddle. The Broncos want to run better, but they score plenty already. The Broncos have scored at least 31 points in 24 of Manning's 33 regular-season starts with the team.
They've also been committed enough to the running game to have run the ball at least 25 times in 23 of those games, including Sunday.
So they don't necessarily want more, as in more carries; they still want, and need, better carries. They want it because they're thinking big-picture, that they're going to need it to get another shot at the title, to slam the door against a physical opponent, to win on a bad-weather day without surrendering who they believe they are.
"I think our history speaks for itself as far as we're not one to pull off [the accelerator]," Gase said. "Are we working on some things, trying to run the ball a little bit? Yeah. We were still trying to throw it [Sunday]. We figured if we finished a few of those plays a little differently -- we had a third-and-3, had a drop. The guy falls down -- we catch that, that might be a 30-yard gain. So some things that didn't go our way in that second half, but in no means will we ever pull off the gas. We're going to try to score as many points until the clock is at zero."