Denver Broncos:

Michael Vick
October, 29, 2013
10/29/13
5:05
PM ET
ENGLEWOOD, Colo. – With the injuries piling up, the Broncos almost breathed a sigh of relief when they concluded their business this past Sunday -- a 45-21 victory over the
Washington Redskins
-- and headed into their bye week.
They'll do a little self-scouting this week and hope to get a little healthier across the board. But after a long look at the win over the Redskins, here are some thoughts on the
Denver Broncos
defense and special teams:
September, 29, 2013
9/29/13
7:30
PM ET
DENVER -- A few thoughts on the
Denver Broncos
' 52-20
win
over the
Philadelphia Eagles
:

What it means:
The Broncos have moved to 4-0 by defeating a passing offense that uses power formations (Baltimore), two read-option teams (Oakland and Philadelphia) and a team that hopes to sport a more traditional look (Giants). They have worked fast on offense, slowed things down and topped 40 points in three of four games.
Stock watch:
Even Google stock, with a corporate timeline of good days, has really, really good days. And even quarterback
Peyton Manning
can have an uptick in a Hall of Fame career. With four touchdown passes Sunday, he set an NFL record with his 24th four-touchdown game and now has 16 touchdown passes this season without throwing an interception. Defensive coaches who have faced Manning through the years say his accuracy is better than ever right now.
On containment:
The Broncos' defensive ends had a smattering of issues in keeping Eagles quarterback
Michael Vick
pinned inside the pocket.
Robert Ayers
,
Shaun Phillips
and
Derek Wolfe
each had moments when they got folded too far down inside in the rush and Vick was able to escape. As a result, the Eagles had 101 yards rushing by halftime. But the Broncos broke the game open after halftime and were more disciplined in the defensive front, largely muting the Eagles run game.
Special-ness:
With an offense ringing up numbers suitable to a game controller, the Broncos' special teams units added their second and third touchdowns of the season -- a 105-yard kickoff return and a blocked punt returned for a score. The Broncos would also have a defensive touchdown on their résumé already this season had linebacker
Danny Trevathan
not tossed the ball aside too quickly on an interception return in the season opener. It's tough enough to defend the Broncos' offense, but when they get points from the other units they are nearly impossible to handle right now.
What's next:
The Broncos get another look at an NFC East team when they travel to Dallas next weekend. The Cowboys will face Monte Kiffin's Cover 2 look with plenty of A-gap blitzes in the middle of the field. It's a defense that requires plenty of patience to solve. But if Manning has shown anything this season, besides other-worldly accuracy, it's patience in the passing game.
September, 27, 2013
9/27/13
3:30
PM ET
ENGLEWOOD, Colo. -- The number is now one. Yes, after all of the games that have passed since, all of the players who have come and gone in the
Denver Broncos
' locker room since Halloween 2004, cornerback
Champ Bailey
now stands alone.
A party of one. He is the only player remaining who was in a Broncos uniform for a remember-when game against
Michael Vick
. At the time, Vick's jersey sales were off the chart and he was the next level of athleticism with a power arm. Vick represented what the future of the position just might be.
[+] Enlarge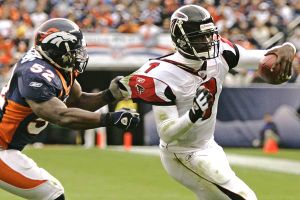 Jack Dempsey/AP PhotoOn Oct. 31, 2004, Broncos linebacker D.J. Williams tries to slow down the elusive Michael Vick.
When he was the guy, even those among the NFL's elite would simply stop to watch when he had the ball in his hands and a small window of open space in front of him.
"At that time, no question, there wasn't anybody really like him," Bailey said. "That's how we looked at it that week. We put on the tape and you watched him and he just did things other guys weren't doing, with speed nobody else had, really. That game, I still look at that even now like that's still probably one of his best games of his career. We had no answer for what he brought that day."
On that day, Vick was 18-of-24 passing for 252 yards and two touchdowns in a 41-28 Falcons win that saw any memory of
Jake Plummer
's franchise-record 499 yards passing disappear in Vick's jetwash. Vick did not throw an interception and the Broncos sacked him just once. Vick also ran for 115 yards on 12 carries, including a 44-yard, double-take worthy effort on a third-and-3 play during the Falcons' first possession of the day.
That was all before Vick's arrest, his incarceration, his life's rebound and his career resurrection in Philadelphia. Vick returns to Denver Sunday, his first trip back as a starting quarterback since the '04 affair and he returns as a slightly different player, almost a decade older and once again on the cutting edge of whatever becomes of Chip Kelly's offense in the NFL. Asked this week if he could recall the '04 trip to Denver, Vick said; "I think Jake Plummer was the quarterback, Mike Shanahan was the coach ... and it's not an easy place to play."
Reminded he had rushed for more than 100 yards in the game, Vick said with a laugh; "Well, I was a lot younger back then."
"He was a bigger threat running the ball back then, I believe," Bailey said. "But he's still a threat, a great threat running the ball. But he was just on point that day. He didn't show all that on tape in previous games. That was one of his best games of his career. I know it because he probably ran for 100 and threw for two-something ... I look back and I think that was a big moment for him, because I don't think I had seen him put a whole game together like that, running, throwing, in the pocket, on the move, until that day."
And there have certainly been times in Vick's career when his NFL peers perhaps appreciated his athletic gifts more than the public at large. In Vick's time in Atlanta, players often responded to any question that included "most dynamic" or "most athletic" or "toughest to defend" in it with Vick's name.
"I think that's true," said Broncos defensive tackle
Kevin Vickerson
, an eighth-year veteran. "Guys I knew would always be talking about how (Vick) played, what he did. And then I would talk to friends who weren't in the league or something like that and they would say they didn't see it, or whatever, but I think guys in this league have known what (Vick) can do."
And also in Kelly's read-option attack Vick, who is suddenly the oldest player on the Eagles' roster. Another sort of remake for the only quarterback in league history to have thrown for at least 20,000 yards and rushed for at least 5,000 yards in a career. He has a 400-yard passing game already this season -- 428 yards in the loss to the Chargers earlier this month -- and he's also been sacked six times, by the Chiefs last week, as the Eagles try to settle in to a new way of doing things in a 1-2 start.
"But I just look at it now, he's still doing those things, he's still breaking off those big runs, escaping, all those things," Vickerson said. "It all looks the same to me."
Vick has been battered at times in his three previous seasons as the Eagles' starter. He missed three games each in the 2010 and 2011 seasons with rib injuries and missed six games last season after suffering a concussion against the Cowboys last Nov. 11. And questions have swirled about whether Vick is the long-term answer at quarterback as for Kelly's offense, or as a long-term an answer as a 33-year-old quarterback who is his team's second-leading rusher can be. But as far as the Broncos are concerned those are decisions for another day by other people.
They see only Vick now, for the most part, as he was back in 2004.
"Michael Vick has been a talented football player as long as he's been in the league," Broncos defensive coordinator Jack Del Rio said. "He's been a guy that can beat you with his feet and beat you with his arm … I kind of feel like that's always been the case and in particular when he's healthy and part of a good team."
September, 27, 2013
9/27/13
1:45
PM ET
ENGLEWOOD, Colo. -- Speed first, mistakes second.That's the order of things for the NFL offenses that want to go faster, run more plays, and push the pace against the defenses facing them.
"That's what those offenses want to do," said Broncos linebacker
Wesley Woodyard
. "They want you to mess up. They want you not to get lined up, not to get your calls, not to be where you're supposed to be, then they hit you with a big play."
So, as the Broncos and Eagles -- two of the fastest offenses in the league -- gather Sunday in Sports Authority Field at Mile High, here are some things to consider:
Get moving: The Broncos can't waste time on defense. That whole "stroll to the line of the scrimmage" thing isn't going to work. Neither will being slow with the calls or sluggish in their alignments. When the play finishes the Broncos defenders simply have to get over the ball and be ready to go. The Chiefs were able to limit the Eagles last week, at least in part, by consistently getting themselves over the ball and ready to go, even as the umpire is placing the ball. Because if you snooze, you lose. And lose big.

[+] Enlarge

AP Photo/Paul SpinelliMichael Vick has been exposed to a lot of punishment already this season, including six sacks against the Chiefs.

Mind the gap: Like most of the pick-up-the-pace attacks, Eagles coach Chip Kelly is looking to spread out the defense's resources and then run though the gaps. The Eagles currently lead the league in rushing, at 209 yards per game. With their offensive alingments, Kelly often creates situations where the defense only has six players in the box and then quarterback Michael Vick or running back LeSean McCoy only have to make one defender miss before they are at the second level with big plays on their minds. One of the more effective formations the Eagles have run is a "double stack" look where Kelly takes four receivers and lines two out wide on each side of the formation with one receiver right behind the other on each side. That pulls four defensive backs outside the numbers and six defenders in the tackle box. It makes tackling a premium and a single missed tackle can turn into a 50-yard run. Vick had a 61-yard run out of the formation against the Chiefs. Broncos defensive coordinator Jack Del Rio knows the deal: "It's all about leveraging and tackling ... always has been, always will be."

Air mail: The Eagles, in Kelly's first season, have taken a page out of the Seahawks' playbook. They opened the checkbook in free agency to get bigger at cornerback, signing the 6-foot, 200-pound Bradley Fletcher (Rams) and the 6-foot-1, 190-pound Cary Williams (Ravens) in the offseason. Essentially the Eagles were hoping Fletcher, who started more than four games in just one of his four seasons in St. Louis, could make the transition to front-line starter. But they've been spotty at times -- their three opponents have found enough room to attempt 49, 47 and 35 passes over the first three weeks of the season -- and all three opposing quarterbacks have completed at least 61 percent of their passes. Philip Rivers connected on 77 percent in a Week 2 Chargers win. Defensive coaches in the league say they believe Peyton Manning is as dialed in as he's ever been. And Manning will get a secondary that is starting a backup safety. Earl Wolff is expected to start for the injured Patrick Chung and the other safety, Nate Allen, has struggled mightily at times this season. In the three-wide look, the Eagles will have a difficult choice over who they will put in the slot on Wes Welker. The Eagles have struggled to tackle well much of the time, so the catch-and-run opportunities have been there for opposing receivers.

Could be a special day: In the Eagles' loss to the Chiefs, the game was just a few minutes old and the Eagles had already surrendered a 57-yard kickoff return and fumbled a punt. Philadelphia, like any roster in the transition that comes with a new coaching staff, has shown some bobbles in special teams. The Broncos' Trindon Holliday will have some opportunities to make a play in this one. Also, from the Eagles' perspective, Kelly will try some things on special teams to shake things up. He attempted a fake extra point out of a swinging gate look with the kicker and holder lined up. The attempt failed, but the Broncos will need to be aware.

Get heat on: Vick has been sacked 11 times this season -- he was tied for second-most in the league after three games -- including six by the Chiefs last week. It means, given the Eagles' read-option look on offense, the 33-year-old has taken his share of punishment already. The Broncos will have to be disciplined in their rush lanes as they move up the field. And they'll have to live by the basic rule of rushing a mobile passer -- don't get deeper into the backfield than the quarterback so you don't leave an escape route. The Eagles may move to more two-tight-end looks at times to give a little help up front. But the Broncos should be able to get some pressure and keep Vick hemmed in.
September, 26, 2013
9/26/13
12:00
PM ET
The
Denver Broncos
and
Philadelphia Eagles
will collide in high-speed fashion Sunday at Sports Authority Field at Mile High in a 4:25 p.m. ET kickoff.
The 3-0 Broncos feature the league's highest-scoring offense -- their 127 points are 31 more than any other team this season after three weeks -- and quarterback
Peyton Manning
has thrown for more touchdowns (12) than 29 teams have scored overall.
The Eagles, at 1-2, lead the league in rushing and yards per play (7.0), so this one could have the look of a drag race, think Mile-High Nationals, a summer staple for race fans on the Front Range.
Eagles team reporter Phil Sheridan and Broncos team reporter Jeff Legwold break down the game.
Legwold:
Phil, you have been around the Eagles for a long time and have seen the organization go through many changes. Coach Chip Kelly's offense was certainly the talk of the offseason around the league, as most teams discussed wanting to join the fun, to go faster, to get more snaps, to stress defenses with speed. But given what the Broncos have done on offense this season, how fast does Kelly really want to go in Denver? Is there a risk of exposing his defense if he gives the Broncos too many possessions?
Sheridan:
There is enormous risk, Jeff, but my sense of Kelly is that he'll want to put the pedal to the metal anyway. He's trying to build a culture, with an aggressive approach to every aspect of the sport. I don't see him easing up for one game, no matter the specific challenges. Besides, I think the Eagles' only chance is to try to match the Broncos score for score and take their chances with a close, high-scoring game. As the Eagles learned the hard way the past two weeks, their defense is not good enough to shut down an opponent at crunch time.
That leads me to this question: Doesn't Denver's up-tempo offense put stress on the Broncos defense? Oakland seemed to move the ball as the game wore on. Doesn't that suggest the Broncos will be vulnerable to
Michael Vick
,
LeSean McCoy
and the rest of the Eagles offense?
Legwold:
I think that is the risk overall with the move toward up-tempo offenses around the league. It's all well and good to be fast on offense, snapping the ball at light speed, but those 45-second possessions that end in a three-and-out are just about the worst thing for any defense that just got to the sideline. That's one of the most interesting items about the Eagles so far: They have had just one three-and-out that ended in a punt in 38 possessions.
The Broncos were aggressive against the Raiders defensively last week, and linebackers
Wesley Woodyard
and
Danny Trevathan
did a quality job keeping
Terrelle Pryor
hemmed in. The Broncos are a speed defense overall, up and down the depth chart, so the teams that try to run out of open formations, like the three wide, tend not to do as consistently well as the teams that keep them in the base defense and pound away a bit. But McCoy and Vick will easily be their toughest challenge in the run game of the young season. In terms of defense, how would you expect the Eagles to approach the Broncos -- come after Manning a bit or drop into coverage and hope they can fill the gaps?
Sheridan:
The Eagles' best bet might be to close their eyes and just pray Manning fumbles the snap. Don't think that's in the game plan, though. Seriously, they know their only hope is to generate some pressure from unexpected sources, be incredibly disciplined in their gap and coverage assignments and be exponentially better at tackling than they have been. They're not going to outsmart Manning, but if they can make him a little uncomfortable and get a break or two -- a fumble, a tipped pass that gets picked off -- they can keep the Broncos from running away with the game. Denver thrives on yards after the catch, which is what killed the Eagles in their two losses.
I was interested in your comments about getting the Broncos into their base defense, because the Eagles have used a lot of three wide receiver sets to get defenses into nickel personnel. So much depends on the corners, so let me ask A) If
Champ Bailey
is playing, and B) Why
Dominique Rodgers-Cromartie
is so much better than he was in Philadelphia for two lost seasons?
Legwold:
Bailey has not played since injuring his left foot in a preseason loss to the Seahawks in mid-August. He certainly wants to play, keeps saying he's "close" and even upped to it "very close" last week. The Broncos would like him out there, especially in this one, but he's going to have to move around better than he did a couple of hours before kickoff Monday night when it was pretty clear he was going to miss his third consecutive game. But if he shows a little better movement this week, especially Thursday and Friday, I think he'll be in uniform.
On DRC, the Broncos gambled a bit on tough love. They essentially, and Rodgers-Cromartie has said this as well, told him what was wrong with him on his visit. They told him why he wasn't playing as well as he should and that they could fix it if he was willing to be coached hard. He said he was and has been. A gifted athlete, Rodgers-Cromartie has been the saving grace with Bailey's injury and has played like a No. 1 guy. I won't be surprised if the Broncos try to work out a little longer deal at some point in the coming months.
I know we've spent plenty of time on offense, but I am wondering if Kelly sees Vick as the long-term future at quarterback -- or as long term as a 33-year-old can be -- or does Kelly have bigger plans at the position?
Sheridan:
I would love to know the answer to that one too. The Vick situation is fascinating. If he has a great year and somehow gets the Eagles into the playoffs (not as far-fetched as it sounds in an NFC East where half the teams are 0-3), it would be awfully hard to let him walk. But can you re-sign a guy at his age, with his injury history, and expect him to be the guy when you're really ready to contend in one or two or three years? My hunch is that Kelly would love to get one of the quarterbacks in next year's draft, that this year is about getting as much of the rest of the program in place as possible. But that would make much more sense if he had gone with
Nick Foles
or even rookie
Matt Barkley
than with Vick, who is just good enough to keep you from drafting high enough for a franchise quarterback.
Since it's a subject of discussion, let me ask you about the altitude. Do the Broncos believe it gives them a physical advantage, or do they see it more as a psychological thing? Is their home-field advantage about thin air or having good teams with loud, passionate fans rocking the stadium?
Legwold:
The Broncos believe it gives both a physical and mental advantage. Objectively, for an elite athlete to work for three or so hours in Denver likely has minimal impact on performance. But who's to say even a sliver of impact isn't enough to tip the scales at times. The Broncos' record at home over the decades is well over .600 since 1960, and in September games, they are over a .700 winning percentage at home. The Olympic Training Center is in Colorado and many of the world-class cyclists on the planet train in the area, so it means there's some athletic benefit for the Broncos to work in the altitude. The Broncos particularly feel it's an advantage when they go fast on offense. Watch the Ravens defense in the second half of the opener and it was pretty clear that group didn't enjoy Manning at 5,280 feet.
Phil, great stuff and that should cover it. It could be a long night for both defenses with these two high-powered offenses going at it.
September, 24, 2013
9/24/13
6:00
PM ET
PHILADELPHIA -- They know he can be beaten because many of them have actually done it.
Cary Williams
was playing cornerback for the
Baltimore Ravens
when they defeated
Peyton Manning
in the AFC playoffs earlier this year.
Connor Barwin
was on the
Houston Texans
defense that went to Denver a year ago and defeated Manning and the Broncos.
And yes, the Eagles actually managed to beat Manning once during his years with the
Indianapolis Colts
. It was three years ago. Outside linebackers
Trent Cole
and
Brandon Graham
and safeties
Nate Allen
and
Kurt Coleman
are the only defensive players who are still on the roster from that game.
[+] Enlarge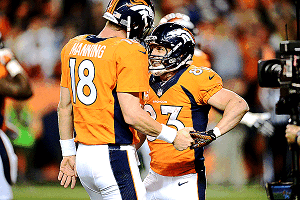 Ron Chenoy/USA TODAY SportsWith Wes Welker among his potential targets, Denver QB Peyton Manning is off to a sizzling start.
"I think I hit him a few times," Cole, who had one of the Eagles' three sacks in that 2010 game, said Tuesday. "I can't give you the secret, but I know we were jumping on him."
"He's human," Williams said.
So they know firsthand it can be done. They also know firsthand Manning is good.
"I remember we were getting back there and we were hitting him," Cole said, "but he was just getting the ball off so fast. I remember him being back there, reading the whole [defensive] backfield. I could see his eyes flicking back and forth. It was crazy."
"He's the best," Allen said. "He's looking guys off. He's putting safeties right where he wants them, then he's going back the other way. He's top of the line."
The Eagles'
Asante Samuel
intercepted Manning twice in that game.
Michael Vick
was in the middle of his 2010 hot streak, and the Eagles were able to beat Manning and the Colts, 26-24.
That's ancient history, though. Manning is now in Denver. He is throwing to
Wes Welker
, among other terrific receivers. And Manning is off to one of the greatest starts in NFL history: 12 touchdowns, zero interceptions, 73 percent completion rate, 1,143 yards and a 3-0 record.
The Texans beat the Broncos, 31-26, in Manning's third game after missing a season due to neck surgery. He threw for two touchdowns in the game, but was not as sharp as he's been since.
"Some guys you play, you make some mistakes and some quarterbacks don't find it," Barwin said. "This guy, you make a mistake, he'll find it. It's important we do what we do really well. You need to go in against Peyton and play a very, very clean defensive game. There's no magic formula."
Williams was on the winning side in the only game Manning has lost in the past 11 months. The Broncos got two special-teams touchdowns and Manning threw for three TDs in the Ravens' 38-35 victory. Baltimore did pick off two passes, including one that
Corey Graham
returned 39 yards for a TD.
"It changes every year," Williams said. "He has some more weapons, and he has more of a rapport with the guys he had there from before. They're a great team. He's a great quarterback. He's going to get his yards. You just have to play your game, go out there and compete."
It is not an encouraging matchup for the Eagles, to say the least. But it's also an opportunity. If they are able to compete with the undefeated Broncos, they can draw confidence from that as they proceed to winnable games against the Giants and Buccaneers. And if they can catch Manning off guard somehow, they can deliver a major statement.
"It's an awesome challenge," Williams said. "It's an opportunity for us to go out there and shock the world."
And maybe even themselves.
September, 24, 2013
9/24/13
5:55
PM ET
ENGLEWOOD, Colo. -- A somewhat salty John Fox made more than one reference Tuesday to the fact the
Philadelphia Eagles
haven't played since a Thursday night loss to the
Kansas City Chiefs
last week and the
Denver Broncos
' win over the Oakland Raiders Monday was only hours into the rear-view mirror.
And while Chip Kelly's offense will present a game-planning challenge in that compressed time frame, Fox has more than a little experience against Eagles quarterback
Michael Vick
through the years. Vick was the starter in Atlanta during much of Fox's nine-year tenure as Carolina Panthers coach. Vick started nine games against the Panthers in that time, going 6-3 with six touchdown passes and eight interceptions. Vick also rushed for three touchdowns in those games.
Fox sees Kelly's up-tempo read-option attack as a quality fit for the 33-year-old Vick.
[+] Enlarge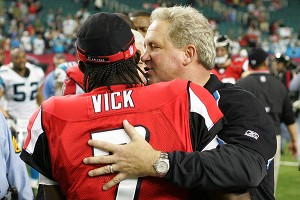 Christopher Gooley/USA TODAY SportsMichael Vick was 6-3 when he quarterbacked the Falcons against John Fox's Panthers.
"In Atlanta he was kind of a run, play-action quarterback as well," Fox said. "The advent of the read-option in college football, and now coming into our league, it fits him perfect. ... He's explosive, he's got to have as many explosive runs as any quarterback in the league ... he's operating that offense well."
Well enough that, despite being 1-2, the Eagles haven't exactly been pushed off the field quickly by opposing defenses very often this season.
In 38 possessions over the first three games, the Eagles have had just one three-and-out before a punt (in the second quarter of their loss to the Chargers).
Sunday's game will also mark the second consecutive week the Broncos will face the league's rushing leader. Oakland led the league in rushing after two games; the Raiders finished with 49 yards on 17 carries Monday night against the Broncos' defense (2.9 yards per carry). The Eagles lead the league in rushing after three games at 209 yards per game. The Eagles are also fifth in the league in rushing attempts at 31.7 per game.
One of the most significant issues for the Broncos will come when the Eagles open up the formation and the Broncos have to defend the run game with smaller personnel from their nickel and dime packages.
"[The Eagles] are fast-break and they've got explosive players doing it,'' Fox said.
Fox said Tuesday that he had not gone through the win over the Raiders, but was devoting his time to preparing for the Broncos' first look at Kelly's offense. He didn't need a review to reaffirm his confidence in Ryan Clady's replacement at left tackle, Chris Clark. The Broncos made little concession in their play calling for Clark's presence in the game. The Broncos opened the game in their base three-wide receiver set and scored on a 10-play drive with all 10 plays run with three wide receivers on the field. "We have great confidence in Chris,'' Fox said. " … As I mentioned last week his teammates and coaching staff have a lot of confidence in him.'' Fox said Clark did surrender the sack from the Raiders' Jason Hunter that resulted in a Peyton Manning fumble. Following the game Manning said: "I thought Chris did a good job from a communication standpoint ... he was on top of it. No miscommunications or having to call a timeout because he didn't know what to do. He was very sharp that way.''
The Broncos' players had Tuesday off and when they reconvene Wednesday, the coaches will move on to the Eagles quickly. Fox said the players would be shown a "short little correction reel'' of the mistakes from the win over the Raiders, but that the majority of the work would be focused on the Eagles.
Fox on the team's performance in a 3-0 start; "Good start, that's all it is.''
Fox characterized the left thigh injury to linebacker Paris Lenon and the right ankle injury to safety Duke Ihenacho as "nothing serious.'' Ihenacho originally suffered his injury against the Giants and was limited some in practice last week. He played 25 snaps on defense against Raiders before the Broncos pulled him from the game. Lenon played one snap on defense on the last play of the first quarter when the Raiders lined up with six offensive linemen in the formation. Lenon also played 10 plays on special teams before his injury.