Denver Broncos:

Mike Shanahan
May, 7, 2014
May 7
3:00
PM ET
The
Denver Broncos
honored their history this week and tied up a few loose ends along the way.
The team selected three more people for its Ring of Fame, and did it with a needed nod to the past. Too often, whether it's the Pro Football Hall of Fame, a team's list of all-time greats or simply somebody's all-everything team in cyberspace, too much attention is paid to the highlight generation, not enough to when the trail was carved in the first place.
So, it was good to see the Broncos add Gene Mingo, Rick Upchurch and Dan Reeves to its list of all-timers.
[+] Enlarge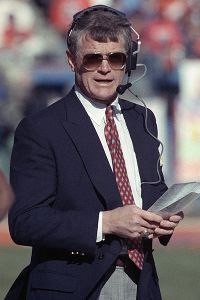 AP Photo/Ron HeflinFormer coach Dan Reeves says late comebacks are his favorite memories from his Denver days.
For some, the Broncos' history starts with Hall of Famer John Elway or even Mike Shanahan's long tenure with the team that included Super Bowl wins in each of the final two seasons of Elway's playing career. So, many of the "omissions" folks want to talk about in the Ring of Fame, or even the Hall of Fame, are often just a discussion of the post-90s Broncos.
So, to see Mingo honored, an original Bronco who played in the team's first five seasons, shows some respect for what came before the Broncos were the Broncos for many people.
Upchurch spent nine years with the Broncos, his last season was Elway's rookie year in 1983, but was good enough to make the league's all-decade team for the 70s as a kick returner. All-decade players are rare, all-decade players not in their team's Ring of Fame are rarer still.
And Reeves' selection shows time has perhaps healed some old wounds, at least enough to honor what was done in his tenure. Owner Pat Bowlen fired Reeves in 1992 after 12 seasons with the team and there are plenty of stories still swirling in the city about the level of friction that did or didn't exist between Reeves, Shanahan and Elway in those years.
Reeves is the first coach in the team's Ring of Fame. He won five division titles and made three Super Bowl appearances in a four-year span. As a player, assistant or head coach Reeves has participated in more Super Bowls -- nine -- than any other player or coach in league history.
"It'll probably be a tremendous emotion, I know that," Reeves said of the Week 2 ceremony in the coming season. "So many great memories. My family basically grew up, my three children, they only had to move one time from the time they got into school and the time they went to college. That wouldn't happen with many football coaches."
When asked about his most memorable games as Broncos head coach, Reeves was quick to invoke the team's top football executive -- Elway.
"We talk so much about the Super Bowls and all, but you know we played probably one of the more exciting championship games in Cleveland," Reeves said. "Every year you get to see that because that was noted as "The Drive" and the next year was "The Fumble," but those were two great championship games. Probably one of the championship games we lost up in Buffalo was one we very easily could have won, but that was a great year for us, too. It's something where when you win that many games, there were so many phenomenal comebacks that we had. One that sticks out was when John was a rookie and we played Baltimore, the Colts you know, and it was such a big deal about John not going to play for the Colts and they came in there and had a big lead in the fourth quarter and we came from behind and I think that's when we all realized that as long as we had John Elway, we could have a chance in the fourth quarter if we just even kept it close. When you look back at all the many comebacks that we had in the fourth quarter, it gave me a lot of grey hairs, but it was exciting."
When the names go up on the stadium fašade in September, it will be a deserved honor for all three whose time had come. And those who don't remember their history are often doomed to not enjoying all of the good parts, too.
April, 8, 2014
Apr 8
7:30
AM ET
The more years that go by, the more draft picks that are made, the more it confirms former
Green Bay Packers
general manager Ron Wolf was right.
Wolf, a longtime personnel man who built Super Bowl teams by focusing on the draft, once said more mistakes were made drafting wide receivers in the first round than at any other position, including quarterback. There certainly is evidence to support Wolf's assessment. There is a growing pile of receivers selected in the first round who have had trouble adjusting to the more physical coverages in the NFL, and the variety of routes they are asked to run.
The
Denver Broncos
, and every other team seeking wide receiver help in next month's draft, should heed Wolf's words because this year's draft class has plenty of size and speed at wide receiver. Many scouts believe there are quality receivers to be found even well into the third day of this year's draft.
[+] Enlarge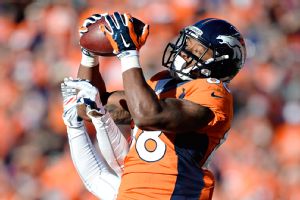 Aaron Ontiveroz/Getty ImagesThe Broncos have taken 22 receivers in the past 19 drafts, but those players have accounted for just eight 1,000-yard seasons. Demaryius Thomas has two of those.
The Broncos re-signed
Andre Caldwell
just before free agency opened and signed
Emmanuel Sanders
, but
Wes Welker
's concussion history means they still will have to give a long look at this year's receivers class. Odds are a wide receiver will be the best player available at some point when they're pulling the names down.
"And in talking to our scouts, we know that's a good position this year," Broncos executive vice president of football operations/general manager John Elway said. "It's a deep board overall with a lot of players to be found, but we always want to take that best player, guys we think and hope can be Denver Broncos for a long time."
But since Mike Shanahan's first season in Denver -- 1995 -- the position has not been kind to the Broncos in the draft, despite plenty of effort. In the past 19 drafts -- 1995 through 2013 -- the Broncos have selected more wide receivers than any other position.
They have taken 22 wide receivers over those 19 years, just ahead of running back (18), cornerback (17) and linebacker (16). Three of those 22 --
Ashley Lelie
,
Marcus Nash
and
Demaryius Thomas
-- were selected in the first round.
Of those 22 homegrown prospects, only two have made the Pro Bowl for the Broncos --
Brandon Marshall
and Thomas. Marshall was selected in the fourth round of the Broncos' 2006 draft class. Thomas was a first-round pick in the 2010 draft.
Of those 22 receivers selected in the past 19 drafts, four have posted a combined eight 1,000-yard seasons. Marshall had three 1,000-yard seasons before he was traded in the Josh McDaniels-led housecleaning of Shanahan players. Thomas has had two, and the recently departed
Eric Decker
had two and Lelie had one.
Take a look at those four 1,000-yard receivers and the immediate commonality is size. Three of them -- Marshall, Thomas and Decker -- tipped the scales at more than 215 pounds and all four were at least 6-foot-3.
That size has made a difference among the Broncos' prospects. Most top receivers in college hold the athletic advantage over the majority of defensive backs they face, so defensive coordinators aren't often inclined to be aggressive in coverage. Those receivers see a steady diet of off coverage and have seasons where they essentially have enjoyed free release after free release to get into their routes.
Most don't react well when that changes in the NFL. And even a player such as Thomas, who has risen into the elite at the position with Manning's arrival, has had some adjustments to make. Lelie never consistently developed into the No. 1 receiver the Broncos had hoped. Lelie never made the transition from his run-and-shoot days at the University of Hawaii, when he had plenty of open space to work in the pattern, to the more physical NFL.
Decker and Thomas needed some time, and a more accurate quarterback, to find their way over the 1,000-yard barrier. Marshall, who spent a season at safety in his college career, flourished with the rough stuff almost immediately, and despite being the most raw of the four as an NFL rookie, Marshall was a 1,300-yard receiver by his second year in the league. In the end, the performances of the best players the Broncos have selected at receiver were based on whether they could make room for themselves to catch the ball, either by speed, route running or brute force.
One of the size-speed exceptions over those previous 19 drafts came when Shanahan selected
Eddie Royal
in the second round of the 2008 draft -- Shanahan's last with the team. Royal wasn't a big receiver (5-10, 187), but Shanahan thought Royal was the best receiver in that draft at getting off bump coverage.
Royal played to that assessment as a rookie with 91 receptions for 980 yards. But after Shanahan was fired, Royal struggled with injuries and never got acclimated to the changes in the offense over the following three seasons with the Broncos.
Those 91 catches are still a career-best for Royal -- by 32 receptions -- as are the 980 yards.
So, in a wide receiver class loaded with size, the Broncos will have plenty of big targets to choose from up and down the board. The ones who will have the earliest impact will have the ability to pick up the Broncos offense, and everything quarterback
Peyton Manning
does at the line of scrimmage, in just one set of offseason workouts and one training camp.
So size will matter, that and the ability to consistently win at the line of scrimmage.
February, 28, 2014
Feb 28
7:00
AM ET
When Mike Shanahan was hired by the
Denver Broncos
in 1995, he inherited a future Hall of Famer at quarterback in John Elway. Shanahan proceeded to help turn the Canton-bound Elway into a champion by constructing an offense that asked Elway to do less, not more.
By building around Elway, the Broncos only had to break the hero-needed glass when there was a football emergency.
So it shouldn't be a shock that Elway, now the Broncos' chief football executive, will look to use the same template to build around his own Canton-bound quarterback in
Peyton Manning
as the Broncos recover from the bruises left behind by a 35-point Super Bowl loss. In many ways the 2013 season was an almost weekly coronation of the passing and scoring numbers the Broncos put up, but it's already clear just a few weeks into this offseason that 2014 will have a little different flavor.
[+] Enlarge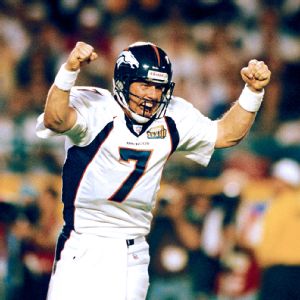 AP Photo/Tom DiPaceJohn Elway didn't find Super Bowl success until Mike Shanahan surrounded him with players that allowed him to do less.
The hope is that a little less of Manning could mean one win more, at least if the Broncos get what they want out of all this.
"We're still going to have the same personality we had offensive and defensively ... our personality is not going to change because of Seattle and they won the Super Bowl,'' Elway said. "Our personality is going to be the same and we're going to get better. We're going to continue to do what we do, but obviously we've got to get better in the running game, take some pressure off (Manning).''
That's because Elway remembers history and would be more than happy to repeat it.
Elway was everything to the Broncos for much of his career. Miracle comebacks, remember-when plays, annual slices of athletic history people still call up off the mental hard-drive when the games are topics of conversation.
But until Shanahan arrived, until the Broncos stumbled onto a running back they had selected in the sixth round of the draft named Terrell Davis, until they were all stirred together in an offensive playbook that was perfect in its time and place with pass-catchers Rod Smith, Shannon Sharpe and Ed McCaffrey, Elway was not in an offense that could consistently remove some of the responsibilities from his shoulders very often.
At no time before Shanahan's arrival did Elway play in an offense that rushed for 2,100 yards in a season. In the four seasons Shanahan was Elway's head coach the Broncos topped 2,300 yards rushing three times and won Super Bowls in two of those seasons.
Now, times have changed, offenses have changed, the rules book has certainly changed as the game has taken flight. But helping your Hall of Fame quarterback is as important as ever.
Teams that find a way to put enough defense and enough of a run game around the uber-passers are the ones who will still succeed the most. Teams that find a way to have their one-of-a-kind quarterback do what he does and yet still find a way to keep him from having to do everything, will enjoy victories.
The one-trick ponies don't win the races nearly as often in January and February.
The Broncos were a never-before-seen affair on offense this past season. A 606-point colossus that saw Manning toss a record 55 touchdown passes. OK, they've been there, they've done that.
Now it's time to get down to the business adding more to the mix. Adding more, so the Broncos can consistently stop opponents on third down, can consistently get to other quarterbacks and consistently pound the ball at somebody else's defense to keep them from sending all they have at Manning. Elway threw at least 25 touchdown passes in five of his 16 seasons with the Broncos. Four of those seasons came after Shanahan's arrival -- Elway's last four seasons in the league -- and those four came when the Broncos had a top-five run game.
A better run game meant a more well-rounded Elway, a more well-rounded Elway on a more well-rounded team resulted in two titles. And as the guy who gets the last word before the ball is snapped, Manning will have to buy in just as Elway once did.
It is why, even as linebacker
D'Qwell Jackson
is the first prominent free agents set for a visit to Dove Valley, the coming decisions will reflect Elway's continued desire to have Manning finish his career with the Broncos as Elway finished his.
That Manning's best chance for a title is in the idea of him doing less to get it.
October, 25, 2013
10/25/13
1:45
PM ET
ENGLEWOOD, Colo. -- When Mike Shanahan brings his
Washington Redskins
offense to Denver Sunday, the folks in the seats at Sports Authority Field at Mile High will certainly see a little of the league's new-age style with
Robert Griffin
III at quarterback.
But many will see what they've seen so many times before, with so many 100-yard games from so many backs, a pile of dominating wins and Mile High salutes. They will see a late-round draft pick --
Alfred Morris
, Redskins' sixth-rounder in 2012 -- working behind an offensive line with five players drilled to move as one, to fire out, all in one direction, to sweep defenders away like a windshield wiper.
They will see, once again, Mike Shanahan's zone run game. And in an increasingly pass-happy world, Shanahan still believes there is a place for a run game.
[+] Enlarge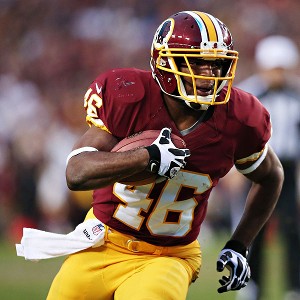 Win McNamee/Getty ImagesIt should surprise no one the Redskins have had success with late-round pick Alfred Morris.
"No. 1, you need great players,'' Shanahan said. "You've got to have everybody that buys in … you've got to have some very unselfish wide receivers, tight ends, offensive linemen, quarterbacks.''
And how the Broncos, who have faced just one team that has run it more than they passed it this season, handle that will have a lot to do with how Sunday goes. They do have some inside information, however, on Shanahan's staples.
Alex Gibbs, who carries the title of Broncos offensive consultant, was a long-time Shanahan assistant in Denver, including the two Super Bowl wins during Shanahan's tenure. Also, the quarterback behind center for those teams -- John Elway -- runs the Broncos' football operations, so when the Redskins move from the read-option to the traditional zone run game, the Broncos will know what's coming.
But knowing what's coming and stopping it has always been the riddle of Shanahan's run game. Gibbs, Shanahan and Redskins running backs coach Bobby Turner have been at the heart of it all since Shanahan was hired by Pat Bowlen in Denver in 1995.
And Turner has certainly been the under-the-radar guy of the triumvirate. The late Mike Heimerdinger, also a long-time Broncos assistant and Shanahan's former college roommate at Eastern Illinois, routinely joked before every draft "if Bobby likes a running back then I like him a lot, too.''
They never felt the need to like that running back in the first round. Since the start of the 1995 season the Broncos have had 18 different running backs rush for at least 100 yards in a game, 14 of those backs played for Shanahan in Denver. And none of the 14 who played for Shanahan was a first-round pick. The closest were Clinton Portis, who was a second-round selection in the 2002 draft, and Tatum Bell, a second-rounder in 2004.
But Terrell Davis was a sixth-round pick ('95), Mike Anderson was a sixth-round pick ('00), Olandis Gary was a fourth-round pick ('99), Quentin Griffin was a fourth-round pick ('03),
Peyton Hillis
was a seventh-round pick ('08) while both Mike Bell and Selvin Young were signed as undrafted rookies in 2006 and 2007, respectively.
Toss in Reuben Droughns, who was signed as a fullback after he had been released by the Lions, and it should shock that the Redskins took Morris on the draft's third day and he went on to roll up 1,613 rushing yards last season.
"You know what you're getting there,'' Broncos cornerback
Champ Bailey
has said. "It's all discipline, one-cut running backs who don't waste steps and they're coaching it the same way and finding the right guys. That's hard to stop when everybody sticks to what they're supposed to do. We know what it looks like -- we used to see it every day.''
Morris is another classic find. He showed up to the Senior Bowl in January of 2012, where the Redskins staff was coaching, as a late addition. He was almost sent home because the Washington coaches had wanted a fullback, not another running back, but Morris volunteered on the spot to play fullback. He did not get a carry in the game, but Shanahan said the coaches had seen enough to keep his name handy on the draft weekend.
Morris is currently ninth in the NFL in rushing with 472 yards, but he leads the league's running backs at 5.2 yards per carry. Washington also figures to be the sternest test of the season for the Broncos' base defense after the Colts rode a far more balanced attack than most opponents have offered to a 39-33 win this past Sunday night.
With the Broncos having sported big leads early in most games, opposing offenses have collectively ditched the run. The Ravens threw the ball 41 more times than they ran it, the Giants 30 more times, Jacksonville 15 more times and Dallas 22 more times without a rushing attempt in the fourth quarter. In the Broncos' only loss, the Colts had seven more passes than runs.
The Eagles, who rushed for 166 yards in a Week 4 loss to the Broncos, ran it four more times than they threw it in the game.
The Broncos expect the Redskins, who threw it 70.9 percent of the time in their 0-3 start, to operate more as they have over the past two weeks -- Washington is 2-1 in those games. Over their past three games the Redskins have run the ball on 52 percent of their offensive snaps.
"Their last couple of weeks -- well over 400 yards of total offense, over 200 yards rushing -- 45 points last week in the win, they're obviously better,'' Broncos defensive coordinator Jack Del Rio said. "It looks like [Griffin] is getting healthier as the year goes on.''
"If you can run the football and the defense has to respect it, I think it gives you a big advantage once you get to the playoffs to have a chance to win,'' Shanahan said. " … The defense can usually take a way a one-dimensional team, but when you can do both, it really puts a lot of pressure on a defense.''
October, 25, 2013
10/25/13
12:00
PM ET
Already this season,
Denver Broncos
quarterback
Peyton Manning
has faced his younger brother, Giants quarterback
Eli Manning
, and has made his first visit to Indianapolis as an opposing player.
So, what's another reunion?
Washington Redskins
coach Mike Shanahan will stand on a sideline inside Sports Authority Field at Mile High for the first time since the Broncos fired him following the 2008 season. That ended a 14-year tenure as the head coach, which included two Super Bowl wins with current Broncos executive vice president of football operations
John Elway
as his quarterback.
The Broncos are 6-1, having suffered their first loss of the season against the Colts in Week 7. The Redskins (2-4) have won two of their last three after an 0-3 start. ESPN.com Redskins reporter John Keim and Broncos reporter Jeff Legwold break down this week's game:
Legwold:
John, we'll get to the football in a minute. Sunday's game is essentially unprecedented in that a coach is coming back to face the team with which he won a Super Bowl -- one that is now run by his former quarterback. How has Shanahan described all of this? And do you get any kind of sense it means any more to him than any other opponent?
Keim:
You probably know as well as anyone how Mike gets in these situations. He's talked about how important Denver is to him because he spent 21 years there, his kids were raised there and he still maintains a home in the area. But Shanahan is as competitive as they come, and there's no doubt his mindset is not on sentimentality, but on proving he should not have been fired in the first place. I remember hearing stories while he was in Denver about him, after winning the Super Bowl, showing reporters their newspaper clippings from early in the season. He coaches with a chip; it's what drives him to be successful.
I think Mike might feel better if the Broncos' offense wasn't playing so well. But have defenses started to attack them differently -- and with more success -- lately?
Legwold:
For all of their struggles this season -- and at 0-7, the Jaguars have had plenty -- it was Jacksonville's defense that opened the box a bit, and the Colts took that cue. It was the Jaguars, being such a heavy underdog, who played more aggressively on defense than any of the Broncos' first five opponents. Jacksonville's defensive backs were more physical with the Broncos receivers, and the Colts went to the next level with that. The Colts played in press coverage much of the time on the outside, matched up one-on-one on the Broncos wideouts, kept the two safeties deep and defended the run with seven in the box most of the night. Now, it is a testament to the Broncos offense that "holding" it to 33 points, as the Colts did, was a season low. But it is probably a template others will try to duplicate, at least until the Broncos show they have an answer.
To that end, how do you think the Redskins will attack Manning and the Broncos' wide receivers?
Keim:
They have to be aggressive, as they were against
Tony Romo
and against
Jay Cutler
, until he got hurt. The Redskins will not blitz every down by any means; they feel good about their ability to pressure with four -- thanks to having linebackers
Ryan Kerrigan
and
Brian Orakpo
and nose tackle
Barry Cofield
. But they will blitz from the slot and send the safety off the edge once in a while. Anything up the middle will come from the linebackers. What they've also tried to do the last couple weeks against very good receivers is jam them and disrupt timing. They won't do it every down; sometimes they'll do it at the line and sometimes they'll wait a couple yards. They will mix coverages; Washington uses a lot of three-corner, one-safety sets and that enables corner
Josh Wilson
to sometimes disguise his position. Will he be in the slot? Strong safety? That occasionally buys them time to get free on the rush. They will have a tough time against
Wes Welker
, as everyone does. But with issues at safety this week --
Brandon Meriweather
's suspension and
Reed Doughty
's concussion -- I think you have to mix it up. If they try to just play coverage against Peyton Manning, he will pick them apart. It's not their style to just sit back.
Are you surprised by what Denver's offense has done? If so, what surprises you?
Legwold:
I'm a little more surprised defenses were so passive early in the season in terms of how often they rushed Manning, especially after he simply torched coverage looks week after week. Despite the avalanche of touchdowns through the weeks, team after team chose coverage over pressure, and that's probably understandable, given Manning has routinely eaten up blitz packages like breath mints throughout his career. But until the Jacksonville game, defenses had rushed Manning with four or fewer on 70 percent of his dropbacks. The Jaguars and the Colts were more aggressive and had some success against a battered offensive line. There is a slight chance right tackle
Orlando Franklin
(knee) could be back this week -- that is the most optimistic scenario with the bye coming next week for the Broncos -- but left tackle
Ryan Clady
is on injured reserve. Manning has always been quick to adjust, so the Broncos will handle some things better than they did against the Colts. But when they're right and in rhythm, there are defensive coordinators who say the Broncos are as close to unstoppable as the league has to offer because they routinely have four pass catchers in the pattern who can consistently beat one-on-one coverages.
Staying on quarterbacks, the general feeling around the league seems to be that
Robert Griffin III
has been more himself over the last two games or so. Is that the case, or have the Redskins made some kind of adjustment to help him along?
Keim:
No, I think the adjustment has been more about Robert trusting his knee and feeling good enough to let loose again. The Redskins say there were runs for him in the game plan in the first couple weeks, but I think that was just lip service and a desire to try and con other teams. The reality is, Robert wasn't going to be running a lot early in the season. I also think Dallas and Chicago both played in a way that fed into his running: man coverage on the outside and a big focus on stopping running back
Alfred Morris
. The Bears played as if they had not seen the Dallas tape; there were times when most of the eyes were on Morris, a contrast to last season when they were more on Griffin. So he had to run more. But I really think this is about him feeling better -- not healthier, but just overall better.
Teams blitzed Griffin early in the season because he wasn't quite himself. They also played the zone read with a little more discipline (until last week). How do you think Denver will react to his style of play?
Legwold:
It's easy to forget in all that's happened all over the league since, but it was John Fox, former offensive coordinator
Mike McCoy
and current offensive coordinator Adam Gase who dropped the read option on the NFL in the 2011 season. The Broncos had
Tim Tebow
at quarterback then, and discovered he didn't function well in a traditional pro-style, dropback passing offense. So they unveiled the read option against the Raiders that season, won big and eventually made the playoffs at 8-8. The Broncos have since defended the look well, but Griffin will be the most explosive player they've seen running it. Defensive coordinator Jack Del Rio is aggressive and the Broncos like to try to force the issue.
Champ Bailey
won't play because of a foot injury, but Del Rio likes his other corners enough to play plenty of man coverages. They will likely use some sort of spy on Griffin in some down-and-distance situations, and take a measured approach in the pass rush so they don't get too deep into the backfield and give Griffin escape routes.
Staying with the Redskins' offense a little more, on the outside it looked as though there was at least a small rift between Griffin and both Mike and (offensive coordinator) Kyle Shanahan earlier this season. Was that the case, and if so, have they worked through it?
Keim:
A rift? Not sure if it went that far (though perhaps this is semantics), because that feels harder to repair. But there was definitely a little tension as the coaches and player sought to get on that so-called same page. From Griffin's perspective, what I've always heard is that it was a matter of him being able to trust his coaches -- that what they told him during the week would play out on Sunday. He needs to trust them. From Mike Shanahan's perspective, he always liked to let Griffin know who was in charge. For Shanahan, this is a business relationship, though Griffin seems to like having something more from those he works with. Shanahan only wants to win a Super Bowl. That's it. Griffin's dad didn't help the cause by talking about how his son shouldn't run the ball; the coaches would point out that Griffin's ability to run is why he was so good last year. He's not an accomplished passer yet and needs his legs to be dynamic. I've always felt this was an evolving relationship and one that could work. But I'll be curious to see what happens with it should the Redskins fail to turn their season around (and it becomes a disaster). Just keep in mind: Griffin is tight with the owner.
How did
Von Miller
look in his return and is he enough to save the Broncos' defense?
Legwold:
Miller looked like he had missed six weeks' worth of practice. At times he flashed his ability, but he also looked rusty and sluggish. Time will ultimately tell the tale, but it will be interesting to see if the extra 10-15 pounds he said he added in intense workouts during his suspension affect his play. His game before the suspension (for violating the league's substance-abuse policy) was predicated on speed off the ball, explosiveness and the ability to change direction at full speed, without losing any momentum toward the ball carrier. It was just one game, and publicly Fox keeps saying it will get better, but Miller did not consistently show that same explosiveness this past Sunday. Internally, some with the team are concerned Miller continues to avoid taking any full responsibility for what's happened. He is now in Stage 3 of the league's drug program, which means his next suspension is for at least a year,and he's tested up to 10 times a month for the remainder of his career. Yet he continues to say he doesn't have a substance-abuse problem or need any help in a treatment program. So, some are left to wonder how exactly he got all the way to Stage 3 without having a substance-abuse problem. Put it all together and Miller certainly does have question marks around him. On the field, though, the Broncos need him to be better than he was Sunday night if he's going to have the kind of defensive impact they hope to see.
In the end, with a 2-4 start, is Shanahan in any real trouble with owner Daniel Snyder if they don't rebound to make the postseason or at least be in the hunt down the stretch?
Keim:
I haven't heard Shahanan would be in that sort of trouble. I think it would take an outright disaster for anything to happen, and former Redskins tight end
Chris Cooley
, for example, recently said that Shanahan would return regardless (Cooley remains close to many in the organization). But the interesting part will be whether he gets an extension. Shanahan signed a five-year deal and has constantly said that owner Dan Snyder would give him all five; otherwise he would not have come here. But would he want to enter the last year of his contract without an extension? So there is a scenario under which Shanahan does not get fired, but presses Snyder for an extension. At that point, Snyder has a decision to make; if he doesn't grant the extension, then Shanahan could end up resigning. Once again, there could be offseason drama in Washington.
Do you view Denver as a legitimate Super Bowl contender, or do you have concerns that they're built more for the regular season than postseason success?
Legwold:
In the end, if they can avoid too many more major injuries, they'll have the offense to put themselves in the title hunt. The question will be, can they find enough defense from a unit that, somewhat surprisingly, hasn't performed nearly to the level of last season? Also, they have to play with a little more edge on offense. Receivers can't always be looking for a flag because there is some contact, and they can't react as poorly as they sometimes do after fumbles or other misfortunes. Just get back up and play. But it is a talented group who generally works hard across the board, and when it plays with purpose and toughness, it can be the best the league has to offer. It's a matter of keeping their eye on the ball, as it were, and closing the deal.
.
October, 23, 2013
10/23/13
5:30
PM ET
ENGLEWOOD, Colo. – Almost the moment anyone passes through the front doors of the
Denver Broncos
' south suburban complex, there are two easy-to-see reminders of Mike Shanahan's tenure with the team.
The two Lombardi trophies stand watch -- bathed in the glow of their own spotlights, along with all of the hardware from the six AFC Championship Game wins in the franchise's history -- over all those who cross the lobby each day. While there aren't many players left from Shanahan's time with the team –
Chris Kuper
,
Champ Bailey
,
Wesley Woodyard
,
Matt Prater
and
Ryan Clady
– and Alex Gibbs is the only Broncos assistant to have worked with Shanahan, those coveted silver baubles from the two titles remain.
Though Shanahan has a restaurant with his name operating just a few miles from the Broncos' practice fields, as well as an offseason home nearby, Sunday will mark his first trip back to Denver as another team's head coach. He will stand on the opposite sideline at Sports Authority Field at Mile High and make what he says is just his second trip to the stadium's visiting locker room.
[+] Enlarge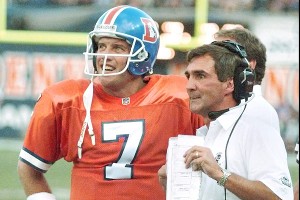 AP Photo/Ed AndrieskiMike Shanahan helped John Elway and the Broncos to two Super Bowl titles during his time in Denver.
"You're there for 21 years, got a lot of great friends, great memories, where we raised our family, yeah, I'm looking forward to it," Shanahan said. "It will be enjoyable."
After an 8-8 finish in 2008, when the Broncos lost their last three games to miss the playoffs, including a crushing home loss to the Bills and a 52-21 loss to the Chargers in the season finale, Broncos owner Pat Bowlen fired the man he once called his "coach for life." The Broncos had won just one playoff game between their Super Bowl triumph to close out the 1998 season and the day Bowlen made the change. Shanahan exited having worked as the head coach or an assistant coach there for more than two decades.
A lot of road has been traveled by Shanahan and the Broncos since. Denver fired another coach (Josh McDaniels) before the 2010 season was over, Bowlen hired John Elway to run the football side of his team, and Elway signed
Peyton Manning
to throw passes for it. Shanahan, after selecting quarterback
Robert Griffin III
in the 2012 draft, has seen his team win the division, has dealt with the aftermath of Griffin's knee injury, and now brings the 2-4 Redskins to Denver in his fourth season with the team.
"That's part of football, people making decisions and going different directions," Shanahan said. "… At least when I left it I felt like I left it in pretty good shape … even though we didn't get done the last couple years as much as you'd like to. Five Super Bowls [as head coach and as an assistant], one out of every three years we were in a championship game. You do that seven out of 21 years, you feel like you're pretty lucky being in the right place at the right time, a lot of people helping you out along the way."
Beyond Bowlen and team president Joe Ellis, the football side of the Broncos' operation has undergone two extreme makeovers since Shanahan's last day. McDaniels first brought his version of the Patriot Way to Colorado. Then Elway arrived in early 2011 to rebuild from the 4-12 season left behind after McDaniels' second year, replacing him with John Fox.
As far as players, Prater (signed off the Dolphins' practice squad in 2007) and Woodyard (made Shanahan's last Broncos roster in '08 as an undrafted free agent) have seen a lot of change since Shanahan's departure.
"He gave me my first good opportunity in this league," Prater said. "It's pretty crazy. It's been a lot of transition with different coaches and different guys coming through. I'm happy to still be here."
"He was the guy who gave me my first chance to play in the NFL, so much respect," Woodyard said. "He was one of those guys who always kept it straight forward, he never B.S.'ed it, he always told you exactly what you wanted to hear from a head coach, he never cut you short, he always kept it real. … I believed in him and he believed in me."
The Broncos will honor Shanahan with a video presentation before Sunday's kickoff, a nod to those trophies in the lobby and all the time Shanahan spent with the team.
He has always said he believes the Broncos were close to being a playoff regular once again -- with
Jay Cutler
at quarterback -- when he was let go in 2008. Still, he spends a big slice of his offseason time in Denver, played a round of golf with Elway earlier this year during the league meetings and says he still considers Bowlen a friend.
"I had 21 great years with Pat," Shanahan said. "Sometimes when you separate, you look back at all the great times you did have. I've always considered Pat one of my best friends."
Asked if thought he would hear cheers or boos from the fans on Sunday, Shanahan said, "Hope they don't boo me. I don't think I did anything wrong to get booed. I didn't leave. They fired me."
October, 23, 2013
10/23/13
7:00
AM ET
ENGLEWOOD, Colo. -- From Hall of Famer Shannon Sharpe to Desmond Clark to Dwayne Carswell to Jeb Putzier to Tony Scheffler to Daniel Graham, the tight end always had a prominent role in the Denver Broncos' offense during Mike Shanahan's 14-year tenure as the team's head coach.
Reed
And when Shanahan brings the
Washington Redskins
to Denver this weekend he will bring an emerging player at the position in rookie
Jordan Reed
. Reed was taken in the third round -- 85th overall -- this past April because Shanahan saw the potential of an impact pass catcher.
Some personnel folks in the league believed Reed may have a difficult time transitioning into a full slate of work as an NFL tight end, at least initially at 6-foot-2 1/2 and 236 pounds at the scouting combine last February. Shanahan said when the Redskins looked at Reed before the draft they "felt we had a guy that was very special catching the football, very special in and out of breaks, more like a wide receiver than a tight end'' and that the question was whether or not Reed would be able to hold up in a blocking role.
But when the Redskins put him in the offense they then believed they had a player who could function as a blocker. Jordan is just 23, having left Florida after his junior season.
He has become a bigger part of the Redskins offense as the weeks have gone by, with this past Sunday's effort against the Bears being his breakout: nine catches for 134 yards and a touchdown. The Broncos have had their issues at times this season with opposing tight ends, something that carried over from last season.
Linebacker
Wesley Woodyard
's neck injury, which has has kept him out of the past two games, hasn't helped matters. Because of Reed's athleticism the Broncos will have to consider matching a safety on him. Reed's routes aren't that of a big man. He is sharp in and out of his cuts and his footwork along the boundary is that of a wideout.
Reed, who arrived to Florida as a quarterback and who rushed for five touchdowns and threw for three more as a freshman, has a good feel for where the soft spots are in zone coverages.
In seven games opposing tight ends have 43 catches against the Broncos for 568 yards -- that's 13.2 yards per catch -- led by
Jason Witten
's 121 yards on seven catches in Dallas. The Broncos have limited the group to two touchdowns, one by Witten and one by the Colts'
Coby Fleener
this past Sunday, but Reed will certainly be on the radar this week.
October, 21, 2013
10/21/13
12:15
AM ET
INDIANAPOLIS -- A few thoughts on the
Denver Broncos
'
39-33 loss
to the
Indianapolis Colts
:

What it means:
The Broncos found that their depth chart, like that of any other team in the league, can be dragged down by injuries. The Broncos sorely missed tackles
Ryan Clady
(injured reserve) and
Orlando Franklin
(ankle) on offense and cornerback
Champ Bailey
(foot), who left the game in the first half. The Broncos were choppy on all fronts, took several penalties, had ill-timed turnovers and paid the price.
Stock watch:
Linebacker
Von Miller
didn't show the benefits of the extra weight he had been quick to talk about in his return from his six-game suspension for violating the league's substance-abuse policy. You would expect some rustiness on Miller's part, but for at least his first game back, he was not nearly as explosive as he was last season. The Colts largely blocked him man-on-man and limited Miller's effectiveness both in the run game and pass rush.
No Holliday:
There is no question
Trindon Holliday
can change a game with his speed in the return game -- he has two touchdown returns already this season -- but there are times when he tries the Broncos' patience. Sunday night was one of those times. With the Broncos leading 7-3 in the first quarter, Holliday fielded a punt deep in Broncos territory and then lost the handle during the tackle. The Colts got the ball at the Broncos' 11-yard line and scored a touchdown on the next play.
A long wait:
Colts outside linebacker
Robert Mathis
is in his 11th season, and after being
Peyton Manning
's teammate for nine of those seasons, he finally got a chance to sack Manning. Mathis' sack and forced fumble in the second quarter led to a safety. The Colts then scored on the drive following the free kick to take a 19-14 lead. Mathis, who finished with two sacks, repeatedly blew by the Broncos' tackles --
Chris Clark
and
Louis Vasquez
-- and consistently collapsed the pocket.
What's next:
From one return to the other.
Washington Redskins
coach Mike Shanahan, who was the Broncos coach for 14 seasons and two Super Bowl wins, will bring his team to Denver next Sunday. It will be the first time Shanahan will have faced his former team since the Broncos fired him after the 2008 season. The Broncos have a much-needed bye week waiting for them after the Redskins game.
September, 19, 2013
9/19/13
1:10
PM ET
ENGLEWOOD, Colo. -- If you really want to feel what the
Denver Broncos
-
Oakland Raiders
rivalry should be, what many of those who fill the seats in each city in each football weekend expect it to be, you're going to need a few things.
Like …
Gray hair.
A good memory, as in a really, really good memory. You know, almost Mensa.
VHS.
Oh, and quarterbacks. Game-changing, rivalry-stoking quarterbacks.
[+] Enlarge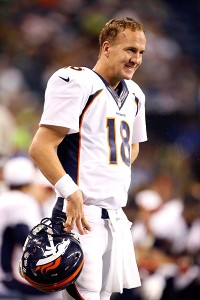 Joe Nicholson/USA TODAY SportsQB play has helped Denver dominate its rivalry with the Raiders in recent seasons.
As the Broncos and Raiders prepare to open up AFC West play for each on Monday night, these two ships will again pass in the night. The Broncos, with
Peyton Manning
at quarterback, consider themselves a Super Bowl contender, complete with plenty of eight-figure contracts and a parcel of off-the-field drama in tow.
The Raiders are in Year 2 of not just a re-build job, but they have largely scrapped the lot and elected to start from the ground up. With that the team's decision-makers, including general manager Reggie McKenzie and coach (and former Broncos defensive coordinator) Dennis Allen, have handed the offensive keys, at least for the moment, to quarterback
Terrelle Pryor
, their latest hope behind center.
The bottom line is it's been quite some time since this long-standing, annual battle between two of the AFL's original eight, has been a give-as-good-as-you-get rivalry. Even with all of the road the two have traveled together, the fact is they have rarely been good together, facing off at the peak of their powers.
One of the two has most often been up, flexing potential postseason muscle, and the other has basically been the welcome mat. There have been just five seasons when both the Raiders and Broncos made the playoffs in the same year. And since the start of the 1992 season, they have both made the playoffs in the same year just once -- in 2000 when the Raiders won the division at 12-4 and the Broncos were a wild card at 11-5. That's a long way from the zenith, the 1977 season when the two didn't just meet in the playoffs, they met in the AFC Championship with a Super Bowl trip at stake.
Or as Broncos Ring of Famer Randy Gradishar put it; "Now that's what a rivalry looks like. If people ever want to know what it looks like, what it feels like, that was it right there."
Since, however, there's also the Shanahan effect. When Mike Shanahan was hired by the Broncos, it was his second stint as an NFL head coach since his first stint had ended rather unceremoniously in Oakland four games into the 1989 season. Shanahan and the late Al Davis also had a long, well-chronicled tiff over some bonus money after the firing, adding some emotional hot sauce. So, needless to say, Shanahan liked beating Davis' team and made it an organizational priority. And Shanahan did it a lot, going 21-7 against the Raiders in his time with the Broncos.
Current coach John Fox is 3-1 against the Raiders in his two previous seasons on the Front Range. The only time since Shanahan's first season in Denver the Raiders have had an upper hand against the guy wearing the big headset for the Broncos was during Josh McDaniels' just-under-two-year tenure when the Raiders were 3-1 against the Broncos.
But like most things in the league these days, success and failure over the long haul can often be traced back to what happened at quarterback, how the draft went and just how many ill-conceived contracts were handed out to free agents who didn't perform.
While the Broncos have certainly had their draft/checkbook stumbles over the past two decades, they have had fewer than the Raiders. Even as the quarterback search in the post-Elway era has had some ups and downs in Denver -- seven different quarterbacks have started against the Raiders for the Broncos since Elway retired following the 1998 season -- it has gone far better than the mistake-filled search behind center for the Raiders.
Brian Griese,
Jay Cutler
and Peyton Manning have been named Pro Bowl quarterbacks for Denver in the post-Elway era while Gus Frerotte, Tim Tebow, Jake Plummer and Manning each started postseason games for the Broncos over the past 15 years. By contrast the Raiders have started 13 different quarterbacks against the Broncos since the start of Shanahan's first season in Denver. And Rich Gannon is the only Raiders quarterback to have started at least five consecutive meetings with the Broncos over that span.
Sure, Broncos cornerback
Champ Bailey
will often say "we don't like them and they don't like us," when the division games come rolling by, but Broncos-Raiders is really a remember-when rivalry right now, something maintained and nurtured because folks feel it's the right thing to do along the way. The bones are there, though, just waiting for both teams to cooperate and make it what all involved always seem to hope it will be.