Denver Broncos:

Mike Sullivan
June, 16, 2014
Jun 16
7:30
AM ET
ENGLEWOOD, Colo. –- When John Elway was asked in recent weeks what he believed the most important part of his job was as the
Denver Broncos
' chief football decision-maker, he said it was the salary cap.
And the draft. And the team's depth chart. And free agency.
Basically he lumped it all together, filed it all under one heading when he said, "I think it's about trying to stay two steps ahead … to see what we need to do now and how it affects us down the road. To be prepared to do what it takes to keep the Denver Broncos competitive and operated the way [owner] Mr. [Pat] Bowlen wants the team to operate."
Which is exactly why the Broncos have at least started the wheels in motion on new contracts for wide receiver
Demaryius Thomas
and tight end
Julius Thomas
. Both are scheduled to be unrestricted free agents after whatever becomes of the 2014 season, which makes them two of the most important steps the team will try to take on the contract front.
[+] Enlarge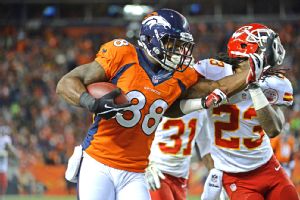 Tim Rasmussen/The Denver Post/Getty ImagesDemaryius Thomas has emerged as one of the NFL's elite receivers since Peyton Manning's arrival in Denver, finishing each of the past two seasons with over 1,400 receiving yards and double-digit TDs.
That certainly isn't a surprise given it's exactly what Elway said in the days that followed the Broncos' loss in Super Bowl XLVIII that the team planned to do and what he reaffirmed at the league meetings in March. But since the start of their offseason program, they have begun to start talking at least in general parameters for Julius Thomas and have advanced at least far enough in talks with representatives for Demaryius Thomas that an initial five-year offer has been placed on the table.
The Broncos, as well as the players, are likely looking at roughly a six-week window to finish any deals. Neither side is looking to do anything once training camp starts the clock on what all involved hope is another Super Bowl season. The Broncos' players will report on July 23, and the team will have its first practice on July 24.
To sign either Thomas now, however, the Broncos would have to put enough on the table to entice each to skip a potentially lucrative trip into the open market. But these two are high-priority players on the Broncos' docket, so much so that the team, at least in part, didn't make an offer to its own free agents earlier this year, including guard
Zane Beadles
, running back
Knowshon Moreno
and wide receiver
Eric Decker
, simply to be in a position to work toward deals for the two Thomases.
There is no reason to believe the Broncos won't have to make Demaryius Thomas one of the highest-paid receivers in the league to keep him off the open market. That neighborhood is just north of $12 million per year, given the deals
Calvin Johnson
,
Larry Fitzgerald
,
Percy Harvin
and
Mike Wallace
have signed.
And there is the fact Thomas is the only wide receiver in the league to have finished this past season with at least 1,400 yards, 90 catches and a 15 yards per catch average. He's physical enough to run through tackles, makes catches in a crowd and is fast enough to, as defensive coordinators say, take the lid off a defense deep.
[+] Enlarge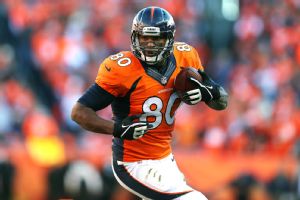 Mark J. Rebilas/USA TODAY SportsTight end Julius Thomas averaged 12.1 yards per catch last season.
Thomas also led all NFL receivers last season with almost 700 yards' worth of yardage after the catch. At the moment, Thomas carries the eighth-highest salary-cap figure on the team for '14 at $4.7 million;
Wes Welker
has the biggest cap figure at receiver for the upcoming season at $8 million. A new deal certainly would move Thomas up the ladder, possibly past everybody else except quarterback
Peyton Manning
.
The Broncos, who are still under the cap with their top 51 salaries, would have to adjust some to squeeze a new deal for Demaryius Thomas under the $133 million bar. Their top 51 salaries -- teams don't have to be under with all 53 contracts until final roster cuts just before the start of the regular season -- come in at just over $132 million at the moment.
So, to do deals for Demaryius Thomas and Julius Thomas would require some legitimate salary-cap work to get it all done.
The Broncos do have the option -- one that certainly has been discussed extensively internally -- to sign one of the players before the 2014 season and then use the franchise player tag on the other one just before free agency begins next offseason.
The franchise tag for a wide receiver for 2014 was $12.312 million, and at tight end it was $7.035 million -- those deals would be for one year and are guaranteed from the moment the player signs them. But given as much as Julius Thomas is lined up in the slot and out wide, it's likely he would take the same stance New Orleans tight end
Jimmy Graham
has taken, that he should be considered as a wide receiver when it comes to salary and not a tight end.
In the end, though, when it comes to the players the Broncos want to keep or sign from elsewhere, Elway and the Broncos' salary-cap guru, Mike Sullivan, have set players' values and stuck to those numbers, whether it was by handing those players a deal or letting them move on to try to get more elsewhere. But to this point in his tenure, Elway has routinely closed the deals he wants to close.
And he said he wants to close these two, but it just might have to be one offseason at a time to get them both.
March, 14, 2014
Mar 14
8:00
AM ET
When
Denver Broncos
owner Pat Bowlen and team president Joe Ellis reorganized the team's football operations in 2011, a process that began with John Elway's hiring, Elway used that first season to gauge how those around him went about their business.
Elway's first major front-office hire was former agent Mike Sullivan, who had a quarter-century's worth of experience negotiating contracts from the players' side and had run the football division of Octagon Worldwide, one of the major players in the sports agency game.
[+] Enlarge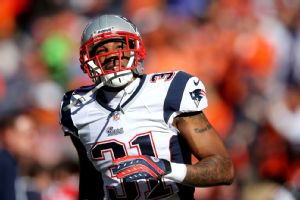 Mark J. Rebilas/USA TODAY SportsThe Broncos were able to sign Aqib Talib, one of the top corners available in free agency, to a cap-friendly deal.
At the time, Elway said Sullivan would be "a great asset" to the team.
Turns out the Broncos have done some quality work managing the cap the past three years. The spending binge that reeled in safety
T.J. Ward
,
Aqib Talib
and
DeMarcus Ware
was the result of having enough of Bowlen's cash to pay the required upfront money, as well as a salary-cap position to allow them to do it.
And a little bump in the salary cap -- to $133 million per team -- didn't hurt.
But the Broncos have taken the same approach to the past three forays into free agency. They drive hard early to sign a few specific targets, then back off a bit. They also have effectively emphasized their playoff possibilities and having
Peyton Manning
at quarterback to get the kinds of deals they want.
Last year,
Wes Welker
and
Terrance Knighton
signed two-year deals.
Dominique Rodgers-Cromartie
signed a two-year deal that voided to a one-year deal just days after the Super Bowl, and they signed
Shaun Phillips
, who finished with 10 sacks last season, to a one-year deal with no signing bonus. The year before that, the Broncos signed
Justin Bannan
,
Keith Brooking
,
Brandon Stokley
,
Dan Koppen
and
Jim Leonhard
, all either starters or major contributors, to one-year deals.
Even Wednesday, there were plenty of raised eyebrows around the league at how a team that played in the Super Bowl was in a position to be so active in free agency's opening hours.
It was especially true when word began to circulate of the six-year, $57 million deal given to Talib. But a closer look at Talib's deal shows it is far more cap-friendly for the team than many expected.
It could potentially include $26 million worth of guarantees, but much of that is an injury guarantee if Talib, who has never played 16 games in a season, has a career-ending injury.
The real guarantee is $12 million, all paid this season to Talib -- a total that includes up to $500,000 worth of bonuses based on how many games Talib is in uniform in 2014. So it's really closer to a three-year deal worth roughly $27 million. Much of the total is in the base salaries for the 2017, 2018 and 2019 seasons -- $11 million, $11 million and $8 million respectively -- which are not guaranteed.
In the end, Talib wanted to be in Denver, and the Broncos wanted him enough to stop waiting for a decision from Rodgers-Cromartie.
"They kind of just focused on me and showed how much that they wanted me here," Talib said. "That played the biggest part. I just wanted to go somewhere where I was wanted, where I felt wanted, where I felt like the guys wanted me. That's kind of how it went."
The Broncos got Ward for less than the initial request from Ward's representatives, even when the Broncos initially weren't certain something would get done with the Pro Bowl safety.
And those two deals, structured as they are, allowed the Broncos to sign Ware to close out the initial wave.
"They're trying to get the job done," Ware said. " ... I think the thing is, we're trying to make a statement."
February, 13, 2014
Feb 13
4:20
PM ET
The NFL's scouting combine gets underway Wednesday in Indianapolis and all of the Denver Broncos' football decision-makers will be there.
The draft continues to be the long-term foundation of what John Elway wants to get done with the depth chart. And while the Broncos did land the greatest prize of free agency in
Peyton Manning
and paid him accordingly with a $96 million deal, Elway has largely been conservative in free agency overall because he wants the heart of the team's roster to be homegrown.
The Broncos have favored, outside of a few contracts, including Manning and guard
Louis Vasquez
, one- or two-year deals. Many of those, after the initial hysteria passed, were with little or no signing bonus. Look how the team has handled the last two free-agency seasons following Manning's signing.
In 2012, the Broncos signed safety
Jim Leonhard
, defensive tackle
Justin Bannan
, linebacker
Keith Brooking
, center
Dan Koppen
and wide receiver
Brandon Stokley
to one-year deals. Of those players only Leonhard got a signing bonus ($65,000). And Brooking, Bannan and Koppen were starters while Leonhard and Stokley were key backups.
This past year,
Terrance Knighton
got a two-year deal and
Wes Welker
got a two-year deal.
Stewart Bradley
and
Shaun Phillips
signed one-year contracts while
Dominique Rodgers-Cromartie
signed what is a two-year deal on paper, but turned into a one-year deal five days after the Super Bowl.
Denver figures to take a similar approach this time around. The Broncos won't know what 2014's salary cap will be for a bit yet, but they do know they are in pretty good shape for a team coming off a Super Bowl appearance. Many in the league expect the '14 cap to be at, or near, $126.3 million per team.
When free agency opens in March, the Broncos will have to be under the salary cap with their top 51 contracts. At the moment, those top 51 salary-cap figures for players under contract amounts to $117.8 million. By a rule put in with the current collective bargaining agreement, the Broncos can also roll over any available cap space from this past season into 2014.
That figure is $6.573 million. So, including the rollover, the Broncos actually have just over $11 million worth of cap space to work with.
That puts them in a good spot, compared to many, as noted in
this from ESPN's Kevin Seifert
.
And that's before the Broncos do, or don't, talk to
Champ Bailey
about his $10 million cap figure for '14 -- the second highest on the team -- or
Chris Kuper
's $5.915 million cap figure, seventh highest on the team.
The Broncos have also done a quality job limiting the dead money on the cap – cap charges for players no longer on the roster – with Elway and Mike Sullivan overseeing the team's contracts. The biggest dead-money charge for '14 at the moment comes from Rodgers-Cromartie. Again, even though it's consistently been reported as a one-year deal, Rodgers-Cromartie actually signed a two-year deal last March and the second year voided five days after the Broncos' loss to the Seahawks. However, with that contract data circulated among the teams across the league shows a $2.1 million dead-money charge -- the pro-rated portion of his original $4.2 million signing bonus.
Beyond that, the oldest dead-money charge will be $500,000 for
Willis McGahee
, who was released last June.
All in all, the Broncos head to Indy without any concerns they'll have to do any major adjustments to participate in free agency. They will eventually need $6 million or $7 million in cap room to deal with their draft class, but they get some time there since the draft isn't until May 8.