Denver Broncos:

Monte Kiffin
October, 2, 2013
10/02/13
9:00
AM ET
A weekly examination of the Broncos' quarterback play.
Manning
Rewind:
After carving out a few more lines in the league's (and Broncos') record book,
Peyton Manning
got a quarter off this past Sunday. He did not play in the fourth quarter of Denver's 52-20 victory over the Eagles and still finished 28-of-34 passing for 327 yards and four touchdowns. It was his 24th career four-touchdown game, now the most in league history, and he has 16 touchdown passes this season without an interception.
Fast-forward:
Dallas Cowboys
defensive coordinator Monte Kiffin has made more than a few laps around the league in his long career as a top defensive assistant and has certainly created game plans to battle Manning along the way. But Kiffin plays the Tampa Cover 2 scheme for the most part, and Manning may not have seen any defense more than that one. Why? Manning played for Tony Dungy in much of his time in Indianapolis, and Dungy was Kiffin's boss in a long run in Tampa. Kiffin won't fool Manning, and he knows it, so he'll be looking for ways to win matchups in the middle of the field and hoping the Cowboys can limit the Broncos to field goals in the red zone.
Keeping it steady:
Manning has remained disciplined against multiple defenses dropping a pile of players into the pattern in an effort to take away the big plays. Manning has not forced the ball and continues to just take what's there and be happy with scoring touchdown after touchdown. He had 18 completions of 10 or fewer yards against the Giants, 18 completions of 10 or fewer yards against the Raiders and 15 completions of 10 or fewer yards this past Sunday against the Eagles. It has been a long list of catch-and-run throws, on time, in the right spot, that have added up to history so far.
Prediction:
Manning is on an unprecedented roll right now -- 16 touchdowns in four games to go with a 75 percent completion rate, including 86.5 and 82.4 completion percentages in his last two games. The Cowboys are coming off a game in which they surrendered 401 yards passing to San Diego quarterback
Philip Rivers
with former Broncos offensive coordinator Mike McCoy now overseeing the Chargers' offense. Toss in what appears to be some confidence issues for Cowboys cornerback
Morris Claiborne
and that is a potential recipe for another big day for Manning.
September, 30, 2013
9/30/13
6:10
PM ET
ENGLEWOOD, Colo. -- If it was Monday, it must have been time for Broncos coach John Fox to perform the football eclipse and just block out the sunshine.
And in working his way through a recap of Sunday's 52-20 win over the
Philadelphia Eagles
that pushed the Broncos to 4-0 and brought another round of historical benchmarks the team has surpassed on offense along the way, Fox delivered an off-handed missive that won't be great news to the team's upcoming opponents.
"We left points out on the field [Sunday]."
And with that Fox kept to his weekly ritual of trying to turn down the flame on the Broncos' start in which the quarterback has thrown 16 touchdown passes without an interception, more touchdowns than every other team in the league has scored overall, and the Broncos lead the league in scoring by 52 points over No. 2 Chicago.
[+] Enlarge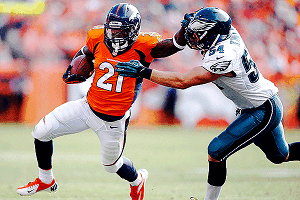 Chris Humphreys/USA TODAY SportsWill Ronnie Hillman and the run game be reliable if Denver is in need of tough yards in a close game?
"We'll just continue to get better," Fox said. " … And I expect us to get better. People look at me funny when I say that. There's still a lot of areas we need to improve at, we can improve at."
In reality, even with quarterback
Peyton Manning
on the current torrid pace, the Broncos will need, at some point, to run the ball with more authority, especially when in close-out mode. They rushed for just 37 yards on 12 carries in the fourth quarter Sunday. That's 3.1 yards per carry against a defense that was both demoralized and visibly fatigued. While that looks like a BB off a battleship in a 32-point win, there will be a day when the Broncos need more to grind one out.
It will be intriguing to watch how the Broncos attack the Cowboys defense, with longtime NFL assistant Monte Kiffin in his first season calling the shots on that side of the ball in Dallas. Especially since the Broncos will have the video of how their offensive coordinator from 2012 -- current Chargers coach Mike McCoy -- handled it this past Sunday in the Chargers' 30-21 victory. Kiffin has long played a 4-3 look, with the defensive linemen playing the run as they move up the field toward the quarterback with two deep safeties. He forces quarterbacks to play with patience with a combination of coverages designed to keep plays in front of the defensive backs. Fox knows it well from his time in Carolina and Kiffin's long run as the Buccaneers' defensive coordinator, while Manning certainly knows it from his time in Indianapolis when Tony Dungy used the defense with the Colts (Kiffin was Dungy's defensive coordinator in Tampa). But that doesn't always help, or as Fox put it: "Everybody in this league has either played for or coached with Monte.'' One of the biggest challenges for the Broncos will come up front where Kiffin's four-man front is often stunting and moving into the middle of the field as well, working the gaps between the center and guards. That will surely mean a test for Manny Ramirez, as well as Zane Beadles and Louis Vasquez.
Fox said he was sitting face-to-face with Broncos defensive coordinator Jack Del Rio Sunday night when the University of Houston tennis coach, Patrick Sullivan, posted on his Twitter account he had "spotted" Del Rio at Los Angeles International Airport. Fox and the Broncos coaches were at a local steakhouse at the time. "I was actually at Del Frisco's when that came out," Fox said. Asked if he was checking his Twitter feed at the time, Fox said: "I don't even know how to spell Twitter." Del Rio has already been linked to the vacant USC coaching job -- he played at USC -- but couldn't start a new job until the Broncos season is over, including any postseason games. Del Rio's contract is up following the season. Following Sunday night's game, Del Rio said: "There isn't anything to say. It's all speculation at this point, I've got a job to do here, my focus is right there." Monday, Fox said: "Like always there's 8,000 candidates, when it gets serious potential, we'll keep you posted."
The Broncos equipment staff saved linebacker Steven Johnson the football from his first career touchdown in Sunday's win. Johnson blocked a punt early in the fourth quarter, scooped up the ball and returned it 17 yards for the score. Johnson got the ball Monday afternoon. "After I blocked it, I was shocked and I was like, 'Oh shoot,' you know? I slowed down, took a deep breath and just picked it up and scored and then celebrated with my teammates."
Following Sunday's game, in which Trindon Holliday had his sixth return for a touchdown in his 16 games with the Broncos, Holliday said he believed he has become more reliable catching the ball. Fox hasn't always allowed Holliday to catch punts deep in Denver territory and Holliday has had some nerve-wracking bobbles in his brief time with the Broncos. But Monday Fox agreed with Holliday's assessment saying Holliday was "fielding the ball way more consistently.'' It could mean Holliday gets a few more opportunities in games, particularly as a punt returner. On Holliday's run with the team Fox said: "I joked with him that if he'd won the Baltimore game, he might have been the guy on Dancing with [the] Stars.'' Holliday became the first player in league history to return a kickoff and a punt for touchdowns in the same playoff game last January. But the Broncos didn't hang on and lost to the Ravens. And Ravens wide receiver Jacoby Jones was chosen to appear on "Dancing with the Stars."
Fox said Monday the Broncos suffered no major injuries in Sunday's game. Defensive tackle Mitch Unrein and linebacker Danny Trevathan each left the game, but returned.