Denver Broncos:

New England Patriots
November, 21, 2013
11/21/13
6:20
PM ET
ENGLEWOOD, Colo. -- After six seasons, 672 receptions and five 100-catch seasons, it's fairly clear the
New England Patriots
got plenty from
Wes Welker
.
Welker
And Welker got plenty from the Patriots as well. He went from a player who didn't start more than two games in any of his first three seasons in the league and had been cut by the
San Diego Chargers
, to piling up more catches in six years in New England than any player in the league had over that span. As Welker continues to work through the league's concussion protocol, his first trip back to Foxborough with his new team does mean something to the
Denver Broncos
' leading receiver.
"[I'm] definitely excited, big game, big matchup, great environment,'' Welker said. " … I love playing the game, especially in big atmospheres like this. I'm doing everything possible on my end to get an opportunity to play in it.''
Welker's teammates say, after the receiver's somewhat messy departure from the Patriots -- New England offered a two-year, $10 million deal as compared to the two-year, $12 million deal he signed in Denver -- they believe he would love to have a big effort Sunday night in Gillette Stadium. When Broncos' interim head coach Jack Del Rio was asked this week, he said; "He's a competitive guy, so I'm sure he's looking forward to playing with some of his former teammates.''
However, Welker chose to keep it as low-key as possible Thursday after the Broncos' practice. Asked if it would be strange to use the visitor's locker room at the stadium, Welker even channeled a little Norman Dale.
"I'm sure it will be a little bit,'' Welker said. "Another game, another field, same size and everything else. And I'm familiar with it.''
Asked if he has said anything to the Broncos defensive players with any insights he may have on the Patriots' offense or quarterback
Tom Brady
, Welker offered: "[I'm] trying to the best I can, trying to enlighten those guys … I'm really just preparing myself.''
Earlier this week on a conference call Brady said he still keeps an eye on what Welker is doing with the Broncos, saying "we'll kind of always be friends the rest of our lives.''
"It's not the first time this happened where a really important, integral part of the team has left,'' Brady said. "I always keep tabs on him and certainly he's playing with a great player [in
Peyton Manning
], he knows that. So, Wes is having a great year, their offense is having a great year. There are a lot of guys to stop.''
"I stay in contact with Tom, not this week, this week we're enemies,'' Welker said. "Nah, we're close, I wish the best for him, just not this week.''
November, 20, 2013
11/20/13
6:45
PM ET
ENGLEWOOD, Colo. -- The football odometer now reads 20.
Yes, 20 times
Peyton Manning
has played quarterback against a team that featured Bill Belichick as either the top decision-maker on defense or the top decision-maker on the sideline.
After all that time spent trying to decode what Belichick has done, Manning can get into Belichick's mind and knows what the three-time Super Bowl winner in New England is thinking, right?
"Well, I cannot say that," Manning said.
[+] Enlarge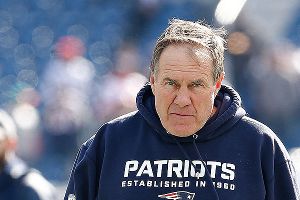 Jim Rogash/Getty ImagesPeyton Manning has a 9-11 record against Bill Belichick-coached teams.
It means whatever happens in Foxborough, Mass., Sunday night will be the 21st time the two have faced each other. A rather astounding number in a not-for-long profession for many players and coaches. Two of the game's most driven perfectionists will search for weaknesses in the other's plan and try to force mistakes in the other's execution.
Manning is 9-11 against a Belichick defense in those previous 20 meetings: four when Belichick was the
New York Jets
assistant head coach and 16 since Belichick became the
New England Patriots
head coach in 2000. Manning has thrown 37 touchdowns in those games to go with 29 interceptions and has been sacked 28 times -- including five games when he was sacked at least three times.
It includes Manning's 6-10 mark against the Patriots, it includes three playoff games, two AFC Championship Games. It includes a mountain of decisions, a host of players and a fairly large, and still unfinished, slice of history that will be left behind whenever the two decide to call it a career.
"They're always well-coached, they're always very disciplined," Manning said. " … They're not making a lot of mistakes or giving you the easy 15-yard penalty there. … Any time you played their football team, you're playing a well-coached, disciplined team and in my opinion that starts with the head coach."
On the surface that may seem like a quarterback trying to answer a question about what he sees from an upcoming opponent without awarding any information along the way. But many in the league who have also tried to solve the Manning Riddle have looked at what Belichick has done through the years and also used the word "discipline" about the defensive success.
Belichick's peers say that two of his greatest strengths as a coach are also what have helped him against the likes of Manning.
He gets players to follow instructions, to do what is asked, without mistakes, almost no matter how much he changes the plan week to week. To consistently, play after play, down after down, get those players in the right spots where they can make things the most difficult for the quarterback with the ball in his hands. No small thing when dealing with varying levels of ability and a pile of personalities that routinely come with an NFL depth chart.
Belichick also has an ability to take away what an offense wants to do most. When longtime Belichick assistant Josh McDaniels was the Broncos head coach, he mentioned how coaching staffs always talk about taking away what an offense wants to do. Belichick consistently forced offenses to beat his team, not with Plan A, but with Plan B or even Plans C or D.
Against Manning, Belichick's teams have often defended the the quarterback's staples well. They take away the seam routes down the middle of the field, make it difficult to hit the underneath routes, and keep the ball out of the hands of the tight end. He forces Manning to move deeper in the progression, and to hold the ball a little longer. Belichick has often routinely chosen coverage over pressure up front as well, usually dropping six, seven and sometimes even eight or nine players into coverage against Manning.
Manning files it, at least publicly when asked, under "all the multiple looks they give you."
For his part, when asked if he sees a different Manning these days after the four neck surgeries, Belichick said simply:
"Looks pretty good to me," Belichick said. "Makes all the throws, does a great job reading defenses, getting to the right play, great poise, excellent with the clock, recognizing defenses, really no weak points to his game."
So, here they go for the 21st time, both with plenty of road behind them now. Both with all of the accomplishments already in hand needed for enshrinement in Canton. But both still with some things left on their career to-do lists.