Denver Broncos:

Olivia Manning
September, 16, 2013
Sep 16
6:30
AM ET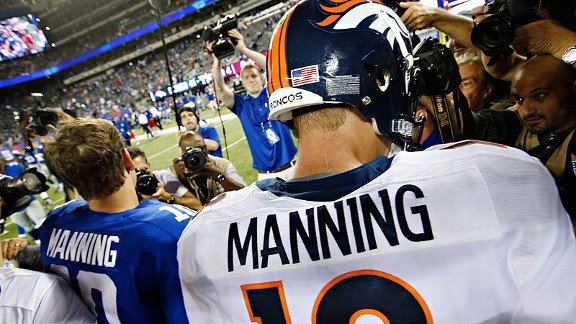 AP Photo/Kathy WillensBrothers Peyton and Eli Manning appear ready to put the Manning Bowl behind them for good.
EAST RUTHERFORD, N.J. -- When it comes to this whole brother versus brother thing,
Peyton Manning
is certain once, twice, three times are enough.
More than enough, really, and that when you get right down to it, three times were probably three times too many.
"It's strange, strange situation, strange circumstance," Peyton Manning said following Sunday's 41-23 win over the Giants, and his younger brother Eli. "A good team win, but I don't know how, it's kind of hard, it's a unique situation. Not many other players have to go through this so you can't really ask too many people for advice on it."
No, there aren't any other brothers who have each won Super Bowls as starting NFL quarterbacks to ask what it all is supposed to feel like. And everyone always seems to want to know if the older brother wants to beat the younger brother, if the younger brothers wants to beat the older brother, if there will be teasing involved and if Eli's two Super Bowl wins trump Peyton's one. In the end, Peyton looks miserable talking about it. Which makes you wonder what it would be like for the two Mannings, if by some football miracle, they ended up in a Super Bowl against each other.
But in reality after Sunday's Broncos win, that's probably it for the Brothers Bowl. Or as Peyton put it following the game:
"I think both of us are glad that it's over with. Postseason's one thing, but I don't believe I'll make it to the next regular-season one. I think this will be the end of it. I know I'll be happy about that and I think my family will (too)."
"With family it's got to be triple tough," Broncos coach John Fox said. "For Archie and Olivia, and maybe even [brother] Cooper, you don't know who to root for ... it can't be easy for a family."
The quarterback who started it all, Archie, looked just as relieved it was over following the game and had just as difficult a time summing it all up. Since the Giants made the draft-day trade in 2004 to acquire Eli, this was the third meeting. Peyton's
Indianapolis Colts
won the previous two -- in 2006 and 2010 -- to go with the Broncos' victory Sunday.
Peyton has thrown for six touchdowns combined in the three wins against his brother, while Eli has thrown six interceptions in the three games, including four Sunday. Both had their first 300-yard passing game in the three meetings on Sunday -- with Peyton going for 307 and Eli for 362 yards -- but for a family that works tirelessly to maintain its composure in the public eye, you didn't need any tea leaves to see how they felt about it.
"It's not like beating another team, it's probably not quite as enjoyable as it would be if you had beaten somebody else," Peyton said. "A good team win, Coach Fox put a lot of emphasis on being a good road team, we didn't start out well on the road last season."
Asked following the game if he thought it would be something he would hear about when all of the prying eyes were elsewhere, Eli simply said:
"I don't think so. I think this is something that we're both passionate about. What we're doing is our job."
A job where they can now, probably gratefully, move on to other things. Some day, maybe, when the gray hair comes and years go by, perhaps they will appreciate the history and significance of two brothers winning Super Bowls at the same position.
Maybe they'll remember the look across the field with their sibling looking back. Maybe someone will simply show them the math, the staggering odds of doing exactly what they have done in their vocational lives. But that's for later. Because right now they likely appreciate only one thing.
That it's over.
September, 12, 2013
Sep 12
1:00
PM ET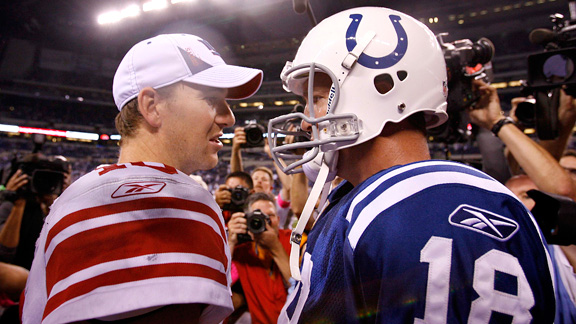 Brian Spurlock/US PresswireBrothers Eli (left) and Peyton Manning last met on the field during the 2010 season.
ENGLEWOOD, Colo. -- There is plenty in life's tapestry that
Champ Bailey
and
Peyton Manning
have in common.
Both were raised in the South, consistently credit their parents for showing them the importance of doing things the right way, played in the football-mad Southeastern Conference, and belong to the ultra-exclusive list of players who have been named to 12 Pro Bowls. Oh, and each understands what it is to look across a football field, with thousands in the seats around him and the last notes of the national anthem echoing in his ears, and see his brother on the other sideline.
"I've always said there's a lot of pride in that," Champ Bailey said of facing teams his brother, Boss, played on. "Family is family. Our thing was you don't drift apart; you play hard that day, in that game, because you want to win. You always want to win, to be the best, but it's hard to explain to people because it's never, 'I've got to beat you' -- because when the game was over, we were still brothers."
Boss and Champ Bailey were even teammates with the
Denver Broncos
for the 2008 season -- a year in which Boss Bailey played only six games because of injuries in what turned out to be the last season of Mike Shanahan's Denver tenure. The Bailey brothers felt the interest and dealt with the questions, but they weren't quarterbacks.
They weren't Super Bowl-winning quarterbacks. And they weren't Super-Bowl winning, "Saturday Night Live"-hosting quarterbacks who also happen to be two of corporate America's favorite pitchmen. So when football nation wants to see all there is to see, hear all there is to hear about a game that includes
Peyton Manning
and
Eli Manning
, it's a little different deal.
So much so that when Peyton was asked this week about what his parents -- Archie and Olivia -- think about all that will come with watching two of their sons in Sunday's nationally televised affair between the Denver Broncos and
New York Giants
, the Broncos' QB said:
"I don't think they enjoy it all that much."
Since the Giants made the draft-day trade with the
San Diego Chargers
in 2004 to acquire Eli, this will be the third, and perhaps because of NFL schedule rotations, last meeting between the brothers. Peyton's
Indianapolis Colts
won the previous two -- in 2006 and 2010. The 2006 game was the season opener for both teams.
"Well, I think the best part about this one is that it's not the opener," Eli said. "It's much better when it's the second game -- or later -- just because you don't have to be asked about it for three months. You get a week of questioning that you have to deal with."
Peyton was asked this week if Sunday's game was one he had been thinking about through the offseason, and he did what he usually does when the well-honed deflector shields are up -- he tried to move on to something else.
"We knew we were going to play them, and based off of last year I knew we'd probably be on TV," Peyton said with a laugh. "So when it was, where it was, Week 2 or whatever -- I'm glad we only have to talk about it for one week. … But I did the New York conference call and there was not one question about the Giants' defense. I had to force it in there myself."
Yes, he did, in the traditional conference call with the opponent's media. After several questions about facing Eli, Peyton simply said:
"I haven't been asked one question about the Giants' defense. That's where the focus is for me as a quarterback and for our offense. It's a good defense. They were put in some tough spots due to some turnovers against Dallas, but they were outstanding last year in creating turnovers, outstanding in the red zone, and so those are things that they're very capable of and that's where our focus is, is getting ready to play a tough defense on the road. At the same time, you do know because of their explosive offense, they're capable of scoring some points, so you better be on top of your game from an offensive standpoint."
It could all be a product of a wired world and 24/7 news cycles, with so many in the populace armed with cellphone cameras, but the Mannings publicly wrestle with this game. They are brothers, they are close, and they spend a great deal of time together. They talk plenty, though not about football this week, and they have even stood pop culture on its ear together with a little football on your phone. In short, they live with the idea, as Champ Bailey put it, that "family is family."
And even as they have tried to keep the rarity of it all at arm's length, to live in the week-to-week moments of the NFL, they both say they have taken time to appreciate the rarity of what has happened in the past -- it is unprecedented for quarterbacks of their stature in the game -- and will take a moment Sunday night to appreciate it once again.
"The past two times we have, for whatever reason, lined up across from each other during the national anthem," Peyton said. "So you do take a moment to realize that it is your brother over there that is a quarterback for the New York Giants in the NFL, and it is the same person that you grew up with. So it is unique, and I think you do take a moment to realize that it is special. But once the game gets started, all week the focus is on their defense, and you can go out there and just play."
"When I look back at the times we played against each other, I think you remember the national anthems and looking over and nodding at your big brother, talking to him before the game a little bit, the handshake after the game," Eli said. "Those things are special moments. … I'm proud of Peyton and his football career, also just proud of the way he's handled himself off the field and all the great things he's done. He's my big brother and one of my best friends."