Denver Broncos:

Pat Bowlen
November, 10, 2013
Nov 10
10:50
PM ET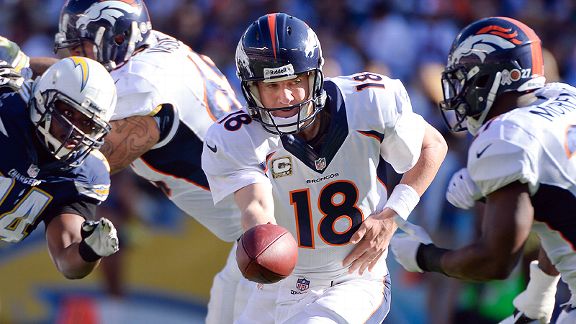 Robert Hanashiro/USA TODAY SportsPeyton Manning and the Broncos will be handing the game ball to recovering coach John Fox.
SAN DIEGO -- Call it a game ball in waiting.
But the
Denver Broncos
were the promise keepers Sunday. They promised, from the executive offices on down, they would mind the football store while head coach John Fox recovers from open heart surgery.
They said they would mind their business, cross all T's, dot all I's, essentially do what needed to be done.
And Sunday, while it wasn't always worthy of a frame, the Broncos "kept the train on the track," as executive vice president of football operations John Elway said they would. They got another 300-yard passing, four-touchdown day from quarterback
Peyton Manning
-- his fifth such game of the season -- and just enough defense to earn a 28-20 victory over the
San Diego Chargers
at Qualcomm Stadium.
When it was over, they carried the satisfaction of another win to the team's chartered flight, some slight nervousness over Manning's limp and a game ball they will give Fox, in person, when he returns to Denver. Fox watched the game from his Charlotte, N.C., home after being released from the hospital Friday. Fox had surgery to replace the aortic valve last Monday and could miss up to 10 weeks.
"I'm sure it wasn't easy," said interim head coach Jack Del Rio, a longtime friend of Fox's. "That'll be the case until he's back, but that's what part of what make Coach great is his passion for the game."
"I would have loved to present [the game ball] to him in person," Manning said. "But he sent a lot of players a text [Sunday] morning, I talked to him Saturday before we got on the plane to come out here and I told him to be yelling at me during the game, [though] that's not good for his blood pressure. We'll have to see if he did or didn't, but he was in our thoughts."
Sunday's victory was Broncos owner Pat Bowlen's 300th in the 30 years he has owned the team, a tenure that has featured two Super Bowl wins. Elway, who was the quarterback of those two champions, hired Fox as coach because he wanted a steadying hand, a believer in teamwork.
And Elway wants that kind of teamwork to get the Broncos though Fox's absence. Del Rio stressed all week, and will likely stress it plenty moving forward, that it will take everyone to keep this team in the mix for the Super Bowl.
"Collectively, we all pulled together and realized that Coach wasn't here and we would need to have each other's backs to work through this thing to come in here and get a win," Del Rio said.
"We all wanted to do this for Coach Fox," defensive tackle
Kevin Vickerson
said. "Everybody knows what Coach Fox means to this team and how he takes care of players and treats us. We wanted to get this win for him, but we don't want him to stop. We want to show what he gives us is in place, you know, that we can keep getting to work and doing our thing. This can't be the last win, you know what I'm saying?"
No, it can't be and the actual window to enjoy what happened in San Diego on a postcard-worthy afternoon was probably the length of the team's flight back to Denver. The Broncos have two games with the Chiefs to go with a road trip to New England over their next three games, a stretch that will have plenty to say about who is, or isn't, the AFC West champion.
But for one game day afternoon it all worked fine for Del Rio and the Broncos, save for one minor lineup adjustment to open the game.
Dominique Rodgers-Cromartie
wanted to honor
Quentin Jammer
, who played 11 seasons with the Chargers before signing with the Broncos this year.
So, Rodgers-Cromartie simply told Jammer to open the game in his place as a starting cornerback in the Broncos' base defense. Jammer lined up there for the first two snaps of the game.
"The coaches didn't really know about it," Jammer said. "I spent 11 years here, and for him to do that, not a lot of guys would do that for another player."
Del Rio was more than a little surprised following the game when asked why Jammer made the start and as he walked back to the locker room following his postgame remarks, he said, with a smile, "I guess that was one of those things I couldn't micro-manage with the guys since I was handling head coaching duties. I'll talk to them and see."
All in all, it was what the Broncos needed as they get into the meat of things. Del Rio is making the calls until doctors give Fox clearance to return. After the win Del Rio, who was the
Jacksonville Jaguars
head coach for nine seasons, was even asked if it was at all like riding a bike.
"It's funny that you use that analogy," Del Rio said. "I had a text from a good friend who said 'It's just like riding a bike and you have a really nice bike.' We do. It's a nice ride."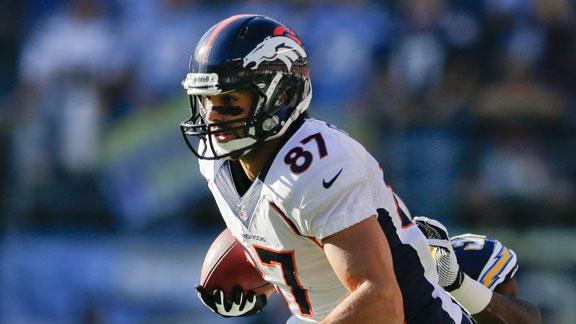 October, 23, 2013
Oct 23
5:30
PM ET
ENGLEWOOD, Colo. – Almost the moment anyone passes through the front doors of the
Denver Broncos
' south suburban complex, there are two easy-to-see reminders of Mike Shanahan's tenure with the team.
The two Lombardi trophies stand watch -- bathed in the glow of their own spotlights, along with all of the hardware from the six AFC Championship Game wins in the franchise's history -- over all those who cross the lobby each day. While there aren't many players left from Shanahan's time with the team –
Chris Kuper
,
Champ Bailey
,
Wesley Woodyard
,
Matt Prater
and
Ryan Clady
– and Alex Gibbs is the only Broncos assistant to have worked with Shanahan, those coveted silver baubles from the two titles remain.
Though Shanahan has a restaurant with his name operating just a few miles from the Broncos' practice fields, as well as an offseason home nearby, Sunday will mark his first trip back to Denver as another team's head coach. He will stand on the opposite sideline at Sports Authority Field at Mile High and make what he says is just his second trip to the stadium's visiting locker room.
[+] Enlarge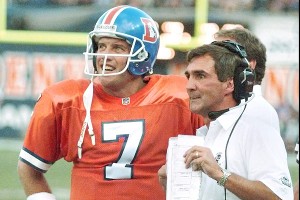 AP Photo/Ed AndrieskiMike Shanahan helped John Elway and the Broncos to two Super Bowl titles during his time in Denver.
"You're there for 21 years, got a lot of great friends, great memories, where we raised our family, yeah, I'm looking forward to it," Shanahan said. "It will be enjoyable."
After an 8-8 finish in 2008, when the Broncos lost their last three games to miss the playoffs, including a crushing home loss to the Bills and a 52-21 loss to the Chargers in the season finale, Broncos owner Pat Bowlen fired the man he once called his "coach for life." The Broncos had won just one playoff game between their Super Bowl triumph to close out the 1998 season and the day Bowlen made the change. Shanahan exited having worked as the head coach or an assistant coach there for more than two decades.
A lot of road has been traveled by Shanahan and the Broncos since. Denver fired another coach (Josh McDaniels) before the 2010 season was over, Bowlen hired John Elway to run the football side of his team, and Elway signed
Peyton Manning
to throw passes for it. Shanahan, after selecting quarterback
Robert Griffin III
in the 2012 draft, has seen his team win the division, has dealt with the aftermath of Griffin's knee injury, and now brings the 2-4 Redskins to Denver in his fourth season with the team.
"That's part of football, people making decisions and going different directions," Shanahan said. "… At least when I left it I felt like I left it in pretty good shape … even though we didn't get done the last couple years as much as you'd like to. Five Super Bowls [as head coach and as an assistant], one out of every three years we were in a championship game. You do that seven out of 21 years, you feel like you're pretty lucky being in the right place at the right time, a lot of people helping you out along the way."
Beyond Bowlen and team president Joe Ellis, the football side of the Broncos' operation has undergone two extreme makeovers since Shanahan's last day. McDaniels first brought his version of the Patriot Way to Colorado. Then Elway arrived in early 2011 to rebuild from the 4-12 season left behind after McDaniels' second year, replacing him with John Fox.
As far as players, Prater (signed off the Dolphins' practice squad in 2007) and Woodyard (made Shanahan's last Broncos roster in '08 as an undrafted free agent) have seen a lot of change since Shanahan's departure.
"He gave me my first good opportunity in this league," Prater said. "It's pretty crazy. It's been a lot of transition with different coaches and different guys coming through. I'm happy to still be here."
"He was the guy who gave me my first chance to play in the NFL, so much respect," Woodyard said. "He was one of those guys who always kept it straight forward, he never B.S.'ed it, he always told you exactly what you wanted to hear from a head coach, he never cut you short, he always kept it real. … I believed in him and he believed in me."
The Broncos will honor Shanahan with a video presentation before Sunday's kickoff, a nod to those trophies in the lobby and all the time Shanahan spent with the team.
He has always said he believes the Broncos were close to being a playoff regular once again -- with
Jay Cutler
at quarterback -- when he was let go in 2008. Still, he spends a big slice of his offseason time in Denver, played a round of golf with Elway earlier this year during the league meetings and says he still considers Bowlen a friend.
"I had 21 great years with Pat," Shanahan said. "Sometimes when you separate, you look back at all the great times you did have. I've always considered Pat one of my best friends."
Asked if thought he would hear cheers or boos from the fans on Sunday, Shanahan said, "Hope they don't boo me. I don't think I did anything wrong to get booed. I didn't leave. They fired me."
September, 13, 2013
Sep 13
7:00
AM ET
ENGLEWOOD, Colo. – It can be tough to follow such a high-end opening act, but that is the
Denver Broncos
' task this week as they make their first road trip since an Aug. 17 preseason game in Seattle.
"And our last outing wasn't too positive,'' said Broncos coach John Fox about that 40-10 loss to the Seahawks. "I think we've got a little bit to learn from that.''
By the time Broncos jog onto the field Sunday at MetLife Stadium in East Rutherford, N.J., it will have also been 10 days since
Peyton Manning
carved out another slice of football history -- and carved up the
Baltimore Ravens
' secondary -- with seven touchdown passes in a 49-27 opening victory. So, in that light, here are some things to consider about the third, and perhaps last, time Peyton will face his brother
Eli
's team:
What comes after seven? Manning tied an NFL record with his seven passing TDs against the Ravens and became the first player to reach that mark in a game since 1969. Tough to top that. The Broncos would like to run the ball a few more times -- and a lot better -- against the Giants than they did against the Ravens, but Manning will still put the ball in the air plenty. The Giants have some uncertainty at cornerback -- Prince Amukamara suffered a concussion in the opener against the Cowboys -- and their linebackers struggled in coverage against Dallas. That's a recipe for Manning to push the ball up the sidelines at times, especially out of play-action, and work the middle of the field with tight end Julius Thomas or Wes Welker. Running back Knowshon Moreno, who has the running back of choice in the three-wide-receiver set, figures to be busy in the passing game as well -- Cowboys quarterback Tony Romo completed 18 passes to his backs and tight ends, who consistently found room in the short to intermediate zones.
[+] Enlarge

AP Photo/Paul JasienskiDenver center Manny Ramirez could get a stiff test from the Giants' interior defensive line.

Four of a kind. The Giants have always believed in the benefits of a four-man rush to bring pressure on opposing quarterbacks -- "That's been true going all the way back to when I was coaching there,'' Fox said. That allows the defense to use seven players in coverage in these pass-happy times -- and it's especially true for a Giants team with some uncertainly in its defensive back seven and that likely needs to play it a little more conservatively. Against the Cowboys, with end Jason Pierre-Paul still working his way back from offseason back surgery (he played 50 snaps in Dallas), the Giants did most of the consistent damage when they won on the inside. Defensive tackles Linval Joseph and Cullen Jenkins, a combined 628 pounds, repeated pounded away at Cowboys rookie center Travis Frederick. The two also made life difficult for right guard Mackenzy Bernadeau, so much so many in the league believe recent signee Brian Waters will be manning the position the next time the Cowboys play. The Broncos struggled at times against the Ravens' defensive front, particularly in the run game on the interior. The Giants figure to test left guard Zane Beadles and center Manny Ramirez plenty.
Short and not so sweet. The danger in all of the up-tempo frenzy going on in the league -- and the biggest reason the jury remains out on all of it -- is what it does to a defense when the team's offense doesn't get a first down when running at warp speed. The Broncos had a 48-second three-and-out possession in the second quarter against the Ravens, to go with a 59-second possession in the fourth quarter. "We have to avoid that,'' said offensive coordinator Adam Gase. "When we go to our up-tempo stuff, we have to make sure that we're staying on the field and put the (opposing) defense in a bad defense.''
Three-pack. What the Giants could do with Victor Cruz and Hakeem Nicks at wide receiver was already a significant challenge for opposing defenses. And if Rueben Randle can consistently be that third option -- all three topped 100 yards receiving against the Cowboys -- it spreads things out even a little more. The alignment to watch was one that was repeatedly effective against the Cowboys, with Nicks and Cruz lined up to the offensive right and Randle as the lone receiver to the left. The Giants consistently got all three into open space with that set. It will be a significant challenge for the Broncos' defensive backs. "Real good third option," said Denver defensive coordinator Jack Del Rio said of Randle. "I described him to our guys, he's like a No. 2 in the league, I think he's a legitimate starting-caliber wide receiver (who) happens to be the third guy in their rotation."
Be in a rush. In of the rose petals tossed at the Broncos' feet after what was a high-quality victory over Baltimore, it was easy to lose sight of the fact that Denver did not have a sack, or hadn't really even stressed Joe Flacco all that much in the pocket, until right tackle Michael Oher suffered a severely sprained right knee on a 1-yard touchdown run by Ray Rice with 8 minutes, 3 seconds to play in the second quarter. All four of the Broncos' sacks, including the 2.5 for defensive end Shaun Phillips, came after the Ravens had to slide protections at times with Oher out. The Giants have had their own struggles in the offensive front, but the Broncos have to find a way to get some heat on Eli Manning -- or Manning will find the soft spots in coverage.
Adapt or punt. You don't spend $12 million of Pat Bowlen's dollars on Welker if you don't want to go with three wide receivers on offense most of the time. But the Broncos struggled mightily early against Baltimore until they went to a two-tight-end look for five plays. They found their flow, played a little bigger for a few snaps ... and away they went. They have been more efficient at times over the past two seasons out of the two-tight-end look, especially early in games. The Broncos had eight plays among the first 20 that went for one yard or fewer or were an incompletion. The first 20 snaps, including penalties, resulted in three punts. The Broncos didn't score the first touchdown until they went to two tight ends, then got back in the three-wide set on their fifth possession of the game. They scored a touchdown on a one-play drive, in three-wide, to close out their fourth possession after they got the ball on the Ravens' 24-yard line, thanks to a Chris Harris interception.