Denver Broncos:

Quinton Carter
April, 11, 2014
Apr 11
7:30
AM ET
As the guy at the top of the football flow chart for the Denver Broncos for the past three seasons, John Elway has now overseen three drafts for the team.
The Broncos have made 23 picks in those three drafts, found seven full-time starters with more expected to be added to that total this season if things go as planned inside the Dove Valley complex.
But let's go inside each of those three drafts to see how things have gone and where they are headed.
Today: 2011.
[+] Enlarge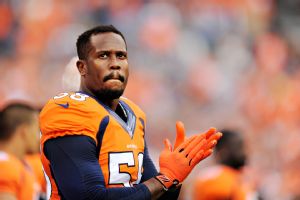 AP Photo/Jack DempseyVon Miller has had a lot to cheer about since Denver selected him No. 2 overall in the 2011 NFL draft.
First pick:
Von Miller
. Miller, at No. 2 overall, was the inaugural pick of the Elway/John Fox regime. In his 18.5-sack season in 2012, he was in the discussion for the league's Defensive Player of the Year and had 30 sacks over the 2011 and '12 seasons combined.
That's elite, a foundation player in the making. And then things got off the tracks a bit in '13 with Miller's six-game suspension to open the season and his knee injury last December. The Broncos were productive with their picks after Miller that year, but Miller's own long-term future still is a bit of a question mark.
The Broncos will face an enormous decision on whether or not to sign him long-term in the coming months -- barring a franchise player tag -- since Miller is slated to be an unrestricted free agent following the 2014 season. They want to see Miller become that special player again, not one unwilling to face what needs to be done as he appeared at times, according to some with the team, this past season.
Starters: 4.

Miller, safety
Rahim Moore
(second round), tackle
Orlando Franklin
(second round) and tight end
Julius Thomas
(fourth round) are front-line players on the depth chart. Moore projects, alongside free-agent signee
T.J. Ward
, as a starting safety again this time around. And Thomas is a budding star many personnel executives believe will have an even bigger role in the offense from a bigger variety of spots in the formation.
The Broncos will have to be ready to pay to keep him -- he's slated to be an unrestricted free agent after the upcoming season.
Best value pick:
That's Thomas, by a country mile. After just one year of college football when his hoops career ended at Portland State University, the Broncos not only bet on Thomas' athleticism, but that he would have the work ethic and mental toughness to learn on the job in the NFL.
He's had all that and more. So much so the Broncos may have to make that whole "is he a wide receiver or tight end" argument when contract time rolls around.
Now's the time:
Linebacker
Nate Irving
(third round) has been a situational player on defense and a key player on special teams.
But he's also a player who has been afforded the opportunity to win the middle linebacker job, or has at least been in the rotation for the chance, on multiple occasions and not come away with the job.
Though he plays with power and has strong hands to shed blockers in traffic, he doesn't always square up on blockers in the middle of the field and leaves a running lane available from time to time because he has attacked one shoulder or the other of the blocker a little too aggressively. That showed on his game video in college as well -- some scouts said he routinely "ran around blocks'' -- but he was athletic enough to get away with it then.
He has played far better on the outisde when he's had the chance, especially when he's played in Miller's strong-side spot. But Miller and
Danny Trevathan
are inked into the two outside spots and while Irving will likely have to fill in some for Miller early on this season as Miller recovers from ACL surgery, in the long-term the middle linebacker spot is where he would have a chance to start.
Gone:
Linebacker
Mike Mohamed
(sixth round) and defensive end Jeremy Beal (seventh round) are no longer on the roster. Beal did two stints on the Broncos practice squad, but simply could not overcome a speed deficiency to break through despite plenty of production in the pass rush at Oklahoma.
More to come?:
Safety
Quinton Carter
(fourth round) started 10 games as a rookie before multiple knee injuries forced him on to injured reserve for back-to-back seasons. Fox has said Carter has a chance to contribute this year if the knee holds up.
But Carter hasn't played since the third game of the 2012 season.
Tight end
Virgil Green
(seventh round) is a quality athlete, but he finds himself at a crowded spot in the offense and plays the majority of the time as the on-the-line tight end in the two-tight end look on early downs. Quarterback
Peyton Manning
does trust Green enough to throw him the ball form time to time. But the Broncos would have to trim from four to three tight ends on the roster for Green to get significantly more snaps.
February, 22, 2014
Feb 22
2:15
PM ET
INDIANAPOLIS -- As the Broncos work through their coming roster decisions, a big part of the process will be the recovery of their injured players.
Clady
And both head coach John Fox and executive vice president of football operations/general manager John Elway said at the NFL scouting combine they are optimistic on all fronts that those players are on track to not only bolster the depth chart, but several are in line to have prominent roles.
"It was fun putting the magnets back on the board, taking them off [injured reserve] and putting them back on the board," Elway said.
Leading the way is left tackle
Ryan Clady
. The former All-Pro recently had all of the screws and pins inserted into his surgically repaired foot removed, and Elway said Clady has stepped up his workouts.
"[Clady] is good," Elway said. "He finally got all of the hardware out of his foot."
The Broncos also believe defensive end Quanterus Smith, who tore his ACL during his senior season at Western Kentucky, will be at full speed during the team's offseason work. After participating in training camp last summer, Smith spent his rookie season on injured reserve.
With
Von Miller
in the early stages of his own recovery from ACL surgery – he suffered the injury in the Broncos' Week 16 win in Houston – and
Shaun Phillips
an unrestricted free agent, the Broncos will need Smith to contribute in the rotation in the defensive front as quickly as possible.
"The offseason helped him,'' Fox said.
Fox said at the combine he also was hopeful that safety
Quinton Carter
can be in the mix in the secondary after spending almost two full seasons on injured reserve. The Broncos have six defensive backs who will be restricted or unrestricted free agents in the coming weeks.
Carter has had multiple surgeries on his troublesome left knee, including a microfracture procedure. Carter started 10 games as a rookie in 2011, finishing with 49 tackles and had interceptions in back-to-back playoff games.
He played in just three games in 2012 before he headed to injured reserve and was placed on injured reserve again last August.
"He was a pretty good player as a rookie -- [some] people don't remember that,'' Fox said. "No swelling, which is a big thing for that procedure. He'd be a real bonus if he comes through it.''
Fox also said the nature of cornerback
Chris Harris Jr.
's injury could help Harris' return to the field, as well. Harris suffered a torn ACL in the Broncos' divisional round win over the
San Diego Chargers
, but Fox said the ligament wasn't completely torn.
"One thing about Chris is a little bit unique because it wasn't torn all the way," Fox said.
August, 27, 2013
8/27/13
6:35
PM ET
ENGLEWOOD, Colo. -- The Broncos saw what they were looking for in
Derek Wolfe
Tuesday.
As in the versatile defensive lineman was back in practice and on track to play in the regular-season opener Sept. 5 against the Ravens. Wolfe was sidelined since Aug. 17 after being taken from the field by ambulance after a helmet-to-helmet collision with Seahawks fullback
Michael Robinson
during a preseason game in Seattle.
[+] Enlarge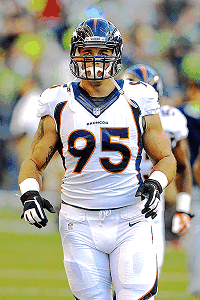 AP Photo/ Eric BakkeDenver will likely have versatile defensive lineman Derek Wolfe in the lineup for Week 1.
But the Broncos have been hopeful he would be ready for the opener.
"I was just waiting for the pain to go away,'' Wolfe said following the workout. "Zero pain, zero weakness, so that's all good.''
Wolfe may not be the first name off people's tongues when they talk about the Broncos elsewhere, but he is a key piece of the defensive game plan for defensive coordinator Jack Del Rio. That's because Wolfe is strong enough to play on the interior in the defensive line and athletic enough to play at end, as well. The Broncos list him as an end, but Del Rio has estimated that he asks Wolfe to do things defensive tackles do about "80 percent of the time.''
And while Del Rio is constantly using different sets of players for a variety of situations in games, Wolfe is one of the innings eaters as it were. He plays in them all and if he isn't in the lineup against the Ravens, it would affect how the Broncos do things.
Wolfe played 903 defensive snaps last season as a rookie -- 84.4 percent of the defensive plays -- and the only defensive lineman who played more in 2012 was
Elvis Dumervil
with 922. Wolfe is expected to play even a little higher percentage of snaps this time around if things go the way the Broncos hope they will.
Coming into the 2012 draft, Wolfe was a rarity among the defensive line prospects that year in that he won matchups all across the defensive front, including at nose tackle and at rush end. Del Rio has been quick to ask him to do many things including as a stand-up rusher when the Broncos go to a sort of whirlpool look with one player in a three-point stance and the other defenders moving around the formation.
"He can do a lot of things, so we're going to ask him to do a lot of things,'' Del Rio said.
In other Broncos news: