Denver Broncos:

Rod Smith
January, 17, 2014
Jan 17
4:55
PM ET
ENGLEWOOD, Colo. -- Somewhere, this week, in the expansive quiet that is northern Idaho, there was a man going through his own preparations as the clock winds down toward Sunday's AFC Championship Game.
"I've got to make sure we're all ready to go with the (satellite) dish, I don't want to miss a play," said one
Jake Plummer
.
Plummer, who was the
Denver Broncos
' honorary captain before last Sunday's divisional round win against the
San Diego Chargers
, just happens to be the last Broncos quarterback before
Peyton Manning
this past Sunday, to win a divisional round game and get to the AFC Championship Game. That 2005 Broncos team had stumbled into a home game for the conference championship when the
Pittsburgh Steelers
had upset Manning and the
Indianapolis Colts
the week before. Those Broncos certainly didn't make the most of it, the Steelers led 24-3 at halftime and went on to win, 34-17, on their way to a Super Bowl XL win.
Cornerback
Champ Bailey
is the only current Broncos player who played in that game.
For his part, Plummer has seen the Broncos plenty this season and having prepared to face
New England Patriots
head coach Bill Belichick -- the Broncos defeated Belichick's Patriots in the divisional round following the 2005 season -- Plummer sees a few important items on the Broncos' to-do list.
Moreno
Things like:
Get running back Knowshon Moreno going.
Moreno had a career-best 224 yards rushing in the Broncos'
Nov. 24 loss
to the Patriots on a career-high 37 carries. The Broncos rushed for 280 yards overall, working almost exclusively out of a three-wide receiver set.
"I think at times Knowshon can quite possibly be the MVP of that offense in the kind of situations you get in the playoffs," Plummer said. "Peyton's going to throw it in the red zone, he's going to get his touchdowns, but Knowshon is huge for them to keep things going.
"Knowshon is so good in the passing game, as a blocker in there and as a receiver, but if they get Knowshon going, then they have play-action, it keeps the rush off Peyton and when Peyton has the option of play-action, defenses, man, they don't know what to do with that offense then. Because they can come at you in the same action up front, run or pass, and Peyton sees those guys on defense coming up, he's going over the top."
Be ready to adjust.
While every coach before every game talks about taking away something the opponent wants to do, Plummer said Belichick is simply one of the best at doing it.
"He's just always focusing in on stopping what you do well and then see if you have anything else in your back pocket, he almost never lets you beat him with what you do best," Plummer said. "With his own guys, he takes players and finds their strengths, rather than just trying to jam everybody into a system ... he has a way of getting those guys where they need to be and knowing how to shut down what you do well and seeing if you've got anything else in your repertoire. There will come a time in the game when the Broncos have to have other people make those plays.
"If the Broncos open it up a little bit, like they like to do, I could see Belichick attacking Julius (Thomas) and Montee (Ball) in the passing game. That could give them a little bit of trouble. I could just see Belichick, in search of a matchup, shift some things around to force Julius and Montee in to a tough choice in pass protection, where they're 1-on-1 with a defensive end or a linebacker. Julius, man, that guy is a superstar waiting to happen, but right now he has some things blocking that need some work and if they get the chance Belichick will try to create an issue there so the Broncos will have to have an answer."
Manage the moment.
Plummer's former teammate, Broncos Ring of Famer
Rod Smith
said Thursday he didn't think some of the Broncos handled that end of things in the loss to the Steelers eight Januarys ago.
"We didn't have to go to Indy, Pittsburgh had to come to us and everybody was excited about that," Smith said. "And I'm like 'no, you gotta go play.' It's not about being excited about playing at home, it has nothing to do with it. You've got a football game ... and honestly I kind of saw a lot of our younger guys got lost in the fact we had a home game instead of getting lost in the fact of getting in that playbook, getting focused in, being disciplined on the things we need to do as a team and we didn't play well and we lost."
But both Plummer and Smith see players, such as Manning and Bailey, as key in the effort to keep their teammates dialed in. Smith said last January's loss should still sting the Broncos players who lived it and Plummer said it's often the team that handles that early-game emotional swirl the best is the one that plays closest to the form that got it this deep into January in the first place.
"You're asking me like I'm a pro, I went once to the AFC Championship," Plummer said with a laugh. "But the whole thing changes. ...The pressure is huge, but you have to try to approach it like any other game, it is just a football game, it's the same thing you played in Week 1. There's just so much more riding on it. You're one game away from the game everybody starts the season wanting to get to. The pressure mounts. There's no way to not feel it, but the guys who stay calm and do what they do best that's the key. With Peyton back there I kind of feel like, whatever storm New England brings, they'll come out on top and move on to New York."
January, 16, 2014
Jan 16
10:00
AM ET
ENGLEWOOD, Colo. -- In the
Denver Broncos
' locker room, much like the real estate market, it can be all about location, location, location.
But the best spots, as well as the privilege of two lockers, side-by-side, to be used by one player, are reserved only for the elite of the elite. Reserved for players with the on-field chops and off-field leadership to have earned that kind of status.
Reserved for a player like quarterback
Peyton Manning
.
Broncos tight end
Jacob Tamme
once joked Manning "could really have a whole wing,'' but Manning's standing in his own locker room may be the only place where it is elevated from his standing in the league.
As part of a survey of over 320 players league-wide from ESPN.com's NFL Nation reporters this season, the question was asked "Which player do you respect the most?''
Manning was the top choice with 86 players (27 percent) choosing the future Hall of Famer.
New England Patriots
quarterback
Tom Brady
and
Minnesota Vikings
running back
Adrian Peterson
were tied for second with 24 votes each.
In the Broncos' world, Manning, who just earned his 13th Pro Bowl selection and is poised for his fifth MVP award, and cornerback
Champ Bailey
, with 12 career Pro Bowl selections, are the double-locker guys. They set the tone and every single Broncos player who participated in the survey selected either Manning or Bailey, even when they were told the question was for any player in the league.
"I think in watching him up close, working with him every day, side by side, you really have an appreciation for what kind of player Peyton is," said offensive coordinator Adam Gase. "The way he prepares, the way he practices, just how he conducts himself. The guy has done so much and he still prepares like he's trying to make the team, still looks to make himself better every day. If you don't respect that is a you problem.''
Many Broncos players tell the story of when head coach John Fox had Broncos Ring of Famer
Rod Smith
speak at a team meeting not long after Manning had signed with the Broncos. People had already seen Manning eat his meals in his countless hours at this facility as he learned a new offense, a new team and Smith looked over the room and then settled his eyes on Manning and asked "have you ever been the only one in the building?"
Manning said "yes," and Smith then looked at the other players with an expression those on hand say was essentially "see?"
The Broncos see all right. Every day.
December, 6, 2013
12/06/13
11:50
AM ET
ENGLEWOOD, Colo. -- The
Denver Broncos
are 10-2 with four games remaining in the regular season -- none against a team that currently has a winning record. They will certainly be counting down the weeks as they try to hold on to the top seed in the AFC.
"It's just about going one at a time," linebacker
Von Miller
said. " ... That's what we keep saying, just go to the next one."
After some numbers crunching (and a hearty nod to the folk at ESPN Stats & Information) here are some statistics of note as the Broncos move through Week 14:
Manning

Peyton Manning has thrown for 4,125 yards in 12 games. That is already the third-best season total in the franchise's history, behind only Manning's 2012 total (4,659) and Jay Cutler's 4,526 yards. The 4,125 yards are also more than Hall of Famer John Elway threw for in any season of his career. Elway's highest yardage total was 4,030 in 1993.
Manning's 41 touchdown passes after 12 games are already a season franchise record. It is the only 40-touchdown season in the franchise's history. And until he passed the 30-touchdown mark Nov. 10 against the Chargers, Manning's 37 touchdowns last season had been the franchise's only 30-touchdown season from a quarterback. Elway's best in a career with far more run-oriented offenses was 27 in 1997.
After all of 28 regular-season games with the team, Manning is sixth all-time in the franchise's history in passing yards with 8,784. He's second all-time in franchise history in touchdown passes with 78, one ahead of Craig Morton and a hearty 222 behind Elway's 300.
Turnovers continue to be an issue overall. The Broncos' 25 giveaways -- a total that includes a league-leading 16 lost fumbles -- make them one of just four teams with at least 25 turnovers this season. Detroit (7-5) has 25, the Jets (5-7) have 27 and the Giants (5-7) have 31. Manning's six lost fumbles are the highest season total of his career and are more than his previous five seasons as a starter combined.
The Broncos make life difficult on opposing defensive coordinators with the way Manning works the whole field in the passing game. They have three receivers -- Demaryius Thomas, Wes Welker and Eric Decker -- with 67, 68 and 63 catches respectively. Those three have also been targeted 107, 101 and 97 times respectively. That is uncanny balance at this point in the season.
Welker needs 14 receptions to pass Broncos Ring of Famer Rod Smith for most receptions by an undrafted player in league history. Smith finished his career with 849 while Welker has 836.
The Broncos have won 12 consecutive regular-season home games -- their last regular-season home loss was to Houston on Sept. 23, 2012. The Broncos are 22-3 in regular-season games since that loss, and the Texans are 11-15, including 2-11 this season. With 14 consecutive regular-season home wins, the Seahawks are the only team currently with a longer streak than the Broncos.
The Broncos are one of four teams that have surrendered at least 17 points in all of their 12 games thus far. They are the only one of the four with a winning record. The Bears are 6-6, the Vikings are 3-8-1 and the Falcons are 3-9. The Broncos are currently allowing 26.4 points per game, down slightly from the 27.3 they were allowing a month ago. But the team to have allowed the most points and still make the playoff is the 2000 St. Louis Rams, which allowed 32.1 points per game and lost in the wild-card round.
October, 3, 2013
10/03/13
9:00
AM ET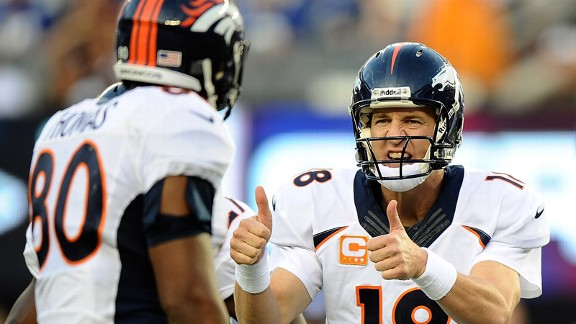 Maddie Meyer/Getty ImagesThere's more to Peyton Manning's success than his football smarts and meticulous preparation.
ENGLEWOOD, Colo. -- No matter what the question is or who is giving the answer, it always comes back to
Peyton Manning
's brain.
Back to pro football's beautiful mind as it were. And with Manning off to the kind of statistical start that brings only shrugged shoulders and nervous laughs because of the ridiculousness of the mountain of numbers, it has all, again, come back to the brain.
Maybe it's because Manning dialed up Milt Plum's jersey number just seconds after being asked about tying a record held by Plum. Or the fact that he can describe, down-by-down, drives from Tennessee-Florida games played 16 or 17 years ago. When describing how Manning plays the game, the discussion always starts with how he thinks through the game.
And that is a worthy starting point. Rams coach Jeff Fisher has described Manning's mind as "a database," admiring that Manning "didn't just study what you did this year, but he studied what you did for years to see how you got to what you're doing this year.''
Certainly Manning's ability to not only collect information, but to retain and use it so quickly at the line of scrimmage separates him from most who have ever played the position. His teammates, his peers behind center, those who have faced him, and those who have coached him all speak of Manning's mind.
Essentially it's like football Google.
But Manning's mind isn't the whole story -- it can't be. After so many discussions about defending Manning with many longtime defensive coaches around the league, as well as those who worked alongside Manning,there are some other things that may be as important.
Like his drive. No one can study as hard as Manning does without being driven to do so. Broncos defensive coordinator Jack Del Rio speaks of watching Manning walk directly from the quarterback's introductory news conference with the Broncos in March of 2012 -- "where he just held up a jersey'' -- and into a meeting room to watch video. Or how he catered meals into the Broncos facility throughout that first offseason because he was in what he called "a crash course'' to learn the team's offense in a new place for the first time since his rookie year in 1998.
Or when Broncos Ring of Famer Rod Smith, who had been brought in by coach John Fox to speak to the players about striving for more, once asked Manning in a team meeting if he was ever the only one in the building and Manning's reply was simply "yes.'' Smith looked at everybody else in the room, according to those who were there, with an expression that said "see?''
It's what Broncos executive vice president of football operations John Elway wanted when he signed Manning. Sure, Elway wanted the brain, the arm and the cachet that comes with a quarterback like Manning, but he also wanted the drive -- "a guy like that raises all boats.'' Elway has said he wanted the constant pushing, when Manning runs every practice play in June like the Super Bowl or quizzes players on the spot about their responsibilities on specific plays. And after they answer, even if they're right, he often asks, "Are you sure?''
And there are the physical gifts, which are often lost in the discussions about the mind. Or as Lions coach Jim Schwartz has put it, "I think people forget sometimes how big he is.'' At 6-foot-5 and 230 pounds, Manning is one of the biggest starters at the position. He plays with a strong base, nearly flawless fundamentals drilled into muscle memory by years of work -- he still does the same footwork drills he did at Tennessee -- and with the toughness of a guy who didn't miss a game for 13 years until he missed the 2011 season after multiple neck surgeries.
It's all there for those trying to beat him, and even if they win a play, a drive or even a game, they know Manning is taking notes and will almost certainly, without fail, remember why.