January, 28, 2014
Jan 28
8:15
PM ET
By
Lyle Crouse
| ESPN.com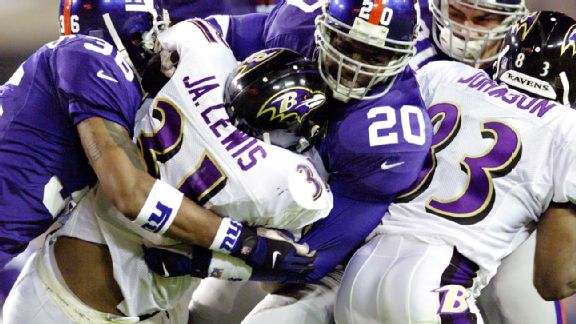 Brian Bahr/ALLSPORT Sam Garnes (20) and the Giants fell behind quickly and never recovered in Super Bowl XXXV.
NEWARK, N.J. --
Sam Garnes
is trying to help the
Denver Broncos
win a Super Bowl, yet he was asked Tuesday about his experience losing the NFL's championship game.
And the former safety didn't backpedal from the line of questioning.
"No, no," he insisted. "That's
real
."
In five trips to the Super Bowl, the
New York Giants
have lost only once. Garnes, a Bronx native, was the starting strong safety for that team, which fell 34-7 to the
Baltimore Ravens
in January 2001.
So Garnes, Denver's assistant secondary coach, imparts a clear message to the Broncos as they prepare for Super Bowl XLVIII against the
Seattle Seahawks
: You don't want to know what it feels like to lose this game.
[+] Enlarge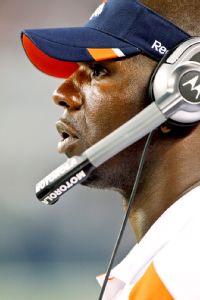 AP PhotoGarnes is in his third year on the Broncos' coaching staff.
"I tell my players, we're not interested in having fun for two weeks between the AFC Championship Game and the Super Bowl," Garnes said at Super Bowl media day. "We want to have a great time for several months [afterward]."
That approach has remained constant for Super Bowl teams through the years. Other aspects of the experience have changed, including media day.
"It's amazing. You've got fans here," he said as he surveyed the scene. "We didn't have fans in Tampa Bay's stadium [13 years ago].
"And now we're playing a cold-weather game, which at that time was unheard of."
Ah, yes, the cold-weather Super Bowl in East Rutherford, N.J. Cold, hot, whatever -- Garnes, 39, is just happy to be home.
"Selfishly, I wanted to be here when they said the Super Bowl was in New York," said Garnes, who attended DeWitt Clinton High School in the Bronx and played for both the Giants and
New York Jets
during his seven-year playing career.
"Selfishly, I wanted to be here, and I will admit that, because this is a place I love. All my players and coaches, they know much I love where I'm from."
Garnes -- who was quick to clarify that the Super Bowl is in the "Greater New York area; there's no disrespect to Jersey" -- looks forward to making the short trip to the Bronx from the Broncos' hotel in New Jersey.
"Right now we're busy," he said, "but as the week winds down, I'll have time to go over there and get me some of that good ol' Bronx pizza and get me some Chinese food."
He'll likely get a warm welcome wherever he goes. "I have a lot of family still in the area," he said. It's the perfect setting for Garnes' return to the NFL's marquee event.
"To come back to your home area and be a part of the Super Bowl," he said, "is a great feeling."
January, 28, 2014
Jan 28
7:15
PM ET
NEWARK, N.J. -- Meet Greg Wilson, the most unlikely player at Super Bowl XLVIII.
Two weeks ago, he was a salesman with a solar power company. Today, he's a member of the AFC champion
Denver Broncos
.
It's one heck of a homecoming for the 23-year-old, who played his final two seasons of college football at nearby Fordham University.
[+] Enlarge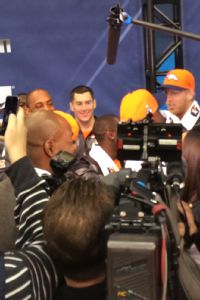 Kieran Darcy/ESPNMedia day isn't as glamorous for practice-squad players like Broncos WR Greg Wilson, center.
"It's been a blessing. It's been crazy," Wilson said Tuesday at Super Bowl media day. "Going from a desk job and sitting at home, watching the games on the weekends to being out here and playing with the guys, it's just been great."
A California native, Wilson transferred to Fordham from Diablo Valley Community College in 2011. He was a two-year starter for the Division I-AA Rams. His senior season he caught 41 passes for 545 yards and four touchdowns.
Undrafted this past spring, Wilson was invited to a
San Francisco 49ers
rookie minicamp but ultimately didn't make the team.
He got a part-time job at Sunrun, which provides residential solar electricity, in San Francisco, but he continued to stay in shape, not giving up on his NFL dream. In November, the Broncos brought him in for a workout but did not sign him. Then, Wilson's phone rang Wednesday morning, Jan. 15 -- five days before the AFC Championship Game.
"My agent called me, [and] said the Broncos want to sign you to the practice squad," Wilson said. "I stood up from my job, said, 'Hey, I'm outta here,' left, went home, packed a bag and flew out that night."
Wilson admitted being a little nervous upon his arrival in Denver, but he was quickly put at ease. "The whole locker room is very welcoming," Wilson said. "It was definitely a little intimidating meeting a guy like
Peyton [Manning]
at first. But at the end of the day, he's another teammate, and he's a good guy."
Being a practice-squad player, Wilson doesn't get to work with Manning, but he is playing an important role this week, acting as one of the
Seattle Seahawks
' receivers on the scout team.
Wilson won't get to play in Super Bowl XLVIII at MetLife Stadium, but he did get to participate in media day at the Prudential Center -- even if it was hard to find him, standing behind several teammates who seemed more eager to attract attention.
Wilson seemed satisfied just taking it all in and will have lots of stories to share with his family and friends. "They're all so happy for me," Wilson said. "They know how hard I've worked and how bad I want it, so for them to see me get the opportunity, I think they're all thrilled."
There are no guarantees Wilson's time with the Broncos, or in the NFL, will extend beyond Sunday. His size -- 6-foot, 180 pounds -- won't do him any favors. But whatever happens next, no one can take away this experience.
"I'm just working to give the defense a good look," Wilson said. "If that leads to a contract in the future, that's great. But right now, my focus is just on getting this defense prepared for Seattle."
He's been a Bronco for less than two weeks but sounds like a team player.
January, 28, 2014
Jan 28
6:45
PM ET
NEWARK, N.J. -- If
Mike Adams
walks home after the game, he won't be alone.
[+] Enlarge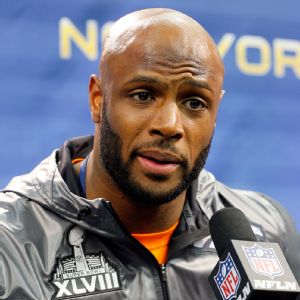 Adam Hunger/USA TODAY SportsBroncos safety Mike Adams, from nearby Paterson, N.J., is sure to have company if he takes a victorious stroll home after the Super Bowl.
The
Denver Broncos
safety said Tuesday he has received so much reaction from his half-joking proclamation that he suspects there might be a "mini-parade" if he decides to make the 10-mile trek from MetLife Stadium to his childhood home in Paterson.
"My Twitter and my [Instagram] were blowing up," said Adams, who declared after the AFC Championship Game that he'd walk home after Super Bowl XLVIII if they beat the
Seattle Seahawks
. "My brother said, 'If you're going to walk, I'm going to walk with you.' The reaction has been crazy."
It could be a scene out of "Forrest Gump," one man leading his flock -- sans the shaggy beard, of course.
Adams acknowledged that it was a joke, but he kept playing along on Media Day. Asked if he intended to follow through, he replied, "Are you going to have your sneakers on? Come and see."
Later, he said with a smile, "Now I have to put up or shut up."
You have to love the Adams story. He grew up in a three-bedroom house in gritty Paterson, which wouldn't have been so bad except he was one of seven children under the same roof. His mother died of cancer when he graduated from the University of Delaware, but he comes from a big, close family, and they were together Monday night. Adams returned to Paterson for a dinner of chicken, rice and green beans at his grandmother's house, where they celebrated the Super Bowl.
"When I first heard the Super Bowl was in New Jersey, I actually joked about it," Adams said. "I said, 'Watch, now I'll finally get to the Super Bowl now that it's at Giants Stadium.' Now it's a reality. Now I'm here. Now I'm playing in Giants Stadium for a Super Bowl."
It has been a long journey, one that may extend another 10 miles.
January, 27, 2014
Jan 27
8:00
PM ET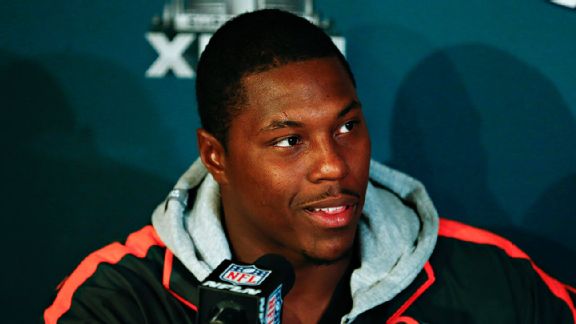 Jeff Zelevansky/Getty Images
JERSEY CITY, N.J. -- That the Super Bowl will be played Sunday in East Rutherford, N.J., 45 miles from his childhood home, still seems weird to
Knowshon Moreno
. That he'll be playing in it as the starting running back for the
Denver Broncos
? Well, that's something out of the storybooks.
"Very special," Moreno said Monday before the Broncos' first practice of Super Bowl week. "Everyone goes through different things. It's how you battle back from that and see the positive in all of the negative. I think I did a good job of that."
Moreno was a long shot to make it anywhere, born to parents who found themselves incapable of raising him and finally sent to live with his maternal grandmother in the New Jersey shore town of Belford. He found comfort in the home of Mildred McQueen after years spent bouncing around. His gifts as a football player carried him to stardom at Middletown South High School, where his teams went 36-0 and won three state titles from 2003-05.
"That was a good time," Moreno said with a laugh Monday. "Went three years, never losing -- 36-0 and all state championships. Putting all that work in, and then finally at the end of the day, at the end of the season, being rewarded with a trophy, that's what it's all about. You don't remember the hard times in training camp. You don't remember whatever happened throughout the week. You remember that moment."
Those moments propelled him to the University of Georgia and into the first round of the NFL draft, where the Broncos picked him 12th overall in 2009. But the hardships didn't stop there. Moreno struggled to develop as an NFL player, sliding down the Broncos' depth chart amid injuries, fumbles and off-field problems
He was an afterthought by November 2012, no longer even dressing with the rest of the active players on game day, until starter
Willis McGahee
got hurt and Moreno was somewhat surprisingly elevated to the starting running back role. He played well and kept the job into 2013, even after the Broncos drafted running back
Montee Ball
in the second round. And to hear folks around the Broncos tell it, Moreno's first 1,000-yard season was the result not just of perseverance but also of determined improvement.
"The thing with Knowshon that he's really improved is his accountability and dependability," Broncos coach John Fox said Monday. "He's been a professional as far as his preparation goes, and he has become one of the more dependable guys as far as assignment detail and those types of things. He's done a tremendous job, and he's maybe one of our most improved players this past season."
Success at the NFL level has brought Moreno back to his home state for a chance to cash in on every football player's dream.
"It would be awesome, especially in your hometown," Moreno said of winning the Super Bowl in New Jersey. "My family will be there to enjoy the moment."
Moreno said his high school coach is coming to visit him this week at the Broncos' hotel, and so will his family. He said it "would be cool to get back" and see his old high school, but the team is pretty tightly scheduled with practices and media obligations that could make it tough. Perhaps, he'll get a chance to visit after the game's over, and bring a Lombardi Trophy to show off. That would mark the completion of a truly remarkable journey.