September, 19, 2014
Sep 19
6:30
PM ET
ENGLEWOOD, Colo. –
Denver Broncos
defensive coordinator Jack Del Rio knows all about bend-but-don't-break defense.
It's just he's not all that interested in either.
"I'm not looking for any bend," Del Rio said this week. "But at the end of the day, we want to make plays. It just so happens that we're giving ourselves a chance and then coming up with plays to stop people from scoring in key moments. So that's the good part: The resiliency, the determination, those are the good things. And we want to clean it up and not let it get like that. But it's a constant battle … So like I said, we're hard at work. We're aware of things that need to be better. We're working hard to make sure they get better."
When the Broncos take the field Sunday against the
Seattle Seahawks
, the plan was for the Broncos' remade defense to have shown itself ready for a Super Bowl rematch, for the defense to have shown it can be what both Del Rio and the players have said they believe it could be, and that's a top-five unit. And two weeks into the regular season, the new faces have had plenty of impact, and the group has made a fourth-down, game-clinching play in each of the first two victories, over the
Indianapolis Colts
and
Kansas City Chiefs
.
But the Broncos also find themselves 28th in the league in yards allowed per game -- how the NFL ranks defenses statistically overall -- at 394.0 yards allowed per game and 14th in points allowed per game (20.5). The Broncos are tied for 10th in sacks (five), tied for ninth in interceptions (two) and have not yet recovered a fumble.
[+] Enlarge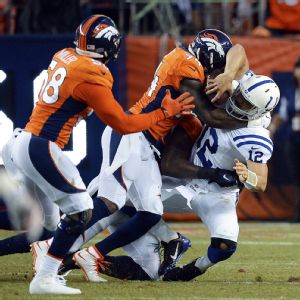 John Leyba/The Denver Post/Getty ImagesDeMarcus Ware and the Denver Broncos' defense are looking to make a bigger impact.
"I wouldn't say we're searching for anything," Broncos defensive end
DeMarcus Ware
said. "I always say there is room for improvement. We have all the players here, and we're playing good enough to win games. But you've got to have those shutout games, those games you want to have on defense -- those big turnover games, interceptions, getting more pressure on the quarterback, keeping the quarterback in the pocket and not having those big games."
Against the Seahawks, it means having all of the above. It's about keeping quarterback
Russell Wilson
under duress, limiting his escape routes. It's about keeping running back
Marshawn Lynch
from controlling the tempo with yard after yard after contact. It's about, for the Broncos, being far better than they were in the 35-point loss in Super Bowl XLVIII.
The defense received most of the attention in the offseason with the signings of Ware, cornerback
Aqib Talib
and safety
T.J. Ward
to go with first-round pick
Bradley Roby
this past May. But new faces, to go with the Broncos returning from stints on injured reserve -- linebacker
Von Miller
, safety
Rahim Moore
, cornerback
Chris Harris Jr.
and defensive end
Derek Wolfe
-- means the Broncos are still working to fit the pieces together.
That can be more difficult on defense, as teams rarely do in any practice what just might be the most important job on defense -- tackle at game speed. They can simulate, they can work on form and positioning, but they don't get to see how they close the deal until the games get played. From the Seahawks' perspective, the group in front of them Sunday won't be close to the unit they faced in the Super Bowl, given at least seven projected starters on defense for the Broncos on Sunday did not play in the Super Bowl, and just two of the usual starters on defense -- defensive tackles
Terrance Knighton
and
Sylvester Williams
-- will be playing in the same spots as they did in the title game.
"We're a real good unit," Del Rio said. "It's early in the year. We've played well in spurts. We've played well in big moments. We've contributed to two wins. But we feel like there's a lot of work yet to be done, and our guys all understand that. But we have a good group, and we're working hard."
Said Moore: "We know what we have; we know what we can do. I'm not sure the last couple weeks we win both those games all the time in the past. We feel like we want to be on the field with the game on the line, we want that. We can play better, and we will. Every guy in here wants to show what we can do and keep getting the W's."