Denver Broncos:

T.J. Ware
August, 27, 2014
Aug 27
2:30
PM ET
There are plenty hills to climb in this
schedule
-- yet another trip to New England to go with a spin through the rugged NFC West. From Nov. 2 to Dec. 22 the Broncos play six of eight games on the road including three road games in a row Weeks 9-11. Those road games include '13 playoff teams in New England, Kansas City, San Diego and Cincinnati. Couple that with the early bye -- Week 4 -- and the Broncos will play 13 consecutive weeks to close out the regular season, a run that will test both their resolve and depth chart.
Complete Broncos season preview
.
March, 19, 2014
Mar 19
8:00
AM ET
When he was behind center for the
Denver Broncos
, John Elway was a 30-something player, was one for quite some time in fact. He was a Super Bowl starter as a 37- and a 38-year-old as the Broncos won back-to-back titles in the final two years of his playing career.
So he knows the value a productive, respected, proven veteran player can bring to a team, on the field and in the locker room.
But as an executive charged with spending Pat Bowlen's money wisely and keeping the Broncos relevant in the Super Bowl chase every season, Elway has been particular about handing out the team's biggest checks in free agency to the over-30 crowd.
[+] Enlarge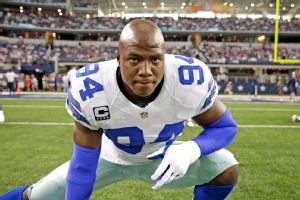 AP Photo/James D. SmithJohn Elway on signing pass-rusher DeMarcus Ware: "We feel like he's got a lot of football ahead of him."
In fact, three trips into free agency in his current job, the list is essentially two --
Peyton Manning
and now
DeMarcus Ware
-- and Elway is pretty clear on why he made them exceptions to the rule.
"I like to get Hall of Fame players with chips on their shoulders," Elway said.
In 2011, Elway's first year in his role as the team's chief football decision-maker, the Broncos only dabbled in free agency, sticking with short-term deals for the likes of Marcus Thomas, Daniel Fells and Dante Rosario.
In 2012, the Broncos dove in for Manning for a $96 million deal that included a pile of guaranteed money when Manning was ready to turn 36 following four neck surgeries. That has worked out with back-to-back 13-3 seasons and back-to-back division titles with some NFL single-season records tossed in.
The rest of the deals in 2012 were largely short-term, low-impact contracts. Tight ends
Jacob Tamme
and
Joel Dreessen
received three-year deals. Tamme turned 27 just after signing his deal, and Dreessen was 29 when he signed. The 30-and-over crowd of Keith Brooking, Jim Leonhard, Dan Koppen and
Brandon Stokley
received one-year deals.
Safety
Mike Adams
was 30 when he signed and received a two-year deal. Adams, however, had played in at least 15 games in five of the previous six seasons before arriving in Denver. The rest, players such as
Shaun Phillips
and
Quentin Jammer
, both 30 or older, received one-year deals without signing bonuses.
In 2013, the Broncos' biggest contract in free agency (four years, $23.5 million) went to guard
Louis Vasquez
, who was 25 when he signed his deal and went on to be named All-Pro.
Terrance Knighton
received a two-year deal, as did
Wes Welker
.
This past week, the Broncos were one of the most aggressive teams in free agency, but they still largely stuck to the younger-is-better plan when the big money was in play. Wide receiver
Emmanuel Sanders
and safety
T.J. Ward
are 27 (Sanders turned 27 this week), and cornerback
Aqib Talib
is 28.
"It's not [win] for now. We want young football players who are going to be here for a long time," Elway said. "... The age thing is big."
But in Ware, the Broncos saw a durable, high character player with 117 career sacks who has been a team captain and performed over the long haul. Ware, who soon will be 32, received a three-year, $30 million deal from the Broncos.
For that deal not to sting the salary cap, however, Ware simply has to play at least two of those seasons and be a major contributor. But the Broncos like that Ware's preparation is unquestioned and that he has missed just three games in his career -- all in 2013.
"With 117 sacks, yeah, we feel like he's got a lot of football ahead of him," Elway said. " ... We think he's going to perform at a high level, and with the way he practices, prepares and his knowledge of the game, he's going to help us on a lot of levels."
Elway the player made a career of taking risks with the ball and often turning those opportunities into history. Elway the executive has been more prudent -- a guy looking down the road, avoiding the franchise-crushing confines created by a we'll-worry-about-it-later approach to the salary cap.
"You have your wish list," Elway said. "We're fortunate enough on our wish list we were able to X off a lot of guys on our wish list and [they] were able to come here. ... We want to plug in the right guys, the guys that make sense for us as an organization and guys who can be here and help us win for a long, long time."
March, 12, 2014
Mar 12
4:40
PM ET
ENGLEWOOD, Colo. -- When John Elway said "everything in my power," he meant
everything
.
Everything as in
Denver Broncos
owner Pat Bowlen's checkbook and incessant desire to win. Everything as in Elway's legacy as a Hall of Fame player. Everything as in a presumptive Hall of Famer currently at quarterback, and everything as in one of the most favorable salary-cap positions among the 2013 playoff teams.
Yes, the Broncos, still bruised in many ways from a 35-point Super Bowl loss last month, have rampaged through the opening hours of free agency with some specific goals in mind. They wanted to get nasty, wanted to have the elusive Plan "B" for when their next-level offense doesn't have the kind of day it's used to.
And the result has been a 24-hour defensive binge that now includes defensive end
DeMarcus Ware
(three years, $30 million, $20 million guaranteed); cornerback
Aqib Talib
(six years, $57 million, $26 million guaranteed); and safety
T.J. Ward
(four years, $23 million, $14 million guaranteed).
"That's why me, Talib and Ware were brought in, three physical players. ... It's going to help this defense, it's going to help this team," Ward said in his first appearance at the Broncos' complex.
But Elway made Broncos quarterback
Peyton Manning
a promise as he recruited him in the days that followed his release from the
Indianapolis Colts
in 2012. When Manning arrived at the Broncos' complex for a visit, he was still stunned the Colts had actually released him, still reeling with all of the uncertainty in front of him.
[+] Enlarge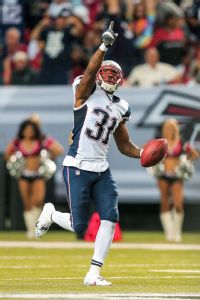 Daniel Shirey/USA TODAY SportsAqib Talib said that signing with the Broncos gives him the best shot at reaching the top of the NFL.
"I wasn't sure what the future was going to look like. There wasn't a map for me to follow," Manning had said.
But at that time, Elway's pitch was a promise that Elway, as Bowlen's chief football decision-maker, would "do everything in my power" to make sure Manning retired from the NFL as Elway did, with Super Bowl titles in those final seasons.
The Broncos made history on the way to last season's 13-3 finish, set scoring records and raced into Super Bowl XLVIII using the fastest of fast lanes. Then the
Seattle Seahawks
pushed Denver down, and the Broncos simply never got up in one of the worst title-game losses of the Super Bowl era.
Manning didn't play well, the receivers didn't play well, the linemen didn't block well and a defense that was the biggest question mark heading into the Super Bowl actually answered the bell until the game got out of hand.
But Elway has since talked of creating "the mindset" to win a championship, has talked of being more physical on both sides of the ball and has talked about if they saw the opportunity to sign any player the team believed could be better than the ones they had, the Broncos would do it.
They also had managed their salary cap well enough to have $28.7 million or so of cap space last Thursday morning. They then released cornerback
Champ Bailey
that day and guard
Chris Kuper
retired Monday. With those two events the Broncos gained roughly another $14 million in cap space, and with that cap space and the bulk of a roster good enough to have finished 13-3 in back-to-back seasons, the Broncos went to work.
Ware, who will turn 32 in July, is now in the fold, but the Broncos can still project a potential starting lineup with 15 players 28 years old or younger, and seven players 25 years or younger. The team isn't really in as big an "all-in" mode as their monetary festivus would seem to indicate.
Certainly, Manning is still the centerpiece of all this -- so much so that when Talib was asked Wednesday why he chose Denver, he quickly pointed to the 37-year-old quarterback.
"We just kind of looked at the best package," Talib said. "I do have a family, I have kids, I have a wife that I got to take care of and it was Peyton Manning, you know? It was just the total package. Denver was the best place."
Elway has been a no-nonsense, grassroots executive right from the start. He grinds the video on draft prospects, he goes to the Senior Bowl, he has made the pro day rounds and he makes decisions based on the long term "because my job is to be two steps ahead."
But after three trips through the opening of free agency, he has to be considered one of the league's best closers as well, and closers get the coffee and former Pro Bowl selections, it seems -- Manning,
Louis Vasquez
,
Wes Welker
,
Terrance Knighton
, Talib, Ward and now Ware.
So it seems the Broncos really didn't just go all-in this year. They've just kind of had that mindset all along.