Denver Broncos:

Tim Tebow
September, 1, 2014
Sep 1
5:30
PM ET
ENGLEWOOD, Colo. -- In a vote that smacked of substance over style, the
Denver Broncos
were clear about wide receiver
Demaryius Thomas
' standing in the team's locker room.
Thomas -- usually short on bombast and long on performance -- was voted Monday by his teammates as one of five captains for the season.

Thomas
The other offensive captain is
Peyton Manning
. So, given that kind of company, even Thomas was a little surprised when the votes were counted.
"I don't know if you all really know but I don't really talk much in front of the team, I like to lead by example," Thomas said with a smile. "But now I feel like I've got a bigger role, so now I've got to figure out what I'm going to do, but I think it'll be fine. ... I'm really honored and to tell you the truth ... I didn't think I was going to be a captain."
The Broncos players showed the strongest voices among them don't always have to be the loudest. The team selected
DeMarcus Ware
, along with
Terrance Knighton
, as the captains on defense with
David Bruton
Jr. the special teams captain for the second consecutive year.
Knighton and Thomas are first-time captains.
"It's just humbling and it's just a good feeling walking around the locker room and knowing you're respected a certain type of way by your teammates being that you're a captain of the best organization in the NFL," Knighton said. "Everybody feeds off you and once you know you have that 'C' on your jersey, you're almost obligated to do things right and you want to do things right because guys are going to follow and that is not a problem for me. Like I said, I am the same guy every day and guys know what they're going to get from me every day so it's easy for me."
The soft-spoken Thomas has progressed from first-round draft pick with enormous potential in 2010 to marquee receiver in a record-setting offense in this his fifth season.
Thomas has now had back-to-back seasons of at least 90 receptions, 1,400 yards and 10 touchdowns. He's also set to enter the final year of his original contract with the Broncos. The team and his representatives have exchanged proposals in recent weeks to try to hammer out a long-term extension.
Asked Monday what kind of leader he wanted to be, Thomas ran the gamut of those he has seen in the locker room in his time with the Broncos, starting with the Alpha Dog of leaders.
"To tell you the truth, I kind of want to be like Peyton," Thomas said. "I feel like it's going to be hard for me to say stuff, because he's always saying, 'This is what we need to do to make it better,' or whatever. But I always watched Peyton since he's been here. Before Peyton, I watched a couple other guys. I used to watch Kyle Orton when I first got here because he was my first quarterback. That was about it. You know, Brian Dawkins,
Champ Bailey
. Champ was quiet, but I felt like he was a leader. Everybody paid attention to him."
June, 17, 2014
Jun 17
7:30
AM ET
ENGLEWOOD, Colo. -- When John Fox was forced to miss a month of the
Denver Broncos
' 2013 season following surgery to replace a valve in his heart, people in all levels of the organization spoke of missing the energy Fox brings to work every day.
The team's head coach consistently makes it a point to touch base with everyone in the organization -- in the hallway, the cafeteria or even just a stroll across the parking lot. Fox has often said he believes a successful team "has a lot of people who have a part in that and feel like they have a part in that. We need everybody to get where we want to go, and that's everybody."
Fox has said that plenty of his approach in his current job was learned from the man who hired him for his first job in the NFL -- Chuck Noll.
[+] Enlarge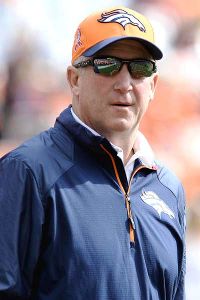 Ron Chenoy/USA TODAY SportsJohn Fox got his first coaching job in the NFL with the Pittsburgh Steelers under coach Chuck Noll.
Noll, a Hall of Famer with four Super Bowl wins as coach of the
Pittsburgh Steelers
, died at his Pittsburgh-area home Friday night. He was 82.
In 1989, Noll hired an up-and-coming University of Pittsburgh defensive coordinator to be the Steelers' secondary coach -- a guy named John Fox. Fox has been in the NFL since, having led two teams into a Super Bowl -- the 2003
Carolina Panthers
and the Broncos this past season.
"I had to get directions to Three Rivers Stadium," Fox said Monday after the Broncos' practice. " . . . I've got to admit I was nervous."
"I know what he meant to the city of Pittsburgh and I know what he meant to the Pittsburgh Steelers organization and what he meant to the Fox family as well," Fox added. "That was my first opportunity in pro football and can't think of a better guy to start my career with. The guy was constantly trying to acquire knowledge no matter what realm it was. He was a tremendous teacher and ... he'd coach anybody at any time."
Fox often recalls Noll's approach with people. If Noll met a person and asked about their job, he would learn all he could about that job on the chance he would meet the person again.
"Didn't matter what the job was," Fox said. "If it was a welder, a wine collector or accountant, he was always trying to find out more."
Beyond all of the details of football, Fox said, he also learned from Noll the value of being the calm within the storm, the necessity to teach, and the desire to continue to work the basics no matter how accomplished the players on the field might be.
In Fox's first season with the Steelers, the team lost its opener, at home, 51-0 to the
Cleveland Browns
, followed by a 41-10 loss at Cincinnati in Week 2. The Steelers fumbled six times in the loss to the Browns, losing five of them; the Bengals rolled up 520 yards of offense.
Fox said he often thinks about how Noll conducted himself in those two weeks with the team -- uncompromising in his expectations, but without panic or misplaced emotional distress. The Steelers went on to finish 9-7 and advanced to the playoffs, where they earned an opening-round win at Houston over the Oilers.
Fox applied that lesson when the Broncos opened the 2011 season -- his first with the team -- 1-4 before they put Tim Tebow in at quarterback. They re-tooled the offense in the bye week and dropped the read-option into the NFL's lap. They finished 8-8 and got an overtime win over the Steelers in the playoffs.
"That first year in the league we got whipped 50-something to nothing twice in a row and ended up fighting back and getting into the playoffs," Fox said. "His even-keeled approach, his technique orientation and his teaching ability ... Those are the kinds of things you always use and you always will."
January, 30, 2014
Jan 30
4:45
PM ET
JERSEY CITY, N.J. -- The Super Bowl is a long way from the crossroads that led to it.
A long way from the moment when Adam Gase felt doubt creeping in, the moment when he had started to feel he could be many things in his life but a football coach was not one of them.
"I remember sitting in an Applebee's, interviewing for an insurance salesman job," said Gase, the Broncos' offensive coordinator. "And him basically telling me I would have to move back to Mount Pleasant [in Michigan] and me thinking that was what I was going to do."
Yes, the guy who will be on the headset to
Peyton Manning
in Super Bowl XLVIII, the guy who called plays for the highest-scoring offense in NFL history, the guy Manning has called "a superstar" in conversations with some around the team was sitting in a restaurant just minutes from his parents' house, about to call for the check on his coaching career.
[+] Enlarge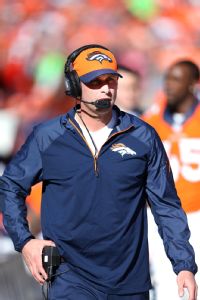 AP Photo/Paul SpinelliDenver offensive coordinator Adam Gase almost gave up coaching in his early 20s to sell insurance.
It was just after the LSU Tigers had won the 2001 SEC championship, and Gase, as an "eight grand a year" graduate assistant with student loans staring him in the face to go with the fact he "may or may not have been kicked out of grad school," was contemplating a future that was quickly becoming cloaked in uncertainty.
"It was just kind of that stage," Gase said. "… [LSU] was trying to find a role for me; that's not an easy thing to do at that level. I was back home to see my parents, and there was a part of me that was saying I might not go back [to LSU]."
At least until three friends -- Scott Angove, Nate Lambertson and Jeff Sablack -- who were, as Gase puts it, "beside themselves," got him to reconsider the notion of walking away. So Gase went back to LSU in 2002 and started stepping up the rungs from there. He went to the
Detroit Lions
, the
San Francisco 49ers
and the Broncos in the years and nameplates that followed.
He was a scouting assistant, an offensive assistant, a quality control coach, quarterbacks coach, wide receivers coach and quarterbacks coach. And then, when Mike McCoy left the Broncos to become the
San Diego Chargers
coach, Gase, at 34, was named the Broncos' offensive coordinator.
A short, a long and a winding road, all at the same time.
"He's bright -- very, very bright," Broncos coach John Fox said. "We knew his work. We knew how he handled himself. To me, when Mike left, it was a clear choice."
"I know there was a point when I thought it might not work," Gase said. "… I don't really think about sitting there in that interview anymore, but I'm glad I kept going."
Gase is not the product of a playing career that evolved into coaching once the on-field work was done. He is a product of from-the-ground-up work, of rolled-up sleeves to learn a profession. A process that started when he met current
Baltimore Ravens
defensive coordinator Dean Pees. Gase was in high school, and Pees was at Michigan State.
Pees visited Gase's high school, handed him a business card and said when he arrived at Michigan State the following fall, as a student, he should come to the school's football offices.
"When I was in high school, I enjoyed the sport a lot; I was just terrible at it," Gase said. "… And I think [Pees] was thinking more like equipment manager and that. What ended up happening was Dean said here's my card and come see me when you get on campus.
"… And I showed up, gave the secretary the card. She goes OK, and I sat in [Pees'] office for like an hour and he gave me a self-scout [personnel evaluation] from when he was with the
Cleveland Browns
. I had just gotten a computer for my graduation, and he said, 'You know how to use a computer?' And I was like, 'I've got a computer' and I hadn't touched it yet. I kind of figured out how to put that together and set it up in my dorm room. I went through a lot of ink cartridges."
That's where it started, the get-it-done side it took to help McCoy dismantle the Broncos' playbook in roughly a week in 2011 and reconfigure it as a read-option attack with
Tim Tebow
at quarterback. The same guy who helped to then dismantle that when Manning arrived in 2012 and retooled it again when he was promoted to be the team's primary playcaller.
His go-for-it aggressiveness is rooted in Mike Martz's "Greatest Show on Turf" offense that powered the Rams to two Super Bowl appearances. Gase calls Martz "a mentor, a guy who taught me so much." The attention to detail and the respect for the need to play some power football come from his time with former LSU coach Nick Saban to go with some things from Josh McDaniels' Patriots playbook as well as his time with Fox and McCoy that helped him see the bigger picture, the one where he had to understand what defenses were doing and why.
"Adam is just a guy that was ready," McCoy said. "He's smart, creative, works very, very hard, a guy I leaned on a lot in my time in Denver. And you can see he's had a big impact in what they're doing."
What the Broncos did in the regular season was make history. From Manning's statistics to Denver's push-the-pace philosophy to the pile of touchdowns, the Broncos pushed the envelope on offense to a spot that had not been seen before.
None other than John Elway, still considered the final word on most things football for legions of fans across the Front Range, has said "I wish I could have played for him" and characterized Gase's decision not to interview with the
Minnesota Vikings
and Browns for their head-coaching jobs while the Broncos were still playing as "studly."
"Being somebody that did not play in college or at the professional level, I had to learn as fast as possible," Gase said. "It was an adapt-or-die situation for me. I said that a lot, especially with Peyton. You go from running an option offense to all of a sudden the protections are 'you've got to be on it.' You have no choice but to figure out a way to speed up that learning curve."
The curve now has a Super Bowl on it. The one where Gase will call the plays Sunday against the No. 1 defense in the NFL.
A game, an opportunity, that was almost left on the table. At Applebee's.
"I'm grateful for the chance, grateful to everyone who helped me, grateful to be a part of this organization," Gase said. "And I'm excited to be in this position, in this job. It's what I want to do, and you know, it really has worked out OK."
January, 19, 2014
Jan 19
10:30
PM ET
DENVER -- When Hall of Famer John Elway sat across a nicely appointed desk from
Peyton Manning
, whose gold jacket is a future given, a promise was made.
A promise that went beyond the recruitment of the most decorated free agent to ever hit the open market in the NFL's history, a promise of what could be if both took a leap of football hope and faith.
Elway made a promise to Manning 22 months ago that he would "do everything in my power to make sure [Manning] finishes his career the way I finished mine."
Make no mistake, children across the Front Range leave their footy pajamas behind carrying the knowledge Elway won back-to-back Super Bowls in his final two seasons with the
Denver Broncos
. And in his third season as the Broncos' chief football decision-maker, hired by Pat Bowlen to restore glory and secure trophies, Elway has now seen Manning lead the Broncos into the Super Bowl.
Manning was at his take-that best Sunday as he swatted away the pregame chatter about his record against Bill Belichick, about his oh-so-many on-field battles with
Tom Brady
, with a performance that was as efficient as it was relentless in a
26-16 victory
in the AFC Championship Game. Manning finished 32-of-43 for 400 yards and two touchdowns.
He wasn't sacked, was rarely even disturbed as he went about his work and did not throw an interception. The Broncos and Manning dropped a total of 507 yards worth of misery on Belichick's defensive game plan and flaunted the variety that has vexed defenses all season long.
Five different players caught at least three passes as eight players had receptions overall. Or as Belichick put it, in his own bottom-line way: "They've got a lot of good players."
That they do. And in the end, it was Belichick who provided the nudge that pushed the Broncos to where they were Sunday.
It was Jan. 14, 2012, when Belichick dismantled the Broncos' postseason run powered by
Tim Tebow
and a read-option offense. In a 45-10 hide-your-eyes Patriots win, Tebow was 9-of-26 for 136 yards and was sacked five times.
It dropped the curtain on what had been a dynamic stretch for the Broncos, who had unveiled the read-option after making Tebow the starter, a run that included an overtime win over the
Pittsburgh Steelers
in the wild-card round. And the loss left the Broncos at a crossroads.
Broncos coach John Fox said this past week that "I remember we lost in the playoffs in New England that year, and it was a pretty good indicator of how far we had to get moving."
Then, after Manning was cut loose by the
Indianapolis Colts
a few weeks later, Elway and the Broncos closed the deal on the surgically repaired quarterback. Manning has gotten better and better since.
He threw a franchise-record 37 touchdowns in 2012, threw a league single-season record 55 touchdowns in 2013.
"There was a lot of uncertainty, whether he was going to play anymore," said Archie Manning, Peyton's father. "That kind of makes it special ... His age, what he went through, playing the quarterback position in this league, we tried to stay positive with him. He handled it so well."
"He's a great man off the field, a great leader and a great person to follow because he does everything right," said Broncos rookie running back
Montee Ball
.
But simply landing Manning wasn't all Elway did. He hit on some draft picks, players like Ball,
Orlando Franklin
and tight end
Julius Thomas
. He got a coach in Fox who assembled a staff with both veteran hands like defensive coordinator Jack Del Rio and mark-it-down, up-and-comers like offensive coordinator Adam Gase. Elway also got more from inherited players such as
Demaryius Thomas
,
Eric Decker
and
Knowshon Moreno
.
He had to deal with last January's crushing playoff loss to the
Baltimore Ravens
; and
Von Miller
's six-game suspension to open the season; Fox's open-heart surgery; a long list of injuries that included Pro Bowl tackle
Ryan Clady
, Miller and
Chris Harris
Jr.; and making the right call on short-term signings like defensive end
Shaun Phillips
and cornerback
Dominique Rodgers-Cromartie
. He had to maintain his composure and hold the door against complacency.
"It meant we had to deal with everything we had to deal with, to keep the focus on what needed to be done," Broncos cornerback
Champ Bailey
said. " ... A lot of people talk about being good, but you have to do the things that need doing to be good. All the time, every day. All you want is a shot at the big game, and we have that. Now you get to work on that one game."
People are always telling Elway, because his quarterback is 37 years old and in his 16th season after four neck surgeries, that the Broncos need to win now. Elway's retort is not a surprise to anyone who knows him, to any of those who were in the huddle with him while the game was on the line.
Elway always says "it's about win [from] now on."
It was all there Sunday, awash in orange, played out with the emotion of a team making its first Super Bowl appearance since Elway was its quarterback. It will be a Super Bowl where the Broncos will be asked questions about whether their high-powered offense can handle a snowy day, can handle a muscle-bound defense from the NFC or if the Broncos' defense can be good enough, for one more game, to get it all done.
And it will be a Super Bowl game where a promise is kept.
November, 6, 2013
11/06/13
7:00
AM ET
ENGLEWOOD, Colo. – It is always intriguing to see what NFL coaches do with familiarity. And while they always say it's no big deal, there are times when it is, or they wouldn't change their audible so often.
But when coaches who are about to face each other have worked together before, there are really only two choices: switch things up, adding wrinkle here, a surprise there, or simply do what you do and do it well enough to make it work.
That's the deal for Mike McCoy, Adam Gase and Jack Del Rio this weekend. Del Rio, in his first game as the
Denver Broncos
' interim head coach since John Fox's open-heart surgery Monday, will face the
San Diego Chargers
, who are in their first season with McCoy as head coach.
In McCoy's four seasons running the Broncos' offense, he spent plenty of time in meeting rooms and on the practice field with both Gase and Del Rio -- Gase especially, given he was an assistant with the wide receivers and then quarterbacks coach. Gase, who was promoted to Denver's offensive coordinator shortly after McCoy left, routinely credits McCoy with help preparing him to be a full-time playcaller.
Gase also worked side-by-side with McCoy in 2011 when the Broncos essentially shredded their playbook well into the season to break out a read-option attack for
Tim Tebow
. And the two worked in 2012 to retool the playbook again after the team signed
Peyton Manning
.
They each know what the other likes on almost every page of a playbook, what they don't like, and what the other believes is the best idea in various down-and-distance situations and against various defensive looks. Del Rio and McCoy worked together one season with the Broncos, each as a coordinator, and both were on Fox's staff in Carolina in 2002, so they have traveled plenty of road as well.
McCoy's strength has always been his ability to adapt his ideas to the players he has in the huddle, rather than trying to jam personnel that doesn't fit a scheme he wants to run. And there are clear elements of the offense he ran in Denver in what he has Chargers quarterback
Philip Rivers
doing this season as Rivers has cut down on his mistakes and improved his efficiency (a 106.5 passer rating through eight games).
And while Gase has changed some things in the Broncos' scheme since McCoy left, particularly in the team's up-tempo look, there will be plenty that still looks familiar to McCoy.
In the end, defensive coaches always say a quarterback will give you plenty of trouble if "he's reading your mail'' and knows what's coming. But that's how it will be Sunday on both sides of the ball. So, while all involved will say throughout the week that it will come down to execution, that it doesn't really matter, there is no doubt everybody's reading the mail.
What it really figures to be about Sunday is the delivery.
September, 24, 2013
9/24/13
1:55
AM ET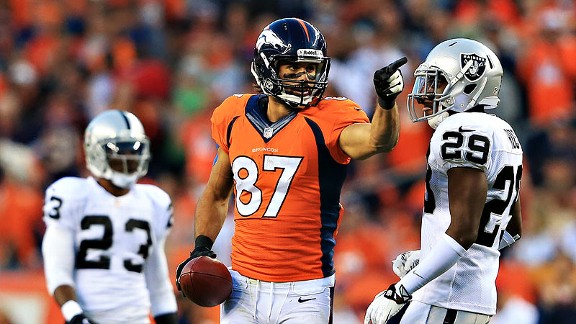 Doug Pensinger/Getty ImagesEric Decker and the Denver Broncos are heading in the right direction in the AFC West.
DENVER -- Three weeks into the season and there is one team in the NFL that has scored more than 100 points.
Actually, one team in the NFL that has scored more than 110 points. OK, one team in the NFL that scored more than 120 points.
And with their third consecutive game with at least 37 points the
Denver Broncos
formally announced their plans in the AFC West on Monday night with a nationally-televised
37-21 win
over the
Oakland Raiders
at Sports Authority Field at Mile High.
Raiders rookie tight end
Nick Kasa
, a suburban Denver native who played at the University of Colorado and has spent a lifetime discussing the Broncos with friends and relatives, may have put it the best.
"They're a devastating team," Kasa said. "That's obvious from [Monday night]."
As August drew to a close, there were plenty of folks in and around the NFL who wondered how things would look in the AFC West. After all, the Broncos, with
Peyton Manning
behind center, are surrounded by three rebuilding projects in the division.
The Raiders are in the second year of what has been the league's most extreme makeover and sported 10 different defensive starters from a year ago Monday night. In San Diego, former Broncos offensive coordinator
Mike McCoy
is in his first season as the team's head coach.
They are both 1-2 after three weeks and despite some quality moments in those three games -- small glimpses of potential -- they both look like there's plenty of work still to do before all is said and done this season.
The Chiefs are another matter. First-year coach Andy Reid has Kansas City out of the gate at 3-0 with a defense that has surrendered just 34 points. But Chiefs-Broncos matchups are for another day.
What the Broncos showed Monday was division games are important to them. Everybody talks a good game about division games, about how they're the only guaranteed road into the postseason for any team, but idle mid-week chatter is one thing, getting it done is another.
The Broncos showed the focus of a team with designs on bigger things, and that they want to leave no doubt in the division along the way.
Quarterback Peyton Manning will routinely say division games "count double," and losses in the division, especially home losses in the division, sting a little more. John Elway reeled in perhaps the greatest marquee player to hit the open market in the free-agency era. One of the reasons he wanted Manning so badly, beyond the extended and sometimes breathtaking list of quarterback stuff, was Manning's constant push for his team to be a little better tomorrow than it was today.
Elway has described it as "that uncomfortable feeling," at times.
That can be seen in how the Broncos have handled their division business of late. In 2011, or YBM (the year before Manning) when they won the division at 8-8 overall, they were just 3-3 in AFC West games. Last season, Manning's first in Denver, the Broncos were 6-0 in the division on the way to a 13-3 mark.
Or as linebacker
Wesley Woodyard
put it after Monday's victory: "It's a division opponent, and the Raiders, they always bring their best shot. I hate losing to any division guys, especially the Raiders."
The bottom line is, in a league cocooned in overreaction, with every win celebrated like a lunar landing and every loss treated with a this-team-stinks-forever approach, the good teams simply need a get-off-my-lawn guy or two to keep the heads level. They need some grumpiness to sweep up the rose petals that get tossed from time to time.
Sure, there is a line there between some kind of joyless pursuit of victory and the easily obtained misplaced ego, but a good team needs some perspective as much as touchdowns. And the Broncos showed Monday night they are good, ruthlessly good at times, with a dose of perspective.
Manning threw three touchdown passes, was as dialed in with the Broncos receivers as he has been at any point in his career -- at one point late in the first half both of his incompletions were drops -- and the Broncos put up their second 500-yard game of the season.
The defense stifled the Raiders' run game -- Oakland had averaged just more than 198 yards rushing coming in -- as Oakland finished with 49 yards on 17 carries. Yet after surrendering a touchdown in the third quarter and another in the fourth quarter, Woodyard, for one, was swatting away any compliments.
"No, I'm not pleased at all," Woodyard said. "We gave up 21 points. We've got to stop them at the end of the game. I'm not satisfied at all with that win. … We'll definitely take a win any time we can get one, but to give up 21 points, got to stop that leaky football."
Monday's win was the Broncos' first in division play this season and will also be the last time they face a division opponent until Nov. 10, at San Diego. A lot can happen between now and then, but it's pretty clear Denver has the goods and may have to wrestle with itself a bit along the way because of it.
"We have to just play our football," Broncos defensive tackle
Kevin Vickerson
said. "I say fast, physical and violent, but we can't give up garbage points, make mistakes, things like that. We just have to keep grindin', man. Win your division first, worry about week to week; do that and things will work out. And we want things to work out, so everybody knows you have to do that. We're 3-0 and moving on. That's it, look at the win and get to work."
September, 23, 2013
9/23/13
7:00
AM ET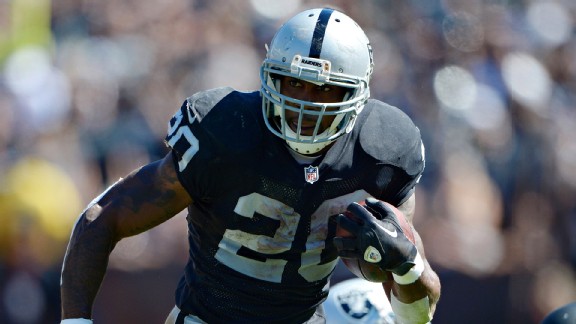 Kirby Lee/USA TODAY Sports
ENGLEWOOD, Colo. -- Preseason predictions are often a dicey affair, both for those who make them and, sometimes, for those who believe them.
The prevailing wisdom, as it were, throughout the summer was the AFC West schedule would provide little challenge to the Broncos' course of business this season. And while the tale has certainly not been told either way in the early going, Andy Reid's Chiefs have launched themselves from the gate with a 3-0 start, having surrendered just 34 points in those three games.
The Raiders are 1-1 after beating the offensively-challenged Jaguars last weekend while the Chargers are 1-2, yet having shown far more grit than some expected as they continue through their re-building project. So, that is how the table is set for the Broncos as they open their division schedule Monday night against the Raiders in Sports Authority Field at Mile High.
"Our guys understand the magnitude of division games,'' said Broncos coach John Fox. "I think our goal every year -- I'm sure, like the rest of the teams in our division -- is to win the division. Obviously, your division record is conducive to getting in the playoffs -- winning your division. It's a huge game and it's our first of the year.''
So in that light, here are some things to consider about tonight's affair:
McFadden has it McGoing. The Raiders essentially re-tooled their run game -- and fired former offensive coordinator Greg Knapp (now happily the Broncos quarterbacks coach) -- because Darren McFadden couldn't find a fit in Knapp's playbook. So, the playbook was sent packing. The Raiders are more man-on-man blocking in the run game in what is now a read-option offense much of the time. Some defensive coordinators would call it a "downhill'' attack, meaning they like to often pull linemen inside, run between the guards and pound away. They've done it well enough in two games to have averaged 198.5 yards rushing per game and McFadden has 177 rushing yards. The Raiders repeatedly pounded the ball, often pulling left tackle Khalif Barnes into the hole, at Jaguars middle linebacker Paul Posluszny. They run out of a two-back set plenty and the Broncos figure to spend more time in their base defense than they did in the first two games. During the preseason, both the 49ers and Seahawks had some success pounding away at the Broncos' base defense, which is some of the reason Wesley Woodyard was moved into the middle linebacker spot. Woodyard will need a no-nonsense, get-it-done night in this one. McFadden has always been feast or famine against the Broncos. The Broncos have held McFadden to fewer than 50 yards rushing in four career meetings, but overall in his nine career games against Denver, McFadden has rushed for 723 yards, at 5.8 yards per carry, to go with five touchdowns.

Be disciplined on D. When the Broncos dropped the read-option on the league in 2011 with Tim Tebow at quarterback, at least part of the success was the NFL mindset overall on defense. That getting up the field was Job 1, that disruptive edge rushers both get paid and pay the bills. And those running the read-option love edge players who want to only get up the field, gap control be damned. And when the Broncos ran the read-option down the stretch that year, it took several weeks for defenses to adjust and the point totals started to go down for the Broncos. It all means defensive ends Robert Ayers, Derek Wolfe and Shaun Phillips (he's questionable after missing Saturday's practice with back spasms), have to follow a John Wooden maxim -- play fast, but don't be in a hurry. The Broncos have seen what it looks like -- all the way to a division title and a playoff win in '11 -- when defenses don't handle their business against the read-option. They also know what it looks like when defenses do.

Tricks and treats. When McFadden was at the University of Arkansas, the Razorbacks coaching staff often let him line up as the quarterback in the shotgun -- the Wildcat look -- to take the direct snap and do his thing. The Raiders, in their new offensive scheme, have flashed that as well. It's another test of assignment discipline because McFadden threw seven touchdown passes in his career at Arkansas and has the ability to put the ball on target.

Twenty-somethings. The Raiders have nine sacks this season with five of them coming from defensive backs. Coach Dennis Allen and defensive coordinator Jason Tarver add players from the secondary liberally to the rush. There were several defensive snaps against the Jaguars when the Raiders had four- and five-man rush schemes and two of the players headed to the quarterback were defensive backs. Certainly there is a risk-reward in all of that. The reward, for a defense, is it's often hard to track rushers coming from that far off the ball and offensive linemen will make mistakes at times. So, often a defensive back with some up-field skill will get a clean run at a quarterback. The risk is a defense suddenly has players in the passing lane who are not really pass defenders. They are more deterrents, told to get into a specific spot to force a quarterback trained to move through progression to look elsewhere when he sees the wrong color jerseys in front of him. But for an accurate quarterback who can fit the ball into coverage, it can open up big-play possibilities. The Broncos certainly have that kind of quarterback in Peyton Manning, who routinely digests blitz packages like breath mints, especially pressure off the edge which opposing defensive coordinators say he sees better than most in his pre-snap reads. It will be intriguing to see how aggressive the Raiders are, but they may have no choice. If Allen and Tarver feel it's going to be difficult for the team's re-made secondary to hold up in coverage against Manning they may feel they have no choice other than to go after the future Hall of Famer.

Perhaps bigger? The Broncos have sported a three-wide receiver, two-tight end set at times in Fox's tenure with the team. And while that essentially tells the defense a pass is coming, the Broncos have been effective using it in the past to widen the formation a bit and push the edge rushers out, forcing them to cover a little more ground to get to the quarterback. With Joel Dreessen close to coming back -- he is the Broncos' best combination of receiver/blocker at the position and is listed as questionable for this game -- the Broncos could be inclined to break it out again against the aggressive Raiders. It would be a departure of the plan so far, given the Broncos have lined up in three-wide, with one tight end and one running back, on 72.3 percent of their offensive snaps in their two games. However, in both the season opener and last Sunday against the Giants, the Broncos snapped their offense back on track by going to a traditional two-tight end look for a selection of snaps.
September, 20, 2013
9/20/13
12:00
PM ET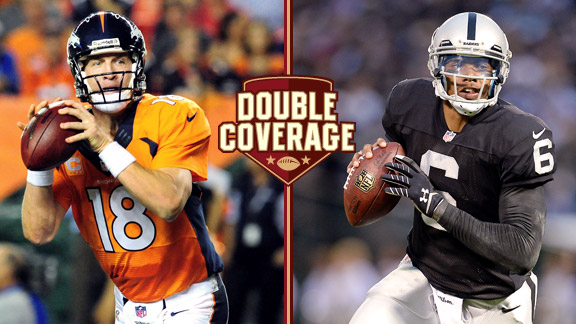 Getty Images, AP PhotoPeyton Manning and the Broncos look to improve to 3-0 as they face Terrelle Pryor and the division-rival Raiders.
The
Denver Broncos
and
Oakland Raiders
open up AFC West play with a Monday night affair at Sports Authority Field at Mile High -- an 8:40 p.m. ET kickoff with the ESPN crew on hand.
The Raiders have played hard for coach Dennis Allen and sit at 1-1 after a win over the low-octane
Jacksonville Jaguars
last weekend. The Broncos intercepted
Eli Manning
four times on the way to a win over the
New York Giants
that moved them to 2-0.
Raiders team reporter Paul Gutierrez and Broncos team reporter Jeff Legwold break down this week's edition of a long-simmering rivalry between the longtime division foes.
Legwold:
After seeing
Peyton Manning
twice last season, Dennis Allen certainly knows the kind of problems the Broncos create for defenses. He also knows Denver's first-year offensive coordinator, Adam Gase, very well. What does Allen think of the Broncos running their high-speed attack at altitude and the challenge it will be for a defense that got a big makeover in the offseason?
Gutierrez:
There is no doubt that this will be a huge test for the rebuilding Raiders in general and Dennis Allen and defensive coordinator Jason Tarver in particular. This is especially true with strong safety
Tyvon Branch
out for an indefinite amount of time with a broken leg. Not only is Branch the highest-paid Raider this season at $9.5 million, but he also started 63 of the Raiders' past 66 games and was one of just two returning starters on defense.
While Oakland is tied for the league lead with nine sacks, five of them have come from defensive backs, and we all know how adept Manning is at picking up blitzes. So the Raiders, who will be mostly in nickel packages, will have to pick their spots wisely against Manning and that pass-happy offense while trying to get their first turnover of the season. They will need to continue to build an identity of a defense that flies to the ball, mile-high air be damned. Manning looks to be better than ever, yet there's still the question of how his body is going to react to a brutal blind-side hit. Have the Broncos taken any extra measures to ensure that does not happen, or is that not even a concern for him anymore?
Legwold:
They are concerned any time Manning takes a hit. During the preseason loss in Seattle, rookie running back
Montee Ball
missed a blitz pick-up and Manning took what was one of the biggest hits of his tenure in Denver. When the Broncos go to its three-wide set, the team places on emphasis on pass-protectors in the backfield. That's a big reason why running back
Knowshon Moreno
has played most of the snaps when they have been in their three-wide look. But overall Manning is stronger this season. The receivers say his arm is stronger as well. Throw in his increased comfort level with the city, the team, the offense and his receivers, and you see why he has thrown for nine touchdowns in two games. Sticking with the quarterbacks, why do you think Allen went with
Terrelle Pryor
as the starter and what can folks in Denver expect from him?
Gutierrez:
The decision to start Pryor was made for Allen. And no, I'm not talking about owner Mark Davis meddling in football affairs, although it is known throughout Silver-and-Blackdom that the Son of Al does like Pryor's potential. A brutal preseason showing by quarterback
Matt Flynn
forced the decision for the Raiders. I might argue that Flynn is actually a better, more polished NFL quarterback at this moment than Pryor. But with the injuries on the offensive line at the end of camp, no time for Flynn to set up in the pocket and the lack of a true No. 1 receiver, Pryor and his ability to extend plays give the Raiders the best chance at success.
He almost pulled off the upset in the opener at Indianapolis, passing for 217 yards and running for a franchise quarterback record 112 yards. Still, two red-zone interceptions were too much to overcome. He was not as electric in the Raiders' home opener against Jacksonville but he did not have to be. Not with
Darren McFadden
breaking out for 129 yards on the ground. Pryor wants to be a prototypical pocket passer, and maybe that should be commended. But even his position coach, John DiFilippo, told me the Raiders want him to run. I think we'll see more of that Monday night in Denver, especially if the Broncos bite hard on the zone read-option in trying to stuff McFadden at the line. Having said that, how adept are the Broncos at dealing with the zone read? Obviously they practiced against it a few years back with
Tim Tebow
there.
Legwold:
You could argue it was the Broncos who really got the zone read-option rolling in 2011. It was a decision made in desperation, however, after watching Detroit devour Tebow in the pocket. So, against the Raiders, no less, they dropped the read option on the NFL world and rode it into the playoffs that year. The coaches have vast experience with it and have taken it apart on many levels when they were trying to predict how defenses would align themselves against it in 2011. Nobody else was using it, so they had to sort of predict how people would defend them because there was no real video to go on at that time.
They often played devil's advocate when looking at the scheme and it has enabled them to be a little ahead of the curve when preparing for someone else's version. The intriguing part will be if the Raiders keep the Broncos in base defense. Both the 49ers and Seahawks moved the ball well against the Broncos' base defense during cameo appearances by the starters in August. But the Broncos' defense also benefits from Manning's ability to put the points on the board, because offenses often end up in catch-up mode. In terms of the Raiders' offense overall, they lead the NFL in rushing, so how have they kick-started McFadden after a frustrating 2012 season for him?
Gutierrez:
McFadden, when right, is one of the most dangerous running backs in the NFL. The Broncos would be the first to attest to that fact. In nine career games against Denver, he has rushed for 723 yards, five touchdowns, and has also caught 15 passes for 120 yards and two more scores. His 5.8 yards-per-carry average against Denver is his best against any opponent in his six-year career. So what got him on track last week? Well, for one, he's healthy (remember, he' has never played in more than 13 games in a season). Two, and this would be my biggest criticism of Allen's rookie season, McFadden is no longer running behind a zone-blocking scheme. He averaged a career-low 3.3 yards behind the scheme last year. The Raiders returned to a base power-blocking scheme this year.
Still, the game plan is similar in that it calls for McFadden to run into the line for negligible gains time and again in hopes of popping a big gainer. It worked to perfection against Jacksonville, when McFadden had runs of 30, 28, 26 and 24 yards. Still he had just 21 total yards on 15 other carries. McFadden has to be patient in this system. Speaking of patience, it does not look like Manning has had to have much time in developing a chemistry with
Wes Welker
. How well is Welker fitting into the Broncos' scheme in his first year with Manning after six years with
Tom Brady
in New England?
Legwold:
They have meshed quickly, as you would expect from two guys who have done so much already in their careers. The issue for the Broncos, really, is they have to be able to consistently stay in a three-wide set to use Welker to his fullest potential. When they have had some choppiness on offense to open both games, it's because they have not consistently protected Manning while making room for the running game out of the three-wide formation. Against the Ravens and Giants, they have moved to a two-tight end look to get things going and it worked well both times. But when they move out of three-wide that takes Welker off the field. But when he's in the game there is no situation when Manning doesn't look for him. Welker did have three drops against the Giants. The Broncos, overall, will use him deeper down the field than the Patriots did at times. Looking at the passing game, with
Ryan Clady
out for the remainder of the season with a foot injury it's a good time to ask how the Raiders' defense finds itself tied for the league lead in sacks after two games?
Gutierrez:
It's a ridiculously small sample size, but the Raiders are most definitely feeling pretty good about themselves not only being tied for the league lead with nine sacks, but being on pace for 72 for the season. Their team record since it became an official NFL stat in 1982 is the 65 they had in 1985. Remember, this unit had only 25 sacks in 16 games a year ago. So why the uptick? It's not necessarily due to a better rush up front -- five of their nine sacks have come from defensive backs. So that means Tarver is dialing up a variety of blitzes, which the former Raiders owner despised. You might say Tarver and Allen have a class of player closer to the prototype they want in order to instill their brand of pass rush. Alas, the Raiders lost Branch on just that -- a blitz, when he was taken down by Jacksonville left guard
Will Rackley
while rushing
Chad Henne
. In fact, it looked as if the injury happened just after Branch crossed the lip of the baseball dirt infield into the grass. But I digress.
Pass rush is about technique, right defensive end
Lamarr Houston
told me, and it seems as though their technique is much improved … after two games. Keeping with the small sample size theme, Allen was in Denver only one year. While much was was made about Tebow, many observers say it was Allen's defense that won the division for the Broncos in 2011. Raider Nation did not take kindly to Allen's wide grin while shaking John Fox's hand after the Broncos beat down the Raiders, 37-6, last year in Denver. How respected is Allen still in the Mile High City, and does he still cast a shadow?
Legwold:
Anyone who was associated in the turnaround season that was 2011 carries a little more cache with fans. Things were so dismal in 2010, when they finished 4-12, had Spygate and fired John McDaniels. When John Fox arrived with his new staff, including Dennis, people treated it like the fresh start it turned out to be. Pitch in
Von Miller
winning defensive rookie of the year that season, Tebow's popularity and the six-game win streak that year on the way to a division title at 8-8, no less, and folks generally think 2011 started what's going on now.
In terms of Allen, people appreciated the improvement the team made, but given he was here just one season I don't think fans, or even some folks in the media believe they got to know him very well. From a football standpoint, what the defense did that year often gets lost in all of the chatter about Tebow, when in fact the team continued to win games despite the offense being in the lower third in the league in scoring after going to the read-option. There were an awful lot of games when Tebow would have never had a chance to chase some late-game glory had the defense not hung in there for the first three quarters. How have people taken to Dennis there, and do people see the 1-1 start as progress?
Gutierrez:
Allen has had a lukewarm reception. If the Raiders win, he's cool, so to speak. If they lose? Then it's all his fault for hiring Greg Knapp last year to destroy the offense. It's like any fan base, I suppose, but as I mentioned earlier, they were really upset with Allen after that picture caught him with a big smile after last year's game in Denver. I asked him about it at the time and Allen said he was simply caught off guard by a joke Fox told him during the postgame handshake. Fans were not having it. This year, though, there's more of a wait-and-see approach. Even if some fans believe Allen did not want to give Pryor a fair shot at winning the quarterback gig. That's all water under the bridge now, though, and many of the more level-headed denizens of Raider Nation believe Allen deserves at least three years to get his program up and running -- similar to a college hoops program. Unless, of course, the players quit on him this season, like they seemed to do last November before rallying late.
Legwold:
Paul, great stuff. That about covers it. It should be great divisional match-up for a Monday night audience.
September, 19, 2013
9/19/13
1:10
PM ET
ENGLEWOOD, Colo. -- If you really want to feel what the
Denver Broncos
-
Oakland Raiders
rivalry should be, what many of those who fill the seats in each city in each football weekend expect it to be, you're going to need a few things.
Like …
Gray hair.
A good memory, as in a really, really good memory. You know, almost Mensa.
VHS.
Oh, and quarterbacks. Game-changing, rivalry-stoking quarterbacks.
[+] Enlarge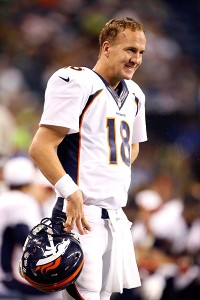 Joe Nicholson/USA TODAY SportsQB play has helped Denver dominate its rivalry with the Raiders in recent seasons.
As the Broncos and Raiders prepare to open up AFC West play for each on Monday night, these two ships will again pass in the night. The Broncos, with
Peyton Manning
at quarterback, consider themselves a Super Bowl contender, complete with plenty of eight-figure contracts and a parcel of off-the-field drama in tow.
The Raiders are in Year 2 of not just a re-build job, but they have largely scrapped the lot and elected to start from the ground up. With that the team's decision-makers, including general manager Reggie McKenzie and coach (and former Broncos defensive coordinator) Dennis Allen, have handed the offensive keys, at least for the moment, to quarterback
Terrelle Pryor
, their latest hope behind center.
The bottom line is it's been quite some time since this long-standing, annual battle between two of the AFL's original eight, has been a give-as-good-as-you-get rivalry. Even with all of the road the two have traveled together, the fact is they have rarely been good together, facing off at the peak of their powers.
One of the two has most often been up, flexing potential postseason muscle, and the other has basically been the welcome mat. There have been just five seasons when both the Raiders and Broncos made the playoffs in the same year. And since the start of the 1992 season, they have both made the playoffs in the same year just once -- in 2000 when the Raiders won the division at 12-4 and the Broncos were a wild card at 11-5. That's a long way from the zenith, the 1977 season when the two didn't just meet in the playoffs, they met in the AFC Championship with a Super Bowl trip at stake.
Or as Broncos Ring of Famer Randy Gradishar put it; "Now that's what a rivalry looks like. If people ever want to know what it looks like, what it feels like, that was it right there."
Since, however, there's also the Shanahan effect. When Mike Shanahan was hired by the Broncos, it was his second stint as an NFL head coach since his first stint had ended rather unceremoniously in Oakland four games into the 1989 season. Shanahan and the late Al Davis also had a long, well-chronicled tiff over some bonus money after the firing, adding some emotional hot sauce. So, needless to say, Shanahan liked beating Davis' team and made it an organizational priority. And Shanahan did it a lot, going 21-7 against the Raiders in his time with the Broncos.
Current coach John Fox is 3-1 against the Raiders in his two previous seasons on the Front Range. The only time since Shanahan's first season in Denver the Raiders have had an upper hand against the guy wearing the big headset for the Broncos was during Josh McDaniels' just-under-two-year tenure when the Raiders were 3-1 against the Broncos.
But like most things in the league these days, success and failure over the long haul can often be traced back to what happened at quarterback, how the draft went and just how many ill-conceived contracts were handed out to free agents who didn't perform.
While the Broncos have certainly had their draft/checkbook stumbles over the past two decades, they have had fewer than the Raiders. Even as the quarterback search in the post-Elway era has had some ups and downs in Denver -- seven different quarterbacks have started against the Raiders for the Broncos since Elway retired following the 1998 season -- it has gone far better than the mistake-filled search behind center for the Raiders.
Brian Griese,
Jay Cutler
and Peyton Manning have been named Pro Bowl quarterbacks for Denver in the post-Elway era while Gus Frerotte, Tim Tebow, Jake Plummer and Manning each started postseason games for the Broncos over the past 15 years. By contrast the Raiders have started 13 different quarterbacks against the Broncos since the start of Shanahan's first season in Denver. And Rich Gannon is the only Raiders quarterback to have started at least five consecutive meetings with the Broncos over that span.
Sure, Broncos cornerback
Champ Bailey
will often say "we don't like them and they don't like us," when the division games come rolling by, but Broncos-Raiders is really a remember-when rivalry right now, something maintained and nurtured because folks feel it's the right thing to do along the way. The bones are there, though, just waiting for both teams to cooperate and make it what all involved always seem to hope it will be.
August, 31, 2013
8/31/13
12:45
PM ET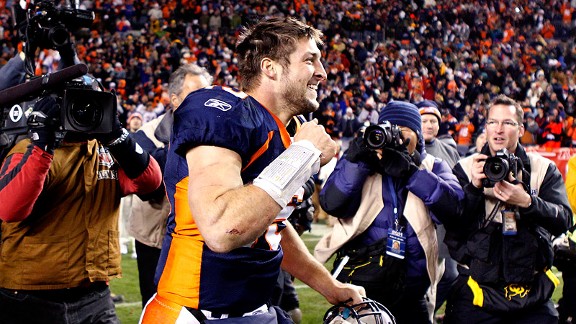 Ron Chenoy/US PresswireTim Tebow was all smiles after Denver's overtime victory against the Steelers in 2012.
In the end he'll always have Pittsburgh.
For yes, the zenith of
Tim Tebow
's ride in Denver, really his ride in the NFL to this point, came Jan. 8, 2012, when a player who didn't complete 50 percent of his passes in an offense that unveiled the NFL's first full-time read-option look during a wild, made-for-TV season had what was -- and what now might forever be -- the game of his professional football life.
Tebow went 10-of-21 passing against the Steelers' No. 1 defense that day for a staggering 316 yards -- 31.6 yards per completion -- and two touchdowns, the second of which came on an 80-yard catch-and-run by
Demaryius Thomas
to finish off the 29-23 Broncos win just 11 seconds into overtime. That's the play, the game, that Tebow's most zealous supporters will always point to as a measure of his NFL worthiness.
About what he can do if given a chance; if nurtured, coached and simply let be to do what he does.
Six days later, however, Tebow was tied in football knots by largely the same Patriots coaching staff that released him Saturday. Tebow went 9-of-26 passing for 136 yards in that AFC divisional-round game, was sacked five times, suffered a rib injury and looked lost, out of place in such a marquee affair. It also started the clock in earnest for the end of Tebow Time in Denver.
A couple days after the loss to the Patriots, the Broncos' chief football decision-maker, John Elway, said this about Tebow's future:
"At the same age, I had a long way to go, too. But I probably, at times, moved too much, relied too much on moving around. Hopefully I can relay that [to Tebow], because my progression as a quarterback was that I finally realized later in my career that I wished I'd learned [earlier] the fact that you do have to win from the pocket."
And there it is, the bottom line. It's why the Broncos chased
Peyton Manning
, why they traded Tebow, why they moved on when they had the chance. They simply decided a running quarterback is fine, but he has to throw better, be more accurate to win trophies in the Sunday league.
There are many inside the Broncos' Dove Valley complex who have said all through the preseason that it would be telling about Tebow's future, and his current spot on the developmental curve, if the Patriots released him. Because whenever criticisms of Tebow came, many folks in the public domain would say something on the order of "Well, if Bill Belichick had him ... "
And the Patriots also have Josh McDaniels as their offensive coordinator. And McDaniels is, in many ways, the first to believe in Tebow as an NFL quarterback. As in believe it enough to, as the Broncos' head coach, the guy with the final say on personnel did in 2010, select Tebow with the 25th pick of that April's draft. McDaniels, by all accounts, was simply floored by Tebow's interview with the team at that year's scouting combine, intrigued by the highest of personal character in an imposing football body. McDaniels wanted Tebow enough to have traded three picks to the Ravens to take him in that 25th spot.
But even McDaniels -- after getting a day-to-day look at Tebow in practice in the weeks and months that followed, even as Spygate unfolded in that 2010 season and the losses mounted -- didn't play Tebow as a rookie. No, it's often forgotten now in all of the water that's passed under the bridge that Tebow didn't see the field in the Mile High City until after McDaniels had been fired and the franchise, for the first time in its history, faced the very real prospect of sections of empty seats and an apathetic fan base.
They benched
Kyle Orton
in 2011 after a training camp and September worthy of any three-ring circus. They put Tebow in the lineup, eventually chucking their playbook and making a new one simply to play in the short term. And, looking back, many with the Broncos privately say all of the seemingly endless talk about Tebow's throwing motion, footwork and throwing mechanics overshadows the fact that he really needs to learn defenses, understand where the ball needs to go in the situations that present themselves in the passing game.
That his confidence on the field, which he always says is unshakable, seems to be waning; that a 1-of-7 for minus-1 yard and an interception is not the passing line any fourth-year quarterback can have in any game preseason or not. That even in a league with some of youngest, brightest starters being of the mobile quarterback variety, throwing the ball on time with accuracy will always be the top priority for those behind center.
And that a player, even one who was for his time in Denver a global cultural phenomenon, who didn't audible much, if ever, as a quarterback may simply have to rethink how he plays the game.