Denver Broncos:

Torrey Smith
September, 9, 2013
9/09/13
6:30
AM ET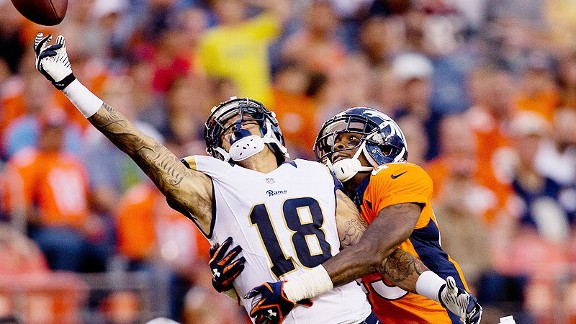 Justin Edmonds/Getty ImagesDominique Rodgers-Cromartie has been "really, really good" in his first season with the Broncos according to John Fox.
ENGLEWOOD, Colo. -- Denver and
Dominique Rodgers-Cromartie
were a match made of necessity.
The Broncos needed some athleticism at cornerback, preferably a player who was taller than 6-foot. Rodgers-Cromartie? Well, he needed a new start after two seasons as part of the failed "Dream Team" free-agency initiative with the Philadelphia Eagles.
"He's an extreme talent," Broncos coach John Fox said. "We saw that in studying the free-agency pool of players."
And perhaps lost in the historic seven-touchdown binge quarterback
Peyton Manning
dropped on the football nation Thursday night is that Rodgers-Cromartie showed he's a defensive back worthy of working as a team's No. 1 guy. Arizona Cardinals wide receiver
Larry Fitzgerald
once called him the best athlete he had faced in the league -- but a guy who was going to have to be pushed to get there.
The Broncos' message to Rodgers-Cromartie, 27, before he signed in Denver had more than a tinge of tough love in it. It was long the lines of: They liked him enough as a player to offer him $5 million for the season, but he shouldn't bother accepting it unless he was ready to listen to some things that might be uncomfortable.
"Hey, I was with that," Rodgers-Cromartie said. " ... Coming in [to the NFL], I was happy just to be in the league and not really understanding everything that is put into it as far as the time, your body, the offseason, the studying, the playing. Now I understand that the older I get, you have to take it ... seriously because at the end of the day, it is just an opportunity for us to play and the opportunity can be gone at any minute."
With
Champ Bailey
out of the lineup Thursday against Baltimore because of a left foot injury, Rodgers-Cromartie was asked to step up. He lined up at Bailey's left cornerback spot and was often matched with Ravens wide receiver
Torrey Smith
. The Ravens threw at him just once in the game. When all was said and done, Smith -- who had blistered Bailey and the Broncos in January for two touchdown catches in the Ravens' playoff win -- had four catches for 92 yards.
Smith's biggest catch of the night, a 34-yarder, came in the fourth quarter, with the Broncos holding an 18-point lead and Rodgers-Cromartie elsewhere in the formation.
"But he's a very talented guy who matched up well with 82 [Smith]," Fox said, "and we'll continue to do that moving forward."
The book on Rodgers-Cromartie for much of his career from personnel people around the league was that he's gifted, but not committed. His concentration simply wavered too much for him to be trusted with the most difficult assignments, no matter how much potential he might have.
But the Broncos believe surroundings mattered and that Fox -- a longtime defensive backs coach as an NFL assistant, including under Hall of Fame coach Chuck Noll -- defensive coordinator Jack Del Rio, and the Broncos' assistants could make it happen. And there was proof Rodgers-Cromartie had listened to the message before in his career. When the Cardinals advanced to the Super Bowl in Rodgers-Cromartie's rookie season, he said, veterans
Antrel Rolle
and
Adrian Wilson
snapped him into shape. The two had discovered Rodgers-Cromartie was not taking notes on the team's upcoming opponents or his duties in specific situations.
The Broncos were looking for a similar reset with Rodgers-Cromartie, something they say they've gotten so far.
"He's been really, really good," Fox said. "And very responsive to his position coaches ... He's just going to get better."
Fox added that Rodgers-Cromartie, as well as some of the other defensive backs, struggled with some of the Broncos' work in zone coverages against the Ravens. It wasn't "quite as well-oiled" as it needed to be.
But Bailey's return will give the Broncos more options in matchups, even if they simply line up Bailey, as usual, on the left side, with Rodgers-Cromartie on the right, and leave them be.
It is all a one-season audition for Rodgers-Cromartie. Even though he's under contract for two years, the second year voids five days after the Super Bowl. And while it's wise to never turn early reviews into too much before the whole story is told, the Broncos certainly would be ready to talk if things continue on their current path the next five months.
"The main thing for me is just get established," Rodgers-Cromartie said. "I'm that new guy, and these guys were pretty good last year. I just want to help and be as good a player as I can be. I think I still have a lot in me."
September, 4, 2013
9/04/13
8:30
PM ET
It was 236 days ago when
Joe Flacco
threw that fateful, 70-yard touchdown pass to
Jacoby Jones
, leading the
Baltimore Ravens
to a double-overtime playoff win at the
Denver Broncos
. The Ravens went on to win the Super Bowl, and the Broncos were left to think of what might have been. Flacco and the Ravens return to Denver's Sports Authority Stadium on Thursday night to kick off the 2013 season in a rematch of two of the top teams in the AFC.
The stakes are different, and so are the teams. Gone are
Ray Lewis
,
Ed Reed
and
Anquan Boldin
from the Ravens. Baltimore is expected to have 10 different starters from the team that hoisted up the Lombardi trophy, and that doesn't include former Broncos defensive standout
Elvis Dumervil
, who is expected to play in passing situations.
The Broncos won't have Dumervil or
Von Miller
, who has been suspended for six games, rushing after Flacco this time. But
Peyton Manning
is back, along with the addition of
Wes Welker
to an already dangerous wide receiver group.
Broncos team reporter Jeff Legwold and Ravens team reporter Jamison Hensley discuss whether the opener will be a repeat of that memorable AFC divisional playoff game.
Hensley
: Much has been made of the 50-foot Flacco banner hanging at the Broncos' stadium. Flacco has embraced the hate, saying it's not a bad thing for opposing fans to dislike you. The Ravens' focus, as it has been all offseason, has been to move forward. It's the start of a different era in many ways for the Ravens in their first game without Lewis and Reed. But it's easier to move forward when you're the ones sitting on top of the football world. How much will the "revenge factor" play into this game for the Broncos?
Legwold
: Broncos coach John Fox, much like John Harbaugh with his "What's Important Now" mantra to leave the championship season behind, has tried to leave the past in the past. But questions about the kneel-down in the waning seconds despite Manning at quarterback and two timeouts in hand, as well as a third-and-7 running play late in the game, have trailed him all through the offseason. A lot of the Broncos players are willing to say memories of the playoff loss pushed them through the tedium of May and June. But over the past two weeks, they've stuck to the script -- that it's a new year, a new team -- but deep down they all know they let a potential Super Bowl trip, home-field advantage and a seven-point lead with less than a minute to play get away. And Dumervil's departure does add a little spice as well. How has Dumervil fit in and what kind of year do you think he'll have?
Hensley
:
Terrell Suggs
has talked about Dumervil having the right mentality to play for the Ravens, and Harbaugh commented how Dumervil is already taking a leadership role. He really is a perfect fit for the Ravens on the field, too, where they have never had an elite pass-rusher to pair with Suggs. Over the past six seasons, Suggs has had only one teammate record more than seven sacks in a season. And being a pass-rusher is Dumervil's primary role. The Ravens will use
Courtney Upshaw
on early downs to set the edge against the run, which should keep Dumervil's legs fresh in pass-rushing situations. The Ravens have a familiarity with Dumervil because inside linebackers coach Don Martindale was Denver's defensive coordinator in 2010 and was Dumervil's position coach in 2009, when the linebacker-end led the NFL with 17 sacks. Baltimore is catching a break Thursday night with Dumervil now wearing purple and Miller serving his suspension. How are the Broncos going to generate a pass rush on Flacco?
[+] Enlarge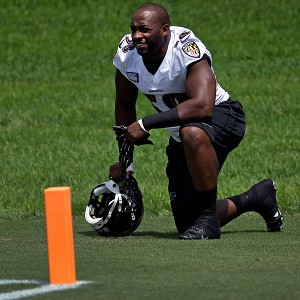 AP Photo/Patrick SemanskyPass-rusher Elvis Dumervil was one of the Ravens' high-profile offseason acquisitions, and has become a leader on the field and off for Baltimore.
Legwold
: That is the $380,687.50 question, which is how much of Miller's base salary he'll surrender during the six-game suspension. But without Miller (18.5 sacks in '12) and Dumervil (11.0 last season), the Broncos will mix and match on a variety of down-and-distances.
Derek Wolfe
is a key player, because of his ability to play inside and outside along the defensive line and still create matchup problems. Jack Del Rio believes Wolfe is ready to take an enormous step in his development, and among the defensive linemen only Dumervil played more snaps up front than Wolfe did as a rookie last year. The Broncos will ask
Shaun Phillips
, who they think has plenty left to give after 9.5 sacks for the struggling Chargers last season, to be a spot rusher. And
Robert Ayers
, who was a first-round pick in 2009, has always said he could put up the sack numbers if given the chance. He's played through four different coordinators -- Del Rio is his first to be on the job for two consecutive seasons -- but has just 6.5 career sacks. Now is his time. On Flacco, how has he dealt with all that comes with a Lombardi trophy and a nine-digit contract?
Hensley
: The money and increased notoriety haven't really affected Flacco. If anything, he's become more vocal. There was a playful trash-talking exchange during training camp between Flacco and Suggs, who told his quarterback that the defense's "swag is on a thousand million." Flacco responded: "Then what's my swag at? I get paid more than you. A lot more!" What has really changed is the wide receiver group around Flacco. This unfamiliarity led to four interceptions in six quarters of work this preseason. His top two receivers from a year ago won't be there Thursday. Boldin was traded to San Francisco, and tight end
Dennis Pitta
is out indefinitely with a dislocated hip. They accounted for 36 receptions in the postseason, which was nearly half of Flacco's completions. That being said, it was
Torrey Smith
and Jones who did the most damage in the playoff game in Denver. The Ravens are hoping wide receiver
Brandon Stokley
can move the chains on third downs and tight end
Ed Dickson
(hamstring) can contribute in the season opener. There has to be more confidence in the Broncos' passing attack with Manning and his bunch of talented receivers.
Legwold
: There is plenty of confidence in what the potential can be with Welker in the mix. The Broncos loved Stokley as a slot receiver, but Welker is younger and offers a bigger upside in terms of production. Welker will also have the best receivers to his outside shoulders in
Eric Decker
and
Demaryius Thomas
, the best combo he's had since the Patriots decided they didn't want
Randy Moss
around any longer. The 229-pound Thomas and the 214-pound Decker make the Broncos a tough matchup for any secondary. In the preseason, teams simply backed off into coverage and took their chances they could allow the catch and make the tackle before too much damage was done. The pace, especially at altitude, is a little something new as well. The Broncos ran 49 plays, excluding penalties, in the first half alone against the Rams in the preseason. They won't always go that fast, but if they get the look they want from a defense, they'll put the pedal to the floor and not allow a substitution. The key issue will be protection: Left tackle
Ryan Clady
missed plenty of the preseason after offseason surgery, and Denver has surrendered pressure in the middle of the field at times. The three-wide look is what the Broncos want their base formation to be on offense, but they can't do it if they can't protect Manning. It has to be a strange thing for a Baltimore defense that has been the franchise's signature for so long to have so many changes.
Hensley
: There were a lot of changes to the Ravens' defense, but there were necessary changes. The Ravens weren't a top-10 defense for the first time since 2002. This defense had slumped to No. 17 in the NFL. It's never easy to part ways with the likes of Lewis and Reed. But the Ravens aren't replacing two Hall of Fame players in their prime. Baltimore had to replace two aging players who weren't the same playmakers from a few years ago. The additions of Dumervil, defensive lineman
Chris Canty
, linebacker
Daryl Smith
and safety
Michael Huff
have made this a stronger and more athletic defense. The Ravens' defense is going to be significantly better in two areas: stopping the run and pressuring the quarterback. The biggest concern, especially when you're starting two new safeties, is the communication in the secondary. One mistake there and Manning will burn you for a touchdown. How is the Broncos' secondary holding up this summer?
Legwold
: The Broncos would feel better if Bailey felt better. Bailey did not practice Sunday or Monday because of a left foot injury he suffered in the preseason loss in Seattle and is still a major question mark for Thursday's game. Bailey has been on the field for practice, but has not participated in any of the drills. The end result means
Dominique Rodgers-Cromartie
would likely line up much of the time in Bailey's left cornerback spot. Rodgers-Cromartie is one of the more athletic sidekicks the Broncos have had for Bailey since Bailey arrived in 2004.
Chris Harris
and
Tony Carter
, the player who gave Jones a free release off the line of scrimmage on the game-tying bomb last January, will play in the nickel and dime as well. But overall the Broncos kept 11 defensive backs -- six corners, five safeties -- and can mix and match for almost every situation. They have flexibility and use it, so every defensive back in uniform Thursday night could see some action in the defense.
September, 3, 2013
9/03/13
11:00
AM ET
A daily look at a key matchup in the
Denver Broncos
' Week 1 game against the
Baltimore Ravens
.
Smith
Today's is:
Broncos CB
Dominique Rodgers-Cromartie
vs. Ravens WR
Torrey Smith
When folks in Denver last saw Smith, he was busy breaking hearts and reeling in two touchdown passes -- 59 and 32 yards -- in what eventually became a double-overtime playoff loss for the Broncos.
Smith beat a busted coverage for the first touchdown -- cornerback
Champ Bailey
has said "that's a play I should make," but the safety help never came -- and he outjumped Bailey for the other. Bailey is still a rather large question mark for Thursday's opener with a left foot injury.
Bailey, a 12-time Pro Bowl selection, has consistently said over the past two weeks that he wants to play Thursday night and continues to hope he can make that happen. However, he's 35 years old. If it's close, plenty of folks inside the Broncos complex think the best decision would be to make sure he can go for the long haul this season rather than play him too quickly in the opener and then create a nagging foot problem for the remainder of the year.
Rodgers-Cromartie
So, the duties most likely will fall to others. Given his skill set, Rodgers-Cromartie makes the most sense because of his reach and athleticism, but it would take some adjustment on the Broncos' part. They have played Rodgers-Cromartie plenty at left cornerback in Bailey's absence. That would be away from Smith, given that Smith has often lined up as the weakside receiver -- on the offensive left -- for the Ravens in the starting offense's limited cameos in the preseason.
Smith, who came into the league with some concerns over his reliability catching the ball, has steadily evolved as a pro. He's always had top-tier speed, and the Maryland strength coaches told teams he was, pound-for-pound, one of the strongest players they had ever had in the program.
But Smith has now earned quarterback
Joe Flacco
's trust. And as Flacco showed in the playoff win in Denver, he will throw Smith the ball in tight situations and doesn't much care who is in the coverage. Defensive coordinators say Flacco, when pressured, is looking push the ball deep rather than check it down. Often, his big plays come late in the down as the rush closes in, making any cornerback who doesn't stick to the assignment, even if the quarterback looks to be in trouble, susceptible to the play over his head.
When the Broncos signed Rodgers-Cromartie, they made no secret they believed he had Pro Bowl talent physically, but they thought his technique, concentration and attention to detail needed some work. How he settles in Thursday night could have a lot of say about how things go.
"Oh yeah, they were straight up with me," Rodgers-Cromartie said. "I liked that, that's why I signed here. You want to be in the kinds of games this team plays."