Detroit Lions:

2014 NFL Draft
May, 9, 2014
May 9
6:35
PM ET
ALLEN PARK, Mich. --
Eric Ebron
had been a Detroit Lion for less than 24 hours when he stood up at the podium, looked out at the media, looked down at the recorders taping his every word Friday afternoon and was still in amazement.
On Wednesday afternoon, he was a man waiting for a team and still in a relationship. By Thursday night, he was officially in the National Football League and a newly engaged man. So there are wind storms, whirlwinds and then things that can completely spin your head.
"This all seems fake right now," Ebron said at his introductory press conference. "Like, I'm not even here. Ever since I woke up."
[+] Enlarge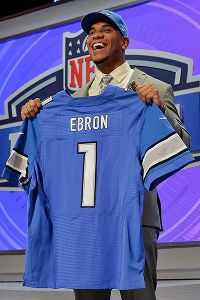 AP Photo/Craig RuttleEric Ebron became engaged and a top-10 draft pick all in one day.
Somewhat surprisingly to everyone but the
Detroit Lions
, he was in Michigan on Friday afternoon as the second tight end the team has spent a first-round pick on in the past six seasons. And it all started in New York City the day before.
The pick was criticized in the immediate aftermath of the selection, but Ebron paid little attention to that. He was too happy to care. Too happy to talk about anything negative on what was the best personal and professional day of his life Thursday.
See, Ebron not only became a NFL player on Thursday night, he picked up a fiancée, too, finalizing something he thought about for months and then planned for weeks. That began Thursday morning, when Ebron convinced his then-girlfriend, Brittany Rountree, that a visit to the Empire State Building was part of his schedule of events on draft day.
Rountree thought something was different, but in the elevator on the way up near the top of the building, Ebron calmed her down. Told her to "go with the flow." To relax. This was how he made her feel comfortable, what turned a friendship that began at freshman orientation at North Carolina to a drama class taken together to a friendship and then a relationship.
Now, two years later, they were headed to an uncertain future together in an elevator.
"I was still trying to figure out what was going on," Rountree said Friday. "Like why are we here."
She'd find out. They reached the top and Ebron dropped to one knee, proposing to his girlfriend. She cried a little bit. It would be the only thing that could top what would come later. For Ebron, there is some symmetry to this. He lived for a while in the shadows of the building he proposed in, in the city that his life would change in.
Ebron was born in northern New Jersey and spent the first few years of his life in Newark, New Jersey, where his father works for the school district. So it fit, somewhat, that his father, Eric Ebron Sr., would get stuck in traffic Thursday heading from Jersey to Manhattan. That is, after all, all too typical of traveling into New York City.
Ebron Sr., like his son, would head to Radio City Music Hall, where the name Eric Ebron would be read by former Lions running back Barry Sanders with the No. 10 pick. When Ebron heard his name and saw Sanders, he didn't want to let go.
"Wooooo," Ebron said Friday. "When he walked up there, I was like, whoever gets this pick, man, look. I didn't want to start hugging the man but I had to a little bit.
"We was on television. I didn't want nobody else to miss their pick so I had to let him go."
He did and after Ebron went through his required post-pick duties and interviews, he and his family went to Tao, not far from Radio City Music Hall, for a late dinner and celebration with his family. Then he slept for about 90 minutes before waking up, jumping on a plane with his family and heading to his new home in Detroit.
That was the last 24 hours of Ebron -- a 24 hours that completely shifted his life.
"We're finally here. We are finally here," Ebron's mother, Gina Jackson, said. "I knew this moment would come. He just stayed hungry and stayed humble and do what he had to do.
"We are here. Like, 'Yes, dreams do come true.'"
May, 8, 2014
May 8
11:50
PM ET
ALLEN PARK, Mich. --
Eric Ebron
made something
very clear Thursday evening

a few minutes into his first chat with the Detroit media.
He is not
Jimmy Graham
. So if you're hoping for Jimmy Graham, it's not happening just yet. Except that he expects to be used like Jimmy Graham was used in New Orleans by new offensive coordinator Joe Lombardi.
"I don't have no similarities to Jimmy Graham," Ebron said. "I mean, he's a different type of tight end than I am. Very possessive tight end. He's a great tight end, but I don't really think I have any similarities to Jimmy Graham."
[+] Enlarge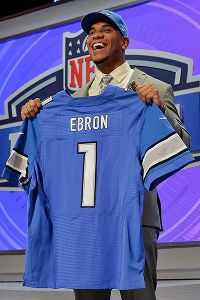 AP Photo/Craig RuttleEric Ebron will add another dimension to Detroit's already-potent passing attack.
Of course, if he can end up close to what Graham became for the Saints in his career, the Lions would have made the correct call going with offense with their first pick.
This is the hope Detroit had when they selected him. Not that he would become Graham, but that he possessed some of the same qualities the All-Pro has.
"From a skill position player, I think we've got two really good receivers in Calvin [Johnson] and Golden [Tate]. I think the tight end position, who runs like Eric does, because we have two pretty good tight ends as it is," Lombardi said. "But he's got a different skill set and that just adds a whole new element to your offense, a tight end that can run like that.
"That maybe you can take advantage of a little bit more easily than you can another receiver."
Much like Ebron, neither Lombardi nor general manager Martin Mayhew wanted to make the obvious comparisons to Graham, but Lombardi indicated they plan to use him in a similar way to how New Orleans used Graham.
And Lombardi figures they can move Ebron all over the field, both in the slot and outside in order to keep teams confused and in an effort to free up Johnson and Tate downfield and
Reggie Bush
and
Joique Bell
underneath.
It could lead to an exciting offense for Detroit if it all works out as the Lions now have an advantageous offensive situation.
Teams won't focus on him first when they think about Detroit. Teams might not focus on him second, either, since
Calvin Johnson
and
Golden Tate
are both pass-catching options for the Lions. So he understands the potential for the Lions' offense this fall.
That was the thinking behind Detroit going with Ebron over an option on defense.
"It'll give other teams hell, I hope," Ebron said. "Enough hell so that we win the game."
The Lions hope they've finally found the right combination of mismatches that they insist they can have to be a successful offense in a division where the rest of the teams focused on defense in the first round.
"It creates difficulties, especially a guy like Eric, who is well over 240 pounds, that can run extremely well," Lions coach Jim Caldwell said. "So what it does indeed do is force the defense to make a determination on how you want to play him. Brandon [Pettigrew] is on one side and he is on the other, how are you going to treat him?
"Are you going to treat him like a tight end and leave a linebacker in the game which creates a mismatch in terms of the passing game or are you going to put in a smaller defender which also creates some problems in terms of him being able to leverage that particular player and also in a blocking standpoint and our run game, running in that direction would give us some advantages. Eric on the strong safety will also create some issues as well. All the guys in this league can run but he creates an unusual matchup."
So Ebron becomes a matchup nightmare for opponents on the best day of his life, both personally and professionally. Not only did he become a top-10 pick in the NFL draft on Thursday, he also got engaged earlier this morning.
Near the top of the Empire State Building, to his girlfriend Brittany Rountree. So not a bad day for Ebron. Not a bad day at all.
May, 5, 2014
May 5
1:05
PM ET
The NFL draft is less than a week away, which means soon enough the
Detroit Lions
will have to reveal whether all of their
Sammy Watkins
attention and visits from
Jadeveon Clowney
and
Khalil Mack
had substance or were designed to throw everyone off.
But the draft will be more than just one round for the Lions, who will need to use the three days in May to build depth on a roster that is big on stars but small on those players beyond the big names that can turn the Lions into a playoff team.
Every day up until the first day of the draft, we'll look at a different position grouping and see what Detroit has and what the team could end up looking for during the 2014 draft.
Today continues with the defensive line.
Previous previews
Players Lost:
Willie Young
, DE (signed with Chicago);
Israel Idonije
, DE (signed with Chicago)
[+] Enlarge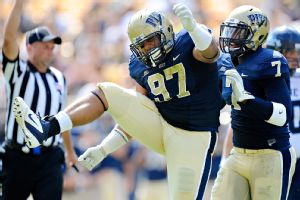 AP Photo/Don WrightTaking Aaron Donald at No. 10 would provide the Lions with insurance in case Ndamukong Suh or Nick Fairley is not back in 2015.
Players Signed:
George Johnson
, DE;
Kourtnei Brown
, DE;
Darryl Tapp
, DE/OLB;
Vaughn Martin
, DT;
Corvey Irvin
, DT.
Players on the roster:
Defensive ends:
Ezekiel Ansah
;
Jason Jones
;
Devin Taylor
; Tapp; Brown; Johnson.
Defensive tackles
:
Ndamukong Suh
;
Nick Fairley
;
C.J. Mosley
;
Andre Fluellen
; Martin; Irvin;
Jimmy Saddler-McQueen
;
Xavier Proctor
.
Draft priority
: Medium
Potential Rounds:
Any
Players who have visited or the Lions have met with
: Jadeveon Clowney, DE, South Carolina;
Larry Webster
, DE, Bloomsburg;
Denico Autry
, DE, Mississippi State (per Detroit Free Press).
Analysis:
It is an interesting situation when it comes to the Detroit defensive line, in part because the player the Lions should take in the first round could end up being available at the slot. It might not, though, be the player the Lions will take.
If
Aaron Donald
, the defensive tackle from Pittsburgh, is sitting at No. 10 and no unexpected players like
Mike Evans
are still available, the Lions should take him even though they have Suh and Fairley. The reasoning behind it is simple.
By taking Donald, the Lions would provide more depth up front in the present and also provide themselves with a potential replacement for either Fairley or Suh should either one not return to Detroit after the season. Worst case for Detroit, if both Suh and Fairley somehow returned, the Lions could have even more flexibility on the defensive line and truly have the best defensive front four in the NFL.
Donald may be the best player available at that point as well.
Even if the Lions pass on Donald, they will almost assuredly take a defensive tackle at some point this week because the team's top six defensive tackles -- and every non-practice squad defensive tackle -- will be an unrestricted free agent after the season.
Detroit needs to add a rush end, too, and
Anthony Barr
could be an option there in the first round. Larry Webster could be a late round pick to watch. He's a project, but he could fit in well with what the Lions have already in Ezekiel Ansah and Devin Taylor at the position.
Of all reasonable options, I'd take:
As mentioned above, if Donald is available, that is who I would take in Round 1. I don't think the Lions would do this -- my bet would be they bolster the secondary -- but Donald is a difference-maker.
Should that happen, the Lions could use a fourth-round pick on Webster as well and really solidify the defensive front the team tried to build the entire defense around.
Possible targets:
Donald, Webster, Barr,
Dee Ford
, DE, Auburn;
Aaron Lynch
, DE, South Florida;
Jackson Jeffcoat
, DE, Texas;
Dominique Easley
, DT, Florida;
Timmy Jernigan
, DT, Florida State;
Kelcy Quarles
, DT, South Carolina;
Ego Ferguson
, DT, LSU.
April, 9, 2014
Apr 9
11:34
PM ET
BATON ROUGE, La. – It sounds like a novel idea in today's NFL. But if a team is actually willing to draft a quarterback and give him a full year to develop before thrusting him into the starting lineup, then LSU's
Zach Mettenberger
might just be their guy.
Six months, at least.
Mettenberger certainly wouldn't agree with this idea. He's so adamant to prove that he'll be NFL-ready as a rookie that he went out and
performed a grueling and impressive pro day
workout Wednesday just 13 weeks after having surgery to repair a torn ACL.
[+] Enlarge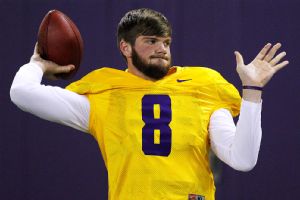 AP Photo/Jonathan Bachman"You can win a world championship with Zach Mettenberger," LSU offensive coordinator and ex-NFL coach Cam Cameron said on Wednesday.
Mettenberger insisted he'll be 100 percent by next month's rookie minicamps and ready to compete for a job by training camp.
Maybe he's right. It's hard to doubt him after the grit he showed on Wednesday, throwing roughly 125 passes in a fast-paced workout that many NFL talent evaluators said would have been impressive even without the injury.
But even if Mettenberger and his supporters – including LSU offensive coordinator and longtime former NFL coach Cam Cameron – are being overly optimistic, then Mettenberger could still be worth a second- or third-round pick for a team that believes he has the potential to be a starter in 2015 and beyond.
ESPN analyst Ron Jaworski certainly feels that way. He tabbed the strong-armed, 6-foot-5, 224-pounder as the second-best QB prospect in this year's entire class, behind only Central Florida's
Blake Bortles
. Jaworski is one of many who has compared Mettenberger to the Baltimore Ravens'
Joe Flacco
– including Cameron, who has coached both of them.
"I think his skill set translates extremely well to that league," Cameron said. "Some guys want 'em taller or [some want] more athletic. But the bottom line is a guy's gotta be tough, football-smart, distribute the ball to everyone on the team under pressure, in tight windows. Zach can do that.
"You can win a world championship with Zach Mettenberger. That I know. And that becomes the final evaluation. You don't draft a guy unless you think this guy can ultimately lead our organization to the Super Bowl. Not just win games. And he is on par with guys that I've known since his age that have won Super Bowls."
LSU coach Les Miles echoed that confidence, describing Mettenberger as "a guy that can really play in a very high level in the NFL."
Still, there are some question marks about Mettenberger that have nothing to do with his surgically-repaired left knee.
He only had one great year in a turbulent college career, which required a lot of maturing both on and off the field.
Mettenberger started out at Georgia, but was dismissed from the team after an arrest for two misdemeanor counts of sexual battery. After a year in junior college, he transferred to LSU. But he didn't really shine as a backup his sophomore year or as a starter his junior year. He was sometimes criticized as too laid back, as both a leader and a decision-maker.
Last year, however, Mettenberger showed rapid development in Cameron's first year on the job. He thrived in a pro-style offense (and throwing to pro-caliber receivers like
Odell Beckham Jr.
and
Jarvis Landry
). He threw for 3,082 yards, 22 touchdowns and eight interceptions before suffering the injury in LSU's regular-season finale.
"When he showed up here and really did not play a lot, he was kind of in the background. Not necessarily did we feel his presence," Miles admitted. "When we turned to him and he became that player, he really stepped into a role of leadership.
"Really, we felt like he needed to take on more of a position of team leader than necessarily quarterback. He did that. He's one of the toughest guys on our team. He continued to improve through his last snaps."
Cameron hinted at a similar assessment, saying, "We're all maturing, hey, to some degree. And he's no different."
"It's been refreshing to me coming back to college and watching how much these guys can mature in six months, a year," Cameron said. "And remember, Zach's still a young guy. He's not even two-thirds the way to where he's gonna be at some point in time. And I think his game translates extremely well to the NFL."
Mettenberger said his first two individual workouts with teams are scheduled for this week – the
Jacksonville Jaguars
on Thursday and the
Detroit Lions
on Saturday – with more to come after that.
Cameron said teams have picked his brain, but he said they don't have too many pressing questions.
"The film speaks for itself," Cameron said. "The one thing I know about scouts, they're gonna look at the film first. Theyre gonna look at the game at Georgia or the game at Alabama. The games against quality opponents on the road. Zach obviously played extremely well.
"Some may ask, 'Is there anything about him we wouldn't know?' And I tell them he's one of the best, if not the best practice players I've been around. Just like [Landry and Beckham], because of the standard Les sets here."
Mettenberger might not be ready to immediately lead his next team into the playoffs as a rookie like fellow big men Flacco and
Ben Roethlisberger
have done in recent years.
But if his growth in 2013 was a true indication of his potential, then he might well develop into one of the better investments in this year's draft class.
April, 9, 2014
Apr 9
1:42
PM ET
The
Detroit Lions
appear to be falling in love with wide receiver
Sammy Watkins
and while that is nice, they appear to be entering the same territory they did a decade ago.
Bolster the offense and deal with the defense later on.
[+] Enlarge
Joshua S. Kelly/USA TODAY SportsSammy Watkins set Orange Bowl records for catches (16) and receiving yards (227).
Considering this is a team that wants to win now, it should be much more cognizant of its other needs instead of making what will likely end up being a large move up to grab a receiver it believes has a bright future.
Especially in this draft, which boasts one of the best receiver groups in recent history and where second- and third-round value at the position is high.
Detroit has too many concerns on the defensive side, from safety to cornerback and even to linebacker and defensive line, to ignore. Going with a wide receiver in the first round -- and even more so, by trading away more draft picks or even a player to do so -- reeks of a team that has not learned its own focused-on-offense lesson from before (
Mike Williams
over
DeMarcus Ware
in 2005) and one that hasn't learned from mistakes other teams have made in the past.
In 2011, Atlanta traded way up in the first round to nab
Julio Jones
-- a receiver like Watkins who was considered an immediate difference-maker. In return, Cleveland got the Falcons' first-round pick (No. 27), second-round pick, fourth-round pick and Atlanta's first-rounder and fourth-rounder in 2012.
Atlanta did this, in part, to pair Jones with one of the top receivers in the game:
Roddy White
. That sound familiar in this case?
So far in his three seasons in the NFL, Jones has been a fantastic receiver, albeit one who has played in every game just once -- in 2012. The Falcons were also a team that had three straight winning records entering the 2011 draft. They had gone 13-3 the season before.
Since drafting Jones, Atlanta has gone 10-6, 13-3 and then 4-12 in 2013. They have not made a Super Bowl. But they were a team with a lot of strong pieces and saw Jones as the difference to reach the championship game they haven't gotten to yet with him.
In 2012, Jacksonville traded up two spots to make sure it grabbed Oklahoma State receiver
Justin Blackmon
, a player who didn't have the credentials of Jones or Watkins coming out of college. Blackmon played in four games last season and has yet to hit a 1,000-yard year.
This is just recent history, and we're not even mentioning the Saints giving away the equivalent of a roster (OK, not a whole roster, but a boatload of draft picks) for
Ricky Williams
.
If you're noticing something familiar, it is this: All of those trades were for offensive skill position players. They worked or didn't to varying degrees, but none of the teams that made the big moves ended up making the Super Bowl with the player they made the move for.
Atlanta still can, but three years is a long window to wait with this Detroit team, for instance.
To get Watkins, the Lions would have to make a similar move up -- but this team is nowhere near one player or two players away from turning the franchise into a Super Bowl contender. They have pieces to be one at some point, maybe even in 2014.
To get there, Detroit needs defensive difference-makers, not another shiny offensive toy for
Matthew Stafford
to throw to. And this is a team that seems solely focused on winning in 2014, even if it means sacrificing the future for a successful present. And that would seem like why they would be looking to grab Watkins.
Since rumors of Detroit maybe making a move up started, one thing has stuck out. After he was fired, Jim Schwartz discussed on a Nashville radio station how depth was a major problem for the Lions. That there were a lot of talented front-line players there, but when injuries hit, they didn't have as capable a group of replacements.
That problem hasn't changed with the Lions, which are star-heavy but have added very little in terms of experienced and talented depth.
Moving up and sacrificing draft picks in a deep draft at multiple positions -- including receiver and cornerback -- doesn't seem to be the correct answer here. It seems to be one of desperation and one of wanting to make the big splash instead of the systematic build Detroit has tried to do in other areas the past few years. Draft for true need with the best player available, something the Lions have done smartly over the past four seasons under general manager Martin Mayhew. And this is a draft where depth can be built both for now and in the future.
Not moving up has little to do with Watkins' ability -- he is likely to become an excellent player in the NFL and could end up as an All-Pro at some point in his career. And if Detroit were a 10- or 11-win team a few years running, this move would make sense.
But the Lions aren't and haven't been, well, ever. If they want to reach that point -- and want to be sustained there -- not making this move would probably end up being the smarter answer.
March, 6, 2014
Mar 6
11:00
AM ET
Todd McShay's third NFL mock draft for 2014 is out on ESPN Insider today.
To me, the Detroit Lions definitely need help and wide receiver and most likely at tight end this offseason, and adding a top player at either position in this draft to pair with
Calvin Johnson
could make this a truly dominant passing attack. But the other big need area is at cornerback. The entire back seven of Detroit's defense isn't in ideal shape right now, but it is cornerback that is the most pressing issue on defense.
Whom does McShay have the Lions drafting at No. 10? Let's take a look at
his pick and his analysis

: