Detroit Lions:

2013 Week 17 DET at MIN
December, 29, 2013
12/29/13
8:00
PM ET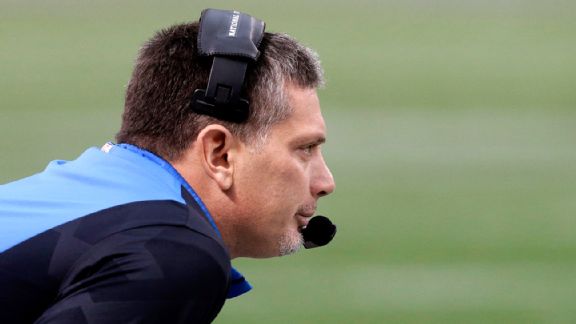 AP Photo/Jim MoneJim Schwartz and the Lions held a fourth-quarter lead in all six of their losses down the stretch.
MINNEAPOLIS -- Jim Schwartz lingered for a little longer than normal on the field Sunday, seeking out some
Minnesota Vikings
to chat with for a second before jogging off toward the tunnel for his final postgame chat of the season.
There was a sense of finality everywhere in Minnesota on Sunday. Final game in the Metrodome. Final game of the season for both teams and, potentially, the final game of the coaching tenures of both Schwartz and Minnesota's Leslie Frazier.
Schwartz addressed his team after another fourth-quarter lead lost, this time in a
14-13 defeat
to Minnesota. Players said Schwartz didn't discuss his own job status. He told them he was proud of them and receiver
Jeremy Ross
said he told them they needed to "bounce back."
The only question now is whether Schwartz will be bouncing back with them or if he will be bounced out of Detroit after five seasons.
True to how he has always been, Schwartz wouldn't divulge what he would say to management if he were allowed to make a case for why he should be given a sixth year. He wouldn't say if he wants clarity on the situation, either, although human nature screams that he would.
"I know the way this business is, we all do, but we can't worry about decisions that we don't make," Schwartz said. "We've got to try our very best week in and week out and if we do, we can accept any decision that is made.
"I'd certainly like to be back. I feel like we have unfinished business here. We've come a long way in these years but we still have ground that we can make and I'm anxious to have a chance to be able to do that."
The "unfinished business" extended to Sunday, where the Lions looked exactly like the team they have been all season long. It is unlikely Sunday was the final opportunity for Schwartz to save his job -- and it actually had no business being that considering what has gone on the past two months -- but if it were, he and the Lions gave management a litany of reasons why a change might be necessary.
Almost all of the same problems that plagued Detroit all season remained in the season finale, when there was nothing left for the Lions to play for after they squandered their chance at a division title.
The same issues with penalties remained -- six for 52 yards. The same issues with game management remained, as the Lions burned through two second-half timeouts in the third quarter, including one on an extra point.
Then came the fourth quarter -- winning time for so many NFL teams, but losing time this season in Detroit. The Lions' final six losses all came after the team led in the fourth quarter as they lost six of their final seven games. They lost their final eight games in 2012.
The only miscue the Lions avoided is committing a turnover.
Each week had the same theme of talking about problems during the week and committing the same ones every Sunday.
"It's frustrating when we talk about what we need to do and know what we need to do but we get to the fourth quarter, which is, in my mind, it's been about the fourth quarter for us," running back
Reggie Bush
said. "Fourth quarter of the season. Fourth quarter of games. That's where we've been losing football games and that's where we need that one or two or three plays to be made to help us win that game."
"Whether it's special teams, offense, defense, whatever, somebody has to make a play."
They can say they were one play, one game, one whatever away for however long they want, but they were never able to solve that problem.
"We're confident in the way that we work and what we're doing as a team," Schwartz said. "Obviously we didn't win enough games this year and there's no standard to really judge other than that.
"I understand that in this business."
So he should understand that whatever happens over the next 24 or 48 hours is exactly that -- business. And the way the Lions played Sunday, an echo of the past two months, is not a strong case for being able to stay.
December, 29, 2013
12/29/13
7:59
PM ET
Hill
MINNEAPOLIS --
Shaun Hill
played two snaps this season. But the backup quarterback to
Matthew Stafford
has indicated he wouldn't necessarily mind returning to Detroit next season.
"I definitely wouldn't be opposed to coming back here," Hill said. "I just have to spend some time with my family and talk to them and see what's going to be best and who knows if even that's going to be an option.
"I hope it is. We'll see what happens."
Hill has spent the past four seasons in Detroit and is now an unrestricted free agent. The one-time starter with San Francisco has played in 34 career games, completing 591 of 954 passes for 6,381 yards, 41 touchdowns and 23 interceptions.
He has also played a mentor of sorts to Stafford as he has grown throughout his career. But after his first season with the Lions, when he played in 11 games due to Stafford's shoulder injury, he has seen action in just four games in three seasons with the team.
December, 29, 2013
12/29/13
3:54
PM ET
MINNEAPOLIS -- A few thoughts on the
Detroit Lions
' season-ending 14-13
loss
to the
Minnesota Vikings
.
What it means:
The end. The end of a lot of things. The certain end of the Lions' season, a collapse from holding their own destiny in the NFC North two weeks ago to flying home for the season before New Year's.

The possible end of the Detroit coaching career of Jim Schwartz, who likely will learn whether he'll be fired or retained by Monday, the typical day of firing of coaches in the NFL. Also the possible end of some NFL careers, from kicker
David Akers
to the uncertain nature of the future for
Rashean Mathis
,
Dominic Raiola
and
Nate Burleson
.
This, of course, came in the most predictable way possible. Detroit took a lead in the fourth quarter and, as the Lions have done in the five losses before this one, watched it disappear by the time the game was over. This week it came because of a 50-yard punt return by
Marcus Sherels
that led to a Vikings touchdown that took a 13-10 Detroit lead and turned it into a 14-13 Minnesota lead.
Stock watch
: Rising --
Kevin Ogletree
. Starting in place of
Calvin Johnson
, the free-agent-to-be had five catches for 75 yards and was open on two other occasions. He was the only Lions receiver to show any ability to get open Sunday. Rising -- Lions' draft pick. Depending on what else happens Sunday, the Lions could end up with a top-10 pick. Falling -- Everything else. Few Lions played well Sunday, and for the most part, it was a fairly uninspired effort from a team that said it would try to stay focused throughout the week.
Bush hits 1,000:
Reggie Bush
needed 26 yards entering the game, and it took three-and-a-half quarters, but he finally eclipsed the 1,000-yard mark for the second time in his career. He did it with a 7-yard run up the middle in the fourth quarter. A couple of weeks ago, when it looked like Bush would surpass 1,000 yards then, I asked him about the benchmark number, and he said it wasn't necessarily a big deal to him. That's understandable, considering in a 16-game season, a running back needs to average only 62.5 yards a game to get there. But he is the first Lions running back since 2004 to get to 1,000 yards. Actually impressive was what Bush and
Joique Bell
were able to do. They became the first running back tandem in NFL history to each rush for 500 yards and have 500 yards receiving in a season. Combined, they were effective for Detroit for most of the season.
What's next:
The NFL draft is a few short months away -- taking place from May 8-10 at Radio City Music Hall in New York.
December, 29, 2013
12/29/13
2:22
PM ET
MINNEAPOLIS -- Some thoughts from the first half of the
Detroit Lions
' season finale, where they trail the
Minnesota Vikings
,
7-0
.

Draft a wide receiver:
The Lions clearly need one as the non-
Calvin Johnson
offense had no players who could get open, and could not move the ball at all. It just showed, again, how critical Johnson is to the Detroit offense. It's an offense that often talked about how many playmakers it had between Johnson,
Reggie Bush
,
Joique Bell
and
Matthew Stafford
. Yet without Johnson, the Lions were capable of nothing on offense. Not a thing. So, perhaps wide receiver leaps cornerback as the position of biggest need for Detroit.
No passion:
Maybe this shouldn't be surprising, as all season long the Lions have talked and talked without having any positive action to back it up. Nothing changed in the last game of the season. After talking about how they needed to win this game and weren't going to pack it in, the offense mustered 56 yards in the first half. The defense allowed 241 yards, and the same issues continued -- dropped passes, penalties and some odd play calling. The one thing that hasn't happened yet is a turnover. The best Lions' player in the first half might have been
Sam Martin
, who punted well in the dome.
The Metrodome is a cool place:
Between the giveaway promotions, a fantastic music selection, and a loud fan base getting excited at everything, this feels like a fitting closing to a pretty fun place to watch a football game. They also had a bunch of tributes here in the first half on the video board, which were more exciting than most of what happened on the field in the first half. In a world where so many stadiums are overly generic, this dome has a bit of character.