Detroit Lions:

2013 Week 3 DET at WAS
September, 22, 2013
9/22/13
8:10
PM ET
LANDOVER, Md. -- The
Detroit Lions
knew their history here, even if the team says it didn't talk about it or didn't want to admit to it. The Lions knew they had never won in Washington, D.C.
They knew that if this season was going to be unlike all of the others in the team's history, so many seasons that ended in losing records and no playoff appearances, a win on Sunday would be a massive push to eliminating that talk.
[+] Enlarge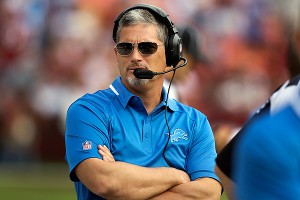 AP Photo/Alex BrandonHead coach Jim Schwartz was pleased with Sunday's streak-ending win against Washington, but says the Lions don't dwell in the past.
Detroit coach Jim Schwartz tossed his headset after the Lions beat the
Washington Redskins
, 27-20, something the franchise he coaches had never done before. All day, there seemed to be a little more emotion in spurts, why this became kind of a big deal for the Lions.
For the first time in a long time, Detroit can say it did something it has legitimately never done before.
"That was a tough, hard-fought game. Of course we're going to be excited for it," Schwartz said. "But we didn't carry a banner here that said, 'Remember that we never won in Washington.'
"We don't dwell in the past."
Dwelling in the past, though, is something the Detroit Lions have always seemed to do. To the days of Barry Sanders and having the most electrifying player in football and one of the best running backs of all time.
Dwelling in the past is what happens in Detroit, when streaks of road losses to some teams that span decades -- or in Washington's case, forever prior to Sunday -- are somewhat commonplace.
And dwelling in the past is both a trademark of the Lions and something they want to avoid, depending on who you ask. Ask a fan? It's a big deal. Ask a coach? Not as much, at least publicly. Same with the players, because the majority of them haven't been around for all of the historic losing.
And yes, this is one game against a still-winless Washington team, but it is the symbolism that is important here. The slow chipping away at a past full of mediocrity.
"Fortunately and unfortunately when you play for the Lions, you've got to be a part of exorcising a lot of demons," receiver
Nate Burleson
said. "And I'm OK with that. I'm doing it. I'm fine with the storylines behind every single game.
"A lot of people look at it as something we don't need to embrace, but that's what it is. Football is the biggest soap opera in sports. As long as we keep playing the way we're playing, I'm good. We're hitting the reset button on certain streaks that we don't need to hold on to anymore."
That's the key. Anymore.
If Detroit is going to follow up stopping one streak with a successful season, with finishing with a winning record for only the second time this century, the Lions will need to use this as a springboard.
Next week is Chicago, and the Bears have won three straight games in the series. Then is the trip to Green Bay, and the Lions have not beaten the Packers the past 22 times they've played them in the state.
So yes, this is one day, one game, one streak vanquished. But if Burleson and the Lions are serious about doing what they want to do, of winning and reversing the long path this franchise has followed, beating Washington in Washington was a start.
"It's more so for fans than it is us," Detroit quarterback
Matthew Stafford
said. "Honestly, we didn't talk about it one time. I didn't know it until you guys said it.
"But it does feel nice to be on the team, be a part of that team that broke that streak, and hopefully we can start a new streak of our own winning up here."
September, 22, 2013
9/22/13
7:45
PM ET
LANDOVER, Md. --
Matthew Stafford
walked into his huddle, his team staring at him waiting for direction, for a play that could alter the fortune of his
Detroit Lions
on this Week 3 Sunday and perhaps many Sundays after.
It was 4th-and-inches. Detroit led by three, 20-17. A field goal could have made sense. But the Lions decided to go for it. To try and win on their own without having to rely on a defensive stop.
[+] Enlarge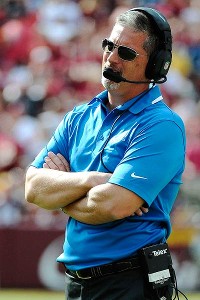 Brad Mills/USA TODAY SportsCoach Jim Schwartz watched from the sidelines as his Lions executed a quarterback sneak to give Detroit a crucial first down.
So Stafford walked into his huddle and said the Lions would try a quarterback sneak. Then he turned to his center,
Dominic Raiola
and asked what side he wanted to run the sneak off of -- over the middle, to his left, over veteran guard
Rob Sims
, or to his right, over rookie
Larry Warford
.
"I told Rob, 'Look, I'm going to put this on us,'" Raiola said. "Look what happened. I just told him we're going to go left, to go left. The guy's a monster. I'm not saying Larry isn't, but I'm going to go to my vet.
"I'm going to go to my second-in-command over here."
Between Raiola and Sims, there is a combined 17 years playing for Detroit. Almost two decades of not converting this type of play. Not this time. Not this season. They have heard the talk of this being the same type of team as years past.
This play -- this chance -- was an opportunity to begin to remove it. To win. And Raiola wanted that on him.
When the play was called, Detroit running back
Joique Bell
turned to Stafford with a message -- one filled with coincidence. He told Stafford "I'll push you in the back." Anything to get the first down, to push for the inches they needed.
"Matt looked at me in my face," Bell said later. "And said 'Push me back.'"
Detroit lined up on the Washington 12-yard-line. Four minutes, 42 seconds remained. The Lions shifted into a balanced formation to make sure everything was set to head left.
Then Raiola snapped the ball to Stafford. Sims pushed forward.
"I got out to the backer pretty easy and I know Riley (Reiff) had his guy because I felt him on my heels," Sims said. "If we were going left we should have something there if we're talking about inches."
The inches were there. Stafford moved. Bell lined up behind him and pushed. That's where there was some irony.
Had it been another week,
Reggie Bush
might have been the running back behind Stafford. And Bush had perhaps the most famous push for a touchdown in college football history at USC -- pushing his then-quarterback, Matthew Leinart, into the end zone to beat Notre Dame late in the fourth quarter.
This time, Bush watched from the sidelines. It wasn't a touchdown, but a first down.
"It was just a heads-up play, by [Bell] and by Stafford," Bush said. "Stafford, that's a huge play by him and what more can you ask for out of your quarterback."
Stafford fell forward. He knew he got it. Detroit had it by much more than it needed, gaining two yards on the play. Two plays later, the Lions would score on an 11-yard touchdown pass from Stafford to
Calvin Johnson
to take a 27-17 lead and an eventual
27-20 win
against Washington.
But it was the play that set it up, a fourth-down call that took some guts, that made it happen. That might have turned the Lions around. And might have shown that a team with a lot of young players, including a still-growing quarterback, is starting to grow up.
"It was movie stuff. He looked at everybody and Dom said look, 'follow me, I got you,'" receiver
Nate Burleson
said. "And then he went in there and got hit and kept his feet moving and Joique came in and gave him another bump.
"That's team football at its best. That's the Detroit Lions, everybody dialing in for one play, giving all you got, knowing that one play could change the game and get the victory."
Plays like that change games and potentially the fortunes of a franchise. There's still a lot of things the Lions have to accomplish, a lot of things the Lions have to get through.
But Sunday -- one play -- might have been the start.
September, 22, 2013
9/22/13
6:35
PM ET
LANDOVER, Md. -- They didn't know what to expect all week, weren't sure exactly what
Robert Griffin III
they would have to try to stop.
The
Detroit Lions
knew about the Griffin from last season. They knew about the Griffin from the first two weeks of this season. And they figured they would likely see the Griffin of old instead of the Griffin who merely looked old.
[+] Enlarge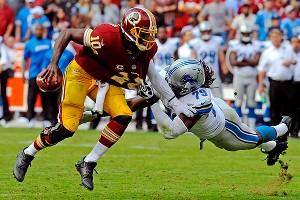 AP Photo/Richard LipskiWillie Young didn't sack Robert Griffin III, but he hit him four times and forced an interception.
This is why, after Detroit's
27-20 win
over Washington, the Lions' defensive linemen understood they had handled themselves fairly well, limiting Griffin to 37 yards rushing and pressuring him often.
"We fast up front, man," Detroit defensive end
Willie Young
said. "We're professional athletes. We've got to be disciplined enough, which no one probably gives us credit for, but we have to be disciplined enough every snap to contain quarterbacks like that."
Young had perhaps the most productive day of all the defensive linemen against Griffin. He didn't sack him, but he pressured him often, hitting him four times, including one that forced an interception.
In all, Detroit's ever-dominant defensive line hit Griffin eight times Sunday, and rookie
Ziggy Ansah
sacked him twice.
Much of defending Griffin is about containment. Take away one of his options -- either the run or the pass -- and force him to pick the other. The Lions ended up letting him pass -- Griffin threw 50 times -- but for the most part they didn't get beat deep, either.
The biggest pass play of the game for Washington, a 57-yard touchdown pass to
Aldrick Robinson
, was wiped out by the
Calvin Johnson
complete-the-process rule. Otherwise, Detroit did well against Washington's run and pass.
"When you're dealing with a quarterback like that, you just never know," said Detroit cornerback
Rashean Mathis
, who started in place of
Darius Slay
on Sunday. "You have to cover a little longer.
"You have to cover a little longer in coverage and try to hold the guys off for the rush to get there, because he's going to scramble around and run around. You just have to be good late, late in the down, and we were good late in the down."
Detroit, for the most part, was good in every part of the down. Most of that started with a once-again dominant defensive line.
"Those guys got after him hard," Detroit coach Jim Schwartz said. "He still made plays with his legs.
"Luckily we were able to make just a few more than they did."
September, 22, 2013
9/22/13
4:25
PM ET
LANDOVER, Md. -- A few thoughts on the
Detroit Lions
' 27-20
win
against the
Washington Redskins
.

What it means:
For Detroit, right now, everything. The Lions had not beaten Washington in the general District of Columbia area since the Redskins moved there in 1937. And it is Detroit's first win on the road since Nov. 4, 2012, when the Lions beat Jacksonville 31-14. But the importance of the win is heavier because of what it signifies. A week after blowing a lead in Arizona, the Lions held on to beat a desperate Washington team. Its defensive line pressured
Robert Griffin III
all day. Its offense was diversified and featured both running and passing. And perhaps the biggest sign that this Detroit team is different than in years past: With a fourth-down decision up three points in the fourth quarter, Detroit coach Jim Schwartz went for it instead of taking the field goal. The Lions converted, scored a touchdown and won the game. Plays like that make a team believe.
Stock watch
: Rising -- running back
Joique Bell
. In his first career start in place of the injured
Reggie Bush
, Bell gained 63 yards rushing and 69 yards receiving and scored a touchdown. He ran hard, hit holes well and broke tackles on many of his runs. Rookie tight end
Joseph Fauria
didn't see a lot of opportunities, but he made plays when he did, scoring his second career touchdown and pulling off an 'N Sync touchdown dance. Falling -- cornerback
Darius Slay
. The rookie didn't play at all in base defense, replaced by veteran
Rashean Mathis
from the first snap of the game.
Return of Burleson:
Often in interviews,
Nate Burleson
will call himself a complementary player to
Calvin Johnson
and Bush. And compared to them, it is a fair assessment. But the 11-year pro out of Nevada had his first 100-yard game since Nov. 7, 2010, against the
New York Jets
. He had 116 yards, his most since Dec. 30, 2007, when he had 119 for Seattle.
Johnson milestones:
Johnson became the third receiver in NFL history to catch 500 or more passes for 8,000 or more yards in fewer than 100 games. He now has 505 catches for 8,104 yards.
What's next:
Detroit returns home to face Chicago in an NFC North game at 1 p.m. Sunday, followed by trips to Green Bay and Cleveland.