Detroit Lions:

2013 Week 5 DET at GNB
October, 6, 2013
10/06/13
7:55
PM ET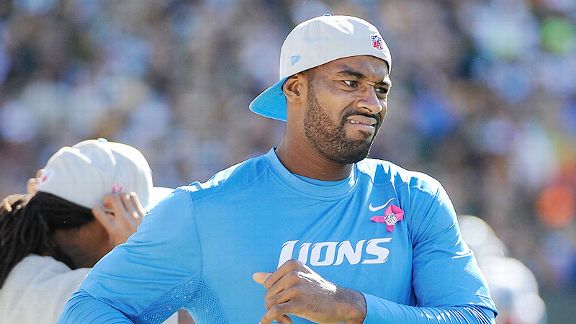 Benny Sieu/USA TODAY SportsThe Detroit Lions played a game without wideout Calvin Johnson for the first time since 2010.
GREEN BAY, Wis. --
Calvin Johnson
said he was "real close" to playing Sunday against Green Bay. Once real close became not happening, the
Detroit Lions
learned exactly how much they rely on the NFL's top wide receiver.
Simply, a whole heck of a lot.
"He's the best player in football," guard
Rob Sims
said. "He's one of the guys that's helped us, not helped us but, you know, led us over these past few years, of course you feel a certain way, like, man, we wish we had him."
After it was all over, after the Lions sputtered to
a 22-9 loss
at Green Bay, where the offense could only move the ball real late, where a team averaging 26.2 points a game scored only nine, Johnson's impact became completely obvious.
Kind of.
"He wasn't one of our 46 [on Sunday], so you can't say it affected the offense," Detroit coach Jim Schwartz said. "He wasn't one of the guys who was on the field. We'll have 46 on the field and those are the guys who affect the offense.
"After that, he wasn't one of our 46, so that's all I can say."
[+] Enlarge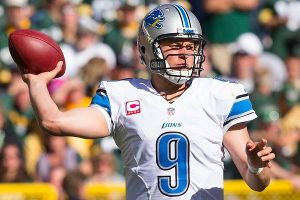 Jeff Hanisch/USA TODAY SportsLions QB Matthew Stafford threw for one TD Sunday at Green Bay, a 13-yard pass to Kris Durham.
Schwartz appears to be saying Johnson wasn't active, so it doesn't matter what he could have done because it was an impossibility. But to say Johnson's absence didn't alter Detroit's offense is almost inexplicable.
Even his players were honest with how much not having Johnson changes the complexion of their offense. For the past few years, Johnson has been the 6-foot-5 security option for Lions quarterback
Matthew Stafford
. In Johnson's career, the Lions are now 2-3 without him available, and played without him Sunday for the first time since 2010.
Teams game plan for Johnson because if an opponent left him in single coverage too often, he would embarrass any cornerback. He is the guy who can make almost any catch imaginable, who on a weekly basis makes the improbable completely possible.
What Sunday proved is Johnson, not
Reggie Bush
, is the true catalyst for Detroit's offense. Bush is a great player and is a big reason the Lions started off 3-1, but without Johnson in the game, Green Bay dropped a safety into the box, making it more difficult to run. The Packers also sent enough defenders at the Detroit offensive line that double-teaming any rusher was not an option.
Compare this to when Bush missed a game and a half.
For a half against Arizona and the entirety of Week 3 against Washington, Detroit at least scored without Bush -- and even beat the Redskins in Washington for the first time by putting up 441 yards of offense.
With Johnson out, Bush, who beamed when he saw light boxes the first month of the season, had his most ineffective full game as a Lion with 44 yards rushing and 25 yards receiving.
"Calvin's obviously a big part of the reason we are successful," Bush said. "So obviously, it's hard to replace a guy like that when he's not in there. We definitely missed him today.
"But at the same time, we have been practicing and preparing for him not to play all week. We have to find a way to get better. We have to step up as a group and pick up the slack."
Detroit couldn't Sunday.
In all, the non-Johnson receivers caught nine passes for 93 yards and three averaged more than 13.5 yards per reception, all but eliminating the deep threat. Stafford said a receiver did not draw double coverage all day. To compensate, Detroit focused more on its tight ends and running backs, who saw a combined 22 of the team's 40 targets.
Detroit prepared for this possibility all week, especially after Johnson didn't practice Wednesday or Thursday. Even Schwartz said the team ran the gamut of potential outcomes in its strategies for the week, from Johnson being completely healthy to what eventually happened, his unavailability.
"It doesn't change the offense, the play calls and that kind of stuff," said receiver
Kris Durham
, who had a team-high eight targets. "Obviously, they usually roll coverages toward Calvin so they were probably able to do a little different things in their game plan now that Calvin wasn't playing."
Schwartz said Johnson's availability or not was not the story of the game. He said his team's inability to "get it done well enough [Sunday] on offense, defense or special teams" was.
But Johnson's unavailability plays into that.
Johnson's impact on the offense has been covered. On defense, he is good for at least a couple of extra first downs for the offense, in turn giving the defense more rest and perhaps better field position provided the special teams can do their job. Considering
Sam Martin
averaged a net of 42.8 yards a punt, that didn't appear to be an issue.
"You're missing your ace in the hole," cornerback
Rashean Mathis
said. "Without CJ, he's probably the best receiver in the game. When you're not able to spread the ball out like that, it's going to hurt you a little."
It hurt Detroit and helped turn an opportunity to win -- the Lions were still in the game for almost three quarters even without him -- into what ended up being a loss. But the offense, it just couldn't do much without him.
Had it not been for a late touchdown from Stafford to Durham, the Lions would have gone touchdown-less for the first time since 2009. As it was, the 286 yards the Lions gained was the team's lowest offensive output since a 280-yard performance in Week 14 of the 2011 season.
Detroit always knew Calvin Johnson made a difference. Detroit just learned how big of one on Sunday.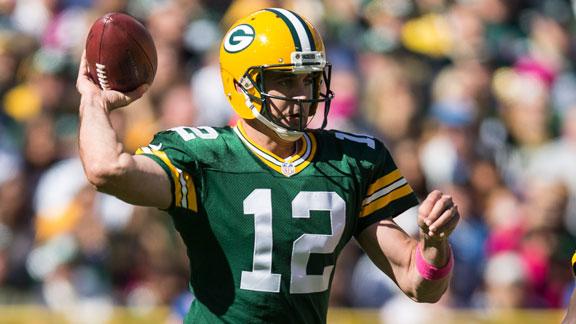 October, 6, 2013
10/06/13
5:31
PM ET
GREEN BAY, Wis. -- Observed in the locker room after the
Detroit Lions
'
22-9 loss
to the
Green Bay Packers
.
Houston
Houston not 100 percent:
It shouldn't be too much of a surprise, but cornerback
Chris Houston
said he was not fully healthy playing against Green Bay on Sunday.
"I'm not all the way 100 percent," Houston said. "But I'm out there, so it ain't no excuse."
Houston said he could feel the injured hamstring on deeper routes Sunday, but "I played through it and I made it through."
Durham's thumb:
Wide receiver
Kris Durham
had a fairly large blue, almost cellophane-like, wrap on his right hand after the game. He said, though, this wasn't a new injury.
As for what's wrong with it, Durham wouldn't say much.
"Aches," Durham said.
Wasting no time:
The locker room staff wasted little time breaking down the visiting locker room after the game in Lambeau Field. Almost as soon as a player departed their locker with their bags, their folding chair was packed up and stacked.
It was an unbelievably efficient process -- and one that had the entire locker room almost completely clear by the time running back
Reggie Bush
, the last player to leave the locker room, departed.
October, 6, 2013
10/06/13
4:12
PM ET
GREEN BAY, Wis. -- A few thoughts on the
Detroit Lions
'
22-9 loss
to the
Green Bay Packers
.
What it means:
Another year, another loss at Green Bay for Detroit, although this one had the makings of another Lions loss before the game started. Once Detroit learned it would be without
Calvin Johnson
, its chances of winning on the road diminished greatly.

Once the Lions started playing, that looked like even more of a possibility. Detroit's offense couldn't find any rhythm without Johnson and for the first time this season, an opposing defense could focus solely on
Reggie Bush
and it showed. Bush was largely ineffective Sunday, rushing for 44 yards and catching a team-high four passes for 25 yards. Still, without Johnson that isn't going to be good enough. With the loss dropping the Lions to 3-2, they remain in first place in the NFC North by a tiebreaker over Chicago and a half-game over Green Bay.
Stock watch:
Rising --
TE
Brandon Pettigrew
. He had a drop, but Pettigrew also made some big catches for Detroit on Sunday, including one where he caught the ball, trucked over one Green Bay defender and then hurdled another.
Falling --
CB
Chris Houston
. Rough outing for Houston, who was beat deep on
James Jones
' 83-yard touchdown and didn't look completely healthy with his injured hamstring. Lions' wide receivers. They couldn't get much separation as a group and couldn't make any plays at all without Johnson and
Nate Burleson
. The Lions' receivers caught a combined nine passes for 93 yards and a touchdown, or in other words, an average Johnson game on his own. Lions' offensive line. Detroit had allowed three sacks in its first four games. Quarterback
Matthew Stafford
was sacked five times Sunday. Left tackle
Riley Reiff
, in particular, struggled with the Green Bay rush.
Levy having a season:
Detroit linebacker
DeAndre Levy
had another strong game for the Lions. The linebacker seemingly was everywhere for Detroit. He led Detroit with 13 tackles, but his real value was shown in his bigger plays. He had three tackles for loss and broke up a pass in the first half. While the Detroit defensive line and secondary receive most of the attention and praise, Levy has been putting together perhaps the best season of his career.
What's next:
Detroit stays on the road for the second straight week, heading to Cleveland in a bid to stay over .500 for the season.