Detroit Lions:

2014 NFL combine
February, 22, 2014
Feb 22
11:30
PM ET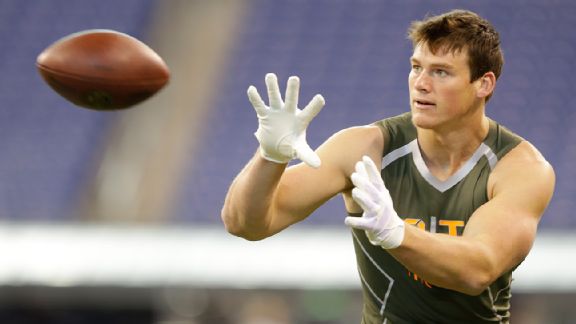 AP Photo/Michael ConroyTroy Niklas, who worked out at the combine on Saturday, says he's a "prototypical tight end."
INDIANAPOLIS --
Troy Niklas
walked off Podium C in Indianapolis on Thursday afternoon, answered one more question and laughed at the proposition of it.
Unlike a lot of tight ends in this NFL draft, the former Notre Dame tight end is a rarity at the NFL combine as opposed to a decade ago, when more players at his position were like him.
Or, as he put it, "last of a dying breed."
The breed being the tight ends who can both block and catch passes, whose skills aren't limited to one or the other as an obvious strength/weakness comparison but rather a dual-threat tight end who can do a little bit of everything.
Niklas understands this, too.
"I guess in some senses, I think I'm more of a prototypical tight end," Niklas said. "One that can really block and one that you can also use in the pass game and be pretty effective."
Teams want guys who can do both of those things, and the value of players who can do that is high, in part, because of the way tight ends are being coached now versus a decade ago.
"You don't see many guys who are good at doing both," Detroit general manager Martin Mayhew said. "But there are guys who can block coming out of college this year and there will be guys in free agency that can block."
And in many offenses, those players become premium options. In the draft, Niklas is one, as are
Austin Seferian-Jenkins
from Washington and
C.J. Fiedorowicz
from Iowa and is a position of potential need for Detroit.
But the position has evolved dramatically over the past 10 years, turning from a definitive spot on the line next to a tackle to potentially lining up anywhere from out wide to the slot, backfield and in the traditional spot next to a tackle on the line.
And a lot of it has to do with the transition of college offense from drop-back passing run-first pro-style and west coast offenses to shotgun, spread, zone-read ones.
The proliferation of spread offenses has often eliminated the use for a traditional tight end, instead turning the position into a mismatched bigger receiver against a linebacker or safety and becoming a headache for more than opponents but those looking to evaluate them as well.
"You don't see a lot of in-the-line tight ends, true blocking tight ends very often anymore, and when you do, it's different,"
Washington Redskins
coach Jay Gruden said. "But there are still some guys that utilize the tight end position in college and those are the guys that you get a good chance to look at.
"But the ones (who don't), you would have to see how he would fit because he hasn't been asked to do it. No fault of theirs, but it's a tough position to evaluate right now because of all the spread offenses."
That is one of the tougher things for coaches, general managers and scouts to decipher over the next few months. Depending on a team's offensive system, finding a tight end who can both block and pass could be an issue.
Blocking on the line of scrimmage is becoming more of a lost ability for tight ends, who see players like
Jimmy Graham
and how he is used and end up being utilized in similar ways.
"I think right now people are looking for tight ends to catch more balls," Texas Tech tight end
Jace Amaro
said. "Than they are to make more blocks."
So if a team wants a tight end who can line up on the line of scrimmage to be able to run block as well as run routes, it has become somewhat more of a guessing game as to when and if some of the spread offense tight ends will adapt.
"A couple of years ago we were looking at a prospect and we and it took us two years (of film) to see five snaps where he lined up in a two point stance," said
Atlanta Falcons
coach Mike Smith. "You have to do some projecting when you're looking at the tight ends. But I do think it's an evolving position. It's changing.
"Offensive coordinators are being very creative in how they align the tight end. He can line up in that fullback position. He can line up as an H back. He can line up in the No. 1 wide receiver position as well."
How a team views the tight end in their system will often define what type of tight end they are looking for -- more of a specialist or a guy who can do a little bit of everything, just like the modern tight end has turned out to be.
February, 21, 2014
Feb 21
6:00
PM ET
INDIANAPOLIS -- It is at once both a priority and somewhat of a luxury, an odd situation when you're the
Detroit Lions
and you have the consensus top wide receiver in the game.
Johnson
Calvin Johnson
is always going to draw attention and, since 2009, has counted at least $8 million or more against the Lions' salary cap -- including $13.058 million in 2014. But one of the main lessons for the Lions in 2013 is how the team fared when Johnson was limited or not in the game.
The results were ugly, so while Detroit has a lot invested in one star at the position, the team also knows they need to put more resources there in order to have a successful offense.
The Lions' offense struggled without Johnson at points in 2013, so as the team evaluates talent at the NFL combine in Indianapolis, receiver will be a position of interest to assist their star.
"It's something obviously that we have to really take a real strong look at, obviously, because of the fact that he's one that's going to draw a little extra attention in terms of double coverage like he's always done," Lions coach Jim Caldwell said. "And with that being the case, we have to find a way to make certain whoever is on the other side that may be getting singled in some situations can do some damage against the defenders.
"I think that's extremely important, so I think that's something that obviously we've taken a good hard look at and one way or another we're going to come up with a guy that's going to give us some balance in that area."
Detroit general manager Martin Mayhew dismissed the suggestion that part of the search for a young receiver on the outside in this draft could be viewed as a potential replacement for Johnson in a few years.
The 28-year-old has put up three straight seasons of 1,400 yards or more. He routinely draws multiple defenders and potential scheme changes when opponents face them. But he has had knee issues the past two seasons and healthy knees are critical for wide receivers to keep their speed, agility and jumping ability -- and therefore, their success.
"We want quality across the board," Mayhew said. "We want guys that, if, for whatever reason Calvin is getting doubled or he's not playing in a particular game that he can go out and make plays by himself. That was one of our things last year, when Calvin was injured, we struggled offensively a lot of times to get off or other players to get off.
"We're going to be looking for receivers who can win one-on-one battles, win one-on-one matchups and make plays down the field."
Mayhew didn't have a height-weight-speed metric for what the team would like in a receiver, either through free agency or the draft, but Caldwell has typically had only starting receivers over 6 feet during his time in Indianapolis and Baltimore. That goes for both on the outside and in the slot.
Mayhew's focus is more on whether the receiver can get separation, get open and make tough catches when necessary. That, and being able to potentially deflect attention away from Johnson, are the most important qualities.
There is a reason a rookie might be a better fit here than a veteran, though, despite the typical inexperience that comes with anyone entering the NFL. Any rookie or younger player coming to the Lions has a built-in advantage of knowing he won't be receiving the majority of the attention, kind of like what happened in Cincinnati in 2012 and 2013.
With
A.J. Green
attracting a lot of attention from defenses, it allowed
Marvin Jones
to catch 18 passes for 201 yards as a rookie and then 51 passes for 712 yards and 10 touchdowns last season.
And some rookies notice the situation could be a beneficial one for whomever the Lions select.
"I would love to play with a guy like Calvin Johnson because you know he's going to get all the attention," said former UCLA receiver
Shaq Evans
, who talked with the Lions at the Senior Bowl. "It's going to make you have to step up your game and that's what you want to do.
"You want to have that role where you step up your game because you know they are going to double Calvin and you're a guy that can step in for that No. 2 spot or No. 3 spot."
After releasing
Nate Burleson
last week, the Nos. 2 and 3 receivers are the likely spots the team is looking to fill. Now, the Lions need to figure out who they want for those spots, either through a deep free-agent pool or a deep rookie class.
"There are a lot of different ways to go about it. One way to look at it is we have a big receiver in Calvin, let's get a smaller guy who can run routes and get open and slide into the slot on third downs," Mayhew said. "Another way to look at is what Chicago did with two big guys.
"So it really can go either way. It's kind of who you can get."
February, 21, 2014
Feb 21
2:25
PM ET
INDIANAPOLIS -- In addition to
Calvin Johnson
and
Ziggy Ansah
, Lions starting safety
Glover Quin
had surgery recently according to the team's official team reporter.
Quin had minor surgery on his ankle, which had bothered him much of the season, but Quin played in every game, making 57 tackles, picking off three passes and forcing two fumbles last season.
He was signed by the Lions last season after he spent his first four seasons in Houston.
Quin will now be looked to as the leader of the secondary after the team released his safety counterpart,
Louis Delmas
, last week. General manager Martin Mayhew indicated it would be unlikely that Delmas would return to the team in 2014.
February, 21, 2014
Feb 21
1:30
PM ET
INDIANAPOLIS -- There are four of them here, one of the smallest, loneliest position groups at the NFL combine. They are small in numbers, and even if they make a team, even if they play in the NFL, there is still a piece of solitude.
Unlike all of their positional counterparts, kickers will not get what is typically deemed the full NFL combine experience. They will, in most cases, not run the 40-yard dash. They will not, in most cases, bench press or go through every other drill.
They will show up, take tests, do interviews, kick and leave. So it is a little bit different than most.
[+] Enlarge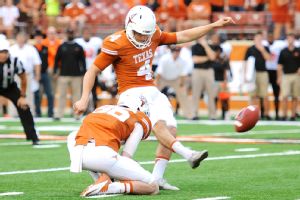 John Albright/Icon SMITexas' Anthony Fera is one of just four kickers participating at the NFL combine.
"All the kickers out here, we have done college camps when we were in high school and it's exactly like this," Tulane's
Cairo Santos
said. "You go out there, warm up and kick. You do a few kickoffs and they are going to chart you.
"Kick a couple field goals and they are going to chart you, and that's how they rank you and see how good you are. So we're all very familiar with this kind of format, and you just have to perform."
Not that some of the kickers didn't think about doing some of the other, more traditional, testing.
Arkansas'
Zachary Hocker
contemplated running the 40-yard dash in Indianapolis. A former soccer player and long-distance runner, he wasn't concerned about his time and said he felt he could have put up a 4.6-second 40-yard dash had he actually participated in it.
"I honestly thought about benching and running the 40 because it's the NFL combine, it's kind of a once-in-a-lifetime experience," Hocker said. "I don't think I would do bad at them.
"It was just, I was looking at stats and guys who had been at the combine before and just statistically, the guys who got drafted were guys who focused strictly on kicking ended up being more successful at it. I'm not saying I won't run a 40 or do bench press or something at our Pro Day in March. But just up here, solely focus on impressing scouts with kicks."
For that reason, the four kickers showing up don't expect to miss much. They understand the pressures of the situation and realize their performance Friday could determine whether or not they end up as a late-round draft pick, in a camp, or no longer playing football at all.
But this pressure won't get to them like it might to other players. There isn't as much for them to do, and they have experienced all of this already. Unlike other positions here, everything the kickers do is essentially the same thing they've done every day in practice for years.
Just with a small amount of added pressure for Santos, Hocker, Texas'
Anthony Fera
, and Rice's
Christopher Boswell
.
"It's cool. I know the whole process, the interviews and the coaches and the meetings and the hospital visits, that's all the same," Hocker said. "Being able to relax when it's on to perform and not worry about the 40 or bench.
"At the next level, it's all about making kicks and winning games, and if you can prove that here, then you should be in pretty good shape."
The one thing that is similar: The mental portion of the combine with a continual loop of interviews and attention focused on the players through myriad physicals and meetings. And for the kickers, that is likely the toughest part.
"All the things that they put you through," Santos said. "There's medical stuff, and I know part of it is psychological testing, so they want to see how well you deal with all these things.
"But (you) just got to come here for one reason."
For all prospects, it is to try and impress coaches. For the kickers, it is more focused. All they have to do is kick.
February, 21, 2014
Feb 21
12:45
PM ET
INDIANAPOLIS -- The
Detroit Lions
' receiving corps was bolstered a little bit more Friday, as general manager Martin Mayhew said the team will bring back
Jeremy Ross
and
Kris Durham
, who were exclusive rights free agents.
After an injury to
Nate Burleson
and overall ineffective play from Patrick Edwards, Durham was elevated to a starting wide receiver opposite
Calvin Johnson
for the majority of the season. Durham played in 16 games, making 38 catches for 490 yards and two touchdowns last season. He has good familiarity with quarterback
Matthew Stafford
from their shared time at Georgia.
Ross
Durham
Ross emerged as a return threat for Detroit after he was bumped up from the practice squad in October. He was one of Mayhew's better signings throughout the season, as he grabbed Ross off the waiver wire after he was released by Green Bay.
He turned into the team's primary kick and punt returner, returning both a punt and a kick for a touchdown against Philadelphia in Week 14.
"I think he did a good job for us last season," Mayhew said. "He didn't have quite enough returns to get into some of the categories with the leaders. I guess his stats don't really show up. If he had a handful more returns, he would be one of the top punt returners in the NFL right now.
"So he's a very talented guy. He's young. He had upside. He's still growing. We might add to that (return) group. We might add there."
Among the guys Mayhew pointed to were practice squad running back
Steven Miller
and utility guy
Carlin Isles
, who has not decided whether he will give up football for rugby. Mayhew also didn't rule out adding a player through the draft or free agency as competition for Ross.
February, 20, 2014
Feb 20
8:01
PM ET
INDIANAPOLIS -- His favorite number is 137. He likes his steak medium rare. His throwing distance?
"More than enough."
[+] Enlarge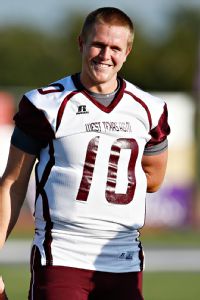 AP Photo/Jim CowsertWest Texas A&M product Dustin Vaughan didn't take himself too seriously in an online video parody of his QB skills.
So says the antithesis of
Dustin Vaughan
, the West Texas A&M quarterback who is one of the most anonymous prospects at this week's NFL combine. Actually, Vaughan explains, he didn't know he would be in Indianapolis until three weeks ago.
The version that hatched for less than a handful of hours one day in May, would almost definitely disagree. The real one might be the player most capable at the combine of laughing at himself.
That is the easiest way to explain his eager and excited participation in a parody video of himself in the middle of May wearing a hideous Christmas sweater.
The video, posted on YouTube
, is at once sarcastic and hilarious, ridiculous in the over-the-top nature and that it only took less than three hours to film.
"One of my really good friends is really talented in filmmaking and editing, and he's like, 'Man, I want to make something that is so not like you and so not like your character, like a parody about yourself,'" Vaughan said Thursday at the super-serious NFL combine. "So putting on ridiculous clothes, going out looking very unathletic and then having that arrogance, it's a way of making fun of yourself and I think it's important to always keep yourself humble.
"To the point of, 'Man, you put yourself on a stage like that, on a screen like that, and be able to make fun of yourself but also put smiles on people's faces,' I think that's great."
When the video was brought up Thursday, Vaughan smiled wide. Then he laughed and took joy in explaining how he and his friend made the video, how they chose locations at a local high school and a front yard completely at random.
How it became a brain release during finals week last year, a way to forget about the tenseness of finals for a little while and turn a quarterback who might end up in the NFL into a fake star with the ego the size of the state he played football in for a while.
All fake, of course.
For a second, he was concerned that someone -- anyone -- might take it even the slightest bit seriously. Then he watched it. He heard the typical reaction from friends of "hilarious" and he went with it.
"You know, yeah, I kind of was but I think it's just the fact of understanding who I am and I don't have that arrogance about me," Vaughan said. "I'm confident about what I can do on the football field but that arrogance, no. Coupled with the unathleticism, it was hard to turn that into something serious.
"Honestly, I don't think it's that big of a deal but I did, I did think about 'Should I take that off' or whatever. All I've heard is feedback saying, 'Man, just own it. Own it.'"
He did, although turning his 6-foot-6, 220-pound frame into someone with no athleticism wasn't as hard as one might think. He is, as he said, "tall and lanky, not too hard."
And the secondary star of the video, the red sweater with the white Christmas trees on it -- Vaughan insisted he did not own the piece of holiday party attire.
It is his roommate's. And he has no interest at all in finding out where it came from. Then again, why wouldn't his parody ego be interested in wearing it. Every person who describes his own physique as "luscious" surely would.
February, 20, 2014
Feb 20
6:30
PM ET
INDIANAPOLIS -- Jim Caldwell knew part of the reason he was hired as the
Detroit Lions
' head coach was because of his ability to work with quarterbacks and how he aided in
Peyton Manning
's development in Indianapolis.
Matthew Stafford
's progress is part of the reason why Caldwell brought in a quarterback-minded offensive coordinator, Joe Lombardi, and a quarterbacks coach focused on fundamentals, Jim Bob Cooter.
All three coaches have worked with elite level quarterbacks. All three have reached at least one Super Bowl as a coach.
All three will be focused, at least partially, on working with Stafford and sharpening his abilities.
Caldwell's familiarity with Cooter was part of why he chose to bring him in to work with Stafford as his dedicated quarterbacks coach. Cooter worked with Manning in Indianapolis and Denver.
"I think a lot of that has to do with the fact that obviously [Manning] had a great respect for [Cooter] but also the work that he had done.
"And I felt I needed a guy who had a real good sense of fundamentals, real good sense of how to put it all together."
Caldwell later clarified that hiring based on coaching fundamentals was important for all positions. None more so, though, than the quarterback because often the passer is under more pressure throughout a game than any other spot on the field.
As Cooter will work with Stafford, Caldwell also officially ceded away his play calling duties, something Lombardi first mentioned during his introductory news conference. When Caldwell was introduced as Detroit's head coach, he left open the possibility that he would call plays this season.
He confirmed Thursday that Lombardi will call them. It'll be up to Lombardi to make sure he calls plays that will reverse the regression Stafford showed during the second half of the 2013 season -- when he had 13 touchdowns, 13 interceptions and a completion percentage of 54.1 percent.
It is, after all, why Caldwell, Lombardi and Cooter were hired after Detroit fired Jim Schwartz on Dec. 30. The Lions put a premium focus on the position and all three spent times with quarterbacks considered elite. Not that Caldwell likes the term elite at all. He just wants to make sure he has a good quarterback and he believes he has one in Stafford.
"I've had an opportunity to look at him and here's my assessment of him, and I haven't found anyone that hadn't been able to correct any issues
that they had," Caldwell said. "First of all, we're always, each and every guy and he's one of those, is looking for ways to try to improve. He's hungry to improve. I've noticed that about him. He's eager. He's a willing worker, he's smart and he has tools.
"And when you find that combination, typically you're going to find a guy that does everything it takes to get him in position where he's a championship quarterback. Now, a lot of people want to talk about so many other things that really aren't that important.
"Whether or not he's elite or this or that. That doesn't matter. We want a championship quarterback is what we're looking for."
February, 20, 2014
Feb 20
5:15
PM ET
INDIANAPOLIS --
Brandon Pettigrew
presents a conundrum for the
Detroit Lions
.
On one side, Pettigrew is one of the tight ends in the NFL who can run routes and also line up on the offensive line and block oncoming defenders. But with what Detroit might run in the future, with the base being the
New Orleans Saints
offense that used
Jimmy Graham
in the slot often, the question remains of how Pettigrew might fit with the potentially-new-look Lions.
Pettigrew
"Pettigrew, he's a talented guy. Big, talented," Lions coach Jim Caldwell said during the NFL combine Thursday. "Can block you at the line of scrimmage but also can catch the ball as well. He's a talented guy.
"Across the board, I think you find guys that have certain skill sets. He's got a real fine skill set and [I] obviously think you've been able to see that through the years."
That doesn't necessarily mean Detroit will bring him back, though. Caldwell wouldn't give an indication one way or another whether he would have the Lions try to retain the Oklahoma State product, who has caught 284 passes for 2,828 yards and 16 touchdowns in his first five years in Detroit.
If the Lions are unable to retain him, the team would have two tight ends returning to the team -- Joseph Fauria and Michael Williams. Williams spent last season on injured reserve with a broken hand and Fauria played mostly in passing and red zone situations.
When asked if he intended to try to re-sign Pettigrew, however, Caldwell became very vague.
"We've got to look at every option and that's one of the things," Caldwell said. "We've got to have contingencies for every single thing and that's one of the things. We have to have contingencies for every single thing so we look at it on both sides of it and see how things work out."
The Lions may also look to fill tight end needs through the draft. The tight end pool is a deep crop, led by North Carolina's
Eric Ebron
, Washington's
Austin Seferian-Jenkins
, Texas Tech's
Jace Amaro
and Notre Dame's
Troy Niklas
. Niklas told ESPN.com on Thursday he was scheduled to speak with the team at some point during the combine.
February, 20, 2014
Feb 20
2:00
PM ET
INDIANAPOLIS -- Jim Caldwell's NFL résumé has success written all over it, from the very top all the way down to very end.
He was assistant coach and quarterback coach with the Indianapolis from 2002-08, winning a Super Bowl with them in 2006. Caldwell took over for Tony Dungy and led the
Indianapolis Colts
to a 14-0 start and another Super Bowl appearance in his first season in 2009.

Caldwell
Caldwell was fired after a 2-14 season -- and the end of
Peyton Manning
's career in Indianapolis -- but rebounded nicely by being the
Baltimore Ravens
' offensive coordinator when they won the Super Bowl in 2012.
But Caldwell admits he wasn't sure he would end up being a head coach in the NFL again.
Those thoughts ended when the
Detroit Lions
(7-9 last season) named him their head coach last month.
So Manning,
Joe Flacco
, and now
Calvin "Megatron" Johnson
.
That's not a bad group of players to coach for Caldwell.
"Fact of the matter is, very rare do you get a second opportunity," Caldwell said. "Not only a second, but this is actually the third (time) for me if you include my stint in college as well. I was hoping, but I was also very, very satisfied working extremely hard at what I was doing in terms of coaching the position or being an offensive coordinator, whatever helped a team win. I'm not able to forecast the future. But I certainly indeed hoped that I did get another opportunity. I'm glad it happened."
Caldwell, who was rather reserved as head coach of the Colts, noted how he's grown as a coach from what he learned with the Colts and during his two seasons with the Ravens.
"One of things about our business is the fact that if you don't feel like you've grown or developed each and every day, you're in the wrong business," he said. "I learned something different each and every day. I had a great 10 years (in Indianapolis). We obviously had a lot of success and certainly learned a lot about what to do in terms of offensive football, learning how to develop was important in terms of how we went about doing things, but also winning consistently has a certain sound to it."
February, 20, 2014
Feb 20
1:25
PM ET
INDIANAPOLIS -- When the
Detroit Lions
released receiver
Nate Burleson
and safety
Louis Delmas
last week, it seemed like there was at least a chance Delmas could return to the team at some point.
Burleson
Delmas
After Detroit head coach Jim Caldwell spoke on Thursday afternoon at the NFL combine, that possibility might be a bit slimmer.
"I think in this business you never say never," Caldwell said. "But we'll see what happens."
Detroit released Delmas, 26, in part because of the $6.5 million salary-cap number he was scheduled to make in 2014. His ailing knees, which limited him to one practice a week throughout the season, also likely played a factor in the decision to release him.
Caldwell sounded like he had multiple conversations with people about both players before the team chose to cut them.
"Well, obviously they are two good men when you look at those two guys with leadership and those kinds of things," Caldwell said. "I could tell the preparation to play them and also just talking to the guys on the team and understanding the great contribution that they made to the team overall. But we have to take a look at everything, and evaluate everything obviously, just in terms of our personnel office and coaching, etc. and see where things fit, and we have to make some adjustments along the way.
"Not all of them are going to be pretty, and so obviously that's where we are today."
February, 20, 2014
Feb 20
11:25
AM ET
INDIANAPOLIS -- Ken Whisenhunt had interviewed with the
Detroit Lions
, was thought to be the team's top candidate, and for a while looked like he would be their next head coach.
Then he ended up in Tennessee and the Lions went with Jim Caldwell after firing Jim Schwartz on Dec. 30, the day after the Lions ended the 2013 season at 7-9, missing the playoffs.

Whisenhunt
While Whisenhunt didn't say much about his interactions with Detroit at the NFL combine on Thursday, he did indicate that potentially working with Lions quarterback
Matthew Stafford
was not a deterrent.
"Absolutely not," Whisenhunt said.
Actually, he seemed confident in Detroit's quarterback situation, and therefore Stafford, saying he liked what he saw. Whisenhunt interviewed with the Lions, Titans and
Cleveland Browns
prior to San Diego's divisional playoff game against Denver.
He had been sought after by Detroit because of his work with quarterbacks, notably
Philip Rivers
in 2013 and Kurt Warner from his time as a head coach in Arizona.
"Once again, I have a lot of respect for Detroit. (General manager) Martin (Mayhew) and I were teammates, and it's a good organization and I really liked what I had seen in the quarterback," Whisenhunt said. "But, once again, you've got to understand, when there's a lot going on in a short window, I feel very honored that I was given an opportunity to interview with the Lions. They are looking at different candidates as well, and you don't have control of that situation.
"So, when it all comes down to the end, I had an opportunity with Tennessee and I feel good about that."
February, 19, 2014
Feb 19
3:00
PM ET
The madness is already underway as the first set of potential NFL prospects -- the specialists, tight ends and offensive linemen -- are going through their first day of combine work in downtown Indianapolis.
Besides the televised workouts and the mass of prospects meeting with the media, Detroit's representatives will also be chatting throughout the week.
Here's a quick primer of what to expect and prospects to watch in Indianapolis over the next few days. And a blanket reminder -- when it comes to the draft, parse what you hear over the next week and employ many grains of NaCl.

Important parts of the schedule:
Thursday at noon -- Jim Caldwell speaks to the media
Thursday -- Tight ends (an area of need) talk to the media throughout the day
Friday at 11:30 a.m. -- Martin Mayhew speaks to the media
Friday -- Wide receivers (perhaps the biggest area of need) speak to the media
Saturday -- Tight ends have on-field workout; defensive linemen and linebackers meet the media.
Sunday -- Wide receivers on-field workout; defensive backs (another big need) meet with the media.
Tuesday -- Defensive backs on-field workout.
Prospects to watch:
The Lions have a few position groups they are likely going to target throughout the draft, some with immediate needs and some to draft for the future as they can learn under the men they'll eventually replace.
Here, in order of potential positional importance in the draft, are some names to watch over the next week. This list will likely change by this time next week and is not a be-all, end-all list by any means. But some of these players are guys to pay attention to in each position group.
1.Wide receiver:
Sammy Watkins
, Clemson;
Mike Evans
, Texas A&M;
Marqise Lee
, USC;
Davante Adams
, Fresno State;
Kelvin Benjamin
, Florida State;
Jarvis Landry
, LSU;
Jordan Matthews
, Vanderbilt;
Allen Robinson
, Penn State;
Paul Richardson
, Colorado;
Donte Moncrief
, Mississippi;
Martavis Bryant
, Clemson;
Shaq Evans
, UCLA;
Jeremy Gallon
, Michigan.
2.Safety:
Ha Ha Clinton-Dix
, Alabama;
Calvin Pryor
, Louisville;
Deone Bucannon
, Washington State;
Dion Bailey
, USC.
3.Cornerback:
Justin Gilbert
, Oklahoma State;
Darqueze Dennard
, Michigan State;
Bradley Roby
, Ohio State;
Loucheiz Purifoy
, Florida;
Marcus Roberson
, Florida;
Keith McGill
, Utah;
Bashaud Breeland
, Clemson;
Kyle Fuller
, Virginia Tech.
4.Tight end:
Eric Ebron
, North Carolina;
Austin Seferian-Jenkins
, Washington;
Troy Niklas
, Notre Dame;
C.J. Fiedorowicz
, Iowa.
5.Linebacker:
Khalil Mack
, Buffalo;
Anthony Barr
, UCLA;
Ryan Shazier
, Ohio State;
Kyle Van Noy
, Brigham Young;
Christian Jones
, Florida State;
Shayne Skov
, Stanford;
Max Bullough
, Michigan State;
Yawin Smallwood
, Connecticut.
6.Defensive end:
Kareem Martin
, North Carolina;
Jackson Jeffcoat
, Texas;
Aaron Lynch
, South Florida.
7.Center:
Weston Richburg
, Colorado State;
James Stone
, Tennessee;
Gabe Ikard
, Oklahoma.
8.Quarterback:
Logan Thomas
, Virginia Tech;
Derek Carr
, Fresno State;
Stephen Morris
, Miami (Fla.);
Bryn Renner
, North Carolina;
Dustin Vaughan
, West Texas A&M.
9.Defensive tackle:
Caraun Reid
, Princeton;
Anthony Johnson
, LSU;
Shamar Stephen
, Connecticut;
George Uko
, USC;
Beau Allen
, Wisconsin.
10.Offensive tackle:
Seantrel Henderson
, Miami (Fla.);
Brandon Thomas
, Clemson;
Wesley Johnson
, Vanderbilt;
Michael Schofield
, Michigan;
Brett Van Sloten
, Iowa.
11.Running back:
Bishop Sankey
, Washington;
Andre Williams
, Boston College;
Charles Sims
, West Virginia;
Storm Johnson
, UCF;
James Wilder Jr.
, Florida State.
Five questions that need to be answered during the combine:
Suh
1. Ndamukong Suh.
Has he solved his representation question? Where are talks with him regarding an extension? Is this realistic to get done by the time the new league starts on March 11? These questions -- at least some of them -- likely won't be answered this week, but it is by far the biggest remaining question this offseason.
2. Does the team have interest in Brandon Pettigrew?
This would be the second-biggest question and with money potentially being a factor, could tie into Suh. Tight end is a place of need with
Joseph Fauria
and
Michael Williams
the only tight ends definitely returning for 2014. Pettigrew offers a unique blocking and route-running skill set that could be difficult to replace, but there are options in the draft and some chance-type options likely available in free agency. Is a veteran a big key here considering the inexperience of Fauria and Williams.
3. How does the team plan on making more cap room?
There are some other players that could have contracts restructured or could be outright released to make room under the cap to sign both free agents and the eventual rookies the team is in Indianapolis to scout. Right now, Detroit is around $3 million under the cap and that is an insufficient number to fill out the roster with talented players. Something needs to move here, and if question No. 1 ends up being answered, that could be the easy solve.
4. Is Kellen Moore the answer to back up Matthew Stafford?
He has yet to play an NFL down and always appeared to be a personal project of former offensive coordinator Scott Linehan. With
Shaun Hill
headed toward free agency, Moore is the only backup on the roster and a decision needs to be made on that. If he is, Detroit should feel comfortable at the position. If not, the Lions need to figure out whether bringing in a veteran backup or drafting a rookie to start developing is the smarter way to go.
5. What is the plan with Joique Bell?
The running back has said he would like a long-term deal to stay in Detroit. The team clearly seems to like him as a strong option in the backfield. As a restricted free agent, he is likely to come back to the team in 2014, but the question is at what cost. If the team tenders him, it'll be under a cap value likely around $2 million if he is offered a second-round tender. But if the team can work out a cap-friendly long-term deal, that might make more sense.
February, 19, 2014
Feb 19
8:00
AM ET
Good morning and ROOOOAAARRR!!!!
The first prospects started trickling in Tuesday night --
including center Gabe Ikard
, a potential
Detroit Lions
target -- and downtown Indianapolis will become a hotbed of football prospects, coaches, scouts, agents and media over the next week.
There will be a lot of things covered throughout the next week and by the end of it, some clarity should emerge about the direction Detroit plans to take in free agency and the draft.
But remember, there is still a long way between now and the NFL draft in May, so keep an eye on things, but know there is still a lot of room for potential projections to change.
We'll have a fuller Lions primer on the site later Wednesday and I'll be traveling for most of the day down to Indianapolis, but we'll be on site over the next few days. If there is anyone you want to hear from, drop that in the comments or reach out on Twitter
@mikerothstein
.
And now, a look at other Lions news from around the Interwebs:
The latest Meet the Free Agent --
offensive tackle Jason Fox
. A different view on
Lions team needs
.
Dave Birkett of the Detroit Free Press looks at the
positives and negatives of using the franchise tag
on Brandon Pettigrew.
Justin Rogers of MLive projects what a
long contract for Joique Bell might cost
.
Pride of Detroit does a good job breaking down
Detroit's need for dollars
for a rookie pool and SideLion Report
looks at free-agent wide receivers
the Lions could look at.