Detroit Lions:

Aaron Hester
August, 25, 2014
8/25/14
1:19
PM ET
Most significant move:
By cutting kicker
Giorgio Tavecchio
, the Lions ended their kicking competition by settling on rookie
Nate Freese
from Boston College. Detroit coach Jim Caldwell continually called this a tight competition. However, Freese always worked with the first team and was the first kicker out in all three preseason games. Tavecchio had the more consistent camp of the two players, but Detroit invested a seventh-round draft pick in Freese. He may be Detroit's kicker for now and could end up as its kicker throughout the season, but another miss or two and the team might want to consider the free-agent wire, including recently released
Jay Feely
from Arizona.
Defensive backfield getting settled:
Detroit released corners
Jonte Green
and
Aaron Hester
and sent safety
DeJon Gomes
to injured reserve on Monday, giving some clarity to their secondary. Green was a somewhat surprising cut since it seemed like the team might at least keep him around until Saturday's final cuts, but
Chris Greenwood
clearly beat him out. The questions in the secondary is now how many corners and safeties the team takes and whether it looks at a sixth corner (likely Greenwood) or a fifth safety (either
Isa Abdul-Quddus
or
Jerome Couplin
). Those will be two situations to watch Thursday night.
What's next:
The Lions will probably search the waiver wire for secondary help, maybe take a look at a receiver or kicking options. Otherwise, they play Buffalo on Thursday and make final cuts Saturday.
Lions moves:
Cut CB Jonte Green, CB Aaron Hester, FB
Chad Abram
, K Giorgio Tavecchio, P
Drew Butler
, QB
James Franklin
, OG
Alex Bullard
, OL A.J. Dalton, DT
Gregory Hickman
, RB
Steven Miller
, DE
Kris Redding
and WR
Conner Vernon
. Moved S DeJon Gomes to injured reserve. Moved WR
TJ Jones
to PUP/reserve.
July, 23, 2014
7/23/14
1:00
PM ET
Over the next two weeks, we'll be previewing the
Detroit Lions
entering training camp, which begins at the end of July. A reminder -- unless a player is an entrenched starter, so much of what will happen over the next month or so will be entirely fluid as players attempt to make an NFL roster.
Position:
Cornerback
[+] Enlarge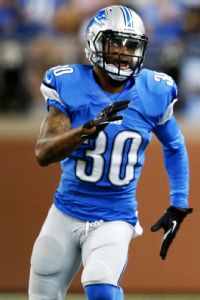 AP Photo/Rick OsentoskiThis will be a critical year for Darius Slay as the Lions look to shore up their cornerback position.
Starter:
Darius Slay
,
Rashean Mathis
Depth (in training camp):
Bill Bentley
,
Cassius Vaughn
,
Chris Greenwood
,
Jonte Green
,
Nevin Lawson
,
Aaron Hester
,
Mohammed Seisay
Likely roster spots:
5-6.
What to expect in camp:
This will be one of the most intense battles in training camp, from a starting slot all the way through the end of the roster and even the practice squad. The main reason for this is other than veteran Mathis, none of the cornerbacks on the roster have proven anything with consistency.
Slay will slide into a starter's role in his second season with the club, but his rookie season had the predictable unpredictability. Throughout spring workouts, Slay consistently appeared as a cornerback capable of going through the necessary maturity from his rookie season. Some of that had to do with hints received from his work with Rod Woodson during the offseason.
Beyond Slay and Mathis is a bunch of questions. Bentley should end up as the team's nickel back, although he'll likely be pushed there by safety
Don Carey
and the rookie Lawson. Expect him to hold on to the job, though, as he is the most confident he has ever been in the pros.
The other outside corners are a major question. Assuming Bentley and Lawson end up at nickel, there will be a couple spots for Vaughn, Greenwood, Green, Hester or undrafted rookie Seisay.
This is where the real competition will come. Vaughn looked the best of the group during the spring, but the team has invested more in Green and Greenwood and they are at the point in their careers where something has to be more consistent for them.
Don't expect all three to make the team, but figure at least one or two of them will end up on the roster. Pay particular attention to this during camp as it would not be surprising to see at least one of them end up in a critical situation in 2014.
What Detroit needs to see:
Growth from everyone other than Mathis. The Lions know what they are getting in the veteran, who should have at least one more season of playing at a consistent, decent level.
With pads on and the ability to press, the Lions need to see steps from the other players, though. Both Bentley and Slay have insisted at various points this spring that defensive coordinator Teryl Austin's new defense fits their style of play better -- but they have to prove that now.
If the Lions don't see proper progression from these players, this will be a major, major concern for 2014 and will only call into more question the decisions made by general manager Martin Mayhew to focus more on offense during free agency and early in the draft instead of bolstering the biggest positional question mark on the roster.
The best possible situation for Detroit here is one or two of the cornerbacks behind Slay and Mathis play so well during camp they are no-brainers to keep on the roster, and the four of them can have more reps than everyone else. The other potential good situation for the Lions is that players like Green -- who put himself on a roster bubble after the spring -- to play so well he forces tough decisions for the staff to make on cutdown day in August.
The worst situation is similar to that -- that decisions are tough to make, but mostly because the team is picking from the best of a very mediocre lot of players. Considering the experience levels of the players competing, any of these possibilities could happen.
Don't be surprised if the team signs a veteran here at some point as well, much like they did with Mathis a season ago.
June, 17, 2014
6/17/14
1:00
PM ET
The offseason workouts have concluded and with players and coaches about six weeks away from the start of training camp, one last rest and individualized training period will commence.
After a month of workouts, though, there have been some players who have made cases for potential roster spots in the fall and others who did not help themselves nearly as much.
Just like the start of the spring workouts, here is a look at the Detroit defensive and special teams depth chart -- along with a post-minicamp guess at the 53-man roster that could end up being the Lions' team in the fall. Remember, a lot can change between now and then.
Changes from
our May defensive prediction
are in parentheses. The offensive roster prediction
lives here
.
DEFENSIVE END:
Starters:
Ezekiel Ansah
(open);
Jason Jones
(closed)
Backups (in projected depth-chart order for now):
Devin Taylor
,
Darryl Tapp
,
Larry Webster
,
George Johnson
,
Kalonji Kashama
.
Thoughts:
Ansah didn't practice this spring but he is a starter and should have a good year. Jones started to look healthier and will likely be pushed by Taylor throughout camp. Taylor may end up winning the job. Tapp is a good veteran and Webster is raw. Really raw.
Roster locks:
Ansah, Jones, Taylor. (no changes)
If picking the roster today, these guys would be on it:
Ansah, Jones, Taylor, Tapp, Webster. (Webster up from practice squad)
DEFENSIVE TACKLE:
Starters:
Ndamukong Suh
,
Nick Fairley
.
Backups:
C.J. Mosley,
Caraun Reid
,
Andre Fluellen
,
Xavier Proctor
, Jimmy Saddler-McQueen, Greg Hickman.
Thoughts:
The Lions cut a lot of marginal veteran weight here during the spring and really somewhat set their defensive tackle depth chart. Suh and Fairley, at least in the spring, look like they could be the dominant pairing the Lions wanted the past few seasons. Both Jones and Taylor can play inside, so that gives the Lions flexibility.
Roster locks:
Suh, Fairley, Mosley (no changes)
If picking the roster today, these guys would be on it:
Suh, Fairley, Mosley, Reid, Proctor (practice squad) (Add Proctor to practice squad)
LINEBACKER:
Starters:
DeAndre Levy
(weak side);
Stephen Tulloch
(middle);
Kyle Van Noy
(strong side)
Backups (in projected depth-chart order for now):
Ashlee Palmer
,
Tahir Whitehead
,
Travis Lewis
,
Julian Stanford
,
Cory Greenwood
,
Brandon Hepburn
,
Justin Jackson
.
Thoughts:
The starters are pretty set here with the two veterans and the rookie, Van Noy. Palmer will end up playing his way onto the team, but watch for Whitehead here. He is a potential candidate to push for playing time or at least be a stable backup in the middle. The last spot here could be between Stanford and Lewis for a mainly special-teams spot. In this version, I cut both Stanford and Lewis in favor of a sixth cornerback, but could easily see that changing by the time the next roster projection is done before camp.
Roster locks:
Levy, Tulloch, Van Noy (no changes)
If picking the roster today, these guys would be on it:
Levy, Tulloch, Van Noy, Palmer, Whitehead, Hepburn (practice squad). (Jackson off practice squad, Palmer to the 53-man roster).
CORNERBACK:
Starters
:
Darius Slay
,
Rashean Mathis
(
Chris Houston
off team).
Backups (in projected depth-chart order for now):
Bill Bentley
,
Cassius Vaughn
,
Chris Greenwood
,
Nevin Lawson
,
Jonte Green
,
Aaron Hester
,
Mohammed Seisay
.
Thoughts:
The release of Houston opens up this competition and a roster spot for another cornerback, potentially. Slay and Mathis are likely starters here with everyone else fighting for time and, other than Lawson, a roster spot. It'll be one of the toughest battles of camp. This was one of the toughest cuts I had to make.
Roster locks:
Slay, Mathis, Lawson. (Add Mathis, subtract Houston)
If picking the roster today, these guys would be on it:
Slay, Mathis, Bentley, Vaughn, Lawson, Greenwood, Seisay (practice squad). (Houston, Green off; Seisay on practice squad).
SAFETY:
Starters:
Glover Quin
,
James Ihedigbo
.
Backups (in projected depth-chart order for now):
Don Carey
, Isa Abdul-Quddus,
DeJon Gomes
,
Jerome Couplin
,
Gabe Lynn
.
Thoughts:
The Lions are good with their top three safeties in Quin, Ihedigbo and Carey. Carey can play both nickel and corner in an emergency, which makes him imminently valuable for the Lions. Abdul-Quddus and Gomes might be competing for one roster spot and that should be an intense battle throughout camp. Between these two was the last cut I made. Initially had both making the roster until the end.
Roster locks:
Quin, Ihedigbo, Carey. (no changes)
If picking the roster today, these guys would be on it:
Quin, Ihedigbo, Carey, Abdul-Quddus, Couplin (practice squad)
KICKER
:
Starter:
Nate Freese
Backup:
Giorgio Tavecchio
Thoughts:
Still Freese's job to lose, but this might be a tougher competition than anticipated. Tavecchio has the stronger leg and if he can add consistency, he'll win the gig. Otherwise, it's Freese's. Right now, it's a toss-up.
Roster locks:
None.
If picking the roster today, this guy would be on it:
Freese.
PUNTER:
Starter:
Sam Martin
Backups:
None.
Thoughts
: None. It's Martin.
Roster locks:
Martin.
If picking the roster today, this guy would be on it:
Martin.
LONG-SNAPPER:
Starter:
Don Muhlbach
.
Backups:
Jordan Thompson
.
Thoughts:
None. Barring injury, Muhlbach will be the team's long-snapper.
Roster locks
: Muhlbach.
If picking the roster today, this guy would be on it:
Muhlbach.
June, 11, 2014
6/11/14
7:30
PM ET
ALLEN PARK, Mich. – There is now one day left.
The
Detroit Lions
finished up the second day of their mandatory minicamp Wednesday and it was probably the most balanced day the team has had during their sessions. After the first two weeks of open practices where the defense was dominant and the last couple of practices where the offense has been better, neither group seemed to take over the practice.
Johnson
That might be a good sign for the Lions that the offense is catching up to the defense even if both sides of the ball were without key contributors. Here are some thoughts, notes and observations from the day.
April, 21, 2014
4/21/14
10:20
PM ET
The
Detroit Lions
open their voluntary mini-camp on Tuesday, and they'll have a pair of new defensive backs on the field for it. The team announced it signed cornerbacks Aaron Hester and
Nate Ness
after working both players out on Monday, and both should be ready for the mini-camp with new coach Jim Caldwell.
Hester, the younger cousin of return man
Devin Hester
, was last with the
Denver Broncos
in training camp last season. The 24-year-old was cut at the end of camp in August, after being signed by the Broncos as an undrafted free agent.
Ness has played in eight career games, the last one coming with the
St. Louis Rams
in 2011. The 27-year-old began his career as an undrafted free agent with the
New York Jets
in 2009, and also spent time with the
Miami Dolphins
,
Seattle Seahawks
and
Washington Redskins
.
It's possible -- perhaps even probable -- both players are just on the roster for extra depth, but their stature should hit a familiar refrain for where the Lions are going with their cornerbacks. Both stand 6-foot-1, and they worked out at the team's facility in Allen Park, Mich., on the same day the Lions hosted cornerbacks
Justin Gilbert
(6-foot-0) and Stanley Jean-Baptiste (6-3) on pre-draft visits.
The Lions want bigger cornerbacks, and in a league that's both trying to keep up with larger wide receivers and likely to copy the Seahawks' approach after their Super Bowl win, the Lions are hardly the only team looking for size in their secondary. They certainly are taking steps in that direction. The shortest defensive back on their roster is the 5-10
Bill Bentley
, and 11 of the 15 defensive backs on the roster are at least six feet tall, counting Hester and Ness. If the Lions do intend to play more press coverage under defensive coordinator Teryl Austin, they should have the size to do it.