Detroit Lions:

Antonio Brown
November, 17, 2013
11/17/13
2:52
PM ET
PITTSBURGH -- Some thoughts from the first half of the
Detroit Lions
-
Pittsburgh Steelers
game, which the Lions lead 27-20 at halftime.
Record setter:
After a rough start,
Matthew Stafford
turned into the player he's been most of the season in the second quarter, hitting
Calvin Johnson
for two touchdowns and also setting the franchise record for career passing yards. Stafford is 16-of-29 for 327 yards, two touchdowns and no interceptions in the first half. The first-half yardage is the best first-half output of his career and a Lions first-half passing record. He also figured out pretty quickly that Pittsburgh was leaving Johnson in single coverage, so he picked on
Ike Taylor
for six catches and 179 yards in the first half. Smart move by Stafford. He used it again on the final Detroit drive of the half, when Johnson drew two penalties on Taylor.
Secondary struggled early but rebounded:
Louis Delmas
, who has been pretty reliable throughout most of the season, had some issues in the first quarter. He was burnt on one
Antonio Brown
touchdown when he missed the jam off the line of scrimmage. On Brown's other touchdown, both
Glover Quin
and
Chris Houston
missed open-field tackles by trying to arm tackle the Pittsburgh receiver. The Lions' defensive backs did play better in the second quarter, including a very impressive pass breakup by Houston on Brown on the Steelers' second-to-last drive of the first half.
This team is explosive:
With 10:34 left in the first half, a
Shaun Suisham
field goal gave Pittsburgh a 17-3 lead. After that, the Lions' offense went nuts -- scoring three touchdowns in the last 10:27, starting with a 79-yard Stafford-to-Johnson touchdown to give the Lions a 27-20 lead at halftime. The explosive nature of what the Lions can do offensively is why they are considered a playoff contender and a threat in the NFC North and the NFC in general. The 27 points in the second quarter tied a record for the most points in a second quarter in Lions history.
November, 14, 2013
11/14/13
12:00
PM ET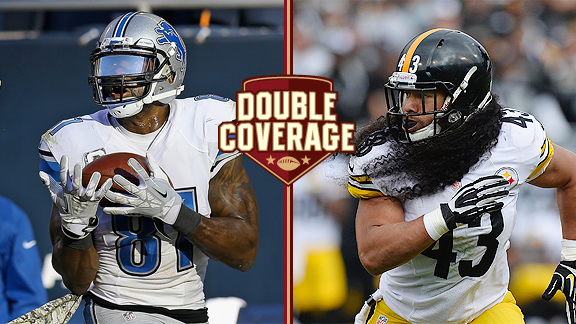 Getty ImagesCalvin Johnson's Lions look to continue their success against Troy Polamalu's struggling Steelers.
The respective histories of the
Detroit Lions
and
Pittsburgh Steelers
suggest that the latter would be 6-3 and the former 3-6 heading into their game Sunday at Heinz Field.
But it is the Steelers who have scuffled this season, and they are still trying to dig out from an 0-4 start. The Lions, meanwhile, sit atop the NFC North and have the pieces to make a lengthy postseason run assuming they can keep up their winning ways.
The Steelers have little margin for error as they try to stay on the fringes of the AFC playoff picture, and the Lions will try to maintain their grip in first place in the NFC North when the teams meet at 1 p.m.
ESPN.com NFL Nation reporters Michael Rothstein (Lions) and Scott Brown (Steelers) take a closer look at the first matchup between the two teams since 2009.
Brown:
Michael, I'm not surprised that the Lions are playing so well this season, and my question for you is, what has the signing of running back
Reggie Bush
done for the offense?
Rothstein:
It's been huge, Scott. Bush's signing in the offseason spreads defenses out and forces teams to make a choice. Either double
Calvin Johnson
or continuously roll safety coverage Johnson's way or bring a defender down into the box to stop Bush -- but that leaves things open for
Matthew Stafford
to find Johnson. He has the ability to take a dump-off play and turn it into a massive touchdown -- something he has done twice on screens this season. While he doesn't change the offense the way it would if Stafford or Johnson were missing, he's a massive cog there.
Speaking of that -- and I feel as if I've asked this question weekly -- how do you think Pittsburgh handles that matchup against the Detroit offense?
Brown:
Michael, it's hard to like the matchup if you are the Steelers. Speed in their secondary has been an issue this season, particularly at safety, and I'm not sure anyone can run with Bush if the Lions isolate him on linebacker or safety as a receiver.
The Steelers are going to have to pay Johnson the extra attention he demands, and last I checked they will only be allowed to have 11 defensive players on the field. Assuming the Steelers use a combination of double and bracket coverage on Johnson, there are going to be some one-on-one matchups that the Lions may be able to exploit.
The Steelers haven't generated a consistent pass rush this season, but it will be absolutely essential that they do so against Stafford. If he is allowed to get comfortable in the pocket Sunday it will be a long day for the Steelers.
The best thing the Steelers can do for their defense is to control the clock, but it won't be easy to run on Detroit's front seven. Does it start on the Lions' defense with tackles
Ndamukong Suh
and
Nick Fairley
, and how have other teams tried to neutralize those two?
Rothstein:
Yes, most of what Detroit does defensively starts with Suh, and to a lesser extent, Fairley. Suh is having one of the most consistent seasons of his career, this despite the constant presence on double teams each week. The attention Suh is given opens rush lanes for Fairley, but he hasn't been completely consistent taking advantage of them.
For every game he has like Sunday's against Chicago, he has a game where he disappears. But the pressure Suh, Fairley and the defensive line put on quarterbacks has led to incomplete passes and interceptions often.
If there is a concern with the Detroit defense, it is with its cornerbacks, who have been inconsistent. Can
Ben Roethlisberger
take advantage of this with his current crop of receivers?
Brown:
Antonio Brown
has really emerged as a No. 1 receiver and made the Steelers look smart for not overpaying for
Mike Wallace
. That said,
Emmanuel Sanders
has not been consistent enough to give the Steelers a receiving option to pair with Brown.
Sanders has a ton of talent, and he is a big-play threat. I keep waiting for him to break out. This could be the week for him to do it as the Steelers are going to have to score their share of points to keep up with the Lions. Lost in the Steelers' 55-31 loss at New England a couple of weeks ago is how much success the Steelers had attacking the Patriots' cornerbacks.
If the Lions' cornerbacks are vulnerable, the Steelers will go after them, and Detroit has to be mindful of the middle of the field where tight end
Heath Miller
and
Jerricho Cotchery
work and are trusted by Roethlisberger.
Michael, I don't see the Steelers winning this game unless they score a lot of points. What needs to happen for the Lions to lose?
Rothstein:
That's an interesting question, Scott, and with the Lions you just never know. I'd probably start with if any of the Lions' starters in the secondary went down with injury. That would necessitate playing either an inexperienced safety or rookie
Darius Slay
if one of the corners goes down. Roethlisberger is good enough that he'd pick on that side of the field consistently.
Another would be to force turnovers. Stafford has been quite good this season, essentially throwing less than two interceptions per 100 attempts (he has a 1.9 percent rate), which is in the top 10 of the league and tied with
Drew Brees
. If Detroit's offense can hold on to the ball and everyone is healthy, it'll score points.
I'll close out with this: You mentioned Pittsburgh trying to establish the run first. What's been going on there? It seems as if there has been a rotating cast of players because of injuries and other issues. Do the Steelers even have a reliable running attack?
Brown:
Depends on the week, it seems, when it comes to the Steelers' running game. It has gotten a lot better since
Le'Veon Bell
became the feature back, and the Steelers have rushed for over 100 yards in their last two games.
To put into perspective how important it is for the Steelers to establish the ground game, they have run the ball just over 51 percent of the time in their three wins and around 30 percent of their time in six losses.
The Steelers have to run the ball against the Lions, and a big component of that is not falling behind early, something that has been a problem this season.
November, 13, 2013
11/13/13
8:30
PM ET
Question of the Week is a feature where we ask different Detroit Lions the same question on various topics -- some funny, some issue-based, some football-related and some completely off the wall. To suggest a potential question for QOTW, email michaelrothsteinespn@gmail.com or make the suggestion on Twitter @mikerothstein.
Previous QOTW:
Why you wear your jersey
;
Halloween costume
;
Cake... or Steak
;
TV character
;
Entrance music
;
Super hero alter ego
;
Nicknamed jerseys
.
ALLEN PARK, Mich. --
Nate Burleson
received a
free year's supply of DiGiorno Pizza
coupons in October, sparking his interest in possibly putting together a commercial for them and also, well, a lot of free pizza.
It also gave us an idea. What do other Lions want a free year's supply of? And what about Burleson himself? Welcome to this week's Question of the Week (also featuring a guest appearance by a Pittsburgh Steeler).
Wide receiver Nate Burleson:
I don't know but I'm racking up these year supplies, though. Year supply of Skittles. Just got the box today.
What did you get a year's supply of Skittles for?
Burleson:
I don't know, man. I'm getting a lot of stuff these days. Dearborn Brands meat, I think I'm turning into the food guy. Send him some food, he'll Instagram yet.
So like Nate's Bistro? Nate's restaurant?
Burleson:
Cafe Nate.
Burleson (later):
I'm getting hooked up, man. Skittles sent me this man, yeah. All I got to do is put my Skittles grin on, Instagram it. You feel me? Put my hat on, gotta represent the D while I'm doing it. You know what I'm saying. ... Year's supply. Free Skittles. You guys like Skittles?
---
WR Jeremy Ross:
That's a good question. Girl Scout cookies. Thin mints. They the bomb. Best cookies out, made. I'm telling you. That would be on point. On point.
---
CB Rashean Mathis:
Golf balls. I'm an avid golfer.
Avid or average?
Mathis:
Avid. I'm way above average. That's what I do. I probably have fallen in love with that more than anything else, other than my wife and son.
---
WR Kevin Ogletree:
Gas. Why do you think?
I have my reasons.
Ogletree:
If you didn't have to pay for gas, you would go everywhere and everything would be convenient.
---
Steelers WR Antonio Brown
: Dental floss. I love to floss, especially after you eat a lot. I usually keep a couple in my pocket just to make sure my teeth are clean and make sure I don't get cavities at the dentist. I floss every time after I eat.
---
C Dominic Raiola:
No idea. I mean, steak? Filet mignon. You have a year's supply, it's expensive and I eat it a lot.
---
TE Joseph Fauria:
Oh jeez. Gotta be food. Gotta be a food. Double-doubles. In N' Out double-doubles.
---
TE Brandon Pettigrew:
That's tough. Anything? Ooh. I have no idea what I would pick. Probably, I have no idea. I want to say something right in front of me like lotion but I'd probably say shoes or something. I don't know. Probably be something food related, like chips or something.
---
TE Martell Webb:
Jordans.
---
WR Kris Durham:
I would take a year's supply of, that's tough. A year's supply of, to go with the food aspect, I'd go with Chipotle burritos.
That's probably what I'd go with, too.
Durham:
Yeah, it's pretty solid.