Detroit Lions:

Bill Sheridan
May, 23, 2014
5/23/14
12:50
PM ET
ALLEN PARK, Mich. –
Cassius Vaughn
broke on the ball, intercepted
Dan Orlovsky
, and the entire
Detroit Lions
defensive sideline went nuts – celebrating like the pick had happened in a real game and resulted in tangible points instead of what it really was, a play made against the team's backup quarterback during a May workout.
This, though, is perhaps one of the changes for Detroit this upcoming season.
It may only be May and it is still a long way from training camp and the start of the regular season, but one of the definitive things new defensive coordinator Teryl Austin has brought to the Lions is an abundance of exuberance.
[+] Enlarge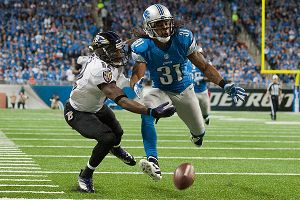 Jason Miller/Getty ImagesPress coverage will likely be the norm for Detroit's cornerbacks, including Rashean Mathis, this season.
"We do like what's going on," cornerback
Rashean Mathis
said. "We do believe in the process. That makes you have a little more energy, when everybody on the team is sold out and sold into the process and buying into what coach is doing. And everybody believes in what he's doing."
Part of that could just be the change in coaching staff from Jim Schwartz to Jim Caldwell – of which the most defining shift would be a personality change, for better or worse. But on defense, more seems to be changing.
The Lions will almost definitely be more multiple in their looks and their packages in 2014 – the way the team drafted somewhat hinted at that, as well as Austin being straightforward about that. They will employ specific ends – an open end and a closed end – instead of being more interchangeable last season.
The open end – likely
Ezekiel Ansah
– will play on the side opposite of the tight end in any formation. The closed end, for now
Jason Jones
, is typically bigger and will be used to try and bump on the tight end side of the field in an attempt to disrupt his route.
That will happen up front.
In the back end, there will be separate free and strong safety designations – that's been known for a while – but how they play corner also will be changing. Expect everything to be much more aggressive with the Lions' cornerbacks.
"I feel we'll press way more this year," cornerback
Darius Slay
said. "Way, way more. Probably every play."
There are risks and benefits to that. The benefit is if the Lions are successful there, it will push receivers off of their routes to start. That might alleviate some of the problems Detroit had reaching the quarterback last season. Too often, they were a step or two from sacking opponents.
This could give the Lions that extra half-second to force those plays. While the true implementation and success of this will not be known until September, the beginnings of it are already there.
They look faster. They look more excited. They look more like a defense focused on causing havoc and creating turnovers from the back to the front.
"Yeah, for sure," receiver
Kevin Ogletree
said. "Those guys are playing like it and bringing an intensity that we need on defense."
While a lot of that has to do with the fiery Austin and the defensive staff he retained – Jim Washburn and Kris Kocurek on the line – and hired – Bill Sheridan with linebackers and Alan Williams with defensive backs – that's not all of it.
It isn't necessarily the coaching or the scheme. It is how they are selling it. That type of convincing doesn't always happen. And that begins with Caldwell.
"I've been a part of a new coaching staff where everything is not agreeable or coaches are not selling whatever they should sell well," Mathis said. "But you know, you can deny a lot of things but you can't deny honest and truth and that's what Caldwell is.
"He's straight and to the point. He doesn't have to scream, doesn't have to yell."
He leaves that to his players when they make plays instead.
January, 17, 2014
1/17/14
1:17
PM ET
Two days after officially coming on board as the
Detroit Lions
head coach, Jim Caldwell already has a majority of his staff in place -- including one of his coordinators.

Teryl Austin, who had been the Baltimore secondary coach the past three seasons, will get his first shot at being a defensive coordinator in the NFL. He was Florida's defensive coordinator in 2010.
"He's a guy, obviously, that is extremely bright," Caldwell told WDFN in Detroit on Friday morning. "He's a guy that has, without question, has a great balance in terms of overall experience. Energetic and really has an outstanding feel for defensive football. Outstanding communicator as well."
Here's a look at what
Austin has done in the past and what his defense could look like
.
Caldwell also has some of the other staff ready to go.
Bill Sheridan, who was Tampa Bay's defensive coordinator in 2012 and 2013, has been hired as the team's linebackers coach. Sheridan is a Detroit native who spent time on both the Michigan and Michigan State staffs in the past coaching linebackers. He also coached linebackers at Miami from 2010 to 2011.
So far those are the only two new coaches Caldwell has brought in, although he has chosen to retain a lot of members of the staff.
Offensive line coach Jeremiah Washburn will return, along with assistant offensive line coach Terry Heffernan. Tight ends coach Bobby Johnson is also back, but Dave Birkett from the Detroit Free Press is reporting it is as an offensive line assistant.
Jim Washburn (assistant defensive line),
Kris Kocurek
(defensive line) and Curtis Modkins (running backs) were also retained, although it is not clear if all will remain in their same roles.
As reported Thursday, special teams coach John Bonamego will also return.
This means defensive coordinator Gunther Cunningham, linebackers coach Matt Burke and secondary coach
Marcus Robertson
were also not being brought back. Offensive coordinator Scott Linehan, wide receivers coach Tim Lappano, assistant wide receivers coach Kyle Valero and quarterbacks coach Todd Downing were previously announced as not retained.
The biggest holes left to fill for Caldwell now are offensive coordinator, wide receivers coach and defensive backs coach, although Austin has extensive experience coaching the secondary.
Here's a look at the coaching staff chart (with obvious flexibility for staff movement):
Head coach --
Jim Caldwell
Offensive coordinator --
TBD
Defensive coordinator --
Teryl Austin
Quarterbacks --
TBD
Running backs --
Curtis Modkins
Wide Receivers --
TBD
Tight ends --
TBD
Offensive line --
Jeremiah Washburn (asst. Bobby Johnson or Terry Heffernan)
Defensive line --
Kris Kocurek (asst. Jim Washburn)
Linebackers --
Bill Sheridan
Secondary --
TBD
Special Teams --
John Bonamego