Detroit Lions:

Brandon Carr
March, 17, 2014
Mar 17
8:00
AM ET
On the eve of free agency last week, our four NFC North reporters -- Rob Demovsky (
Green Bay Packers
), Ben Goessling (
Minnesota Vikings
), Michael Rothstein (
Detroit Lions
) and Michael C. Wright (
Chicago Bears
) -- compiled a list of
the top-15 free agents
in the division.
A week has passed and nine of them already have come off the market, including six who re-signed with their old teams.
Perhaps the biggest-name free agent from the NFC North, former Bears defensive end
Julius Peppers
, did not make the original list because he was not a free agent until he was released last week. He
signed with the Packers
on Saturday.
You can follow all of the NFL free-agent moves in
Bill Polian's free-agent tracker
, but let's revisit the NFC North top 15 and see what has changed:
1.
Sam Shields, Packers CB
: Signed a four-year, $39 million contract just a few hours into the open negotiating period on March 8. His $9.75 million per year average made him the fourth-highest paid cornerback in the league behind
Darrelle Revis
($16 million),
Brandon Carr
($10 million) and
Aqib Talib
($9.8 million).
2. Brandon Pettigrew, Lions TE
: Re-signed with the Lions for four years and $16 million, including a $4 million signing bonus.
3. Jermichael Finley, Packers TE
: Remained unsigned after a visit to the
Seattle Seahawks
last week. It's not known what the Seahawks' medical staff thought of Finley's C-3/C-4 neck vertebra fusion surgery that he had last November following his season-ending neck injury.
4. Charles Tillman, Bears CB
: Signed a one-year contract to return to Chicago last Friday after missing half of last season because of a torn triceps. The deal is worth about $3.5 million.
5. B.J. Raji, Packers DT:
Less than a year after reportedly turning down a multi-year offer that averaged $8 million per season, he returned to the Packers for a one-year deal signed on Friday that was believed to be worth $4 million plus incentives.
6. Matt Cassel, Vikings QB
: Opted out of his 2014 contract after the Super Bowl but signed a new two-year, $10.5 million deal with the Vikings on March 7, just before teams could start contacting his agent and will likely head into training camp with the inside track on the starting job.
7. Willie Young, Lions DL
: Signed a three-year, $9 million contract with the Bears. Former seventh-round pick received his first extensive playing time with the Lions in 2013, becoming a full-time starter after
Jason Jones
was injured for the season in Week 3.
8. James Jones, Packers WR
: Remained unsigned after the first week of free agency and has not had any known visits even after he ranked second on the Packers last season in receptions (59) and yards (817), the latter of which was a career high despite missing nearly three full games because of a knee injury. Three years ago, coming off the NFL lockout, Jones did not draw strong interest on the free-agent market and re-signed with the Packers for three years and $9.6 million. Could the same thing happen again?
9. Jared Allen, Vikings DE
: Remained unsigned after the first week of free agency but reportedly visited the Seattle Seahawks over the weekend. After three All-Pro selections in six years, Allen's time in Minnesota is over.
10. Josh McCown, Bears QB
: Signed a two-year, $10 million contract to rejoin his old coach, Lovie Smith, with the
Tampa Bay Buccaneers
.
11. Henry Melton, Bears DL
: Coming off a torn ACL, Melton went unsigned during the first wave of free agency but has a visit scheduled with the
Dallas Cowboys
this week.
12. Devin Hester, Bears KR
: Remained unsigned more than a week after the Bears said they would not bring him back.
13. Rashean Mathis, Lions CB
: Remained unsigned after playing in 15 games and taking over as a starter early in the season last year.
14. Everson Griffen, Vikings DE
: Cashed in on March 9th by signing a five-year, $42.5 million deal that included $20 million guaranteed to return to Minnesota.
15. Louis Delmas, Lions S
: Signed a one-year, $2.25 million contract with the
Miami Dolphins
after the Lions released him with one year remaining on his contract in February, in part because of a cap number of $6.5 million in 2014.
October, 26, 2013
10/26/13
12:00
PM ET
There is little doubt Sunday is a massive matchup for Detroit.
For momentum purposes, the Lions can't afford to go 1-3 in October, no matter how light their November and December schedule looks. For playoff purposes in a tight division, every game is critical as the Bears and Packers are keeping pace.
And considering the Lions don't play again until mid-November due to an off week, sitting around on back-to-back losses for two weeks is not a desirable feeling.
[+] Enlarge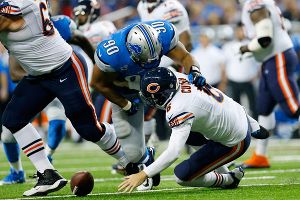 AP Photo/Paul SancyaThe Lions will be looking for Ndamukong Suh to give the defense a spark on Sunday against Dallas.
So how does Detroit make sure it wins Sunday? Here are four keys.
Have the line sorted:
Detroit's offensive line has done a good job protecting
Matthew Stafford
this season and while it looks as if
Riley Reiff
will play at left tackle on Sunday against Dallas, right tackle is still somewhat of a mystery.
Corey Hilliard
is out Sunday, so then it comes down to the starter in the first game of the season,
Jason Fox
, or rookie
LaAdrian Waddle
, who played both left and right tackle in his first real action Sunday against Cincinnati.
"Players deal with it, coaches deal with it all the time," Detroit coach Jim Schwartz said. "Everyone has varying degrees of health, particularly in the middle of an NFL season. That's where we are and that's probably where the
Dallas Cowboys
are, also. There's ways to be able to handle guys being limited in some roles."
Detroit handled some of it by signing veteran tackle
Barry Richardson
to give some depth to the line, but it'll be interesting to see how the Lions handle their tackles Sunday.
Get more pressure:
The Lions have predicated a lot of their defensive success on the pressure the front four, led by tackle
Ndamukong Suh
, has been able to get. Even if it doesn't result in actual statistics, the pressure has forced opponents to make mistakes -- most notably interceptions in the hands of linebackers
DeAndre Levy
and
Stephen Tulloch
throughout the season.
"You look at us, part of the thing with getting pressure is creating turnovers and that's something in our three losses, we've only had one takeaway and that's something they can help us with," Schwartz said. "Whether they are getting sacks or not, we saw a lot of examples early in the season where they didn't necessarily get the sack but they were able to get enough pressure or affect the passing game enough that they forced some mistakes.
"If we're doing that, you don't have to look at sacks and things like that to know they are effective."
Over the past three weeks, Detroit has only disrupted 15 drop-backs, 20th in the NFL, and 12.9 percent of drop-backs opponents have taken -- in the bottom 10 of the league. The Lions do have four sacks, though.
Force turnovers:
As Schwartz mentioned above, the key to Detroit winning games is forcing turnovers and stopping opposing possessions. It sounds simplistic -- truthfully, it's fairly obvious -- but the Lions have forced one turnover combined in their three losses and at least one turnover a game in their four wins.
"That's the key to the game and we didn't get any," Schwartz said. "That's what you have to do. If you're going to give up an 80-yard touchdown pass, you better come back and take the ball away.
"For whatever reason, we've lost that edge. We need to regain it quickly, both in interceptions and fumbles."
Detroit actually had a forced fumble returned for a touchdown Sunday against Cincinnati, but it was nullified because of an offside call.
Throw a lot:
This won't be an issue for Detroit, but the Cowboys are 30th in the league in passing yards per game at 291.86 yards a game. While the Lions will have to be concerned about Michigan native
Brandon Carr
, who will likely draw the matchup on
Calvin Johnson
, this should be a place for the Lions to exploit. And when Detroit's passing game is working, that usually leads to more success for the Lions, who have built so much of their offense on being able to throw deep to Johnson and short to
Reggie Bush
.
October, 24, 2013
10/24/13
12:00
PM ET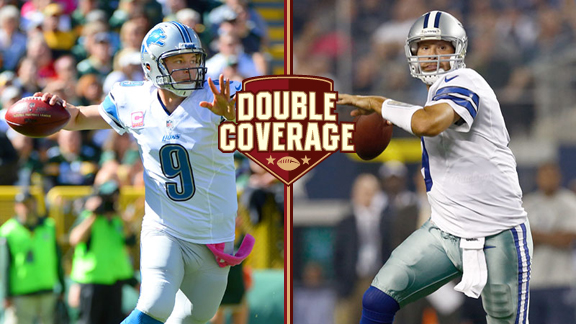 Getty ImagesBoth Dallas quarterback Tony Romo and Detroit quarterback Matthew Stafford have seen needed improvements in certain aspects of their games this season.
It is a matchup between two potential playoff teams and two of the best wide receivers in the game,
Calvin Johnson
and
Dez Bryant
.
But the Dallas-Detroit game on Sunday has other twists, too. For the Lions, Sunday is a chance to grab back some momentum from a strong start to the season. For the Cowboys, it could be a chance to widen their lead on their NFC East opponents.
Dallas NFL Nation reporter Todd Archer and Detroit NFL Nation reporter Michael Rothstein break down what you might see Sunday afternoon.
Rothstein:
Let's start here -- last week in Detroit there was a lot of discussion of
A.J. Green
and Johnson as two of the best receivers in the league. Now it is Bryant and Johnson this week. What is it that Bryant does that should really concern Detroit's cornerbacks, who let Green go for 155 yards Sunday?
Archer:
Bryant can go get the ball. He is virtually impossible to defend in the red zone (and sometimes he'll push off too), but cornerbacks just don't have a chance on him. He's a better route runner now than he was last year and the Cowboys are using him on more varied routes. When he came into the league he would make the spectacular play but couldn't make the boring play consistently. Now he's doing both. But his No. 1 attribute is his physical style. He will fight for the ball and fight for yardage. He's special in that regard.
The Cowboys have had
Brandon Carr
follow Demaryius Thomas,
Pierre Garcon
and
DeSean Jackson
the past three games. I'm sure they'll do the same with Calvin Johnson. When teams have matched up with Johnson like that, how has or hasn't it worked?
Rothstein:
There haven't been too many teams that have single-covered Johnson -- at least not for extended periods of the game. The closest would have been against Arizona in Week 2, but the Cardinals have
Patrick Peterson
and Johnson had six catches for 116 yards and a touchdown against him. Really, the only thing that has slowed Johnson this season was a knee issue that kept him out of the loss to Green Bay and limited him against Cleveland a week later. Not surprisingly, Johnson still draws a ton of attention with a safety rolling to him over the top.
What that has done is opened up the offense underneath for
Reggie Bush
and, to an extent,
Joique Bell
. When both are healthy and playing well, the Lions have had a pretty strong offensive threat from deep threats to short bursts. How does Dallas plan on dealing with that, especially considering
DeMarcus Ware
's questionable status?
Archer:
Running backs and tight ends have hurt the Cowboys in the passing game this year. The safeties have been only OK but are coming off a pretty good game at Philadelphia against
LeSean McCoy
, who's as shifty or more than Bush. The Cowboys had their best tackling game last season against the Eagles.
Sean Lee
and
Bruce Carter
have played better here lately and will be largely responsible for the backs, but safeties
Barry Church
and
J.J. Wilcox
will be a presence too. Losing Ware would be a big blow to a defense that has to get pressure on
Matthew Stafford
. The Cowboys have been rolling in new guys pretty much every week across the defensive line, and added Marvin Austin this week to help at tackle.
Speaking about the defensive line allows me to talk about Rod Marinelli. He has been nothing but great here with those no-name guys, but what's the feeling of him up there considering that 0-16 season?
Rothstein:
That was before my time -- I was still covering the Charlie Weis Notre Dame years when Marinelli was in Detroit -- but I can say I have not heard anything about that season in my short time here and most of the current team arrived in 2009 or later.
But the 0-16 season contributes to the typical angst the Lions fan base has over any success the team has -- as in waiting for the bottom to drop out. But most of this team is so new, there isn't much of that feeling. Plus, as injured receiver
Nate Burleson
said earlier this year, when you go to play in Detroit, you know there are going to be questions about losing streaks to be broken and demons to be exorcised.
Since we're chatting a little bit about defense,
Tony Romo
is being sacked on 6 percent of his attempts, so is Dallas' line doing a good job protecting him or are these more coverage sacks? What's going on with the protections?
Archer:
The line has improved a lot from recent years, especially in pass protection. They revamped their interior line with
Travis Frederick
, their first-round pick at center,
Ronald Leary
at left guard and
Brian Waters
, who did not play last season, at right guard. Tackles
Tyron Smith
and
Doug Free
are performing better than they did a year ago. Romo has taken a number of coverage sacks this year, and he's also elusive for a guy who does not appear to be the most athletic. He has terrific vision and a quick release that can bail him out of trouble. As strange as it sounds, I think Romo also has seen the value of taking a sack and not forcing a throw.
Let's stick with the quarterback play. Stafford is a Dallas kid, so we know his background. He likes to throw it around, but like Romo, his interceptions are down. Is he just being more careful with the ball or has the attack changed a little?
Rothstein:
Having Reggie Bush in the offense has allowed Stafford to throw the ball shorter more often and as an old coach I used to cover once said, "Short passes are happy passes." They are also more likely to be completed passes. Here's something to consider with Stafford as well. His numbers could be much better, but his receivers have dropped 6.9 percent of his passes. Hold on to even half those and he's completing around 65 percent of his passes this season. He also has gotten much better at throwing the ball away instead of forcing passes. That's been a big change. There is an accuracy component to it as well, but he isn't taking nearly as many downfield chances.
Speaking of semi-homecomings, you mentioned Carr earlier. Does this game mean more to him because he is coming home as he grew up and played his college ball in Michigan? And second thing on that, has Dallas changed a lot from last season or can a guy like
Kevin Ogletree
help this week?
Archer:
I'm sure it does but Carr will attempt to downplay it. He still carries that Grand Valley State/fifth-round pick chip on his shoulder even if the Cowboys gave him a $50 million deal last year as a free agent. He has done a terrific job here the past three weeks as we talked about earlier. Jason Garrett even went out of his way to praise Carr's work on special teams, so you can see the Flint in him hasn't left. As for the Ogletree angle, he had a hard enough time with the offense that I don't think he would help with the defense. The Cowboys have a completely different scheme from Rob Ryan's 3-4 to Monte Kiffin's 4-3. Ogletree will know some personnel, but the corners are playing a little different than they did a year ago so I don't think it will matter much.
I haven't asked about the Lions defense yet. Just by looking at the numbers they seem to be pretty good situationally: third down, red zone. Is that the wrong read here?
Rothstein:
The defense is kind of a little bit of everywhere. Great on third down over the first month of the season -- not as much over the past three weeks. Perhaps a corollary here is the defensive line not getting quite as much pressure on opposing quarterbacks the past three weeks as it did during the first month of the season. Red zone defense has been pretty good. Overall, it is a decent Lions defense.
DeAndre Levy
is having a Pro Bowl-caliber season at linebacker and the defensive line and safeties have been good. Cornerback has been a bit up-and-down, though.
My final question to you sticks with this theme. We touched on the Dallas offensive line earlier, but how do the Cowboys deal with
Ndamukong Suh
? He is a guy who can change games on his own.
Archer:
This is part of the reason why the Cowboys wanted Frederick, Waters and Leary. They're stout players. The Cowboys have not had much power in the middle and it has hurt the running game as well as pass protection. Suh, obviously, offers a different challenge. Waters has the strength necessary but he does not move like he did a few years ago. The Cowboys will give him some help but not all the time. And I think Romo can help out the line as well by getting rid of the ball quickly. The Cowboys only take a handful of downfield shots a game, relying mostly on underneath stuff to work their way down the field.
The Lions are 4-3 like the Cowboys and this is a huge game for both when you start thinking about December and playoff chases. You touched on this earlier, but is the town ready to get behind the Lions, especially because the Tigers aren't in the World Series and it's still early in the Red Wings' season?
Rothstein:
I think there is some of that, for sure, and I think there is the hope among the fan base that this year's Lions team is for real. But as I mentioned earlier, there is going to be that sense of dread -- which is why a win for Detroit on Sunday would really go a long way to bolster that fan base confidence. And probably to maintain the confidence in the locker room as well.
.