Detroit Lions:

Brandon Hepburn
September, 22, 2014
Sep 22
1:45
PM ET
ALLEN PARK, Mich. --
Stephen Tulloch
was hopeful Sunday afternoon, even if the early evidence showed otherwise.
Tulloch injured his left knee celebrating a sack of
Aaron Rodgers
, a player he has faced multiple times in his career and has a tremendous amount of respect for. In doing so, he'll watch the rest of the
Detroit Lions
' season from the sidelines after
injuring the ACL in his left knee
.
It'll be the first time Tulloch will miss games in his NFL career and for him, for the Lions, the injury couldn't have come at a worse time. Detroit's defense was starting to show signs of being a really strong unit this season with Tulloch in the middle backing up the defensive line.
The way new Lions defensive coordinator Teryl Austin was scheming, too, fit Tulloch's game so well. In three games, Tulloch already had two sacks -- inching closer to his career-high of 3.5 set last season. He was able to blitz more than he had in the past and was provided with open rush lanes because of Detroit's defensive front.
He was a major asset next to emerging star
DeAndre Levy
at linebacker, a consistent player who never got hurt and had five straight seasons of 110-plus tackles in the middle of the Tennessee and Detroit defenses.
Now, with one celebration, his 131-games played streak is over. His 100-plus tackles streak is over. And the Lions have a massive hole to fill in the middle of their defense, a defense that has already had to deal with season-ending injuries to two cornerbacks.
Tulloch can't even know how his body will respond to this because he hasn't been injured on the professional level before. He doesn't know what it is like to watch from the sidelines -- something he was frustrated with even after Detroit's win Sunday.
This is going to be an adjustment for him.
It'll be a shift for the Lions, too.
Detroit coach Jim Caldwell didn't indicate how the team will replace Tulloch in the middle, but the immediate option would seem to be sliding Levy over to the middle to handle setting the defense, something he did after Tulloch's injury Sunday.
Levy is exemplary in his preparation each week, so making that shift shouldn't be a huge deal for him, but it will take some getting used to. Theoretically, though, it might take some coverage responsibilities away from Levy if they made the move. That could be problematic for the Lions because Levy is one of the best coverage linebackers in the NFL -- proven again Sunday when he broke up a fourth-down pass in the end zone while covering Green Bay receiver
Jordy Nelson
.
Another option would be
Tahir Whitehead
, who backed up Tulloch intermittently during the preseason and spring workouts. Moving him to the middle would allow Levy to stay where he might fit the defense the best and it still keeps the Lions' top two available linebackers on the field.
Ashlee Palmer
would then likely slide into Whitehead's spot in Detroit's base 4-3 defense, at least until
Kyle Van Noy
returns from abdominal surgery.
The third option for the Lions is to try and sign a veteran linebacker off the street, although there aren't a ton of options available. Pat Angerer is a middle linebacker who has experience with Caldwell from their time in Indianapolis together and he was released from Atlanta during the preseason. Former Saints linebacker Jonathan Vilma is also a free agent.
Detroit recently signed linebacker Jerrell Harris to its practice squad and released Brandon Hepburn, who landed on Philadelphia's practice squad.
June, 17, 2014
Jun 17
1:00
PM ET
The offseason workouts have concluded and with players and coaches about six weeks away from the start of training camp, one last rest and individualized training period will commence.
After a month of workouts, though, there have been some players who have made cases for potential roster spots in the fall and others who did not help themselves nearly as much.
Just like the start of the spring workouts, here is a look at the Detroit defensive and special teams depth chart -- along with a post-minicamp guess at the 53-man roster that could end up being the Lions' team in the fall. Remember, a lot can change between now and then.
Changes from
our May defensive prediction
are in parentheses. The offensive roster prediction
lives here
.
DEFENSIVE END:
Starters:
Ezekiel Ansah
(open);
Jason Jones
(closed)
Backups (in projected depth-chart order for now):
Devin Taylor
,
Darryl Tapp
,
Larry Webster
,
George Johnson
,
Kalonji Kashama
.
Thoughts:
Ansah didn't practice this spring but he is a starter and should have a good year. Jones started to look healthier and will likely be pushed by Taylor throughout camp. Taylor may end up winning the job. Tapp is a good veteran and Webster is raw. Really raw.
Roster locks:
Ansah, Jones, Taylor. (no changes)
If picking the roster today, these guys would be on it:
Ansah, Jones, Taylor, Tapp, Webster. (Webster up from practice squad)
DEFENSIVE TACKLE:
Starters:
Ndamukong Suh
,
Nick Fairley
.
Backups:
C.J. Mosley,
Caraun Reid
,
Andre Fluellen
,
Xavier Proctor
, Jimmy Saddler-McQueen, Greg Hickman.
Thoughts:
The Lions cut a lot of marginal veteran weight here during the spring and really somewhat set their defensive tackle depth chart. Suh and Fairley, at least in the spring, look like they could be the dominant pairing the Lions wanted the past few seasons. Both Jones and Taylor can play inside, so that gives the Lions flexibility.
Roster locks:
Suh, Fairley, Mosley (no changes)
If picking the roster today, these guys would be on it:
Suh, Fairley, Mosley, Reid, Proctor (practice squad) (Add Proctor to practice squad)
LINEBACKER:
Starters:
DeAndre Levy
(weak side);
Stephen Tulloch
(middle);
Kyle Van Noy
(strong side)
Backups (in projected depth-chart order for now):
Ashlee Palmer
,
Tahir Whitehead
,
Travis Lewis
,
Julian Stanford
,
Cory Greenwood
,
Brandon Hepburn
,
Justin Jackson
.
Thoughts:
The starters are pretty set here with the two veterans and the rookie, Van Noy. Palmer will end up playing his way onto the team, but watch for Whitehead here. He is a potential candidate to push for playing time or at least be a stable backup in the middle. The last spot here could be between Stanford and Lewis for a mainly special-teams spot. In this version, I cut both Stanford and Lewis in favor of a sixth cornerback, but could easily see that changing by the time the next roster projection is done before camp.
Roster locks:
Levy, Tulloch, Van Noy (no changes)
If picking the roster today, these guys would be on it:
Levy, Tulloch, Van Noy, Palmer, Whitehead, Hepburn (practice squad). (Jackson off practice squad, Palmer to the 53-man roster).
CORNERBACK:
Starters
:
Darius Slay
,
Rashean Mathis
(
Chris Houston
off team).
Backups (in projected depth-chart order for now):
Bill Bentley
,
Cassius Vaughn
,
Chris Greenwood
,
Nevin Lawson
,
Jonte Green
,
Aaron Hester
,
Mohammed Seisay
.
Thoughts:
The release of Houston opens up this competition and a roster spot for another cornerback, potentially. Slay and Mathis are likely starters here with everyone else fighting for time and, other than Lawson, a roster spot. It'll be one of the toughest battles of camp. This was one of the toughest cuts I had to make.
Roster locks:
Slay, Mathis, Lawson. (Add Mathis, subtract Houston)
If picking the roster today, these guys would be on it:
Slay, Mathis, Bentley, Vaughn, Lawson, Greenwood, Seisay (practice squad). (Houston, Green off; Seisay on practice squad).
SAFETY:
Starters:
Glover Quin
,
James Ihedigbo
.
Backups (in projected depth-chart order for now):
Don Carey
, Isa Abdul-Quddus,
DeJon Gomes
,
Jerome Couplin
,
Gabe Lynn
.
Thoughts:
The Lions are good with their top three safeties in Quin, Ihedigbo and Carey. Carey can play both nickel and corner in an emergency, which makes him imminently valuable for the Lions. Abdul-Quddus and Gomes might be competing for one roster spot and that should be an intense battle throughout camp. Between these two was the last cut I made. Initially had both making the roster until the end.
Roster locks:
Quin, Ihedigbo, Carey. (no changes)
If picking the roster today, these guys would be on it:
Quin, Ihedigbo, Carey, Abdul-Quddus, Couplin (practice squad)
KICKER
:
Starter:
Nate Freese
Backup:
Giorgio Tavecchio
Thoughts:
Still Freese's job to lose, but this might be a tougher competition than anticipated. Tavecchio has the stronger leg and if he can add consistency, he'll win the gig. Otherwise, it's Freese's. Right now, it's a toss-up.
Roster locks:
None.
If picking the roster today, this guy would be on it:
Freese.
PUNTER:
Starter:
Sam Martin
Backups:
None.
Thoughts
: None. It's Martin.
Roster locks:
Martin.
If picking the roster today, this guy would be on it:
Martin.
LONG-SNAPPER:
Starter:
Don Muhlbach
.
Backups:
Jordan Thompson
.
Thoughts:
None. Barring injury, Muhlbach will be the team's long-snapper.
Roster locks
: Muhlbach.
If picking the roster today, this guy would be on it:
Muhlbach.
April, 18, 2014
Apr 18
12:00
PM ET
Over the past two weeks, we have taken a look at the past 10 first rounds from the
Detroit Lions
-- all of the drafts that had Martin Mayhew as either the team's general manager or assistant general manager.
This week, we're looking specifically at the Lions' drafts since 2009, when Mayhew has been in charge. This will be a look at the entire class, not just the first-round picks, which are the ones paid the most attention.
We'll take a peek at each of the drafts, what worked, what didn't and one pick that in retrospect we would change with Detroit. Hopefully, this can also give a window into the way Mayhew drafts and some of the decisions he has made in the past that could help influence the 2014 draft and beyond.
Past years:
2009
;
2010
;
2011
;
2012
Complete draft (pick number in parentheses):
Round 1 –
Ezekiel Ansah
, DE, BYU (5); Round 2 –
Darius Slay
, CB, Mississippi State (36); Round 3 –
Larry Warford
, G, Kentucky (65); Round 4 –
Devin Taylor
, DE, South Carolina (132); Round 5 –
Sam Martin
, P, Appalachian State (165); Round 6 –
Corey Fuller
, WR, Virginia Tech (171); Round 6 –
Theo Riddick
, RB, Notre Dame (199); Round 7 –
Michael Williams
, TE, Alabama (211); Round 7 –
Brandon Hepburn
, ILB, Florida A&M (245)
Picks left on the 2014 roster:
9 (Ansah, Slay, Warford, Taylor, Martin, Fuller, Riddick, Williams, Hepburn)
Picks left in the NFL at the end of the 2013 season:
9 (Ansah, Slay, Warford, Taylor, Martin, Fuller, Riddick, Williams, Hepburn)
[+] Enlarge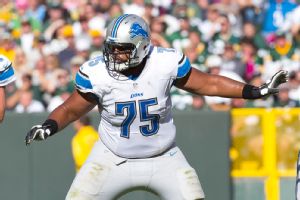 Jeff Hanisch/USA TODAY SportsLarry Warford didn't miss an offensive snap for the Lions as a rookie in 2013.
Best pick:
Warford. This is actually a tough selection because Detroit had a lot of good picks and a bunch of immediate starters and contributors out of this draft. Warford, though, ranks above the rest of the class. He played every snap last season as Detroit's right guard and already has established himself as a potential starter for the next decade for the Lions. He almost seamlessly fit in next to
Dominic Raiola
and worked well with his fellow rookie,
LaAdrian Waddle
, who ended up as the team's starting right tackle by the middle of the season.
That Ansah, who led rookies in sacks with eight, and Martin, who was one of the league's better young punters, didn't fit this spot tells you all you need to know about what was by far Mayhew's best draft.
Worst pick:
None, as of now. If there was an absolute pick here, it would probably be Williams. That wouldn't be fair to him, though, as he spent the season on injured reserve with a busted-up hand. But he was a seventh-round selection who wasn't expected to contribute much anyway in his rookie season and he could end up being a good tight end for Detroit down the road. They really didn't make any major mistakes with this draft.
Best value pick:
Martin. This was a somewhat questionable pick when the Lions made it in the fifth round, especially because teams usually don't spend draft picks on kickers and punters. But Martin won the job -- he was always going to win the job with that investment -- and had a strong rookie season. Considering the way kickers and punters last in the league, he could outlast every person currently in the organization with his tenure with the club if he continues to have good seasons. That's why he is the best value selection. If he continues to work out, Detroit will not have to worry about a punter for the next 12-15 years. That's not bad value at all.
One pick I'd change (other than the worst one):
This is kind of a nitpick, because this was a really good draft for the Lions, but in the sixth round, Detroit should have taken
Andre Ellington
over Corey Fuller -- especially because the team took Theo Riddick a few picks after Ellington went to Arizona. The Lions could have picked up that third/fourth running back need with a potential difference-maker in the backfield who could learn behind
Reggie Bush
for a year or two before potentially replacing him. But Fuller was a developmental receiver project who may still pan out with his speed.
Draft grade overall:
A. This was easily Detroit's best draft under Mayhew and essentially every major pick already has turned into a contributor. Even if Hepburn, Fuller and Williams don't end up working out, the Lions got six guys who played immediately and three starters out of the draft. They'd take that every year.
February, 5, 2014
Feb 5
7:00
PM ET
Recruiting has been deemed a completely inexact proposition seemingly forever. Guys who are highly rated don't pan out. Guys who were walk-ons turn into NFL players and, sometimes, stars.
So as teams across the country sign players Wednesday, here's a look back at where the
Detroit Lions
were ranked when they were high school seniors. For rankings from 2006 forward, the rankings used are ESPN's rankings. From 2002 to 2006, we used the Rivals.com rankings.
In some cases, no rankings were available. If something is not denoted as coming from another site, it is ESPN's ranking from that year.
What you'll see is most of Detroit's players were not highly rated players coming out of high school. Some had no ranking at all. Just goes to show how blue chip recruits in high school don't always turn into top-level college or NFL players.
This post covers the defense and special teams. This post from earlier
took care of the offense
.
Defensive linemen:
Linebackers:
Defensive backs:
Specialists:
January, 23, 2014
Jan 23
4:00
PM ET
He was high on the
Detroit Lions
' 2013 NFL draft from the start, grading the team as a B in the days following the draft.
Now, with a season of evidence, ESPN draft analyst Mel Kiper Jr. had an even higher opinion of how the Lions did.
He gave them an A.
Kiper particularly praised what we have also praised in this space all season long -- general manager
Martin Mayhew
and senior personnel executive Brian Xanders' ability to find talent in the later rounds of the draft and also after the draft with undrafted free agents.
It was in the undrafted free agent pool, where the Lions picked up starting right tackle
LaAdrian Waddle
and starting tight end
Joseph Fauria
, that really made Detroit's rookie class even more impressive.
To read Kiper's whole evaluation,
click the link here

.
To give a quick recap, here's a look at Detroit's rookies and where they fit in with Detroit last year.
First round -- Ziggy Ansah, DE: Starter. Led rookies in sacks with eight.
Second round -- Darius Slay, CB: Contributor. Showed promise toward the end of the season.
Third round -- Larry Warford, RG: Started every game this season. Was one of the top guards in the league and perhaps the steal of the draft.
Fourth round -- Devin Taylor, DE: Contributor. Played more and also had more consistency toward the end of the season.
Fifth round -- Sam Martin, P: Starter. Was in the top 10 for punters for most of the year. Could be with the team longer than anyone else in the locker room right now.
Sixth round -- Corey Fuller, WR: Practice squad all year.
Sixth round -- Theo Riddick, HB: Mostly a special-teams player, but turned into a reliable contributor there throughout the season.
Seventh round -- Michael Williams, TE: On injured reserve all season.
Seventh round -- Brandon Hepburn, LB: Practice squad all year.
Undrafted -- LaAdrian Waddle, RT: Starter by midseason. Tackle of the future for Detroit.
Undrafted -- Joseph Fauria, TE: Contributor/starter. Became a legitimate red zone threat and should see a bigger role in 2014.
January, 3, 2014
Jan 3
5:15
PM ET
The
Detroit Lions
added to their futures contract haul Friday, officially bringing in linebacker Brandon Hepburn on a reserve/futures contract.
Hepburn had been with Detroit all season on its practice squad. He was selected by the Lions in the seventh round of the 2013 draft out of Florida A&M.
He made two total tackles in the four preseason games he appeared in, but did not come off the practice squad all season.
The Lions have now signed their entire practice squad to futures contracts along with linebacker Jon Morgan and kickers
John Potter
and Giorgio Tavecchio.
September, 1, 2013
9/01/13
2:40
PM ET
The
Detroit Lions
have assembled
their full practice squad,
and all eight members are players the team waived Saturday.

They include three former draft choices: receiver
Corey Fuller
, cornerback Chris Greenwood and linebacker Brandon Hepburn. Also among the group: running back/kick returner Steven Miller, fullback
Shaun Chapas
, offensive lineman Rodney Austin, and defensive tackles
Jimmy Saddler-McQueen
and Xavier Proctor.
The two most prized possessions of that group are probably Greenwood and Miller.
The Lions couldn't justify a roster spot for Greenwood, who missed all of last season and a good portion of training camp this summer because of injuries, but he is as physically gifted as any defensive back on their roster. Miller, meanwhile, made a big push to win the returner job that presumably has gone to veteran newcomer
Micheal Spurlock
.
Note:
The Lions claimed
former
Washington Redskins
safety
DeJon Gomes
on waivers, according to multiple reports. That means a corresponding move will have to take place at some point Sunday to create a spot on the roster.
August, 31, 2013
8/31/13
6:28
PM ET

Most significant move:
There were no surprises for the
Detroit Lions
and, really, there were few big decisions. We noted earlier that the team decided to preserve a roster spot for No. 3 quarterback
Kellen Moore
, so the most significant move they did make was placing rookie tight end
Michael Williams
on injured reserve. The Lions had substantial plans for Williams this season as the third tight end in the jumbo package that lineman
Riley Reiff
filled last season. They also hoped to develop his receiving skills as veterans
Brandon Pettigrew
and
Tony Scheffler
enter contract years. Williams had surgery last week to repair a hand injury, and though coach Jim Schwartz said the team had no long-term injuries, Williams is in fact lost for the season. (NFL teams can't start placing players on short-term injured reserve until next week.) As a result, rookie
Joseph Fauria
-- a much better receiver but less of a blocker than Williams -- is on the 53-man roster with Pettigrew and Scheffler.
The dominoes:
The Lions apparently chose veteran Michael Spurlock as their kick returner, necessitating the release of rookie
Steven Miller
, who could return on the practice squad. Spurlock is also a receiver, and for the now he is one of six on the roster, presumably because of
Ryan Broyles
' sore knees. The release of veteran
Matt Willis
means
Kris Durham
is the sixth receiver. You wonder if the Lions would change directions soon in that regard. The Lions sifted through their big group of veteran defensive backups by tapping
Rashean Mathis
as a swing cornerback/safety and
Rocky McIntosh
as a backup linebacker while releasing the rest.
John Wendling
and
Don Carey
are the backup safeties for now.
What's next:
According to multiple reports,
the Lions will place running back
Montell Owens
on short-term injured reserve. That can't happen until next week, so for now he is part of the 53-man roster. He must miss at least six weeks of the regular season. You would think the Lions will bring back a number of the players they cut Saturday for their practice squad, and it's worth remembering that they are No. 5 in priority for NFL waiver claims. Sunday could be a busy day.
List of players cut:
WR:
Corey Fuller
, Matt Willis. RB: Steven Miller,
Shaun Chapas
. OL:
Rodney Austin
,
Kevin Haslam
,
Darren Keyton
,
Jake Scott
. DL:
Andre Fluellen
,
Ogemdi Nwagbuo
,
Xavier Proctor
, Jimmy Sadler-McQueen. LB:
Brandon Hepburn
,
Jon Morgan
(waived/injured)
Chris White
. CB:
Ron Bartell
,
Chris Greenwood
. S:
Amari Spievey
,
Tyrell Johnson
,
Martavius Neloms
(waived/injured) P:
Blake Clingan
.