Detroit Lions:

Brandon Weeden
October, 16, 2013
Oct 16
5:55
PM ET
ALLEN PARK, Mich. -- For the first time in his litany of incidents in the NFL throughout his four-year career,
Ndamukong Suh
might have a case for being fined egregiously.
The NFL
reportedly fined the Detroit Lions defensive tackle $31,500
for a hit on Cleveland quarterback
Brandon Weeden
on Sunday. Suh hit Weeden on two separate occasions, but neither one was flagged and neither one seemed all too bad.
[+] Enlarge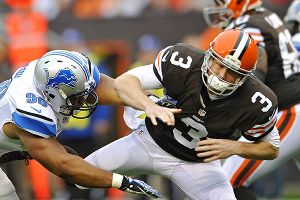 AP Photo/David RichardNdamukong Suh was fined $31,500 for this hit on Browns QB Brandon Weeden, which did not draw a flag in Sunday's game.
Perhaps that's just in comparison to other plays Suh has been fined for in his career, which include a suspension for stomping on a player, blocking another at the knees and a kick to the groin.
However both plays Sunday looked fairly clean live. Yes, this is why the NFL goes over plays after the fact, to find illegal things that may not have been called, but this is the first time one of Suh's fines seem questionable. And a screen stop of the play shows Suh's helmet going into the chest of Weeden on an incomplete pass to
Davone Bess
in the first quarter.
But the question there is where was he supposed to go? The game moves fast. The hit clearly came in the pace of play. In this particular instance -- and let me stress this instance only -- he may not have been trying to hit Weeden with his helmet.
And again, he wasn't flagged for it.
Part of Suh's problem here is he is a repeat offender and his fines escalate over time so that likely goes into the large figure.
Suh said Wednesday he always feels like he is under a microscope. This might be an example of him being overly scrutinized.
He brings some of that scrutiny on himself with his play. Some of it is probably unwarranted. But as he said Wednesday, life isn't always fair. And it's not. It probably explains how Suh deals with these things.
He seems to shrug them off, like he did publicly when asked about losing the appeal on his $100,000 fine from Week 1. He just kind of moves on to the next week and the next play and, apparently, the next inevitable play that will be monitored by the NFL.
One thing Suh hasn't done, though, is think about leaving the game because of the attention, even though he said recently that once he's done with football he'd probably move out to the woods somewhere.
"I have a very strong group of people around me that take care of me and understand," Suh said. "I think you just roll with the punches. Not everything is going to go your way in life.
"I understood that, grew up that way. It's just like, for me, I wanted a Nintendo 64 when I was little. My mom said no."
To be fair, up to this point the NFL has not been overly heavy-handed with Suh this season. He was not fined for what appeared to be an inadvertent elbow to the head of Arizona offensive lineman
Eric Winston
.
But the message is clear. This is the price of being Ndamukong Suh lately. For every questionable hit he delivers, he might also take an ever-increasing hit to his bank account.
October, 16, 2013
Oct 16
1:00
PM ET
Each week, we'll look at who or what might be rising or falling with the
Detroit Lions
.
STOCK UP:
[+] Enlarge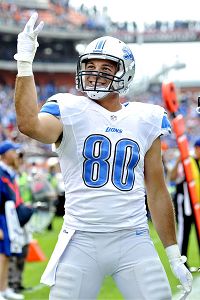 AP Photo/David RichardJoseph Fauria was targeted three times and caught three touchdown passes against Cleveland.
TE Joseph Fauria:
The rookie caught three touchdowns Sunday against Cleveland in his most extended action of the season. He remains primarily a red zone target, but with the concussion to tight end
Tony Scheffler
, he'll likely see even more opportunities as the weeks progress. At the very least, though, he's shown that he is someone who can make plays in the end zone -- and that's just with his array of dances.
WR Kris Durham:
The third-year receiver from Georgia caught a career-high eight catches for 83 yards -- the second straight game where he was a heavily targeted receiver in the Lions' offense. He and Fauria have been the biggest beneficiaries to the injuries to receivers
Calvin Johnson
and
Nate Burleson
. For Durham, though, it is an even bigger bump because he has likely shown enough to the Detroit coaches that he'll continue to have a role in the offense once Johnson returns to full health and Burleson comes back from his pizza-related broken forearm.
CB Darius Slay:
His time on the bench might have helped. Slay played better on Sunday than he had when he was a starter the first two games of the season before being replaced by veteran
Rashean Mathis
. Mathis still has the starting job, but Slay looked much more capable against the Browns than he has in his prior appearances on the field. This bodes well for the rookie's future.
Coming from behind to win:
Detroit came from behind again to win a game this season -- not the first time the Lions have done that this year. But the way they did that, with a second half shutout of Cleveland combined with more precise movements from
Matthew Stafford
and adjusting to make sure
Reggie Bush
was part of the game plan was fairly important for the rest of the season.
STOCK DOWN:
WR Patrick Edwards:
He didn't catch a pass Sunday against Cleveland despite being targeted three times and was released the next day. The second-year receiver looked like he would be a potential playmaker in the preseason and has top-end speed, but never really put it together on the field. The Lions are keeping him around, though, as he was re-signed to the practice squad Wednesday morning.
RT Jason Fox:
Every week Fox misses gives
Corey Hilliard
, the man he beat out in the preseason for the starting job, more of a chance to solidify the position. For the most part, the Lions' offensive line has done a good job keeping Matthew Stafford upright and functional as a quarterback. It'll be interesting to see what happens if and when Fox becomes healthy again.
WR Ryan Broyles:
The second-year Oklahoma graduate just isn't getting the looks in the offense right now. As Justin Rogers
from MLive wrote
, he isn't running a ton of different routes and Stafford isn't looking his way for whatever reason. A large part of it could be game plan and strategy, but Broyles isn't getting the opportunities to make plays even as his snap count increases. So not all his fault if he isn't getting targeted.
The Lions' front four:
This is a nitpick here because they have been good for so much of the season, but they allowed
Brandon Weeden
a ton of time in the pocket and for a half struggled somewhat in run defense. Again, this is a small nit to pick considering how dominant the Lions have been up front, but something to keep an eye on considering Cincinnati's offensive line is pretty good.
October, 13, 2013
Oct 13
6:45
PM ET
CLEVELAND -- Cleveland quarterback
Brandon Weeden
appeared to have all day. Legitimately, second-upon-second to dissect the Detroit defense during the first half and find open receivers working against cornerbacks.
Considering the efficiency of the Lions front four in the past and how good they had been at both pressuring quarterbacks and also stuffing runs when necessary, this became surprising. The slowest quarterback in the NFL, with the longest time before pass in the league entering the game, got all of the time necessary to make the reads.
[+] Enlarge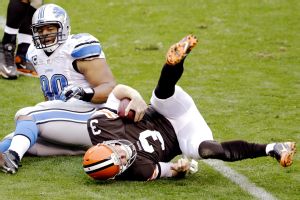 AP Photo/Tony DejakNdamukong Suh and the Lions got to Cleveland quarterback Brandon Weeden in the second half.
Meanwhile, Cleveland was able to run the ball well with
Willis McGahee
and gave Weeden the appropriate time -- he even had a rare scramble Sunday -- while Detroit couldn't gain pressure.
"We ran the ball extremely well in the first half," Weeden said. "That opened up a lot of things, play action, in the passing game. The guys up front, I thought, played extremely well.
"That's a talented front four, they are deep, they rotate guys in that are also really good."
Cleveland doubled defensive tackle
Ndamukong Suh
often during the first half, leaving it up to the rest of the Lions' defensive line to make plays. It didn't always go well.
The Browns hit their season-high rushing for a game in the first half when they gained 115 yards. Much of the yardage came on a 45-yard run by receiver
Travis Benjamin
, but there were holes to be had.
"Things were coming out a little bit faster and they were doubling, chipping, stuff like that," defensive end
Willie Young
said. "Stuff that we get on the normal. Just have to continue to keep pushing and keep moving forward. Even when they are getting rid of the ball fast, doubling."
In the second half, the Lions front four did. They pressured Weeden more, eventually hitting him five times and pressuring Weeden into throwing two interceptions to linebacker
DeAndre Levy
. They also sacked him twice and shut off the Cleveland running game.
The Browns rushed for 11 yards in the second half.
"Oh yeah. We made them one-dimensional," Young said. "We took them out of the run game and couldn't help but to pass and that allowed us to be a little more precise on our rush."
The rush also looked more like the Lions front four typically had looked most of the season, when they used their depth and rotation to help turn the game.
October, 13, 2013
Oct 13
2:45
PM ET
CLEVELAND -- This was not a pretty half for the
Detroit Lions
. Not at all. Here are three quick thoughts on what has been going on.

1. Front four struggling badly:
Cleveland quarterback
Brandon Weeden
is slow. He takes forever to throw the ball. And he's getting enough time that if he wanted to, he could dig up some dirt, plant some seeds for flowers and potentially watch them grow before finding an open receiver. The Lions have been really good at getting pressure with their front four in every game this season, even against Green Bay last week, but they have basically let Weeden go untouched most of the day. The Browns also have a season-high 115 yards rushing ... and it's the first half.
2. Calvin Johnson isn't 100 percent and the other Lions receivers aren't helping:
Johnson has two drops in the first half, which is very uncharacteristic for him, and has not been on the field for his typical amount of plays. The other Detroit receivers, meanwhile, can't catch the ball. Sure, some of them are high on the degree of difficulty scale -- including a diving one for
Patrick Edwards
-- but quarterback
Matthew Stafford
is hitting his receivers in the hands a lot of times and they just aren't holding on to the ball. It's not a good look for a team still without a healthy Johnson.
3. Why not more Reggie?
Reggie Bush
has been used fairly infrequently in the offense so far. He has not been thrown to at all and has seven carries for 14 yards. The lack of carries kind of makes sense because Cleveland is doing a good job up front, but being unable to get him involved in the passing game is surprising.
October, 12, 2013
Oct 12
12:00
PM ET
The last time the Detroit Lions traveled to Cleveland, the game didn't count. It was preseason and most of the guys on the current roster barely played in Ohio that night.
One who did, Detroit running back
Joique Bell
, made a different sort of impact.
Bell leveled a streaker in the game, something that received a lot of attention at the time. When approached about it this week, Bell initially said he didn't remember taking out the streaker.
Then, when he was asked if he was lying about not remembering it, he laughed.
"Yeah," Bell said. "Nah, we're not focused on that. They have a picture, never mind, nobody's brought that up."
Streaking aside, here are four keys for Detroit to beat Cleveland on Sunday.
[+] Enlarge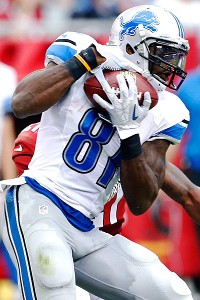 AP Photo/Darryl WebbThe Lions need Calvin Johnson on the field if only to create opportunities for their other playmakers on offense.
Calvin Johnson's health:
This won't truly be determined until a couple of hours before Sunday's game, but the Lions need some form of Johnson on the field against the Browns. The chances of him being fully healthy are minimal -- he probably won't get completely there until the bye week at the end of the month -- but at whatever level Johnson can go at, the Lions need him.
He opens up everything else for Detroit, even if he is only able to run a limited selection of routes. His presence, healthy or not, will force Cleveland to at least shade a safety over toward his side. In doing so, it will open up the running game for
Reggie Bush
and Bell and open up the opposite side of the field for tight ends and receivers to work. It might not be everything for Detroit, but it certainly is a help. Johnson on the field could also help...
Keeping Matthew Stafford upright:
The Lions' offensive line had done a good job protecting Stafford until last week, when Green Bay sacked him five times. Stafford held the ball longer and had more time until release than he did in any game this year. Part of that goes to Johnson's health, but they have to be able to give him enough time to make his progressive reads, especially if Johnson isn't in the game. The fifth-year pro has done a good job finding the open man and putting the ball in good spots when the line gave him some time to read what was going on, but they need a rebound performance against a tough Browns front.
Hit Brandon Weeden early:
Detroit rarely blitzes -- they send five or more pass-rushers on just 16.4 percent of dropbacks -- and are still able to cause issues for quarterbacks. Weeden is not a fast quarterback; has an average time before the pass of 4.34 seconds on a play. In the NFL, that's an eternity. For Detroit's defensive line, that's a reason to be very, very excited about what could happen Sunday. It is unlikely the Lions' front four will allow Weeden anywhere close to that time. If they can force him into poor decisions, that could mean big plays for the back seven in terms of interceptions and pass break-ups.
Limit Travis Benjamin's chances:
The Browns have the second-best punt return average in the league and a lot of that has to do with Benjamin, who is averaging 15.1 yards a return. That's second among regular returners only to
Tandon Doss
' 16.7 yards a return. So as effective as Lions punter
Sam Martin
and his coverage team was against Chicago and
Devin Hester
two weeks ago, they need to continue being effective there this Sunday. Benjamin already has a punt return touchdown this season and could be a game-changer. Martin has to be smart on his targets and his ball placement Sunday.
Or, as Detroit coach Jim Schwartz said, Benjamin is "super fast."
October, 10, 2013
Oct 10
12:00
PM ET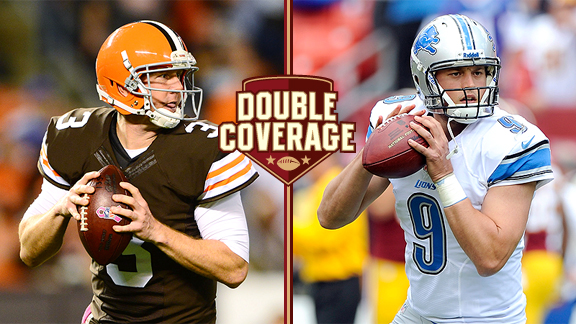 USA Today Sports, Getty ImagesBrandon Weeden returns to his starting role, while Matthew Stafford hopes to have Calvin Johnson to throw to on Sunday.
Cleveland is breaking in its old new quarterback for a second go-round this season in
Brandon Weeden
. Detroit is hoping its offensive catalyst,
Calvin Johnson
, can return after only the fifth missed game of his career.
So on Sunday, there will be two teams that have surprised some opponents this season, hoping for either a continuation of that play or to have the player who contributed to that success return.
All of that starts, though, with Cleveland's quarterback situation as ESPN
Cleveland Browns
reporter Pat McManamon and ESPN
Detroit Lions
reporter Michael Rothstein break down the key issues to Sunday's game.
The obvious place to start with Cleveland is the quarterback situation. Brian Hoyer looked good. Now he's hurt. Can Brandon Weeden recover from the benching to be a capable quarterback at this point?
McManamon
: Yes, it is the obvious place to start. And with the Browns it might be the only place to continue. Weeden struggled in two games but had his moments in relief of Brian Hoyer in his third. If Weeden learned anything from watching Hoyer it had to be to get rid of the ball on time and to not wait for a receiver to get open but throw to a spot. Hoyer showed he grasped that from
Tom Brady
, and it energized the Browns' offense. Weeden, though, tends to hold on to the ball too long -- thus his 16 sacks. If he holds on to the ball too long against Detroit's defensive front, he might be holding on to the bench before the game ends.
Mike, what is the latest with Calvin Johnson? Will he play? If he does, will the injury that kept him out of this past Sunday's game affect him this coming Sunday? And if he doesn't play can the Lions find some offense elsewhere?
Rothstein
: Johnson said he was close to playing Sunday against Green Bay, so another week of rest should be enough to get him on the field against Cleveland. The Lions better hope that's true as well, because the offense was barely able to move without the NFL's top wide receiver. Detroit coach Jim Schwartz said he wouldn't use Johnson as a decoy and I can respect that decision, because if you put him out there and someone hits the knee, then you might lose him for a longer period of time. If for some reason he doesn't play, Detroit has to figure out a way to keep teams from stacking too much on
Reggie Bush
, the Lions' other dynamic playmaker.
Working under the assumption both Johnson and Bush play, how does Cleveland go about stopping that? When those two are healthy, that's when opponents have been flustered this season.
McManamon
: The easy answer is say "duck and cover." But that won't please the home fans. The approach is first based on
Joe Haden
. The Browns want him to be an elite corner. He generally will stay with a receiver as talented as Johnson. Haden has excellent coverage skills and tremendous closing speed. But Johnson is pretty special, so if Haden does to him what he did to
A.J. Green
it will be significant. The second element is pressure. The Browns' defense is based on getting up the field, pressuring and disrupting the quarterback. They feel that is the key to any defense.
Speaking of pressure, Weeden has a bad habit of holding on to the ball too long. He's been sacked 16 times in just less than three games. What does that mean against this defensive front?
Rothstein
: Not good things, Pat. Not good things. If Weeden can't figure out a way to get rid of the ball quickly and with accuracy, Detroit's front four will likely decimate Cleveland's offense.
Ndamukong Suh
commands double-teams by himself and that opens up
Nick Fairley
on the inside and ends
Willie Young
and Ziggy Ansah to make plays off the edge. They have been really good in pressure in every game this season except against Green Bay, and a lot of that had to do with
Aaron Rodgers
and a good offensive line. Weeden isn't in the same galaxy as Rodgers, so if he can't significantly improve his time in the pocket and release time, he could be doing a lot of running.
With Weeden, Pat, I'll ask you this: Is this Cleveland team really getting it done with a lot of smoke and mirrors that will eventually get exposed or is it still a potential contender here? Or is that still too early to tell in the Weeden reign, Part Deux?
McManamon
: Would that be Part Deux or Part Doo? Because Part Uno was ugly. Weeden and the Browns scored one touchdown in two games, and he was sacked 11 times. When Hoyer played, the Browns utilized the short passing game. Snap, drop, throw. He was efficient. Weeden isn't that kind of player, so it seems like Norv Turner junks the short throws and relies on intermediate-to-long routes, increasing the likelihood of a sack, especially against a team like the Lions that can pressure with the defensive front. Weeden was asked at one point what he learned from watching Hoyer. His answer: To get rid of the ball. We'll see.
Mike, the Lions chose Ziggy Ansah one pick ahead of the Browns taking Barkevious Mingo. So far, the Browns are happy with Mingo's play and reckless abandon getting after people. Are the Lions just as happy with Ansah?
Rothstein
: They are. He's provided a strong complement to Suh and Fairley and Young -- some of his production, of course, comes from defenses focusing on those three guys. But he has 3.5 sacks in his first five games, leading Mingo by a half-sack among rookies. He's also tied for the lead among rookies with two forced fumbles. He has been a disruptive force who is still learning the game. The Lions have to be happy with what they are getting from him so early in his career.
.