Detroit Lions:

Bruce Arians
September, 12, 2013
9/12/13
5:34
PM ET
ALLEN PARK, Mich. -- They lined up against each other in the Arizona air and didn't say much. In one of the premier individual matchups in the NFL last season -- one commencing again this Sunday -- both players were gassed.
"Shoot, we weren't really talking a lot,"
Calvin Johnson
said. "Because there was a lot of running going on. A lot of heavy breathing."
This type of matchup is one Johnson, often considered the best receiver in the game, craves. A year ago, he put up big numbers against
Patrick Peterson
, catching 10 passes for 121 yards, but Arizona beat Detroit, 38-10.
Johnson
Peterson
Those 10 catches, though, came on 17 targets. That's part of the danger of going against Peterson, who had an interception against Detroit last year. Even if a receiver puts up numbers, it'll likely take a lot to reach it.
Peterson is one of the few cornerbacks in the league who won't need help on a play-by-play basis on Johnson. There will be times, despite what last year's statistics say, where Peterson will be able to stay with him.
Not many others can say that. Then again, not every corner is considered the best in the NFL. That's how Arizona coach Bruce Arians views Peterson. Alone against each other they will go.
"You have to have a lot of confidence in him," Arians said. "They're two great athletes. Calvin is special and so is Patrick. We're going to put him in that situation.
"You can't always single-cover the guy, but you have to be able to mix-and-match it."
Peterson is able to single-cover Johnson at times because of his size -- 6-foot-1, 219 pounds -- along with his speed and his coverage skills. Johnson explained Peterson often tries to use his size to press receivers and he has the speed to catch up to a receiver if he doesn't jam him on the line.
It is a challenge Johnson likes.
"It brings out the best in competitors," Johnson said. "When you get to go against the best, you know.
"Especially when you get one-on-one coverage. I view it as an opportunity."
Last season gave him some idea of how Peterson might approach him. He also figures to potentially see more single coverage Sunday than he will in many other games this season.
Not that Johnson's teammates are worried about it.
"I'm not really concerned about Calvin going against Pat," Detroit receiver
Nate Burleson
said. "Pat is a really, really good cornerback. He's one of the best in the league.
"But I think Calvin is the best in the world. Period. When Calvin gets an opportunity against Pat, you know I've got faith in Calvin."
Much like Arizona has similar confidence in Peterson.
Johnson seems excited about the matchup. The way Peterson defends impressed him enough he joked he almost plays like a receiver. The Cardinals have a 60-play package for Peterson on offense along with his defensive and special teams responsibilities.
Arians said Peterson's defensive responsibilities often dictate how much offense he'll play.
"He's a guy that, when you have a playmaker like that, you want to put the ball in his hands," Detroit coach Jim Schwartz said. "We've just got to be alert any time 21 comes on the field. We have to do our jobs and make sure he doesn't make a big play in the game."
On offense. Or on defense. Or on special teams.
Of course, Peterson won't face a receiver like Johnson every week. So perhaps Arizona will keep him on defense so he can stay fresh against one of the best receivers in the game.
Either way, it's a matchup even Johnson's teammates want to see.
"I'm looking forward to it, too, man," Burleson said. "I like seeing some of the best going up against the best. I got Calvin's back.
"I'm not a gambling man, but if I was, I'd put my money on Megatron."
September, 12, 2013
9/12/13
12:00
PM ET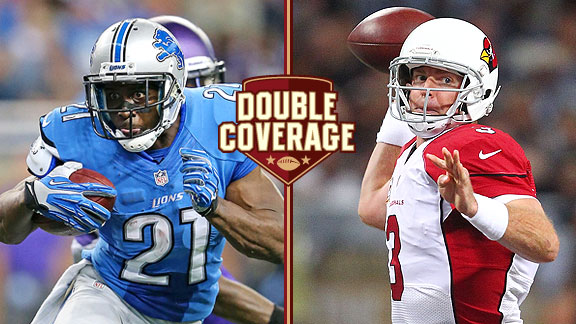 Getty ImagesReggie Bush and Carson Palmer have given their respective teams major upgrades on offense.
A lot has happened since the
Detroit Lions
' most recent trip to University of Phoenix Stadium, last December.
The
Arizona Cardinals
hired an entirely new coaching staff and enlisted a veteran quarterback to bolster the offense. The Lions, meanwhile, added a shifty new running back by the name of
Reggie Bush
. In last year's meeting, Detroit quarterback
Matthew Stafford
played poorly, and it allowed the Cardinals to break a nine-game losing streak.
My, how times have changed. The Lions are flying high off a season-opening victory against NFC North rival Minnesota, while the Cardinals are still trying to find their footing in 2013.
Cardinals reporter Josh Weinfuss and Lions reporter Michael Rothstein discuss Sunday's matchup.
Josh Weinfuss:
A lot has been made of offseason additions on both sides. How has the Lions' offense changed by adding Bush?
Michael Rothstein:
It has definitely become much more dynamic. You'll see a lot more screen passes and short passes to get Bush in space and allow him to create. The perfect example came on the 77-yard screen that went for a touchdown against the Vikings. Not sure the Lions had anyone with that kind of speed out of the backfield last season. Add to that Bush's ability to run between the tackles when he needs to, and it creates another dimension for defenses to be concerned about. No longer is it pay attention to
Calvin Johnson
and make Detroit's other pieces find a way to win. If teams do that, Bush will force them to abandon that strategy.
Sticking with offense, has the addition of
Carson Palmer
aided the passing game for both
Larry Fitzgerald
and
Michael Floyd
?
Josh Weinfuss:
Without a doubt. Palmer has brought not only stability to a position that's been a hurricane in the three seasons since Kurt Warner retired, but also talent. The proof of that came Sunday when Palmer and Fitzgerald connected for two touchdowns -- one on a 4-yard fade to the back left corner, the other on a 25-yard beauty that dropped into Fitzgerald's hands. Last season, Cardinals quarterbacks targeted Fitzgerald nine times in the red zone and didn't complete any. Palmer is already 2-for-3 in the red zone to Fitzgerald. Floyd also will benefit from Palmer's accuracy. With Floyd being a larger target than Fitzgerald, Palmer can get a little more creative with where he throws the ball, an issue all four Arizona quarterbacks had last season.
Let's switch sides of the ball. After his incident against the Vikings, is Lions defensive tackle
Ndamukong Suh
becoming a distraction already this season?
Michael Rothstein:
Distraction? No. The reason I say that is most people around the Lions have been around this situation before with Suh. If his teammates are telling the truth and indeed accepted his apology, it should be a nonissue for most in the locker room -- for now. Where it becomes a problem, perhaps, is if Suh does something like this again. It should become a distraction or an issue only if he were to be suspended in the future.
Since you asked about Suh, how does Arizona's offensive line deal with him,
Nick Fairley
and the rest of Detroit's deep, talented defensive line?
Josh Weinfuss:
This is a different situation from Week 1, when the Cardinals focused on stopping two very strong outside rushers. With Suh and Fairley coming up the gut, Arizona will have to rely on its guards and center more -- which could be an issue, considering that right guard
Paul Fanaika
played in his first game in almost two years Sunday. Don't expect the Cardinals to overload the box with blockers. Palmer said he'd rather have less time to throw and more options downfield, but the Cardinals more than likely will keep a running back home to pick up that inside rush and a tight end on the outside to allow the tackle to cheat over and help the guard.
Speaking of the offense, has any team figured out how to slow down Johnson, because stopping him is unlikely -- and if anyone has slowed the stud receiver, how'd they do it?
Michael Rothstein:
Kind of, Josh. Kind of. Johnson had four catches for 37 yards against Minnesota on Sunday. While he was targeted nine times -- and missed two touchdowns by not much -- the addition of Bush to the Lions' offense has taken some pressure off Johnson. When Minnesota chose to try to take away Johnson, Detroit focused on letting Bush operate. While I don't think teams will ever take Johnson out of the game while he is in his prime, it wouldn't shock me if he has some games in which Detroit looks to Bush more instead of always featuring Johnson. That, of course, just makes the Lions' offense much more difficult to stop.
I'll wrap it up with a question to you. How much is
Patrick Peterson
going to be involved in the offense? And can he be a true two-way player, be it this week or beyond?
Josh Weinfuss:
Ideally, Peterson would play a prominent role in the offense. And the Cardinals have planned for that, installing a package specifically for him that was, at last check, 60 plays deep. They want him out there, so much so that on cut day, coach Bruce Arians said Peterson would be considered the Cardinals' fifth receiver. But with all the hype, he played only three offensive snaps. Granted, Peterson's involvement will always be dictated by the situation, but I think a lot of people were expecting more in Week 1. As to your second question, that's tough to answer. Peterson is already playing nearly every down on defense and is the Cards' primary punt returner. He's young -- 23 in July -- so his body can handle it, but I don't know whether there's anyone these days getting significant time in all three facets. He's more likely to get hurt on offense, but if he can make an impact on defense, special teams and offense, you're looking at a potential MVP.
September, 11, 2013
9/11/13
7:45
PM ET
ALLEN PARK, Mich. --
Arizona Cardinals
coach Bruce Arians and quarterback
Carson Palmer
spoke with the Detroit media Wednesday ahead of Sunday's visit from the Lions.


Here, in friendly bullet points, are the highlights of what they said:
BRUCE ARIANS
CARSON PALMER
He and Larry Fitzgerald worked out as much as they could, including for "a handful of days" in July when they were off.
Palmer on Bush, who also went to USC: "I loved it. I remember watching his highlight film when I was in college. They were excited about the guy they were getting, and I was watching his San Diego high school football film saying 'Wow, this kid is something special.' You could tell back then what he was going to be in college. Just a phenomenal college career, obviously."
Palmer said Peterson would be a factor in the offense. Couldn't say how many plays, but he will factor in.