Detroit Lions:

C.J. Fiedorowicz
May, 1, 2014
May 1
12:00
PM ET
The NFL draft is less than two weeks away, which means soon enough the
Detroit Lions
will have to reveal whether all of their
Sammy Watkins
attention and visits from
Jadeveon Clowney
and
Khalil Mack
had substance or were designed to throw everyone off.
But the draft will be more than just one round for the Lions, who will need to use the three days in May to build depth on a roster that is big on stars but small on players beyond the big names who can turn the Lions into a playoff team.
Every day up until the first day of the draft, we'll look at a different position grouping and see what Detroit has and what the team could end up looking for during the 2014 draft.
[+] Enlarge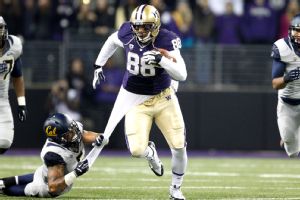 Joe Nicholson/USA TODAY SportsWashington tight end Austin Seferian-Jenkins could be an option for the Lions in the second round.
Today continues with tight ends.
Previous position groups:
Quarterbacks
;
Running backs
;
Wide receivers
Players Lost:
Dorin Dickerson
(free agent)
Players Signed:
Brandon Pettigrew
(re-signed);
Jordan Thompson
(free agent, also a long snapper).
Players on the roster:
Pettigrew;
Joseph Fauria
;
Michael Williams
;
Matt Veldman
; Thompson.
Draft priority:
Medium-to-high
Potential Rounds:
1-4
Players who have visited or met with the Lions:
Austin Seferian-Jenkins
, Washington;
Eric Ebron
, North Carolina;
C.J. Fiedorowicz
, Iowa.
Analysis:
This is an interesting position for Detroit, mostly because the team re-signed Brandon Pettigrew in March. If the Lions had gone away from doing that, it would be pretty simple to forecast a tight end being drafted at No. 10 (likely Ebron) or with the second-round pick, which could be a multitude of different options.
By bringing back Pettigrew, it lessened the need for the position somewhat since there is now the dual-threat tight end (Pettigrew) and the red-zone threat tight end (Fauria) on the roster. Michael Williams, who was on injured reserve last season, is more of a blocker.
What the Lions do with this position next week will depend on what offensive coordinator Joe Lombardi believes he will need in the short term and down the road. Remember, he is used to working -- not as a coordinator, but as an offensive philosophy -- with
Jimmy Graham
, the game's top tight end at the moment.
And as the importance of a featured running back has disappeared across the NFL the past few years, the premium on a tight end as a matchup conundrum for defensive coordinators has raised significantly.
This leaves an interesting question for Detroit. If Ebron is there at No. 10 -- and it isn't a guarantee he will be, but it is definitely a possibility -- will the Lions take him hoping he can develop into Graham in a couple of years? If he does, what does that mean for the future of Fauria on the roster, as he would be the tight end most impacted by that pick unless he has increased his blocking ability significantly in the offseason.
If the Lions pass on Ebron, and they likely should unless they can't trade down and aren't enamored with Alabama safety
Ha Ha Clinton-Dix
or Pittsburgh defensive tackle
Aaron Donald
, then the second or third round should offer some strong possibilities for them.
Austin Seferian-Jenkins, perhaps more than Ebron, could end up being the star tight end of this class. He can block a bit, run routes, and has the basketball pedigree similar to stars Graham,
Antonio Gates
and Denver's
Julius Thomas
. He also has more football experience entering the league than those three, and could be the logical complement and eventual replacement for Pettigrew in two-to-three seasons.
If the Lions believe in Fauria's development, Fiedorowicz could be a third-round option, but he was less of a receiver and more of a blocker in college. He has insisted, though, he could do both.
An intriguing option in the second or third round would be Notre Dame's
Troy Niklas
. He could be a bit of a NFL project in that he has only played tight end for a couple of years, but he has great size, good hands and is already a capable blocker. As I wrote in February, he is potentially the last of a group of true dual-ability tight ends and could be drafted -- like Seferian-Jenkins -- as an eventual Pettigrew replacement.
Of all reasonable options, I'd take:
Seferian-Jenkins in the second round or Niklas either in a trade-up in the late second or hope he's there in Round 3. Those would be my two top targets at the position instead of Ebron for multiple reasons.
The Lions, as written over and over again here, need defense more than anything. There are massive questions about the depth and talent in the secondary, and though it might not appear this way for 2014, defensive tackle is going to be a position of need beginning in 2015. The Lions would be better off trading back to take a cornerback or even a receiver later in the first round.
Plus, Seferian-Jenkins and Niklas could both end up being better than Ebron in the pros.
Here's my biggest issue with Ebron, and it is written in his draft profile on ESPN.com.
"Ball skills are not as good as perception. Makes some circus catches," the profile writes. "Has long arms, shows adequate leaping ability and good body control to adjust. Hauls in high-percentage of away-from-frame opportunities.
"But too many focus drops on 'catchable' balls. Highest drop percentage (11 percent) in 2013 of all the top TE prospects."
That last part is why the Lions could shy away from Ebron. Jim Caldwell and Lombardi have stressed catching the ball after Detroit had the highest drop rate in the NFL last season. And that profile reads a lot like the tight end the Lions already have on the roster -- Pettigrew -- as a player who makes the tough catch but sometimes drops easy, catchable balls.
For those reasons, Seferian-Jenkins or Niklas would be the wiser choices.
Possible targets:
Ebron; Seferian-Jenkins; Niklas; Fiedorowicz;
Jace Amaro
, Texas Tech.
January, 23, 2014
Jan 23
3:00
PM ET
Two of the major college all-star games took place last Saturday. The Senior Bowl happens this Saturday with practices all week.
Many of the players selected in May's draft will come from these three games or from underclassmen who decided the time was right to turn professional. Over the next two weeks, pairing with our position outlook series, we'll take a quick preview look and look back at some names to become familiar with over the next four months as the NFL draft process crawls along.
Today continues with tight ends, a spot where the Lions need somebody -- but drafting a tight end might come down to whether or not the team re-signs
Brandon Pettigrew
or another tight end in free agency.
Previous looks:
Quarterbacks
;
Running backs
;
Wide receivers
.
NFLPA game:
Shrine Game:
Senior Bowl prospects:
Others not in major all-star games:
January, 23, 2014
Jan 23
10:00
AM ET
A coach has been hired. A staff is being filled out. The
Detroit Lions
' offseason and planning for the 2014 season is officially here.
To start that process, we will look at each position group over the next two weeks, analyze what worked and what didn't before projecting what could happen between now and training camp in 2014, which is only a mere seven or so months away.
Today the series continues with wide receivers.
Previous positions:
Quarterbacks
;
Running backs
;
Wide receivers
.
2014 free agents:
Brandon Pettigrew
;
Dorin Dickerson
(restricted free agent);
Matt Veldman
(exclusive rights).
Pettigrew
Fauria
The good:
After a rough start to the season, Pettigrew ended up having a fairly decent season. He caught 41 passes for 416 yards and two touchdowns, but his main value is in being a dual-purpose tight end. He played in 877 of 962 snaps before injuring his ankle and was a reliable blocker.
Joseph Fauria
, an undrafted rookie from UCLA, became a sensation early in the season because of his propensity to catch touchdowns -- and then dance after them. While the dancing may have overshadowed some of his actual play, he became a legitimate red zone threat at 6-foot-7. He had 18 catches this season and seven of them were touchdowns. Pettigrew and Fauria did a good job holding on to the ball this season as well. Pettigrew had only four drops -- the lowest total of his career -- and three of them came in the first four games. Fauria had no drops on the season. Dorin Dickerson did fine in limited duty.
The bad:
Not too much to say here. Fauria needs to improve as a blocker if he wants to become a true top tight end. He also needs to become a better route runner, but he understands the level of improvement that must come from his rookie season to his second season, where he will likely be looked to more. When
Tony Scheffler
was with the Lions, he had issues hanging on to the ball. He had three drops in five games before being concussed and eventually released at midseason. Dickerson had two drops in five games and played with a concussion during the home finale against the
New York Giants
. This is a position with a lot of questions entering 2014.
The money (using 2014 cap numbers from Roster Management System):
The Lions have two players under contract for 2014 at the position and both were rookies last season. Fauria, who ended up being a starter by the end of the season, has a cap number of $499,166 and
Michael Williams
, who was on injured reserve last season, has a cap number of $511,287. The Lions will almost certainly add at least one, if not two, players to this position group. At least one will also be at a higher monetary value than Fauria and Williams.
What Caldwell might favor:
Last season in Baltimore, Jim Caldwell carried between two and three tight ends, but it was tough to get a true read because
Dennis Pitta
was injured for most of the year. Caldwell's time in Indianapolis might be a bigger clue. He carried between three and four tight ends his entire time with the Colts. Usually only one was a main pass-catcher -- often
Dallas Clark
-- but he also had
Jacob Tamme
as a blocker. How the Lions treat this spot might be determined by how Caldwell and the front office view Fauria -- as a pass-catcher only or as a guy who could be a complete tight end.
Potential cuts:
Probably none. Williams is more of a blocker and Fauria is a pass-catcher. The Lions might not bring back Veldman on an exclusive rights deal, but at this point, that would be it. It's a thin position group right now.
Draft priority:
Medium. Depending on what happens in the first round, the only tight end worth taking there could be
Eric Ebron
, the 6-foot-4 tight end from North Carolina. A lot of this could depend on what Detroit decides to do with Pettigrew. If the team brings him back, drafting a tight end could turn into a non-issue or at least a late-round one at best.
C.J. Fiedorowicz
from Iowa and
Crockett Gilmore
from Colorado State could be late-round options.
Numbers in this post were culled from ESPN Stats & Information and Roster Management System.