Detroit Lions:

C.J. Mosley
November, 28, 2013
Nov 28
7:30
PM ET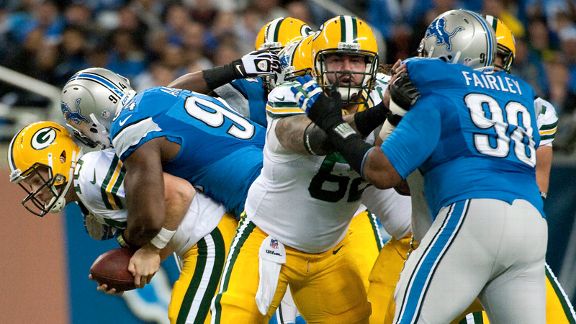 Tim Fuller/USA TODAY SportsDetroit's defensive line stuck to its team approach Thursday, getting after Green Bay QB Matt Flynn.
DETROIT -- In some ways, the
Detroit Lions
' defensive line was sleeping most of the season. It had been inconsistent. It was a group in the middle of the NFL in sacks, a group long on talent and short on statistics.
They would see stacked protections -- to the point that defensive end
Willie Young
would joke with opponents they were on the wrong side just to try to find an opening. They would pressure the quarterback but never actually reach him.
Then Green Bay offensive lineman
Josh Sitton
spoke. Called the Detroit defensive linemen dirtbags. Scumbags. Insulted Lions coach Jim Schwartz. It might have been all the poking
Ndamukong Suh
and
Nick Fairley
needed.
"It's waking up sleeping dogs," cornerback
Rashean Mathis
said. "But that's how he felt. He expressed it.
"We responded."
By the time the Lions'
40-10
thrashing of the Packers ended, the Lions' once-hibernating defensive front was wide awake. And there could be another easy word to describe them.
Dominant. Utterly and completely dominant.
"It's just the performance we always believe we can have," defensive tackle
C.J. Mosley
said.
When the Detroit defensive line plays like it did Thursday -- with 16 tackles, seven quarterback hits, five sacks, two fumble recoveries, one forced fumble and a safety -- the Lions can be one of the top teams in the NFL.
The pressure Detroit's front four can place on an opposing quarterback -- and it appeared the Lions blitzed linebackers and safeties Thursday more often than they usually do -- changes the entire game.
When Detroit can combine that with taking away a quarterback's first read, which the Lions did to
Matt Flynn
, it'll give the Lions enough time to reach the passer.
This was, by far, the best the Lions defense played this season and, by far, the best the Lions have played overall. The way the defense played eliminated pressure on
Matthew Stafford
and the offense because they knew they might get extra opportunities and wouldn't have to score on every possession to win.
It begins with the defensive line, a group that insisted it approached things the same way every week, always rushing the quarterback, but due to quick-twitch passers or protections featuring linemen, tight ends and running backs, it was unable to actually sack the quarterback.
"Every game, we go out and do the same thing over and over," rookie defensive end
Devin Taylor
said. "Every time, something happens. We get closer and closer.
"Finally, today, we were actually able to get back to the quarterback."
It all started before the game. Instead of coming out individually during introductions, the defensive line -- and safety and the soul of the defense,
Louis Delmas
-- ignored that. When Young was announced, the entirety of the line came out.
Together.
After the game, the Lions' defensive linemen said it had nothing to do with being called scumbags and dirtbags by Sitton. It was an idea, Suh said, that came from
Andre Fluellen
to show solidarity.
How they played backed that up. With perhaps a little bit extra because of Sitton.
"Unreal," center
Dominic Raiola
said. "They looked unblockable today. Seriously."
They pretty much were. It wasn't just the line, either. The defense held Green Bay to 24 rushing yards and sacked Flynn almost as often as he completed passes (seven sacks, 10 completions).
Ndamukong Suh
reached the end zone for a safety. That's more than the Packers' offense did all day long.
"It's embarrassing," Sitton said. "We got our a-- beat. Plain and simple. They smacked us today."
Of course, Sitton influenced that. While Detroit's defensive line -- those guys Sitton thought were scumbags and dirtbags a couple of days ago -- tried to downplay what he said, the line played differently Sunday.
The linemen played as if they were trying to prove something. To themselves. To Sitton. To the rest of the NFL.
From the veterans such as Young, who had five tackles and a fumble recovery, and Suh, who had the safety sack, to the rookies such as Taylor and
Ziggy Ansah
, who each had three tackles and two sacks, the entire group appeared both present and almost possessed by a singular goal of flattening Flynn.
"I know it motivated some guys, especially the D-line," offensive tackle
LaAdrian Waddle
said. "I feel like it did motivate them.
"[Green Bay] kind of hurt themselves by saying that, I feel like. Just because it was another thing to add into the pot of extra motivation for those guys."
It was something already percolating, too. Detroit had heard a lot about the dirtiness of its defensive line over the past month, from Chicago's
Brandon Marshall
to Sitton. Combine that with a two-game losing streak to teams with losing records. And giving up two leads in the fourth quarter the past two weeks.
Motivation wasn't going to be an issue. Add Sitton's words and it turned combustible.
It blew up on Sitton. The Packers are now under .500 and well behind Detroit in the NFC North race.
It blew up for Detroit. The Lions once again gained tenuous control of the division, with a 1½-game lead on Chicago because of the tiebreaker they have over the Bears.
It all started with the defensive line, a group that can now be called whatever they want.
"It was, you can say it was a dominating performance. It's just something we've got to string together, man," Mosley said. "I think that'll kind of take us to the next level where we want to be as far as the postseason.
"We've got to string performances like this together."
If they do, the Detroit Lions, up one week, down the next, might just end up making the playoffs after all.
November, 21, 2013
Nov 21
8:05
AM ET
Good morning and ROOOOAAARRR!!!!
ALLEN PARK, Mich. -- Rocky McIntosh doesn't see many plays on defense. The fourth linebacker on a team that predominantly plays nickel defense, the veteran from Miami, Fla., gets into the game in very specific scenarios.
But over the past three games, when he's been in, he's made the play.
He played three snaps against Dallas and made one tackle, had one snap -- and one tackle -- against Chicago and seven snaps and two tackles against Pittsburgh. That's a pretty high rate of tackle-to-snap.
"I've played a while, so nothing really comes as a surprise," McIntosh said. "So just go out there and do what you've got to do.
"I just think with experience comes a reaction when you're out there playing and just go out there and make plays. You can narrow down what they are going to run, you're able to see what is going to happen and recognize the personnel that's in the game."
Here's where the clutch factor comes in. He made a key third down stop against Pittsburgh in the third quarter last Sunday, stopping Le'Veon Bell for a 2-yard loss.
Against Chicago, he stopped running back Michael Bush on 4th-and-1 for no gain, resulting in a turnover.
So how did he manage that?
"Just being around, studying," McIntosh said. "Just playing the game. Playing the game within the game."
All of this in a season where McIntosh has played far less than he has in any other year. He signed with the Lions this preseason to provide depth at linebacker and has played 19 total defensive snaps. His previous career-low in snaps is 431 last year for St. Louis.
And now a look at Lions news from the rest of the Interwebs:
November, 6, 2013
Nov 6
8:30
PM ET
Question of the Week is a new feature where we ask different Lions the same question on various topics -- some funny, some issue-based, some football-related and some completely off the wall. To suggest a potential question for QOTW, email michaelrothsteinespn@gmail.com or make the suggestion on Twitter @mikerothstein
Previous QOTW:
Nicknamed jerseys
;
Super hero alter ego
;
Entrance music
;
TV character
;
Cake ... or Steak
;
Halloween costume
ALLEN PARK, Mich. -- Numbers with athletes have always been a point of contention. In the pros, guys will pay money just to wear a certain number. In colleges, it can be part of a recruiting pitch.
For others, it means nothing.
[+] Enlarge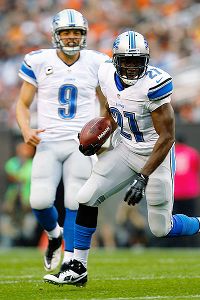 Matt Sullivan/Getty ImagesSome Lions players have an emotional attachment to their jersey numbers. Others just took what was available, and some haven't gotten used to new digits.
For the Question of the Week, we asked different
Detroit Lions
why they wear the numbers they wear.
LG Rob Sims (No. 67):
Well, no. I was kind of wearing 77 and that was kind of a thing for my pops, who wore 79, 78 and that was like my only number. When he passed away, I decided to go, I knew I needed to change and just went a different route.
Reporter: So you changed it when your dad passed?
Sims:
Yeah, when my dad passed and I got in the league, I changed my number. I just knew I needed a fresh start and I needed to not hang on to that kind of stuff and all that. I never told nobody that because it was something like, 'Hey, I'm changing it up.' It was nothing like emotional about it or anything like that.
Reporter: Was it emotions, though?
Sims:
When my dad passed, very. But I think it was me being like, OK, on my own. Change stuff up. That's kind of why I did it. Guys do it for different reasons.
---
QB Matthew Stafford (No. 9):
They didn't have 7. [John] Elway was kind of the guy I liked watching growing up and I wore 7 when I was young and I was in high school and then I wore it in college. Tried to wear it here, but they don't have it. You can't wear 7 here, it's Dutch Clark.
---
RG Larry Warford (No. 75):
They gave it to me. I didn't get to choose it, they were like, here, here's 75.
Reporter: What about college?
Warford:
I was 67 since my freshman year of high school. I was 67 all the way through college and all the way through high school and then I got here and 67 was [taken] and [in a sad voice] 'I have to change, I don't know who I am anymore.'
Reporter: Some guys are really particular.
Warford:
It's part of your identity. You feel like you own it, like that's who I am, I'm 67. I'm 75 now, but when it gets taken away from you, it's like 'This doesn't feel like me.' It takes some time, but it's cool. It's cool to start over new. 75, going to make it my own now.
Reporter: Why 67?
Warford:
It was given to me when I was young and I was like, my freshman year, they had it and I'll make this my own and I felt comfortable with it and I just wanted to keep it through my whole career.
Reporter: Reggie (Bush) said sometimes he still signs 22 because he's not used to 21. Was that an issue?
Warford:
Yeah, I did that a couple times. I signed something, it'd be a Lions thing and I'd be like Larry Warford, Sixty-sev..., oh, here you go. It's just habit. Like, oh, 6-7. I broke into the 7-5 now, 6-7 doesn't come up anymore. It's cool, though.
---
WR Kris Durham (No. 18):
It's what they gave me. I wore 16 in college and wore it in college but Titus was here when I got here so they gave me 18, which was great. If I had to pick a number in the NFL, I'd pick 16 because it was what I wore in college.
Reporter: Why 16?
Durham:
It's what they gave me in college. It kind of grew on me. But I like 18 a lot, I like 17, 18 or 19. My birthday's the 17th. I've always liked even numbers but my cousin wore 19 in high school so I would wear 19.
---
RB Reggie Bush (No. 21):
That was the next best number that was available. I was going to try and stick with 22 but that's obviously retired and Mikel [Leshoure] had 25. They told me 21 is available and I've always loved 21.
Deion Sanders
has worn it, a lot of great players have worn 21.
---
WR Kevin Ogletree (No. 11):
That was my basketball number. I haven't worn a low number like that since my freshman year in high school. I wore it in freshman year of football. You know, when you get to pick your number and there's not that many and you've got a couple that look cool and 11 was the coolest to me. Those 1's, right. It's definitely different because I'm used to 85. I was born August 5th so that kind of worked out.
---
TE Joseph Fauria (No. 80):
Nah, I was single dig at UCLA. I had two choices and 80 would be nice, a good tight end number and kind of reminiscent of college, just add a zero. And I think it's fun to say 'Ocho-Zero,' it's funny. That's it. Spanglish. Eighty-one was my grandfather's number, but it's kind of taken by somebody important.
---
DT C.J. Mosley (No. 99):
Originally
Warren Sapp
. Warren Sapp was my favorite player growing up.
Reporter: You say originally. Has that changed?
Mosley:
It's like the end of the line. 1 through 99, 99 is the last guy so it's the end of the line. My mentality is whatever it is, it's going to stop at 99. That's kind of with it. But Warren Sapp, that's my guy.
November, 5, 2013
Nov 5
3:45
PM ET
ALLEN PARK, Mich. – In one of his first meetings with his new team this season,
Detroit Lions
rookie
Joseph Fauria
was able to breathe a little easier.
His coach, Jim Schwartz, addressed the issue of hazing when it comes to rookies and essentially said aside from some typical stuff, it would not be allowed. In other words, Fauria was glad he was going to be able to keep his hair.
So the worst thing Fauria said he has had to do is carry some pads, some helmets and he still owes tight end
Brandon Pettigrew
a sandwich from Bellacino's.
"That's part of guys sort of paying their dues in the NFL," Schwartz said Tuesday. "But we don't allow hazing the way you would consider hazing in training camp."
That, the players say, starts with Schwartz. He is pretty straight forward with his players about what he will allow and what he won't stand for. There's a huge difference between doing menial tasks that a lot of entry-level employees in any profession end up doing, from food runs to buying coffee, to some of the things that have been discussed in Miami, including racially inappropriate text messages.
Schwartz, and the older players, want to make sure there is more of a rite of passage into the league, not a level of intimidation that could leave players cowering or unable to do their job effectively. The NFL, at its root, is a very big business.
"We're not a fraternity," Schwartz said. "But everybody has gone through, coaches have gone through getting coffee and doing things like that.
"I don't think there is any harm in stuff like that but the bottom line is we're expecting everybody to do their job. Anything that takes away from a player's ability to do his job or a coach's ability to do his job is something that we don't want to happen."
Hence the early message in one of the first meetings Fauria had when he agreed to sign with the Lions as an undrafted free agent.
"[Rookies] are important to the development of this team," center
Dominic Raiola
said. "That's our future, that's their future. You want them to succeed. You want this team to succeed."
A lot of that is on the Detroit players. The coaches, for the most part, are not around the players as much. The players are the ones hanging out in the locker room, talking with each other all the time, working at various training sessions.
So what they see might not mirror what coaches hear. So they believe they have to watch out for each other if something looks to be out of line.
"It falls on the players and you've got to police it," receiver
Nate Burleson
said. "There's a decent way to do everything. Even if you are doing hazing, there's a decent way to do it.
"I feel like this is part of being a rookie, but we still love you like a brother. That's a way to do it versus saying it's part of being a rookie and you're not equal to us."
At least one rookie, Fauria, said Detroit hasn't come close to jumping over a line of decency or making the rookies feel as if they do not belong. Again, that might be because it starts from the top of the coaching part of the organization.
If Schwartz won't allow it, it becomes much less likely to happen.
"There is a line," Fauria said. "And we don't cross it here."
October, 25, 2013
Oct 25
8:00
AM ET
Good morning and ROOOOAAARRR!!!!
ALLEN PARK, Mich. -- He is 34 years old, which in NFL parlance is awful close to applying for your AARP Card. He has been in the league, all with the
Detroit Lions
, for 13 seasons.
Raiola
Yet when most players are hitting the last stages of their careers, Detroit Lions center
Dominic Raiola
is playing some of the best football of his life. Where he plays, though, experience matters.
"The center position, seeing everything, the game really slows down for me," Raiola said. "Just being able to pre-snap everything, a lot of things, and really come off the ball and not tiptoe into anything.
"I feel like that's what I'm doing."
He's done it particularly well this season, especially at big moments. He made a
critical fourth-down line call
at Washington to help Detroit get a first down and an eventual victory over the Redskins. He also made a change in a line call against Detroit, helping to spring
Reggie Bush
for a
37-yard touchdown run
.
He's also helped rookie right guard
Larry Warford
adapt to the NFL while pairing with veteran left guard
Rob Sims
on the other side. He's leading an offensive line that has allowed quarterback
Matthew Stafford
to only be sacked on three percent of his dropbacks -- tied for the lowest percentage in the league.
This shouldn't be surprising, though, considering Raiola told ESPN.com last month he felt
he "reinvented" himself this year as he tries to enjoy every moment he has in the league
.
"I think he's playing his best football, maybe, in the five years I've been here," Detroit coach Jim Schwartz said. "He's been consistent week-to-week, he's won his matchups."
And now a turn around the Interwebs in search of Lions news:
Detroit wide receiver Kevin Ogletree will
see a familiar friend Sunday
-- Dez Bryant. The Lions are
headed to London next year
, although right now they are
just focused on Dallas
. Ten(ish) Questions With...
rookie cornerback Darius Slay
. Our Double Coverage
preview of Sunday's game
.
From Dave Birkett of the Detroit Free Press, how and why Louis Delmas
parted with his pet alligator
.
Dallas cornerback Brandon Carr
is coming home to face Detroit
, writes Chris McCosky of the Detroit News.
Detroit has used fewer
two tight end packages this year
, writes Justin Rogers from MLive.com.
Kyle Meinke of MLive.com writes about
defensive tackle C.J. Mosley, loss and the reason he cuts the symbol of a heartbeat in his head
. This is worth your time.
October, 9, 2013
Oct 9
7:00
PM ET
Question of the Week is a new feature where we ask different Lions the same question on various topics -- some funny, some issue-based, some football-related and some completely off the wall. To suggest a potential question for QOTW, email michaelrothsteinespn@gmail.com or make the suggestion on Twitter @mikerothstein
ALLEN PARK, Mich. -- From movie themes to rap, from country music to Vanessa Carlton. Even a smattering of Phil Collins. And one guy -- all he wants is silence.
With the local baseball team, the Detroit Tigers, in the playoffs, this week's Question of the Week centered around what songs the Lions would choose if they could pick their own pregame entrance music or walk-up music.
The answers, as you'll see, were pretty diverse. (And, for the record, I'd pick "One Night," by Matthew Koma.)
DT Andre Fluellen:
Ahh, man. Oh, man. My entrance music? Oh, man. I have no idea. I don't know. I don't even know, man. I feel like I would actually just have total silence. Everybody be quiet. That kind of thing. Total silence.
C Dominic Raiola:
That Ric Flair song, Odyssey, "2001 Space Odyssey."
Reporter: Why? Because of Ric?
Raiola
: Yeah, Nature Boy. There's so much color behind it. A lot of imagination behind that song. It's like the light shining on you, popping out of the smoke everywhere. Come out with a robe on, that'd be awesome.
DT C.J. Mosley:
Man, I got too many, man. I got too many, man. Probably Pastor Troy, "We Ready." You don't know that.
Reporter: I can look it up. You saw my face, huh.
Mosley:
Aside from the actual song, when Pastor Troy came out, he was relatively unknown. He was basically a nobody going against a giant at that time, who was Master P. You've heard of Master P?
October, 3, 2013
Oct 3
7:40
PM ET
ALLEN PARK, Mich. -- It is a mentality, a thought process carrying over from high school to college and for the
Detroit Lions
on to the NFL.
Every coach who has ever coached football preaches it and mentions it, how a defense making stops on third downs are instrumental to any victory and any successful season.
[+] Enlarge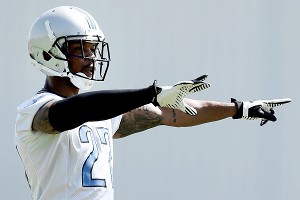 AP Photo/Paul SancyaSafety Glover Quin is one of the key players for a Lions defense that has allowed an NFL-low 10 third-down conversions through four weeks.
This season, no one is accomplishing this better than the Lions, who are allowing teams to convert third downs just 21.3 percent of the time. They are one of two teams, along with Kansas City at 22.2 percent, to keep teams under 30 percent so far this year.
"It's definitely a mentality you've got to have, man," Detroit defensive tackle
C.J. Mosley
said. "We just know what's at stake. It's a big momentum swing to get off on third down if we don't get a sack or a play like that.
"We know what it does for the team so it's very important to us."
If Detroit can keep this pace going -- and Lions coach Jim Schwartz said earlier in the week it would be difficult to do -- it would be the best third-down conversion defense since at least 2001.
Since 2001, only four teams have held teams under a 30 percent conversion rate over an entire season in the NFL: Tennessee (27.7), Baltimore (29.4) and Denver (29.6) in 2003 and Baltimore (28.8) in 2006.
The good news for the Lions there -- if they can keep their pace even close to what it is now and stay under 30 percent, all four of those teams made the playoffs. None won or even made the Super Bowl, but they all had a shot at it by the end of the season.
Detroit wasn't bad on third-down defense a year ago, finishing 10th in the league with a 36.5 percent conversion rate. But the pace the Lions are on now is fairly historic.
The Lions' current rate, though, is extremely impressive -- not only because of the lack of conversion rate but also because of what Detroit is doing on first and second downs to set it up.
The Lions have allowed an NFL-low 10 third-down conversions, not including three penalties that awarded teams first downs. They have only been in third-down situations 47 times this season, a shade under 12 times a game, not including those three penalties.
Detroit's opponents, including those three penalized plays, are averaging 7.54 yards-to-go per third down, according to ESPN Stats & Information, and are gaining an average of 3.5 yards on those third downs, according to Stats & Info. On just the 47 plays that have counted, the Lions are allowing just 2.85 yards for a third-down play and an opponent passer rating of 44.4 -- second-lowest in the league behind Seattle.
Part of why Detroit has been so good in these spots starts with the defensive line, where
Ndamukong Suh
has been a disruptive force all season, and ends with the Lions' two safeties,
Glover Quin
and
Louis Delmas
. Both Quin and Delmas intercepted a pass on third down Sunday against Chicago.
"It's a combination of rush and coverage," defensive tackle
Andre Fluellen
said. "They don't really work without the other. The rush doesn't work without the back end covering and the back end can't cover forever without the rush.
"It's a good combination of that. We've been having a good game plan to do those things."
The Lions have intercepted three passes on third down. They've sacked opposing quarterbacks five times on third down. One of the craziest parts of this? Detroit isn't even bringing a ton of pressure on third downs.
The Lions, per Stats & Information, are only blitzing on 17 percent of opponent's third downs, the second-lowest number in the league.
"We certainly spent a lot of time on third down and we want to get off the field on third down," Schwartz said. "It's just the rate we're going at now is pretty tough to sustain. We have guys that rush. We have some guys in the backend that can get the ball.
"We have some guys that have played pretty smart and matched up routes. I think the combination of the two. We have blitzed from time-to-time, I think that's been effective when we have."
Against Green Bay on Sunday, Detroit will need all of that if it wants to snap its 22-game losing streak in Wisconsin.
Note: Statistics used in this story were provided by ESPN Stats & Information.
September, 26, 2013
Sep 26
7:30
PM ET
ALLEN PARK, Mich. --
Ndamukong Suh
has no use for personal statistics. He really doesn't. At least that's what the defensive tackle says.
His explanation is simple -- as long as one of his teammates makes the play, it doesn't matter if he records the actual sack or batted pass or quarterback hurry. As long as it gets done, he's OK with that.
And that, frankly, might be a stat all on its own -- the Suh stat.
"It's fun for me to feed people plays," Suh said. "It's exciting because even though it may not show up on the stat sheet, but it is showing up on someone else's stat sheet."
[+] Enlarge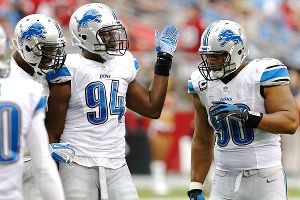 AP Photo/Ross D. FranklinNdamukong Suh's presence has opened up opportunities for Ezekiel Ansah and the rest of the Detroit's front line.
Like the assist in basketball, the potential Suh stat could go to forcing an opponent into a mistake, or making a quarterback roll right into another Detroit defensive line, like what when he accomplished that Sunday against Washington, forcing
Robert Griffin
III to run right into a waiting Ziggy Ansah for the sack.
Suh may not have the gaudy statistics this season -- just eight tackles and no sacks -- but he is the reason the Lions have been a defense forcing turnovers and generally haranguing quarterbacks.
The
Detroit Lions
may have the most dominant defensive line in the NFL, but it all starts in the middle of the line, with one of the league's most polarizing players because of how he plays on the field.
"Does he demand that much attention? Have you seen him get off the ball," defensive tackle
C.J. Mosley
said. "You wanna know, I pretty much guarantee, man, that an offense knows where that guy's two digits are, that nine-oh. I pretty much guarantee they know where that guy is on that play.
"He is the type of player where he can destroy a game."
Or at least a well-designed game plan.
Suh's play forces teams to choose whether to double him in the middle. When they do, it opens up rush lanes for fellow defensive tackle
Nick Fairley
as well as the starting defensive ends,
Willie Young
and Ansah.
Together, the four -- when all healthy -- have been able to punish opposing offensive lines. Linebacker
DeAndre Levy
's two interceptions this season were a result of pressures in the backfield from Suh.
The pass cornerback
Chris Houston
picked off against Washington on Sunday came because Young chased down
Robert Griffin
III.
The front four provides so much pressure that defensive coordinator Gunther Cunningham can be more aggressive with his players in the back seven. He rarely has to worry about his four defensive linemen not being able to penetrate into an opposing backfield.
"It's just awesome the way they get upfield," linebacker
Rocky McIntosh
said. "You know, it takes a couple of guys to block those guys so ultimately it either leaves us free or we receive the junk. They are making the plays.
"It's kind of a two-way fold, but it's great to have a D-line like that, that demands that kind of respect."
The depth helps as well. Even though Detroit lost
Jason Jones
for the year with a torn patellar tendon, the Lions can insert either Young, former Chicago Bears defensive end
Israel Idonije
or rookie
Devin Taylor
into the lineup. Or use all three in a rotation at the two end spots along with Ansah.
The options, in many ways, are what make the Lions' front four even more interesting.
"Ultimately we've been good. No, but we're not even close to our full potential yet," Idonije said. "We still have a lot of great ahead of us with guys in that room. We've been able to do some great things just off talent and ability but there's still a lot of room, still a lot of ceiling there."
The depth and talent allows for this: Detroit is blitzing -- defined as five or more rushers on a given play -- on 22.5 percent of opponent's drop backs this season, the fifth-lowest rate in the NFL. Much of the reason has to do with the front four's pressure.
The Lions aren't getting great percentages out of sacks per drop back (4.7 percent), but Detroit is also intercepting 4.2 percent of attempted throws, good enough for fourth in the NFL. Many of those interceptions had to do with the defensive line pressure.
Much of that starts with Suh.
"He's played outstanding," Detroit coach Jim Schwartz said. "It's more so been the effect that he's had on the offenses and what's happened with other defensive players. He's created plays for our other defensive players, more so than filling the stat sheet up himself.
"He's been very consistent and has made an impact in every single game."
September, 25, 2013
Sep 25
7:32
PM ET
Question of the Week is a new feature where we ask different Lions the same question on various topics -- some funny, some issue-based, some football-related and some completely off the wall. To suggest a potential question for QOTW, email michaelrothsteinespn@gmail.com or make the suggestion on Twitter @mikerothstein
ALLEN PARK, Mich. -- Football once had "He Hate Me."
Rod Smart
put that name on the back of his jersey during his career in the now-defunct XFL and years later, it is still somewhat of a cultural milestone when it comes to sports.
And now, the NBA is considering having
the Heat and Nets wear jerseys with nicknames on the back instead of their last names
during a game this season.
So we went to some of the Lions and asked them the same question -- if you could put any name or nickname on the back of your jersey, what would you choose and why?
DT C.J. Mosley:
"It'd be my nickname, 'Downs.' It's my nickname, man (pulls up shirt to show the tattoo of Downs.) Destroying Obstacles With Non-stop Success. My favorite rapper, man, his name is K-Rino and he's a very intellectual guy. I've had this since college, the nickname. Why not, I mean, if that was an option. If that was an option, why not. The NBA is probably making it just fun and probably sell a few more jerseys doing that, limited edition nickname."
DE Devin Taylor:
"'Don't Say Nothin' It's kind of a little mantra thing that's also a nickname that I got when I was a freshman back in college. It fit, you know, as far as the kind of play and stuff like that that I portray, especially on the field."
Follow up question -- that's almost like a taunt?
Taylor:
"Nah, it's more so being like a quiet player but still being a good player at the same time."
WR Kris Durham:
"I would put my own last name. I wouldn't go with a nickname. I kind of feel like, I have a few nicknames but it's more so I would go by my last name because that's who I represent. I represent the people in my family who came before me that made their name good. So that's who I would want to honor with my play."
TE Michael Williams:
" 'Big Man,' that's been my nickname my whole life. No I wouldn't (put that on the back of my jersey). Williams. It's the family name. It's more than you representing yourself out there. For me, it's me representing my familly."
DE Israel Idonije:
"I've had the same nickname since forever, 'Izzy' or 'The I Train,' it'd be one of those two. (He wouldn't do it, though. He would stick with Idonije). That's my name. And for me, football is such a man's game. It's a throwback game. It's a tough game. Just by putting nicknames and all that stuff, it just kind of, to me, cheapens the game a little bit. When they had the league, the XFL and all that stuff, to me, it devalues what you're trying to do. What the league is."
RB Theo Riddick:
" 'Chronicles.' Put two-and-two together, man, you know. Chronicles of Riddick, you know. I think it'd be a hit if I was to do that. I think people might like that. It's interesting. What's the first thing you think of when you think about Chronicles? Right? Adds up."
Reporter: Or Narnia?
Riddick:
"OK, that too. That, too. But there's a 50-50 chance, you know. It's an option."
September, 25, 2013
Sep 25
6:35
PM ET
The
Detroit Lions
have claimed defensive tackle
D'Anthony Smith
off waivers from Seattle.
In a corresponding move, the Lions released defensive tackle
Justin Bannan
.
This comes on the heels of Detroit bringing back defensive lineman
Andre Fluellen
following
Jason Jones
' season-ending patellar tendon injury.
It's a curious move for Detroit. By releasing Bannan, it felt like the Lions were going to open up a slot to either trade for or pick up a receiver since
Nate Burleson
will be out for an undetermined period of time healing from a broken forearm.
Instead, the Lions added Smith, who had five tackles this season and 15 in his two-year career between Jacksonville and Seattle. It is tough to see Smith being any higher than Detroit's fourth defensive tackle behind
Ndamukong Suh
,
Nick Fairley
and
C.J. Mosley
. And the Lions had just brought in Fluellen, who can play defensive tackle as well.
Smith was clearly a valued player, though. He was drafted by Jacksonville in the third round of the 2010 draft and then spent his
first two seasons with the Jaguars on injured reserve
.
An interesting caveat to this move is there is some familiarity there between Smith and Mosley. They played together for the past three seasons in Jacksonville before Smith was traded to Seattle and Mosley came to Detroit.
Now they are reunited.
In one other move, the Lions did add a receiver Wednesday. They brought rookie Charles Hawkins -- a 5-foot-8, 180-pound product of Southern University -- on to the practice squad.
September, 15, 2013
Sep 15
2:47
PM ET
GLENDALE, Ariz. -- The
Detroit Lions
will play Arizona without one of their biggest defensive playmakers.
Defensive tackle
Nick Fairley
, who missed practice Wednesday and Thursday with an injury to his shoulder, was deemed inactive Sunday and won't dress for the Lions.
C.J. Mosley
, a ninth-year pro out of Missouri, will start in his place. It wouldn't be surprising to see defensive tackle
Ndamukong Suh
now command more double teams due to Fairley's absence.
There were no other surprises on the inactive list for the Lions: quarterback
Kellen Moore
, running back
Mikel Leshoure
, safety
Don Carey
, offensive lineman
Leroy Harris
, wide receiver
Ryan Broyles
and right tackle
Jason Fox
, who was deemed out on Friday.
Corey Hilliard
will start in place of Fox.
September, 1, 2013
Sep 1
4:45
PM ET
ESPN colleague Mike Sando's
annual age analysis of NFL rosters
found that the
Detroit Lions
have the oldest roster in the league.

That designation might seem odd when you consider the relative youth of the Lions' primary players. You also might not be interested in a ranking where the full range of age differences is only a few years. In sifting through the Lions' roster, however, the culprit -- if you consider an "old" roster a bad thing -- is a big group of veteran backups.
By my count, the Lions have nine projected reserve players whose ages range between 30 and 33 years old. Six are newcomers to the roster and three -- defensive tackle
Justin Bannan
, linebacker
Rocky McIntosh
and defensive back
Rashean Mathis
-- were signed two weeks ago.
On the one hand, it makes sense to have veteran backups when you have some young starters. If right guard
Larry Warford
struggles, the Lions could replace him with
Dylan Gandy
(31) or even
Leroy Harris
(29). If
Darius Slay
needs more seasoning, the Lions could replace him with Mathis (33).
McIntosh (30) is available to spell any of the Lions' three starting linebackers.
Israel Idonije
(33) will back up rookie defensive end
Ziggy Ansah
, while Bannan (34) and
C.J. Mosley
(30) will provide depth for
Ndamukong Suh
and
Nick Fairley
.
On the other hand,
we discussed earlier
the Lions' draft issues in the past five years. One of the reasons they needed veteran depth is the inability to develop it on their own. Signing veteran backups also makes it difficult to plan long-term and orderly transitions at certain positions.
Regardless, the team the Lions have on the field at any given point will be a nice blend of young and middle-aged players. If you look at their starters on offense, defense and special teams, you really only see five who are 30 and older. Three of those are on special teams -- place-kicker
David Akers
(38), long-snapper
Don Muhlbach
(32) and returner
Micheal Spurlock
(30).
So I'm not sure there is reason to panic here. But if nothing else, now you know why the Lions rank atop Sando's age rankings.
*Update:
The Lions released McIntosh, slightly lowering their composite team age, to make room for safety DeJon Gomes, who was claimed on waivers from the Washington Redskins.