Detroit Lions:

Carlin Isles
March, 3, 2015
Mar 3
3:30
PM ET
Carlin Isles is still focused on making the Olympics in 2016, but he isn't giving up on his NFL dream either.
Isles, a member of the United States Rugby Sevens team who briefly joined the
Detroit Lions
practice squad at the end of the 2013 season, said he would like to give the NFL another shot. The question is when.
"Hopefully soon," Isles told ESPN.com. "Not wait so long. I know with my speed and my ability, I know what I can do, and I know I can play with those guys because I've seen guys I've played with in college make the NFL.
"My running ability and things like that, I know I can catch the ball. I know I can catch the ball. I just know what I can do."
The "soon" will depend on whether or not the United States qualifies for the 2016 Olympics in Brazil in rugby sevens. The US can qualify in three ways -- with a top four finish in the World Rugby Sevens series, winning the North America and Caribbean championship in 2015 on June 13-14 or a final Olympic qualifying tournament later this year.
Isles told ESPN he would look to join an NFL team either after the Olympics are over should the United States qualify or soon after the Americans were eliminated from Olympic contention if they were not.
"I'm going to give it another shot," Isles said. "That's a safe guarantee."
Isles
initially signed with the Lions
on Dec. 26, 2013 and practiced during the final week of the regular season with the team. He then signed a futures/reserves deal for 2014, but left the NFL for a contract with the Glasgow Warriors in the Scottish rugby side.
The 5-foot-8, 165-pound Isles is still considered the fastest man in rugby and is still at an age where he could take the chance to make the NFL if he wants to. He turns 26 on Nov. 21 and would likely be no older than 26 or 27 years old if he were to make the jump following the 2016 Olympics.
Isles said some contractual issues between his NFL deal and the deal he signed with the Scottish rugby club made returning to the NFL difficult. Plus, with the Olympics in focus for rugby -- that was always a dream of his -- and he didn't want to abandon that for what he understood would be a long road to an NFL roster.
If he committed to the NFL then and was cut after training camp, he knew there was a chance he might be back to the beginning for both sports.
"My dream is to go to the Olympics and represent my country, and that's one of the goals that I wanted to do," Isles said. "I know in the next couple of months, I will see if that will be my reality or not with qualifications so I'm thinking either May or June I will know and depending on that, I will go from there."
December, 13, 2014
12/13/14
11:55
AM ET
He met with
Reggie Bush
this year. And this week, former Australian rugby star Jarryd Hayne met with the
Detroit Lions
, too, according to ESPN Insider Field Yates.
Hayne quit rugby earlier this year to prepare for a transition to the NFL. At 6-foot-2, the 26-year-old Hayne would likely be a running back and kick returner, based on the skills that would transition from rugby.
National Football Post reported that Hayne
also met with Seattle and San Francisco
recently.
This wouldn't be Detroit general manager Martin Mayhew's first foray into the rugby world to search for potential talent. Last December, the Lions brought in and signed United States rugby player Carlin Isles, who was specifically known for his speed, to their practice squad.
Isles ended up signing a futures contract with the Lions following last season but
eventually ditched the contract to return to rugby
.
May, 12, 2014
5/12/14
4:41
PM ET
The
Detroit Lions
made their post-draft roster moves late Monday, officially signing 11 players to undrafted free-agent contracts and cutting players currently on the roster.
Among the players cut were kicker
John Potter
-- meaning the kicking battle in the fall will be between seventh-round draft pick
Nate Freese
and
Giorgio Tavecchio
-- and receiver
Carlin Isles
, who will head to the U.S. rugby team. Also gone are safety
Akwasi Owusu-Ansah
and tight end
Matt Veldman
, both of whom played for Detroit last season in the finale against Minnesota.
Cuts:
OC
Sherman Carter
, WR Carlin Isles, LB
Jon Morgan
, CB
Nate Ness
, K John Potter, WR
Cody Wilson
, TE Matt Veldman, S Akwasi Owusu-Ansah.
They did this to add 11 undrafted free agents. Here are those players. We'll have short profiles on all of them this week.
Chad Abram, FB, Florida State; Alex Bullard, OG, Tennessee; Jerome Couplin, DB, William & Mary; James Franklin, QB, Missouri; Justin Jackson, LB, Wake Forest; Cornelius Lucas, OT, Kansas State; Gabe Lynn, DB, Oklahoma; Jacob Maxwell, TE, Louisiana-Lafayette; D.J. Morrell, OG, Old Dominion; Andrew Peacock, WR, Appalachian State; Mohammed Seisay, DB, Nebraska.
February, 21, 2014
2/21/14
12:45
PM ET
INDIANAPOLIS -- The
Detroit Lions
' receiving corps was bolstered a little bit more Friday, as general manager Martin Mayhew said the team will bring back
Jeremy Ross
and
Kris Durham
, who were exclusive rights free agents.
After an injury to
Nate Burleson
and overall ineffective play from Patrick Edwards, Durham was elevated to a starting wide receiver opposite
Calvin Johnson
for the majority of the season. Durham played in 16 games, making 38 catches for 490 yards and two touchdowns last season. He has good familiarity with quarterback
Matthew Stafford
from their shared time at Georgia.
Ross
Durham
Ross emerged as a return threat for Detroit after he was bumped up from the practice squad in October. He was one of Mayhew's better signings throughout the season, as he grabbed Ross off the waiver wire after he was released by Green Bay.
He turned into the team's primary kick and punt returner, returning both a punt and a kick for a touchdown against Philadelphia in Week 14.
"I think he did a good job for us last season," Mayhew said. "He didn't have quite enough returns to get into some of the categories with the leaders. I guess his stats don't really show up. If he had a handful more returns, he would be one of the top punt returners in the NFL right now.
"So he's a very talented guy. He's young. He had upside. He's still growing. We might add to that (return) group. We might add there."
Among the guys Mayhew pointed to were practice squad running back
Steven Miller
and utility guy
Carlin Isles
, who has not decided whether he will give up football for rugby. Mayhew also didn't rule out adding a player through the draft or free agency as competition for Ross.
February, 19, 2014
2/19/14
6:25
PM ET
Carlin Isles
appears to have given up his hopes of playing in the NFL -- at least for now.
The utility player, who was dubbed "the fastest man in rugby," initially signed on with the
Detroit Lions
' practice squad before the final game of the regular season. Then, the team signed him to a reserves/futures deal in January.
There was even some mention of him giving up rugby to concentrate on football and trying to make the Lions, where his speed could have potentially been used as a returner.
However, the Scotsman, a newspaper in Scotland,
is reporting that Isles will head to Glasgow
to play the rest of the rugby season with the Glasgow Warriors. The Warriors' season will run until at least May, which would mean Isles would miss offseason workouts with Detroit.
Considering his rawness on the NFL level – he was a Division II college player with sprinter's speed – this would not bode well for him making the team even if he would want to return after his rugby season. Isles is also part of the United States rugby sevens national team.
His agent told the Guardian that Isles'
goal is to play in the Rugby World Cup next season
. If he were to devote himself to that, it would seem unlikely an NFL appearance would beckon.
February, 4, 2014
2/04/14
8:00
AM ET
Good morning and ROOOOAAAARRR!!!!i
While a lot of the focus over the next few months will be on who the
Detroit Lions
might draft in May or what will happen with key free agents like
Dominic Raiola
or
Brandon Pettigrew
, another interesting decision is looming.
What will Carlin Isles, the fastest man in rugby signed to a futures/reserve contract with the Lions, decide to do.
According to this story on CNN International,
the answer is still unknown
.
When Isles was around for the final week of the regular season in Detroit -- and the final week of the tenure of Jim Schwartz -- Isles said the 2016 Olympics was a goal for him in Rugby Sevens. But so was playing in the NFL, and what Isles lacks in size, he makes up for in speed.
But the question still remains for Detroit, if Isles chose football, where would he play? Would he be a return specialist -- and does that even fit with
Jeremy Ross
an exclusive rights free agent likely to return. Or could his speed negate his size issues at receiver, running back or cornerback.
Should he choose football over rugby, that is just one of many questions that will be asked as he embarks on trying to make it in the NFL.
And now, a look around the Interwebs in search of Lions news:
December, 31, 2013
12/31/13
12:30
PM ET
Not surprising, but the
Detroit Lions
have signed 10 players to futures contracts, including the majority of its practice squad.
Wide receivers Corey Fuller, Carlin Isles, Patrick Edwards and Cody Wilson all received deals, along with running back Steven Miller and defensive tackles Xavier Proctor and Jimmy Saddler-McQueen.
All were on the practice squad this season.
The Lions also signed two kickers, Giorgio Tavecchio and John Potter, and linebacker Jon Morgan.
Morgan was with the Lions in training camp before being released. Tavecchio was brought in during the massive kicker tryout late in the season when
David Akers
was struggling and Potter spent some time with the Redskins this season.
Akers, by the way, is an unrestricted free agent.
December, 26, 2013
12/26/13
4:40
PM ET
ALLEN PARK, Mich. -- He seemed annoyed at it for a second -- not the question exactly but the response he had to give.
[+] Enlarge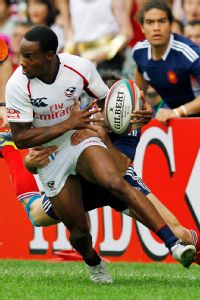 AP Photo/Kin CheungLions practice squad addition Carlin Isles has incorporated football into his rugby regimen.
Yes, Carlin Isles did run a 40-yard dash in 4.22 seconds during his tryout with the
Detroit Lions
earlier this week. And yes, he was disappointed he didn't run faster than that. Because he says he can, and from watching his highlight videos from his time with the United States rugby team that is completely believable.
This is why the Lions, who made noise earlier this year by bringing in Havard Rugland (aka Kickalicious) to training camp, are taking a chance by signing the receiver who can also be a returner and a cornerback to their practice squad.
At this point, with nothing left to lose in this failure of a season for the Detroit Lions from the perspective of the playoffs, why not try someone out who has a ton of uncoached talent to see what he can do?
"That's more than anything, take a look," Detroit offensive coordinator Scott Linehan said. "See his background in football and how he responds to look teams and things like that. Right now is too early to say where he could go from here."
Isles is intriguing on many levels. He started playing football at age 8 and played through high school and his first two years at Division II Ashland University. Isles said he could play either returner role, wide receiver, cornerback or even running back. He played the latter two positions at Ashland.
But after football at Ashland, he shifted to track and, eventually, rugby, where he is a member of the United States national team for rugby sevens.
It was there where his YouTube highlights -- one of which has over 5 million views -- caught the attention of a lot of people and made him a bit of a sensation. And it is rugby where he also has a shot at the Olympics.
The 2016 Olympics in Rio de Janiero, where sevens rugby will be a medal sport, is one of his goals.
"2016 is a big deal for me," Isles said. "That's a goal of mine, but playing in the NFL is a blessing, too."
He said he trained for football by incorporating it into his rugby training. After this season ends Sunday, he'll go back to rugby training in advance of the fourth and fifth rounds of the HSBC Sevens World Series in Las Vegas Jan. 24-26, then Wellington, New Zealand, Feb. 7-8.
And if an NFL team wanted to sign him to a futures deal following the season? He'd discuss it with his rugby coaches. After all, growing up he used to watch
Devin Hester
and
Calvin Johnson
play.
Then on Thursday, he got to have a conversation with one of them -- Johnson -- and even had him hit him with pads during the team's practice.
"Man, being in an NFL locker room has been a true blessing for me, man," Isles said. "Watching these guys on TV and coming here and to see them in person, it's outstanding and it's a shocker for me.
"I never would have thought in my life I would be right here in the NFL. It's always like a little kid's dream coming up. To me, to make it to real and people coming up to me back home and across the state, I'm very happy."
December, 26, 2013
12/26/13
1:00
PM ET
Each week, we'll look at who or what might be rising or falling with the Detroit Lions.
STOCK UP:
Run defense:
The Lions have really done a good job here all season long -- and probably a good case to keep as much of the front seven intact as possible heading into next season. The Lions allowed just 41 yards rushing to New York (1.95 yards an attempt) and no touchdowns again. Other than the snow game against Philadelphia, this group has been extremely strong against the run this season.
[+] Enlarge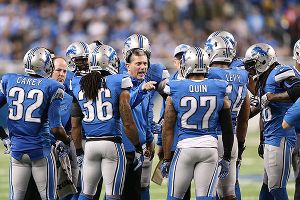 Leon Halip/Getty ImagesBarring a surprise, Sunday will be the last game for Jim Schwartz as head coach of the Lions.
Young cornerbacks:
Detroit is going to need to figure out what it is going to do in the secondary next season no matter who the coach is.
Chris Houston
had a disappointing year, and
Rashean Mathis
is a free agent. But the Lions saw promise from their younger corners against New York.
Jonte Green
and
Chris Greenwood
held their own against New York -- and Green the week before against Baltimore, too. They aren't ideal starters, but with an offseason of development could become reliable depth behind whoever plays corner for Detroit in 2014. This includes
Darius Slay
, who showed improvement before tearing his meniscus earlier this month.
Draft pick:
Being out of the playoffs means a better draft pick and if the Lions lose Sunday, they could end up in the Top 10 again. They'll probably be picking in the top half of the draft again and would probably use the selection on a cornerback or a wide receiver at this point.
Carlin Isles:
The Lions signed the rugby star to their practice squad Thursday morning. Isles played football and ran track at Ashland University before starting to play rugby in 2012. He is part of the United States national team for rugby sevens and could make his Olympic debut in 2016. He's that good.
STOCK DOWN:
Lions playoff hopes:
They are now non-existent. The Lions have only pride -- and, for some, their futures -- to play for Sunday in the season finale against Minnesota. Truly an almost unbelievable collapse in the second half of the season if I hadn't watched it all myself.
Head coach Jim Schwartz:
Barring something very, very, very unexpected, Sunday will be the final game of Schwartz's career with the Lions. The way Detroit collapsed at the end of the last two seasons combined with his outburst about -- and somewhat toward -- the fans Sunday against the Giants probably sealed his fate with Detroit. The only reason I use probably here is that the Ford family is known for extreme, and sometimes too extreme, patience with people. If they want him to stay, he'll stay. But it is tough to see a scenario where that happens.
Veterans' hopes:
If Schwartz is indeed fired, that could cause more change in the Detroit locker room, which means tougher decisions on center
Dominic Raiola
, who is a free agent after the season, Mathis and receiver
Nate Burleson
, who has one year left on his contract and has already told MLive
he would restructure his contract to stay with the team
. But their value to Detroit would depend on who the new coach is and what he is looking for in each spot. This is the tough part of the business of the NFL. All three veterans have played well this seasons.
December, 26, 2013
12/26/13
12:35
PM ET
ALLEN PARK, Mich. --
Detroit Lions
wide receiver
Calvin Johnson
missed his second day of practice this week, as did linebacker
DeAndre Levy
.
Johnson
Johnson and Levy were two of eight Detroit players to miss practice Thursday. Joining them were cornerbacks
Chris Houston
(toe) and
Bill Bentley
(head), safety
John Wendling
(ankle), returner
Micheal Spurlock
(theoretically still traveling to Detroit) and offensive linemen
LaAdrian Waddle
(ankle) and
Dylan Gandy
(unknown).
Some number changes, too. Carlin Isles, a rugby player signed to the practice squad Thursday, is wearing No. 16. Cody Wilson, a practice squad receiver, is now wearing No. 1, presumably opening up No. 15 for Spurlock's return.
Also, the Lions sent
Dorin Dickerson
(head) to injured reserve and promoted Matt Veldman to the 53-man roster for Sunday. This gives Detroit two tight ends -- Veldman and
Joseph Fauria
-- for when the Lions face the Vikings.