Detroit Lions:

Cincinnati Bengals
October, 20, 2013
10/20/13
10:00
AM ET
By
ESPN.com staff
| ESPN.com
Join our ESPN.com NFL experts as they break down the Cincinnati Bengals' visit to the Detroit. Contribute your thoughts and questions beginning at 1 p.m. ET. And, be sure to visit our
NFL Nation Blitz page
for commentary from every game, as well as fan photos and the latest buzz from Twitter. See you there.
October, 18, 2013
10/18/13
7:00
PM ET
CINCINNATI -- It all started with a Bulldog and continued with a Yellow Jacket.
During the summer of 2011, NFL players were unable to work out at team facilities and played the lockout waiting game unsure of what their immediate futures held. Meanwhile, two of the league's best young receivers teamed up in a familiar state down south to keep in shape.
[+] Enlarge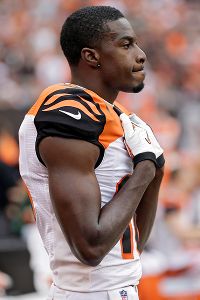 AP Photo/Tony DejakA.J. Green has followed in the steps of his Sunday counterpart Calvin Johnson, although Green's path seems to be more accelerated.
A.J. Green
, the
Cincinnati Bengals
' first-year wideout who starred at the University of Georgia, was in Atlanta. So was his former Georgia teammate,
Mohamed Massaquoi
.
"Mohamed Massaquoi was working [at Georgia Tech]," Green said. "So I went out for a couple days and met him."
Green, just a wide-eyed rookie awaiting his first snaps as an NFL receiver then, also met
Calvin Johnson
, the
Detroit Lions
' large and beloved pass-catcher nicknamed the apropos "Megatron." A former Georgia Tech standout, Johnson was back in the city, too, training at the institute where his birth name and nickname first became synonymous with the freakish circus catch.
Deep in Dixie, where college football passions run as thick and deep as Georgia red clay after mid-afternoon summertime rainshowers, a pair of supposed rivals came together for a cause league coaches like the Bengals' Marvin Lewis now praises.
"Calvin has been a great mentor to A.J., and they've been very close," Lewis said earlier this week. "It's been great the way Calvin carries himself as a pro and as a man. It's very similar to A.J."
For just the second time since their now clockwork offseason tag-team regimens began, Johnson and Green will be facing off Sunday at Detroit's Ford Field. Unlike that time, though, the pair will be playing for more than just a few preseason reps. Both will be trying to help their respective team one-up the other's in a midseason game that could have all kinds of postseason implications.
Detroit enters the contest 4-2. Cincinnati is also 4-2.
Something will have to give.
Lately, it has been Johnson's knee and hands that have given in a bit. Three weeks ago, he missed the Lions' game at Green Bay because of a knee injury. Last week, he came back and played through it but wasn't effective, catching just three passes for 25 yards. He also had two drops.
Overall, Johnson has 24 receptions for 337 yards and four touchdowns this season.
Green, who has been targeted 22 more times than Johnson, has 37 catches for 464 yards and four scores. He comes into the the game one catch shy of 200 for his career. In his third season, Green is about to play in his 38th game. It took Johnson 47 games to reach his 200-catch milestone.
"He had an outstanding first couple of years," Johnson said. "I'm about to tell him, you've got to come over, come take the reins over."
[+] Enlarge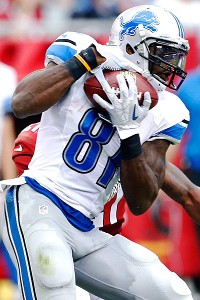 AP Photo/Darryl WebbCalvin Johnson has come to enjoy his workout sessions with A.J. Green -- despite he fact that the receivers attended rival schools in Georgia.
From the time his career began in 2007, Johnson has been widely regarded as the best player at his position. His combination of imposing size, raw strength and lightning-quick speed make him seemingly unstoppable. Most passes thrown within a 10-yard radius of him are caught. When they are, he seldom goes down right away. Typically it takes multiple defenders to slow down his yard-after-catch pickups.
Asked if he believed Johnson was the No. 1 receiver in the NFL, Green didn't hesitate with his response.
"I think so," he said. "He can do everything. He can go get the ball, run any routes, take a screen 80 yards for a touchdown."
Come to think of it. That kind of sounds like Green describing Green. He, too, catches most balls thrown his way, even if they require one-hand snags or acrobatic grabs. One of his best plays last week came on a screen that he turned into a big gain. After catching a quick pass at the line, he sprinted 54 yards by following his blockers.
So could Green and Johnson safely be considered the same guy?
"Both of them don't have to be open for a quarterback to throw the ball to them," Lions coach Jim Schwartz said. "They are tall with great hands and leaping ability. ... Both have the quarterback's confidence that if they are covered, they can get it to them."
About the only thing that separates them is their size. Johnson is about an inch taller and 30 pounds heavier. He also is older, having left Georgia Tech one year before Green left South Carolina to begin his college career at Georgia. When he arrived, his quarterback was a senior from Texas:
Matthew Stafford
. That, of course, is the same Matthew Stafford who completes passes to Johnson in Detroit now.
When it comes to Johnson's and Green's offseason workouts, as much mental work goes into them as physical.
"We get a good workout there, whether it be on the field, in the weight room, wherever we're at," Johnson said. "Even if we're just sitting there talking, it's just to understand his mindset.
"We're so cool right now, it's just like a [having] brother, you know?"
In the Peach State, it's an unlikely brotherhood: one a Bulldog, one a Yellow Jacket.
ESPN NFL Nation reporter Michael Rothstein contributed to this report.
October, 17, 2013
10/17/13
7:35
PM ET
ALLEN PARK, Mich. -- The last time
A.J. Green
played in Detroit was his first time wearing an NFL uniform in a game. His first preseason game. His rookie year.
Already down two touchdowns in the first quarter, Cincinnati quarterback
Andy Dalton
threw Green the ball on his very first play as a Bengal. It was intercepted by Detroit cornerback
Chris Houston
.
Not the start Green would have wanted.
"I had to make a tackle," Green said. "I hope I get off to a better start than that."
Since that point, not much has gone wrong for Green, who visits Detroit on Sunday with the Bengals.
[+] Enlarge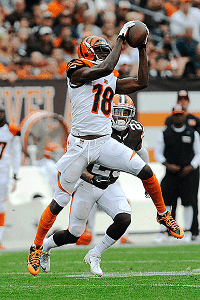 Ken Blaze/USA TODAY SportsBengals receiver A.J. Green has 37 catches for 464 yards and 4 touchdowns this season.
Over the past three seasons, stopping Green has been a major issue. He has 11 100-yard games in his first 37 games. In his career, he's only dropped 14 passes. Since entering the league as a first-round draft pick out of Georgia in 2011, he's seventh in the NFL in receiving yards (2,871) and of guys in the top 10 in that span, only
Vincent Jackson
,
Steve Smith
and
Dez Bryant
have fewer drops.
In the past three years, he's caught 22 touchdown passes, tied for 10th in the league during that span.
Part of what makes him good is he is incredibly tough to read as a receiver. He is a vertical threat, much like his offseason workout partner,
Detroit Lions
receiver
Calvin Johnson
, but his ability to run any route is what makes him completely dangerous.
"You can tell he works on every part of his game," Houston said. "Some guys, you can just know that they just run nines, jump balls, and they are not good in-and-out of breaks.
"Him, you've got to play everything because he's so precise in everything he does."
There is a rare fluidity there, something only a few receivers have and even less are able to excel with. But Detroit cornerback
Rashean Mathis
has been around a while.
He's covered a lot of receivers. As a former Pro Bowler, he's handled a lot of them well, too. Green, though, he's one of the best current NFL receivers Mathis has seen.
"I've seen a lot of guys," Mathis said. "But there's not a lot of guys that possess the smoothness of route running that he has, that capability. He can be an explosive guy as well.
"It's a good combination he has."
But the key to stopping Cincinnati's offense is to keep Green from taking those vertical routes too often. Force him to use those quick stops and fluid movements he has when he's making cuts to run hitches and slants instead of go routes, corners and posts.
This, Houston believes, is the way to frustrate Cincinnati's offense.
In some ways, Detroit's cornerbacks practice this every day because they have the older, perhaps more elite version of Green: Johnson.
Like any quarterback in the league, Dalton throws a lot of his passes within 10 yards of the line of scrimmage and Dalton likes to go outside of the hashmarks on those throws. When throwing to receivers, Dalton has been his most efficient throwing to the outside of the field. His highest completion percentage beyond the line of scrimmage is to the left side of the field between the line of scrimmage and 10 yards away, where he is completing 75 percent of his passes.
Three of Dalton's four highest QBR zones are on the left side from 10-to-20 yards away (94.3) and then deeper than 20 yards (86.7) along with over the middle more than 20 yards away (98.5).
"They want their quarterback not to make mistakes," Houston said. "A lot of quick three-step (drops), lot of quick five-step (drops).
"Then, once you start biting up on the quick three-and-five step, then they hit you deep."
A lot of that deeper success comes because of the route running fluidity Green possesses. When he makes it hard to read, he becomes that much more difficult to stop. And it has turned him into one of the best receivers in the NFL.
"You could put him up there," Mathis said. "I'm not the one to crown anyone too quick but he's made plays his first three years so to knock him, you can't do that. You have to give him his props.
"He's a very good young talent and if he keeps it up you definitely can put him in the top three or four receivers in the league easily."
ESPN Bengals reporter Coley Harvey contributed to this report. Information from ESPN Stats & Information was also used in this report.
October, 17, 2013
10/17/13
12:00
PM ET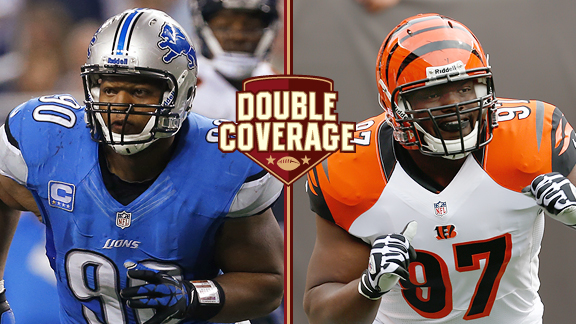 AP PhotoNdamukong Suh and Geno Atkins lead two of the league's best front fours.
The
Detroit Lions
have a chance to solidify themselves for a playoff push. So do the
Cincinnati Bengals
. They may be in different conferences, but this game should be a good test for both teams as to where they stand in the larger picture of the NFL.
Both teams lead their divisions, and both won on the road last week. And in the wacky world of the NFL, Detroit has beaten both teams Cincinnati has lost to (Chicago and Cleveland) while the Bengals have beaten one of the two teams the Lions lost to (Green Bay).
As for this week's game, Bengals reporter Coley Harvey and Lions reporter Michael Rothstein break down what should be an interesting matchup.
Rothstein:
Detroit's cornerbacks continue to either be banged up (starters
Chris Houston
and
Rashean Mathis
) or really young (rookie
Darius Slay
). How much of a problem is
A.J. Green
going to pose in this situation? Does he feast on these matchups?
Harvey:
Given the Lions' lack of experience and consistency at cornerback, that could be a problem for Detroit this weekend. Or maybe it will be a good thing. Here's what I mean: Green does well when he's going one-on-one against particular defensive backs, and he seems to relish having opportunities to expose both really good and really poor corners. Against Buffalo's
Leodis McKelvin
on Sunday, Green caught six passes for 103 yards and a touchdown. He was targeted 11 times as the Bengals went more to their receivers than they had the week before. As good as McKelvin is, though, he's no
Charles Tillman
, whom Green caught nine passes against in Week 1. He also isn't
Joe Haden
, who allowed Green to catch seven balls but held him to just 51 yards in Cleveland three weeks ago. So Detroit having a revolving door at corner could be problematic since Green has had his opportunities against some of the league's best this season.
As far as the inexperience and inconsistency at the position being a good thing for the Lions, I say that because that might prompt Detroit to double-team Green. As we've seen this season, Green struggles when safeties are able to come over the top and help out in coverage against him. If double coverage ends up being a cornerstone of the Lions' game plan, Green could have a tough day.
We'll stick with receivers, and I'll ask you, Michael, about
Calvin Johnson
. We know he's hobbled a bit with that knee injury, but how much do you think he's looking forward to squaring off with a guy like Green, who also is considered one of the game's best receivers?
Rothstein:
Johnson seems to enjoy seeing other top receivers on the field, but he gets more excited to see topflight opposing cornerbacks like
Patrick Peterson
. For instance, he and Peterson swapped jerseys after their Week 2 game.
His knee is a concern. He didn't quite look like himself against Cleveland on Sunday, dropping a couple of passes and not being his typical deep threat. But when he is out there, teams still have to pay extra attention to him because he is the top receiver in the game.
Johnson's presence changes a lot, even if he can't go deep. Detroit can still use him on underneath routes, and he's still likely to draw the double-team or added attention, especially in the red zone. As long as he can do some things and run some routes, Johnson will be out there and making a difference.
That leads me to this question -- how will Cincinnati's defense handle both the questionable health of Johnson combined with everything else Detroit's offense has to offer?
Harvey:
Cincinnati's top corner,
Leon Hall
, likely will draw the bulk of reps against Johnson, even though, at 5-foot-11, he stands some six inches shorter than his 6-5 counterpart. It'll be interesting to see how Hall and the other defensive backs handle the threat of the deep ball, assuming Johnson can run better and get underneath those passes this week. If he's forced to go underneath, the Bengals feel confident their cover linebackers --
Rey Maualuga
,
Vontaze Burfict
and
Michael Boley
-- and cover safety
Taylor Mays
can disrupt short- to intermediate-range passes.
When it comes to stopping
Reggie Bush
in the run game, the Bengals have the type of defensive front that will make such a matchup intriguing. Last week, against the No. 3 rushing offense in the NFL, they gave up 130 yards on the ground but limited
Fred Jackson
to just 35 yards on 10 carries. With fewer big-play threats in the Lions backfield, the Bengals have to be glad they're keying primarily on one running back this week. That said, it'll be interesting to see what they do with linebacker
James Harrison
. He factored heavily in the run defense last week, but with the passing threat Detroit possesses, he likely won't be on the field as much this week.
Speaking of defensive players,
Ndamukong Suh
continues to be a disruptive force in the Lions' interior. Statistically speaking, though, it seems he wasn't very productive last week. Any idea what happened there, Michael?
Rothstein:
That hasn't been unusual. His numbers have not been astronomical, but he picks up double-teams on almost every play, it seems. So just the attention he draws assists everyone. There have been hurries that have led to interceptions as well. He is playing extremely well and very consistent.
Has
Andy Dalton
said anything about Suh this week? They had a prior run-in, and a hit on
Brandon Weeden
last week is being looked at by the league.
Harvey:
Dalton was asked about the body slam Suh gave him during the 2011 preseason opener. But being the polite politician that he is, the quarterback didn't show any ill will toward Suh. Quite the contrary, actually. Like several of his offensive linemen, Dalton simply called Suh a good player and credited the way he passionately plays the game. Though few linemen wanted to make the Dalton-Suh incident a storyline this week, they will have that play in the back of their minds, rest assured.
Oh, and is there a week when the league isn't looking at one of his hits?
Final question for you, Michael. Why does Bush have only one rushing touchdown this year? Is that a function of being part of a good passing offense or something else?
Rothstein:
It's a misleading number, Coley. He would have had two rushing touchdowns in Week 1, but both were reviewed and taken away at the 1-yard line.
Joique Bell
rushed both of them in instead. And he has two receiving touchdowns, so he is finding the end zone. Detroit is more of a passing team that likes to employ screens with its running backs, so that could be why those numbers look strange. But Bush is having a good season, no doubt.
October, 16, 2013
10/16/13
4:45
PM ET
ALLEN PARK, Mich. -- When Jim Schwartz steps on the field to coach the
Detroit Lions
on Sunday afternoon, he'll see a familiar face across the sideline. And someone who has no problem calling him "Jimmy."
His close friend and former boss,
Cincinnati Bengals
coach Marvin Lewis.
Lewis, then in his first job as a defensive coordinator in 1996 with Baltimore, hired Schwartz from the scouting department to make him a defensive assistant and quality control coach with the Ravens.
"The quality control guy is sort of the right hand man of the coordinator," Schwartz said. "So I got a chance to learn every bit of the defense. Probably the biggest thing I learned was Marvin's consistency.
"Not a guy that gets high, not a guy that gets low. He's got a work ethic that is sort of part of that process. It's a little bit different than some of the other coaches I've been around but I think you're seeing the results with the Bengals."
On Wednesday, Lewis credited a lot of his success and the people around him to Schwartz, who worked for him from 1996 to 1998. And Lewis said it was a recommendation from Ozzie Newsome to interview Schwartz.
He did, and then ended up hiring him.
"Everywhere around me, I owe it to Jimmy," Lewis said. "He's a good man, good coach and I recognized that right away."
Lewis said he also recommended Schwartz to then-Tennessee head coach Jeff Fisher and then-defensive coordinator Gregg Williams. The Titans hired him, setting up his path to eventually become the coach of the Lions, working his way up from a defensive assistant to eventually a defensive coordinator in Tennessee.
"He was bright," Lewis said. "His work ethic. He understood football. He understood the ability to communicate with the players. He was (a) good on the field coach, was a good off the field coach, was a good tactical coach. He was a detailed coach.
"He had it all. Very, very successful."
Successful enough to land an NFL head coaching job. Now the two families are close and Lewis and Schwartz will sometimes see each other in the summer.
Sunday, though, they won't care about that.
"Nobody is a friend on Sunday," Schwartz said. "You know the way that goes. He's a good football coach, he's got a great family. My wife and I and our kids know their family real well.
"But none of that matters when you get to Sunday. He's done a nice job with the Bengals, though. They've been real consistent over time. Marvin's a real steady guy and I think you see that reflected in their team."