Detroit Lions:

coaching hires
February, 4, 2014
2/04/14
1:00
PM ET
The
Detroit Lions
continue to add coaches and they continue to have some level of NFL experience.
The Lions have hired Tony Oden to be the assistant secondary coach and Matt Raich to be the defensive quality control coach.
Oden has been a coach since 1996 -- almost all as a defensive coach in the secondary. He spent the past two seasons in Tampa Bay as the team's defensive backs coach and worked with the secondary in New Orleans from 2006 to 2011. Before that, he spent two years in Houston as an assistant defensive backs coach.
He also has extensive college experience after graduating from Baldwin-Wallace in 1996. He started at Millersville University in Pennsylvania and then went to Boston College, Army, East Carolina and Eastern Michigan before heading to the NFL.
Oden worked with
Darrelle Revis
in Tampa Bay. With the Buccaneers, the team was in the top half of the league in interception percentage his two seasons there, but allowed the most passing yards per game in the league in 2012.
In 2011, when he was the New Orleans defensive backs coach, the team was 30th against the pass and the worst team in the league in interception percentage. The Saints did make the playoffs his final three years with the club and won a Super Bowl in 2009.
Raich worked with Teryl Austin and former Detroit coaching candidate Ken Whisenhunt in Arizona. He spent his final four seasons in Arizona as the team's linebackers coach. He came with Whisenhunt to Arizona from Pittsburgh, where he was an offensive coach with the Steelers. He started in the scouting department with Pittsburgh.
He spent last season with Duquesne, coaching the linebackers. He played linebacker at Westminster College, in NAIA, from 1989 to 1992.
January, 25, 2014
1/25/14
6:20
PM ET
The Detroit Lions have hired their second Prince for their coaching staff.

A week after hiring Ron Prince as their assistant head coach and tight ends coach, the team announced Saturday that they have hired Robert Prince as the Detroit wide receivers coach.

Prince was the offensive coordinator at Boise State the past three seasons, his second stint with the Broncos. The Humboldt State graduate has a ton of experience working with receivers.

He was the wide receivers coach in Seattle in 2009 and the assistant wide receivers coach in Jacksonville in 2007 and 2008. He also coached with Atlanta from 2004 to 2006.

On the college level, he coached wide receivers at Boise State as well. He also coached receivers at Colorado (2010), Portland State (1998) and Sacramento State (1992-93). He was the offensive coordinator and quarterbacks coach in a Japanese football league from 1996 to 1997 and at Fort Lewis College in Colorado from 1994 to 1995.

Coaching staff:

Head coach -- Jim Caldwell
Assistant head coach -- Ron Prince
Offensive coordinator -- Joe Lombardi
Defensive coordinator -- Teryl Austin
Quarterbacks -- TBD
Running backs -- Curtis Modkins
Wide receivers -- Robert Prince
Tight ends -- Ron Prince
Offensive line -- Jeremiah Washburn (asst. Bobby Johnson)
TBD -- Terry Heffernan
Defensive line -- Kris Kocurek (asst. Jim Washburn)
Linebackers -- Bill Sheridan
Secondary -- Alan Williams
Special teams -- John Bonamego (asst. Evan Rothstein)
January, 23, 2014
1/23/14
7:40
AM ET
The
Detroit Lions
might be close to finished with hiring of their defensive staff.
The St. Paul Pioneer Press is reporting that Alan Williams, the
Minnesota Vikings
defensive coordinator the past two seasons, will
join the Lions as their defensive backs coach
. Williams also has a long history with new Detroit coach Jim Caldwell.
Williams coached the defensive backs in Indianapolis from 2002 until 2011 under Tony Dungy and then Caldwell. They also coached together under Dungy for a season in Indianapolis.
This is also the second former defensive coordinator Detroit has hired under first-time NFL defensive coordinator Teryl Austin. Bill Sheridan, the new linebackers coach, has experience as a defensive coordinator with the
Tampa Bay Buccaneers
and the
New York Giants
.
Under Williams in Indianapolis, the Colts were often in the top half of the league in both interception percentage and passing yards allowed per game, including having the second-best pass defense in 2006 and 2007.
This should also complete the major position coaches on defensive side of the staff for Detroit. The Lions have yet to hire a quarterbacks or wide receivers coach.
Coaching staff:
Head coach --
Jim Caldwell
Assistant head coach --
Ron Prince
Offensive coordinator --
Joe Lombardi
Defensive coordinator --
Teryl Austin
Quarterbacks --
TBD
Running backs --
Curtis Modkins
Wide receivers --
TBD
Tight ends --
Ron Prince
Offensive line --
Jeremiah Washburn (asst. Bobby Johnson)
TBD --
Terry Heffernan
Defensive line --
Kris Kocurek (asst. Jim Washburn)
Linebackers --
Bill Sheridan
Secondary --
Alan Williams
Special teams --
John Bonamego (asst. Evan Rothstein)
January, 21, 2014
1/21/14
8:05
AM ET
Good morning and ROOOOAAAARRRRR!!!
One of the final positions on the Detroit Lions' staff that needs to be filled might be one of its most important -- offensive coordinator.
On Monday in Mobile, Ala., the team interviewed Cincinnati quarterbacks coach Ken Zampese, the son of Ernie Zampese, for the position, according to ESPN Insider Adam Caplan.
Zampese is the first real name to surface for the position since Bill Lazor took the Miami offensive coordinator position the day after Jim Caldwell was hired. Lions general manager Martin Mayhew addressed the issue with reporters Monday evening at the Senior Bowl.
"There's several spots that we haven't filled. It's just sort of a process. Some of them, for example, when we interviewed Coach Caldwell, one of the first guys that he talked about was Ron Prince," Mayhew told reporters in Alabama. "We were able to get Ron Prince in, get him signed. It was something they had talked about prior to Coach Caldwell getting this job. They had a relationship, a previous relationship.
"Some of those fell into place a little quicker because of a previous relationship or guys knowing that they wanted to go with Coach Caldwell. Some of the other spots are taking a little bit longer but I don't think we're probably in any different situation than any other teams that made changes. I think we're on the same timetable with say Minnesota, Tennessee and some of the other teams."
Zampese has been Cincinnati's quarterbacks coach since 2003. He has been an offensive coordinator for one season, with Northern Arizona in 1995.
Mayhew said the team has interviews lined up for potential coordinators, but declined to say who is on the list of options. Offensive coordinator is one of the positions the Lions still need to fill, along with wide receivers coach, quarterbacks coach and defensive backs coach, among others.
Mayhew also indicated he had no timetable for making the offensive coordinator hire and that he was pleased to see eight coaches retained from the prior staff.
"We have some quality coaches on our staff, there's some quality coaches," Mayhew told reporters. "We were talking earlier today because we were just getting people reaching out to us about the spots that we have open, there are more good coaches in this league then there are spots.
"There are a bunch of good football coaches out there that are available and we're just trying to make the best decision for us right now. But there's certainly a lot of good football coaches out there."
Dave Birkett from the Detroit Free Press reported on the defensive backs coach front, the Lions
interviewed their secondary coach from last season
, Marcus Robertson.
And now, a look around the Interwebs in search of Lions news:
January, 18, 2014
1/18/14
11:20
AM ET
The
Detroit Lions
have made another hire, and this one was both anticipated and still unexpected.

How?
Well, the team is bringing Ron Prince, the former Kansas State head coach, in as the team's assistant head coach. That is the expected part, as John Wooten from the Fritz Pollard Alliance Foundation said Prince would likely be part of the staff from the outset.
Here's the unexpected part: Prince also will coach the tight ends. And that's the intrigue with this hire. Prince has never been a tight ends coach in his life. He's coached offensive line for years. He's been an offensive coordinator at Virginia from 2003-06 -- including Matt Schaub's senior season -- and was the Rutgers offensive coordinator last season.
His only NFL experience is as an assistant offensive line coach for two seasons under new head coach Jim Caldwell in 2010 and 2011 and then with Jacksonville in 2012.
Prince played his college ball as an offensive tackle at Dodge City Community College in 1988 and 1989 and then for two seasons at Appalachian State.
The 44-year-old then worked his way up the difficult way. He had stints as an offensive line coach at Alabama A&M, South Carolina State, James Madison and Cornell before landing as Virginia's offensive line coach under Al Groh in 2001.
Two seasons later, he was the offensive coordinator and then eventually the head coach at Kansas State from 2006-08, where he went 17-20 and was the middleman between Bill Snyder eras at the school.
When Prince was fired by Kansas State, he ended up in a lawsuit with the school over his termination fee and whether or not there was a secret agreement between him and the school. The case, which was eventually settled for $1.65 million in May 2011,
was written about by the National Sports Law Institute
at Marquette. As part of the settlement, Prince was
cleared of any wrongdoing in the case
.
The other interesting football part about this hire is that Prince has been an offensive line coach for so long. Perhaps -- and this might be reading too much into it -- Caldwell saw the blocking struggles of the team's current tight ends (specifically
Joseph Fauria
) and figured this might be the best way to turn him into a complete tight end.
Or, I'm reading way too much into that.
Coaching Staff to this point:
Head coach --
Jim Caldwell
Asssistant head coach
-- Ron Prince
Offensive coordinator --
TBD
Defensive coordinator --
Teryl Austin
Quarterbacks --
TBD
Running backs --
Curtis Modkins
Wide receivers --
TBD
Tight ends --
Ron Prince
Offensive line --
Jeremiah Washburn (asst. Bobby Johnson)
TBD --
Terry Heffernan
Defensive line --
Kris Kocurek (asst. Jim Washburn)
Linebackers --
Bill Sheridan
Secondary --
TBD
Special teams --
John Bonamego (asst. Evan Rothstein)
January, 17, 2014
1/17/14
12:00
PM ET
Jim Caldwell is still putting together his staff and searching for an offensive coordinator, but when it comes to the Detroit offense in 2014, the new head coach will have a lot of input.
He may even call the plays himself.
"Well, we're going to take a look and see exactly what we want to do in that particular area," Caldwell said. "Here's one thing you can guarantee, that I'm going to have, obviously, some input in that area.
"I'm going to be involved deeply in that area and, certainly, with the quarterbacks as well."
Caldwell gave some hints to scheme on Wednesday during his introductory news conference, saying the Lions would run more one-back than two-back in terms of offense and that he plans on being multiple when it comes to personnel.
In Caldwell's time as a head coach and offensive coordinator, though, the Colts carried a fullback on the roster during his final season in 2011 and had one when he was Baltimore's offensive coordinator in 2013 as well.
The Lions did not have a true fullback on the roster in 2013, although
Montell Owens
could theoretically fill that role if necessary.
So if Caldwell decides to call plays for Detroit this season, here's a peek at what that could look like with the caveat that the Lions have more dynamic pieces this season than Baltimore did last season.
Baltimore, under Caldwell, was 29th in offense last season and 25th in scoring. He isn't, though, absolutely stepping away from calling plays this season with Detroit.
Last season, of a total of 1,042 plays, Baltimore ran the ball 423 times and passed the ball 619 times. The Ravens, under Caldwell, were 18th in the NFL in rushes (Detroit was 14th last season) and eighth in the league in passes. (Detroit was fifth.)
They were last in the league in yards per rush (3.1) and 31st in the league in yards per passing attempt.
Caldwell had almost a 50-50 split between run and pass on first downs, attempting passes 211 times and running the ball 243 times. He was much more likely to pass on second and third downs.
On second downs, Baltimore threw 209 passes to only 135 runs and on third down, threw the ball 189 times to only 40 rushes. The highest completion percentage on any down came on second down, when the Ravens completed 63.2 percent of their passes.
Looking at it by quarters, Caldwell was most balanced in the first quarters of games calling plays, calling 123 passes and 100 runs. The second quarter was the most unbalanced, with 170 passes to 91 runs.
In second halves, Caldwell calledn 147 passes to 108 runs in the third quarter and 176 passes to 115 rushes in the fourth quarter. The Ravens got markedly better throwing the ball after halftime -- perhaps a sign of strong adjustments -- completing 64.6 percent of passes in the third quarter and 60.8 percent of passes in the fourth quarter. In the first halves of games, the Ravens completed under 60 percent of passes in both the first and second quarters.
Caldwell also called many more passes on the road versus at home. The Ravens threw 338 passes on the road this season compared to 281 at home and ran the ball 230 times at home compared to 193 on the road.
Not surprisingly, Baltimore completed more passes at home (60.5) versus away from Maryland (57.1). The Ravens also threw more interceptions on the road (14) than at home (9), but had more yards per rush (3.44) on the road than at home (2.89).
When it comes to runs, Baltimore ran 199 times toward the guards (83 to the left, 116 to the right). The Ravens gained 575 yards, or 2.89 yards a carry, on those rushes with two touchdowns. Caldwell called 142 rushes up the middle for 496 yards.
He called outside runs the least -- 73 times -- with 35 called outside to the left and 38 outside to the right. Combined, the Ravens gained 264 yards and scored three touchdowns on those plays.
During his shortened stint as Baltimore's offensive coordinator in 2012, when he took over before Week 15, there was more balance. Caldwell was almost perfectly balanced in first quarters in 2012, passing 52 times and rushing 54 times. In second quarters, he threw 62 times and ran 58 times. He threw 71 times and ran 56 times in third quarters and threw 43 times and ran 70 times in fourth quarters.
His run/pass comparisons on downs was as expected in 2012. He ran much more on first down (133 times) versus passing (76 attempts). He was close to balanced on second down, rushing 90 times and passing 82 times. He passed 74 times on third down and rushed only 22 times.
By the numbers when Caldwell was a coordinator in Baltimore in the regular season (Week 15 2012-Week 17 2013):
Total yards: 26th (6,081)
Touchdowns: 28th (33)
Completion percentage: 22nd (58.7)
Yards per rush: 32nd (3.4)
Interceptions: 28th (25)
Turnovers: 19th (32)
First downs: 21st (355)
January, 16, 2014
1/16/14
4:27
PM ET
New
Detroit Lions
coach Jim Caldwell met with the team's assistants still under contract Thursday afternoon and came away with at least one holdover hire from Jim Schwartz's staff.
Special-teams coach John Bonamego will return to the team for a second season.
Bonamego was instrumental in the success of Detroit rookie punter
Sam Martin
, who had a 41-yard net average this season and a 47.2-yard gross average. He was almost a consensus pick as an All-Rookie punter this season.
The Lions were also seventh in punt return yardage this season with 474 yards. The team had a punt and kick returned for a touchdown -- both from returner
Jeremy Ross
.
Detroit also was strong in coverage, finding two capable gunners in Ross and
Don Carey
. The Lions' punt coverage team was among the best in the NFL.
Bonamego came over from Jacksonville after the 2012 season.
Detroit struggled with field goals this season, having two blocked as well as an extra point. But kicker
David Akers
is a free agent as well as long-snapper
Don Muhlbach
. Akers is not expected to be brought back by the team as the Lions have signed two kickers,
John Potter
and Giorgio Tavecchio, to reserve/futures contracts.
The Lions have also not retained three coaches -- with more staying and going likely to come. Offensive coordinator Scott Linehan and wide receivers coach Tim Lappano were let go the day Schwartz was fired. The Lions' team reporter also said assistant wide receiver coach Kyle Valero was let go. According to Aaron Wilson of The Baltimore Sun, quarterbacks coach Todd Downing has not been retained by the team.
The Lions are also expected to hire Baltimore defensive backs coach Teryl Austin as the team's defensive coordinator, but that has not been officially announced yet.
January, 16, 2014
1/16/14
1:35
PM ET
In the midst of his introductory news conference Wednesday, new
Detroit Lions
coach Jim Caldwell confirmed the Lions would continue running a 4-3 defense under his regime.
This was expected from the outset, when general manager Martin Mayhew said they would prefer a coach who ran a 4-3 because that is what they have built this defense to be, centered around defensive tackles
Ndamukong Suh
and
Nick Fairley
along with 4-3 linebackers
Stephen Tulloch
and
DeAndre Levy
.
And while it is not official yet, from the outset of Caldwell's candidacy, his defensive coordinator has been expected to be the defensive backs coach at Baltimore the past three seasons and his defensive backs coach at Wake Forest from 1993 to 1995, Teryl Austin.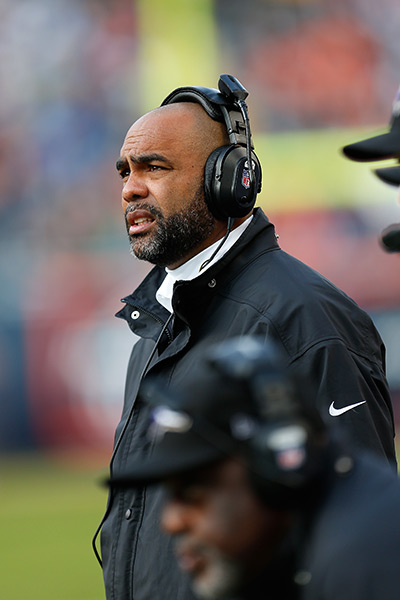 AP Photo/Scott BoehmTeryl Austin has coached defensive backs for much of his career and was defensive coordinator for the Florida Gators in 2010.
Here's a look at Austin's career to give an idea of what the Lions might end up getting should he officially be hired.
As a coordinator:
Austin's defense at Florida in 2010 had your typical level of SEC talent, including
Will Hill
(now of the Giants) at free safety and
Jelani Jenkins
(now with the Dolphins) at linebacker and
Janoris Jenkins
at cornerback.
Its top tacklers were safety
Ahmad Black
, who ended up drafted in the fifth round by Tampa Bay in 2011, and Jenkins.
Jon Bostic
, the Bears linebacker, was the team's third-leading tackler.
It was certainly a talented defense, at least in the secondary. A lot of that talent was young.
Draft picks from that defense:
2011:
Ahmad Black, S, Pick 151 (Tampa Bay)
2012:
Janoris Jenkins, CB, Pick 39 (St. Louis) *ended up at North Alabama before the NFL
Jaye Howard
, DE, Pick 114 (Seattle)
2013:
Sharrif Floyd
, DL, Pick 23 (Minnesota)
Matt Elam
, S, Pick 32 (Baltimore)
Jon Bostic, LB, Pick 50 (Chicago)
Jelani Jenkins, LB, Pick 104 (Miami)
Josh Evans
, S, Pick 169 (Jacksonville)
Potential 2014 draft picks:
Dominique Easley, DL
Jaylen Watkins, DB
One thing he did not do was recruit or coach Marcus Roberson or Louchiez Purifoy, two of the top cornerbacks coming out in this year's NFL draft. So the obvious potential tie to drafting them there is not there despite their common Florida background.
Numbers for Austin's defense at Florida in 2010:
Rushing defense: 31st (130.62 yards)

Pass efficiency defense: 12th (108.69)

Total defense: 9th (306.54 yards)

Scoring defense: 29th (21.31 points)

Pass defense: 12th (175.92 yards)

Sacks: T-86th (1.62 per game)

Tackles for loss: 40th (6.38 per game)
Here's some thoughts from our Jaguars reporter,
Michael DiRocco
, who covered Austin at Florida in 2010:
Teryl Austin stepped into a tough spot when he became Florida's defensive coordinator in 2010. He was taking over for Charlie Strong, who led defenses that were the main reasons the Gators won national titles in 2006 and 2008.

Austin did a solid job -- UF finished ninth nationally in total defense and 29th nationally in scoring -- considering he didn't have much to work with up front. The 2009 defense featured a pair of defensive ends that would go on to become second-round NFL draft picks (Jermaine Cunningham and Carlos Dunlap) but the 2010 defense had just one player on the defensive line two-deep depth chart that would go on to be drafted (Jaye Howard).

Not surprisingly, the Gators struggled against the run that season, giving up 130.6 yards per game on the ground, the worst mark since the 2004 defense gave up 142 yards per game. But Austin's defense was pretty good at linebacker and in the secondary, finishing 12th in the nation in pass defense (176 yards per game) and intercepting 22 passes, the third-highest total in the nation that season.

The defense's biggest issue was inconsistency, especially against better teams. UF lost all four games against ranked opponents (Alabama, LSU, South Carolina and Florida State) and was outscored 131-56 and gave up at least 31 points in each game.

Austin was pretty aggressive with blitzes, though that was partly due to the fact that the front four was unable to get much pressure on its own. That lack of pressure forced Austin to blitz more than he anticipated. The Gators managed just 21 sacks in 2010, the third-lowest single-season total since the school began tracking sacks in 1981."
As a position coach:
This year, the Ravens were 12th in the NFL in pass defense, allowing 230.06 yards a game and 12th in interception percentage at 2.9. In 2012, the Ravens were 17th in pass defense (228.13) and 19th in interception percentage (2.3).
In Austin's first year in Baltimore, the team was fourth in pass defense (196.25) and 19th in interception percentage (2.8).
In Arizona from 2007 to 2009, his pass defense was 23rd in 2009 (233.69), 22nd in 2008 (221.25) and 28th in 2007 (232.25). The team's interception percentage was eighth in 2009 (3.5), 19th in 2008 (2.5) and 17th in 2007 (3.2).
As a position coach, he didn't have complete control over his secondary, but his cornerbacks were typically 5-foot-11 in Arizona his first two seasons until his third year, when he had
Bryant McFadden
(6-foot) and
Dominique Rodgers-Cromartie
(6-foot-2).
In Baltimore, he clearly preferred taller cornerbacks. Only one corner,
Lardarius Webb
, was under 6-foot among his starting corners in his three seasons with the Ravens.
At Michigan, he coached Cato June, Marlin Jackson, Charles Drake and Jeremy LeSueur -- all of whom were drafted. At Syracuse, he coached former Detroit Lion Kevin Abrams, who was drafted in the second round of the 1997 draft as well as Tebucky Jones, Donovin Darius and Phil Nash, who signed with the Lions as a free agent in 1999.