Detroit Lions:

Cordarrelle Patterson
December, 26, 2013
12/26/13
10:00
AM ET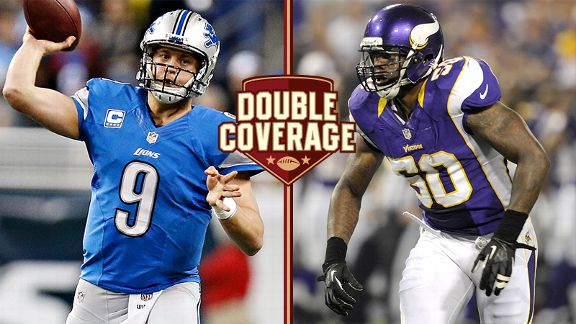 Getty ImagesMatthew Stafford's Lions are playing for pride, Erin Henderson's Vikings to send off the Metrodome.
When the
Minnesota Vikings
and
Detroit Lions
squared off in Week 1, both teams had legitimate designs on playoff spots in what was expected to be one of the toughest divisions in football.
Now, they're the only two teams with no shot of winning one of the most mediocre divisions in football, and headed into their Week 17 rematch, both the Vikings and Lions could be playing their final games with their current coaches. The Vikings have reportedly been doing their homework on potential replacements for Leslie Frazier, while Jim Schwartz could also be on his way out in Detroit after the team followed a 6-3 start with five losses in its next six games. The final game at Mall of America Field (aka the Metrodome) could also be the last before each team embarks on some major changes.
To get you ready for the game and for what might be next for both teams, ESPN.com Vikings reporter Ben Goessling and Lions reporter Michael Rothstein discussed the matchup and the future of these NFC North foes.
Goessling:
Michael, I'd wish you a relaxing offseason, but I think we're probably both a ways from that starting, in light of what's going on with these two teams. Frazier has been unable to get consistent quarterback play or reliable defense, particularly against the pass and at the end of games, but as usual, what's happening with the Lions seems more combustible than that. After another late-season meltdown, do you think there's any chance Schwartz survives as coach?
Rothstein:
I guess there's always a chance, but I have an extremely difficult time seeing it after the Lions lost five of six games entering Sunday and played themselves out of a divisional title. That plus the mistakes Detroit has made, from turnovers to penalties to fourth-quarter collapses, and things don't seem to be getting any better.
But this is the Ford family, and it has shown more patience than almost any other owner in any sport, so there's always that chance it just rides things out with Schwartz. Still, it would send a pretty bad message after four seasons out of the playoffs in five seasons under Schwartz.
Flipping that question back to you -- what do you think Minnesota does with Frazier? The players really seem to like him, so do you think that plays into what we'll see Sunday?
Goessling:
I have a hard time seeing Frazier survive, as much as the players like him.
Adrian Peterson
said on Sunday he planned to go to the Wilf family after the season and let the owners know he wanted Frazier to stay on as coach. He's also said he wants to play the rest of his career for Frazier. Those are pretty strong statements from a guy whom the Vikings probably want to keep happy more than anyone else on their roster. But they also wouldn't give Frazier a contract extension after he went 10-6 last season, and with everything that's looked disjointed at times this year -- five blown leads in the last minute of games, the reluctance to use
Cordarrelle Patterson
early in the season and, of course, the mess at quarterback -- I can't see the Wilfs standing pat. GM Rick Spielman is responsible for a fair share of this, possibly more than Frazier, but heading into a new stadium, the Vikings are looking for a jolt. They're more likely to get that with a new coach than a new GM.
Shifting to Sunday's game, the Lions came back to beat the Vikings in September because of how well they used
Reggie Bush
, but he hasn't looked like the same guy in a number of games since then. Is that mostly attributable to the calf injury he's had, or is there something else going on?
Rothstein:
It's tough to tell with Bush. I think he is, in some ways, hampered by the calf injury and all of the earlier injuries he's suffered this season. There are also the issues of his fumbles, which have been a problem all season, and his dropped passes. Bush is still an electrifying player, but his ineffectiveness at times has been due to how Detroit chooses to use him. He sliced up the Vikings with screen plays and short passes out of the backfield, and Detroit hasn't done as much with him in that area lately. The Lions also have a lot of confidence in
Joique Bell
, a gifted runner who plays hard.
Sticking with the game, and really this might be more of a finality point as well, how does
Jared Allen
view Sunday? Is this it for him in Minnesota, and how much of a problem can he cause for a somewhat-struggling Lions offense?
Goessling:
I do think this is it for Allen in Minnesota. He'll be a free agent after the season, he's carrying a cap figure of more than $17 million this year and he's talked in recent weeks about how he'd rather retire than be a situational pass-rusher. He might be overestimating his value, and he could be singing a different tune when he does get out into the free-agent market in March, but I don't think he'll be back with the Vikings. They gave an extension to
Brian Robison
during the season, and they could also bring back
Everson Griffen
, who's inconsistent (and a bit unpredictable) but immensely talented.
Allen has talked about how he's still creating opportunities but just hasn't been able to finish a few sacks. But when did you ever hear him say that in the past? It seems he's lost a bit of his ability to get around the edge in time, and a handful of his sacks have come because he's so relentless. The Bengals did a fantastic job of getting the ball out quick on Sunday, and Allen was shut out. If the Lions can do what they did in September, it's possible to keep Allen pretty quiet.
Last one from me: What kind of an effort do you expect from the Lions on Sunday? It seems a bit like they've packed it in after all the losses, and with nothing on the line now, I can't imagine they're going to suddenly be able to reignite themselves. Will the shot at an 8-8 record and the chance to save Schwartz a little face be enough, or will the Vikings close down the Metrodome against an uninspired opponent?
Rothstein:
That's one of the biggest questions of this week, and it is a question I really don't know the answer to. I think it depends how much they have left.
Calvin Johnson
is banged-up.
Matthew Stafford
has struggled in the second half of the season.
DeAndre Levy
was hobbling out of the locker room Sunday. There are a lot of guys hurting at this point, a lot of key guys for the Lions going forward.
It might be the most unanswerable question with this team right now. All season, even during the losing stretch, there was the possibility of the playoffs and a division title to cling to. Now there's just pride. It'll be an interesting thing to see.
So I'll finish up with this for you. Since this is the last game in the Metrodome -- and my first -- is there any particular memory that stands out about the place to you?
Goessling:
Boy, it's hard to pick just one. I've been watching all kinds of games -- NFL, MLB, college football, college basketball and high school football -- since I was a kid, and I'll have a piece on my blog on Friday with some of those memories. But I'll share one quick story. It was from one of my first college football games when I was a student at the University of Minnesota. It was the fall of 2001 against Purdue, and there were too many bizarre things that happened in the game to recount here, but it wound up in overtime, and after Purdue scored, the Gophers lost the game on a finish that could've happened only in the Metrodome.
Here's what happened: Travis Cole threw a touchdown pass to Antoine Henderson that would've tied the game. Henderson was clearly inbounds, but the pass was ruled incomplete. Why? Well, the Gophers used to paint their end zones gold but left a strip of green turf between the gold paint and the sideline to make it easier to convert the field for Vikings games. Henderson's foot was inbounds but outside the gold paint, so the official lost track of the sideline and called him out of bounds. That's kind of the Metrodome in a nutshell -- built to be serviceable for any number of different sports, but not really ideal for anything. Still, at a cost of $55 million in 1982, it's certainly paid for itself several times over.
September, 5, 2013
9/05/13
1:00
PM ET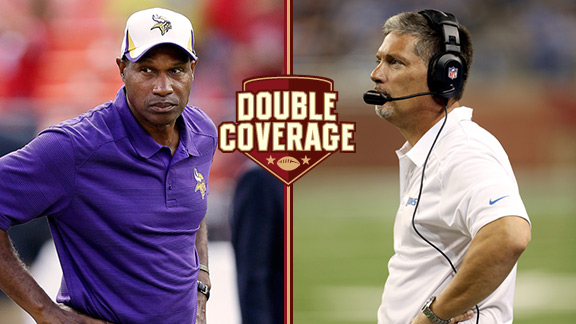 AP Photo Neither Leslie Frazier nor Jim Schwartz enters the season with much long-term job security.
Two teams in win-or-else mode will open the season Sunday at Ford Field.
In 2012, the
Detroit Lions
had their third losing season in four years under coach Jim Schwartz. A fourth in five years could end his tenure.
The
Minnesota Vikings
, meanwhile, decided not to extend the contract of coach Leslie Frazier after his 10-6 breakthrough season last year. His deal is up in 2014, and assuming the Vikings don't want to bring him back in a lame-duck situation, Frazier will either get a contract extension or be fired after this season.
The Vikings swept the Lions in the 2012 regular season after the Lions did the same in 2011. ESPN Vikings reporter Ben Goessling and ESPN NFL Nation writer Kevin Seifert discuss the matchup:
Kevin Seifert:
Ben, the Lions have had all offseason to prepare for
Adrian Peterson
, who gashed them for 273 yards in two games last season. They've got
Ndamukong Suh
and
Nick Fairley
playing next to each other on the inside and overall have a bigger and more physical defensive line than they had last year. I'm not saying the Lions are going to shut down Peterson on Sunday, but I do think the Vikings can't go into the game relying on him to carry their offense. So that brings me to the big question surrounding this team: Do you think the Vikings' passing game has improved enough to do its share?
Ben Goessling:
They'd certainly have to hope so based on what they did for
Christian Ponder
this offseason, adding
Greg Jennings
and
Cordarrelle Patterson
to their group of receivers. But the thing that concerns me with Ponder in this matchup is how he'll respond to the pressure the Lions will bring. He still seemed to struggle with that in the preseason, though he had one of his best games of the year against the Lions in the Metrodome last November. The Lions pressured him on just 11 drop-backs in both games last season, but if they can get to him more often than that, I don't like Ponder's chances of carrying the Vikings, should he need to do so. And if the Lions can exploit the Vikings' new-look secondary, Ponder could find himself playing from behind, where he hasn't been terribly good. The question is, will the Lions be able to burn the Vikings with their passing game enough to put Ponder in a hole?
Seifert:
That's a fair question, Ben. The Lions seemed to do what they needed to this offseason by signing running back
Reggie Bush
, who would presumably keep defenses off balance and give the Lions a big-time outlet for all those times when
Calvin Johnson
was in the middle of some kind of exotic coverages.
But for many reasons, the offense never really looked sharp in the preseason. The most obvious factor was that Johnson didn't play much, of course, but Bush had almost no running room behind a still-evolving offensive line. It also seemed pretty clear that the Lions don't have a No. 2 receiver to play alongside Johnson, a role that was once targeted for
Titus Young
before his well-publicized off-field issues.
With all that said, however, the connection between Stafford and Johnson is real and special. There is every reason to consider them a formidable challenge for the Vikings -- especially considering the state of their secondary. Why don't you fill in our good readers on that situation, Ben?
Goessling:
I'd be happy to. Essentially, it's my opinion that the Vikings' secondary depth might be the biggest issue facing their defense headed into the season. As a whole, it's probably the second-biggest concern behind Ponder.
The Vikings let
Antoine Winfield
go in March, moving ahead with a secondary that features one injury-prone corner (
Chris Cook
), a second-year man trying to replace Winfield's excellent slot coverage skills (
Josh Robinson
) and a rookie (
Xavier Rhodes
). There's enough talent and size to make it work, especially with safeties
Harrison Smith
and
Jamarca Sanford
offering help in coverage, but the Vikings are rolling the dice with the cornerbacks they've got. The Lions might not be deep enough at receiver to fully test the Vikings' depth, but Calvin Johnson is as big of a challenge for Minnesota as Adrian Peterson is for Detroit.
The Vikings bottled Johnson up at Ford Field last year, bracketing him with Smith or Sanford on top of Cook and hitting him throughout the game. But with Cook injured at the Metrodome, Johnson went wild for 207 yards. It will be interesting to see how the Lions use him, and what kinds of matchups they can generate against an inexperienced secondary.
You brought up Bush earlier, too, Kevin. The Vikings' run defense isn't what it used to be, and it looks like they could be dealing with injuries at the defensive tackle position this week. Stafford threw the ball a combined 93 times against the Vikings last year, and lost both games. Will Bush be effective enough to give the Lions the balance they need to win?
Seifert:
Let's put it this way. If the Vikings use the typical kind of defense the Lions usually see for Calvin Johnson, and Bush still can't get any yards against a depleted defense, then the Lions are going to have problems this season. The Lions have to be able to run the ball this year better than they did in 2012. Teams gave them more six-man boxes than any team in the NFL and they still couldn't get it done. It was a primary offseason goal and it has to be better this season.
Any last words, Ben? You're going to be out there in Detroit. I'll be elsewhere. What's the one thing that has to happen to ensure a Vikings victory? From the Lions' perspective, I'll say it will be Bush getting 100 rushing yards.
Goessling:
I think it's Ponder playing like he did in the second game against the Lions last year. The Vikings don't need to get into a shootout -- and if the game turns into that, they probably won't be able to keep up anyway -- but they need confident, reliable quarterback play this season, and this game seems as good as any for him to start it.
September, 4, 2013
9/04/13
1:10
PM ET
ALLEN PARK, Mich. --
Minnesota Vikings
coach Leslie Frazier spoke with the Detroit media Wednesday morning. A quick, bullet-point, wrap-up of what Frazier touched on.