Detroit Lions:

Darrelle Revis
March, 17, 2014
Mar 17
8:00
AM ET
On the eve of free agency last week, our four NFC North reporters -- Rob Demovsky (
Green Bay Packers
), Ben Goessling (
Minnesota Vikings
), Michael Rothstein (
Detroit Lions
) and Michael C. Wright (
Chicago Bears
) -- compiled a list of
the top-15 free agents
in the division.
A week has passed and nine of them already have come off the market, including six who re-signed with their old teams.
Perhaps the biggest-name free agent from the NFC North, former Bears defensive end
Julius Peppers
, did not make the original list because he was not a free agent until he was released last week. He
signed with the Packers
on Saturday.
You can follow all of the NFL free-agent moves in
Bill Polian's free-agent tracker
, but let's revisit the NFC North top 15 and see what has changed:
1.
Sam Shields, Packers CB
: Signed a four-year, $39 million contract just a few hours into the open negotiating period on March 8. His $9.75 million per year average made him the fourth-highest paid cornerback in the league behind
Darrelle Revis
($16 million),
Brandon Carr
($10 million) and
Aqib Talib
($9.8 million).
2. Brandon Pettigrew, Lions TE
: Re-signed with the Lions for four years and $16 million, including a $4 million signing bonus.
3. Jermichael Finley, Packers TE
: Remained unsigned after a visit to the
Seattle Seahawks
last week. It's not known what the Seahawks' medical staff thought of Finley's C-3/C-4 neck vertebra fusion surgery that he had last November following his season-ending neck injury.
4. Charles Tillman, Bears CB
: Signed a one-year contract to return to Chicago last Friday after missing half of last season because of a torn triceps. The deal is worth about $3.5 million.
5. B.J. Raji, Packers DT:
Less than a year after reportedly turning down a multi-year offer that averaged $8 million per season, he returned to the Packers for a one-year deal signed on Friday that was believed to be worth $4 million plus incentives.
6. Matt Cassel, Vikings QB
: Opted out of his 2014 contract after the Super Bowl but signed a new two-year, $10.5 million deal with the Vikings on March 7, just before teams could start contacting his agent and will likely head into training camp with the inside track on the starting job.
7. Willie Young, Lions DL
: Signed a three-year, $9 million contract with the Bears. Former seventh-round pick received his first extensive playing time with the Lions in 2013, becoming a full-time starter after
Jason Jones
was injured for the season in Week 3.
8. James Jones, Packers WR
: Remained unsigned after the first week of free agency and has not had any known visits even after he ranked second on the Packers last season in receptions (59) and yards (817), the latter of which was a career high despite missing nearly three full games because of a knee injury. Three years ago, coming off the NFL lockout, Jones did not draw strong interest on the free-agent market and re-signed with the Packers for three years and $9.6 million. Could the same thing happen again?
9. Jared Allen, Vikings DE
: Remained unsigned after the first week of free agency but reportedly visited the Seattle Seahawks over the weekend. After three All-Pro selections in six years, Allen's time in Minnesota is over.
10. Josh McCown, Bears QB
: Signed a two-year, $10 million contract to rejoin his old coach, Lovie Smith, with the
Tampa Bay Buccaneers
.
11. Henry Melton, Bears DL
: Coming off a torn ACL, Melton went unsigned during the first wave of free agency but has a visit scheduled with the
Dallas Cowboys
this week.
12. Devin Hester, Bears KR
: Remained unsigned more than a week after the Bears said they would not bring him back.
13. Rashean Mathis, Lions CB
: Remained unsigned after playing in 15 games and taking over as a starter early in the season last year.
14. Everson Griffen, Vikings DE
: Cashed in on March 9th by signing a five-year, $42.5 million deal that included $20 million guaranteed to return to Minnesota.
15. Louis Delmas, Lions S
: Signed a one-year, $2.25 million contract with the
Miami Dolphins
after the Lions released him with one year remaining on his contract in February, in part because of a cap number of $6.5 million in 2014.
November, 23, 2013
11/23/13
12:00
PM ET
ALLEN PARK, Mich. -- Over the past three weeks, the
Detroit Lions
' schedule became a little bit more difficult.
The
Tampa Bay Buccaneers
, at the time winless and apparently flailing, have played like a different team over the past three weeks. The Bucs played well in a loss to Seattle and then beat Miami and Atlanta in back-to-back weeks in Tampa Bay.
Now, Tampa Bay has to go on the road again, this time to Detroit, a former divisional rival that the Lions have beaten three of the last four times they have played. But this Buccaneers team is one with belief now.
"Guys are just excited," Tampa Bay cornerback
Darrelle Revis
said. "I think that during the time when we were 0-8, it wasn't really, you know, the atmosphere wasn't positive. Guys were moping around and things like that.
"I think we kind of forgot how to win."
[+] Enlarge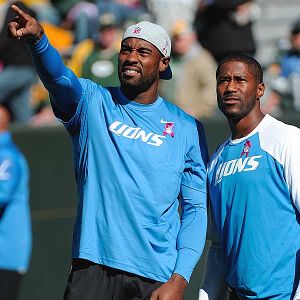 Benny Sieu/USA TODAY SportsCalvin Johnson (left) should be happy to have Nate Burleson back on the field this week as the Detroit Lions receiver will help in double coverages.
Now, though, there isn't as much of a winning issue in Tampa Bay. How does Detroit stop that from becoming a three-game winning streak? Here are four keys.
Burleson being back:
Detroit has done a better-than-serviceable job in the absence of No. 2 receiver
Nate Burleson
with a variety of players making plays with him out with an broken forearm.
Joseph Fauria
had a massive game against Cleveland.
Kris Durham
has become a reliable option on the outside opposite
Calvin Johnson
.
Brandon Pettigrew
has seen more targets and production.
But the Lions' offense with the veteran is a much different operation. Burleson offers a reliable option in the slot who can help force teams from focusing too much on Johnson or running back
Reggie Bush
. And if teams do continue to pay the same attention to those two players, the middle of the field should be wide open for Burleson. Sunday begins the new proving ground for Burleson, who was playing well before the injury.
Rattle Glennon:
At this time last week, it seemed an inevitable that the Detroit defensive line would pressure and sack
Ben Roethlisberger
multiple times. Pretty much everyone else had this season.
But the Lions couldn't really reach Roethlisberger for a multitude of reasons. Roethlisberger was getting rid of the ball faster than any quarterback Detroit had faced this season. They also only blitzed 14.6 percent of the time, the Lions' lowest percentage since a loss to Cincinnati in Week 7. And they only sacked Roethlisberger once and hit him twice. A rookie like
Mike Glennon
against this defensive line, though, could have some issues.
Keep Johnson involved:
Johnson was held without a catch and was only targeted three times in the second half against Pittsburgh, a rarity for the man considered the consensus best receiver in the NFL. Of course, Johnson still had a massive day with six catches for 179 yards, but they need to find Johnson in a more balanced manner to keep the Tampa Bay defense guessing.
Specifically, the Lions should try to target Johnson to the side of the field where
Dashon Goldson
would have been. The Buccaneers' starting safety won't play this week, so having a talented but relatively inexperienced player in
Mark Barron
could lead to some mistakes and some ways for Johnson to exploit Revis.
Focus on Vincent Jackson:
The Buccaneers' top receiver is quietly having one of the better seasons of his career, already catching 56 passes for 827 yards and five touchdowns. In Tampa's destruction of Atlanta last Sunday, he had 10 catches for 165 yards, his fourth 100-yard game of the season.
He'll be a problem for the Lions' inconsistent cornerbacks.
Rashean Mathis
will likely draw the Jackson assignment initially, but don't be surprised if you see the Lions roll coverage toward Jackson as he has been their only true receiving option.
November, 21, 2013
11/21/13
4:45
PM ET
ALLEN PARK, Mich. --
Darrelle Revis
might look at his opponent Sunday,
Calvin Johnson
, and wonder how some of the things he accomplishes are possible.
It's a question a lot of people could ask about the
Detroit Lions
receiver, the single-season record holder for receiving yards and the consensus pick as the top receiver in the game. There are times when the man with the nickname of a machine, Megatron, does things that appear to defy humanity, or at least reality.
Revis
Johnson
"I mean, it's almost like your ideal receiver," Revis said. "It's like he's a create-a-player on 'Madden' where you put overall is 99, got the fastest speed on there. His strength and everything is maximized to another level. I just think all of those, man, makes him stand out even more. He's a massive receiver who can run, who can catch and who can block."
Yet Revis, who will likely draw Johnson on Sunday when the
Tampa Bay Buccaneers
face the Lions, is one of the few cornerbacks who has stopped him. The last time Revis and Johnson faced each other during the regular season was on Nov. 7, 2010, and Revis and the
New York Jets
held Johnson to one catch for 13 yards.
Detroit quarterback
Matthew Stafford
targeted Johnson only four times in that game, perhaps an even bigger sign of the job Revis did on him. Johnson has been held to one catch just one time since -- and not since the 2010 season.
"There were some opportunities there," Johnson said of that day. "We just weren't able to take advantage of them. That's about it. It was a good matchup, though, both on my side and on his side. We both had some wins but, obviously, statistically, you know."
Statistically, it was one of the least productive games of Johnson's career. Revis said Wednesday he mostly followed him around in man-to-man coverage during the game.
Did he think he won the matchup that time?
"I mean, one catch for 13 yards," Revis said. "What do you think?"
Things have changed since that day. Revis tore his left ACL last season, and is still not completely back from the injury. Johnson, meanwhile, has put up four straight 1,000-yard seasons, including in 2010.
Johnson's timing and familiarity with Stafford has grown since then. Stafford has matured as a passer and Johnson, somehow, has gotten better as a receiver. That has helped in Johnson's ascendancy, although Johnson wouldn't say how he has improved since the 2010 season.
"I'm getting targets," Johnson said. "[Stafford] believes that I'm going to go up and get the ball, and if I don't get it, nobody else is going to get it for the most part. That's how we practice and that's just the confidence he has in me."
So it could be a little more difficult for Revis to hold Johnson to just one catch again. Pittsburgh did a good job on Johnson in the second half Sunday, holding him without a catch and to only three targets. Johnson said the Steelers changed some things in how they dealt with him in the second half, but wouldn't elaborate.
Johnson was complimentary of Revis on Thursday, saying Revis sees the ball "like a receiver" and can catch it. So it should be one of the more difficult matchups Johnson will see this season.
Revis knows he shut down Johnson before, but he isn't using that as a barometer of being able to do it a second time.
"I'm not worried about even that stat or trying to better that stat," Revis said. "That was years ago and we'll see.
"I have a lot of respect for Calvin and what he's been doing in the league, and I'm sure he has a lot of respect for me as well. I don't know what the outcome is going to be Sunday."
November, 21, 2013
11/21/13
10:00
AM ET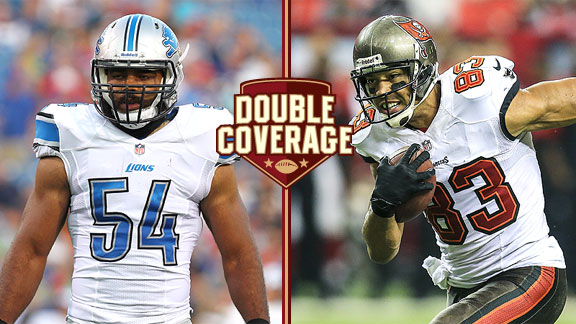 USA Today SportsDeAndre Levy and the Lions will need to keep Vincent Jackson in check on Sunday.
Tampa Bay started its season terribly before finding some answers the past two weeks. Detroit started its season strong but is suddenly vulnerable and has some questions.
Only the Lions are in the playoff picture heading into the last six weeks of the season. Meanwhile, the Buccaneers can play spoiler and give a damaging blow to the Lions' playoff hopes.
The Buccaneers will try to do that with a rejuvenated defense that caught the eye of Detroit quarterback
Matthew Stafford
.
"They are an extremely talented defense," Stafford said. "Probably the most talented defense we've played all year."
ESPN.com NFL Nation reporters Michael Rothstein (Lions) and Pat Yasinskas (Buccaneers) break down Sunday's matchup.
Rothstein:
What has happened over the past couple of weeks to turn this Tampa team around?
Yasinskas:
The short answer is that the Bucs suddenly have gotten much better at finishing games, a huge problem early in the season. But it goes much deeper than that. Coach Greg Schiano has a reputation for being stubborn and inflexible. But he's changed in recent weeks. His mood has been lighter on the practice field and when he's met with the media. More importantly, he's adjusted some things on the field. He's stopped stunting so much on the defensive line, and that's created more straight-ahead rushes for defensive tackle
Gerald McCoy
. Schiano has used cornerback
Darrelle Revis
in more man-to-man coverage after playing him in a lot of zone early in the season. The Bucs also have been running the ball much better, and that's a tribute to the offensive line.
Speaking of McCoy, he and
Ndamukong Suh
came out in the same draft, and early on, it looked like Suh clearly was the better player. But McCoy has been outstanding of late. What kind of a year is Suh having?
Rothstein:
Suh's actual statistics are fairly pedestrian and wouldn't really stand out to anyone if they were just watching Detroit from afar. But he has faced a lot of double-teams throughout the season and has been somewhat consistent throughout the year. He played his best in the two games against Chicago -- four quarterback hurries in Week 10, two sacks in Week 4 -- but he and the rest of the Detroit defensive line almost inexplicably struggled to reach Pittsburgh quarterback
Ben Roethlisberger
this past Sunday.
Detroit has not blitzed much this season, putting a lot of pressure on the front four, starting with Suh.
That'll lead into my next question -- how has
Mike Glennon
been progressing this season, and how does he move when he is pushed in the pocket a little bit?
Yasinskas:
Glennon has been a pleasant surprise. He was thrown into the lineup when
Josh Freeman
was benched, and he struggled at first. But Glennon has steadily improved and has been very good in recent weeks. He had only three incompletions in Sunday's victory over Atlanta. He's shown poise and leadership. Glennon's strength is his big arm, and the Bucs are trying to develop more of a deep passing game. They showed signs that's catching on when
Vincent Jackson
caught two long passes against the Falcons.
I first saw Glennon when I was covering the filming of "Gruden's QB Camp" this past spring. Watching Glennon's college tape, I thought he didn't have the mobility to succeed in the NFL. As it turns out, I was wrong. Glennon is not a running threat, but he's not a statue, either. He's been extending some plays by scrambling.
Speaking of deep passing games, the matchup I can't wait to see is
Calvin Johnson
against Revis. I saw the Lions-Steelers game, and it seemed like Johnson disappeared in the second half. What was all that about? Revis and Johnson went head-to-head in a 2010 game, and Johnson caught just one pass for 13 yards. Do you see Revis, with a little bit of help, being help to keep Johnson quiet?
Rothstein:
It depends on what Tampa tries to do defensively. When teams have tried covering Johnson with single coverage, he's destroyed opponents. It happened a good amount against Dallas and early against Pittsburgh. It goes to the situation most teams have had to face this season -- do you double-team Johnson and give a lighter box to
Reggie Bush
and
Joique Bell
, or do you play single high to focus on Bell and Bush and put Johnson in lighter coverage?
That said, Revis is one of the best corners in the league -- something Stafford acknowledged Tuesday -- and it should be an intriguing matchup Sunday. Johnson likes going against the top corners in the league and has had some success this season in those matchups, notably against Arizona's
Patrick Peterson
(six catches, 116 yards, two touchdowns) and Dallas'
Brandon Carr
(14 catches, 329 yards).
One of the other ways teams have had success against Detroit is to pressure Stafford, which hasn't been easy this season. It goes back to that first question with McCoy, but is he the key to any pressure Tampa might get?
Yasinskas:
McCoy is the central piece of the defensive line, and everything feeds off him. But he's not alone in the pass rush. End
Adrian Clayborn
has some pass-rush skills, and the Bucs have started lining up outside linebacker
Dekoda Watson
as a rush end. But the Bucs also like to use their linebackers as blitzers, and
Lavonte David
(five sacks) is a very good pass-rusher. But it all goes back to McCoy. The Bucs rely on him to push the quarterback off the spot, and the other players can clean up.
You mentioned Bush. At least from a distance, it seemed like he got himself in the doghouse by fumbling against Pittsburgh. Is Bush in good graces with the coaching staff, or will we see less of him Sunday?
Rothstein:
Doghouse? No. But he needs to work on protecting the ball better and hanging on to it, period. He's struggled with drops all season and lost fumbles two of the past three weeks. He's too big a weapon for Detroit to move away from him -- especially at home -- but if he continues on this trend, Bell might steal some of his snaps.