Detroit Lions:

Double Coverage
December, 20, 2013
12/20/13
10:30
AM ET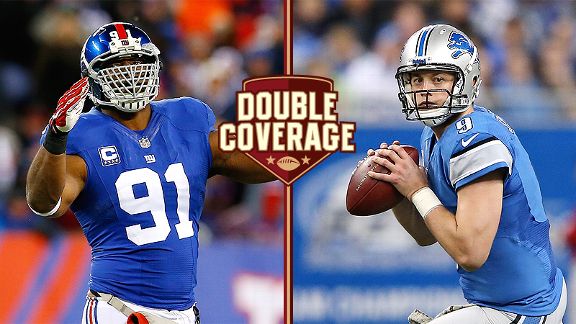 Getty ImagesJustin Tuck, left, and the Giants will be trying to end the playoff hopes of Matthew Stafford's Lions.
It is a battle of disappointments on Sunday at Ford Field: the
New York Giants
, who have been disappointing all season, against the
Detroit Lions
, who have been one of the more surprising teams over the second half of the season -- in a bad way.
The Giants have no playoff hopes. The Lions need to win their final two games and then hope for help (i.e., losses) from Green Bay and Chicago.
Taking you through Sunday's matchup are ESPN.com NFL reporters Michael Rothstein (Lions) and Dan Graziano (Giants).
Rothstein:
The Giants have struggled all season, and
Eli Manning
has been at the forefront of that. What has changed there?
Graziano:
It's basically just a complete bottoming-out on all fronts, starting with the protection. A line that wasn't great to begin with is down two starters and has been playing a rookie at right tackle all season. The blocking help the line used to get from running backs and tight ends disappeared when the Giants let
Ahmad Bradshaw
and
Martellus Bennett
leave in the offseason.
Hakeem Nicks
has had a terrible year at receiver, playing like he is more worried about staying healthy in advance of free agency than trying his best to win. There has been no run game at all for long stretches. And Manning has failed to elevate above his miserable circumstances, missing too many throws and too often looking as though it has all been too much for him. It's been a total whitewash of a season for the Giants' offense. They are the only team in the league that has been shut out even once this season, and they've been shut out twice.
What is the deal out there in Detroit? To my eyes, the Lions should have put this division away by now with
Aaron Rodgers
and
Jay Cutler
having been out for so long. What is the main reason they seem to have squandered such a great opportunity?
Rothstein:
I don't know whether there are enough words to describe all that has gone on, although the simplest way to put it would be consistent end-game meltdowns, either from turnovers, coaching decisions or a defense that suddenly faltered.
A lot of it has to do with
Matthew Stafford
, who has had accuracy issues in the second half of the season. Really, there have been issues everywhere but the lines, from turnovers to coverage breakdowns on defense.
This is a team that should be safely in the playoffs right now instead of needing to win out and get help.
That obviously leads to job-security questions for Jim Schwartz. Although that doesn't seem to be the case for Tom Coughlin, has this season given any indication as to how much longer he plans to be on the sideline?
Graziano:
No, Coughlin is really a what-you-see-is-what-you-get sort of guy. He's completely believable when he insists he's focused on only this week's game and doesn't want to address anything beyond this season. People close to Coughlin insist he won't quit as long as he feels he can still do the job, and there is no indication he feels otherwise. He has as much passion and energy as anyone else in the building (and right now, more than most!). I don't think Giants ownership would fire him, and I'd be stunned if he got into the offseason and decided he was done. As one person close to him told me, "He has no hobbies. There's nothing for him to retire TO." At 67 years old, he understands why the questions get asked, but he doesn't view himself as near the end of a career, I don't think. As of now, he plans to be part of the solution here, and it would be a major upset if he wasn't back in 2014.
One of Coughlin's biggest immediate problems is keeping his quarterback from getting killed. How is that Detroit pass rush looking these days?
Rothstein:
Eli, meet Ndamukong. He will be the guy tossing you to the ground today. In all seriousness, though, the Lions' pass rush has been interesting. The Lions have been great at applying pressure (other than against Pittsburgh) but don't have the actual numbers to show for it, which can be confusing.
What teams have done is bottle the middle on
Ndamukong Suh
and
Nick Fairley
, and have either a tight end or running back help on either
Willie Young
or Ziggy Ansah on the ends.
So to answer your question, it has been OK, but not the consistently dominant force some were expecting.
That leads into my last question. The Lions' run defense, headed by that front, has been one of the best in the league this season. Have the Giants figured any way to solve their run woes?
Graziano:
Andre Brown
was hot for a while when he came back from his injury, and the offensive line was starting to block better for the run. But the past two weeks have seen a step backward, and the way the line is configured now, with starting left guard
Kevin Boothe
playing center and backups rotating in and out at left guard, has left it very vulnerable and one-dimensional. The Giants were able to take advantage of some good matchups with Brown running well, but against tougher fronts like the one they saw against Seattle last week, they struggle. I imagine they will struggle against the Lions' front in the run game as well.
Two straight disappointing games for Stafford and
Calvin Johnson
. Do you expect Megatron to blow up this week and victimize the Giants' secondary?
Rothstein:
Kind of. As cornerback
Rashean Mathis
told me this week, if the Lions don't find their urgency now, they'll never find it this season. So I'd imagine you would see Johnson -- who is Detroit's best player -- at the forefront of that if the Lions have any shot over the next two weeks. Plus, those two drops he had against Baltimore will gnaw at him all week long. I expect he'll have a big game.
Stafford, on the other hand, I'm not as sure about because he seems genuinely rattled this second half of the season. Detroit needs to find what was working for him at the start of the season and bring that back, otherwise its season is over.
.
November, 27, 2013
11/27/13
7:00
PM ET
Things seemed focused completely on football this week -- at least for a day.
Then Packers offensive lineman
Josh Sitton
changed all of that Tuesday evening when he went on WSSP Radio in Milwaukee and gave his opinion of the Detroit defense, particularly the defensive line.
It wasn't a pretty assessment.
"They go after quarterbacks. Their entire defense takes cheap shots all the time. That's what they do. That's who they are," Sitton said. "They're a bunch of a dirtbags or scumbags. That's how they play, and that's how they're coached. It starts with their frickin' coach. It starts with the head coach, [Jim] Schwartz. He's a d---, too. I wouldn't want to play for him. It starts with him, and their D-coordinator and their D-line coach. They're all just scumbags and so are the D-line."
Well then.
In a game with the feel of an elimination contest, Sitton added another layer of fun and intrigue -- at least in the pregame. ESPN.com Lions reporter Michael Rothstein and Packers reporter Rob Demovsky break down the Thanksgiving Day matchup.
Rothstein
: There is a long history with these two teams -- even on Thanksgiving going back to the
Ndamukong Suh
stomp of
Evan Dietrich-Smith
-- so were you surprised at all that Sitton decided to rip into the Detroit defense and Lions coach Jim Schwartz?
Demovsky
: If anyone on the Packers was going to pop off, Sitton would be the first guess followed by his offensive linemate
T.J. Lang
. They're the two most outspoken guys on the team. Let's face it: Sitton probably said what a lot of people around the league have been thinking about the Lions. That said, it probably wasn't the smartest move to make before a game that you're going into with your backup quarterback. It was already going to be an uphill battle. As entertaining and refreshing as it was, I don't see how this helped the Packers' cause.
Rothstein
: I see your point there, but I also wonder how much it really matters. I've never been a believer that this type of talk -- especially on the professional level -- really matters a whole bunch in an actual game. It's fun for fans and gives us something to chat about, for sure, but when you're dealing with grown men, I just don't know how much it really changes a game.
Moving on, Rob, what happens at the quarterback position this week with Green Bay? Does
Matt Flynn
's history with Detroit play a role here?
Demovsky:
When Mike McCarthy said
Aaron Rodgers
' chances of playing on Thursday were "slim to none," it seemed obvious that Flynn would be the starter even though McCarthy wouldn't commit to anything. He was much more effective than
Scott Tolzien
because he can do more in the offense. He's much better versed in running the Packers' version of the no-huddle, which has become a staple of their offense in recent years. Flynn actually has played two games against Detroit. Everyone remembers that 2011 game -- the one that made him about $15 million with his 480-yard, six-touchdown performance -- but don't forget he also struggled in relief of Rodgers in the 2010 game at Ford Field after Rodgers left with a concussion.
How are the Lions approaching the Packers' quarterback situation?
Rothstein:
Seemingly by preparing as if Rodgers was going to play. Detroit doesn't see much of a change in the offense from Rodgers to Flynn, so they are going to prepare for the same offense the Packers usually run. Of course, the Lions could be in better shape if Green Bay chooses to run the ball more since the Lions haven't given up a rushing touchdown since Week 4. So if the Packers roll with a heavy dose of
Eddie Lacy
, that could be a benefit for the Lions.
This obviously leads into the next question: How does Green Bay's offense change with Flynn in the lineup, or is Detroit accurate in how it says it is going to prepare? And how much different is this offense from what the Lions saw in October?
Demovsky:
Of all the backup quarterbacks the Packers have played this season, Flynn is probably most like Rodgers, although none has the arm strength Rodgers possesses. But in terms of knowing the system, being able to read defenses and having the freedom to make checks at the line of scrimmage, Flynn is probably the next best option. Still, without Rodgers, there are major differences. Flynn doesn't throw the deep ball as well, and he doesn't have the touch. That was evident on the third-and-goal play in overtime when Flynn badly overthrew
Jordy Nelson
on a fade.
Speaking of different offenses, the Packers got a break by not having to face
Calvin Johnson
in the first meeting. Now, the Lions not only have Johnson but also have
Nate Burleson
back. What's the dynamic with those two?
Rothstein:
The dynamic is pretty good and should give the Lions another playmaker the rest of the season. The biggest issue for Detroit's offense Sunday was
Matthew Stafford
's inaccuracy, but when he was on, the offense was able to move well with Burleson, Johnson and
Reggie Bush
out there. If teams focus on those three guys,
Brandon Pettigrew
and
Kris Durham
have shown, in spurts, to be effective. That's the entire plan with this offense.
Of course, it still only resulted in 21 points last Sunday, but that is at least Detroit's plan.
Both of these teams remain in the playoff picture despite fairly average seasons thus far. What do you think this says about the Packers -- and the NFC North?
Demovsky:
It's amazing that the Packers haven't won since Rodgers got hurt yet they're only a half-game out of first place. Certainly, Rodgers gave them a nice cushion with a 5-2 record, but the Lions and Bears certainly missed opportunities to bury Green Bay over the last month. There's probably only two or three elite teams in the NFC, and none of them resides in the North. Can you see any of these teams going on the road in the playoffs and beating a team like the Saints or Seahawks? I can't.
The Packers might not admit it, but I think this is an elimination game for them. Do you think it would have the same consequences for the Lions if they lose?
Rothstein:
Tough to say for the Lions, but it would certainly put them in a bad position having lost three straight games. I think it all depends on what Chicago does. If the Bears were to lose, then it's still a race. Otherwise, the Lions would be chasing two teams and that won't bode well for a team that hasn't won a division title this century. If Detroit loses, it becomes a very difficult path to the playoffs. It would still be possible, but there would certainly be a lot of doubt for a franchise that just doesn't make the playoffs all too often.
November, 21, 2013
11/21/13
10:00
AM ET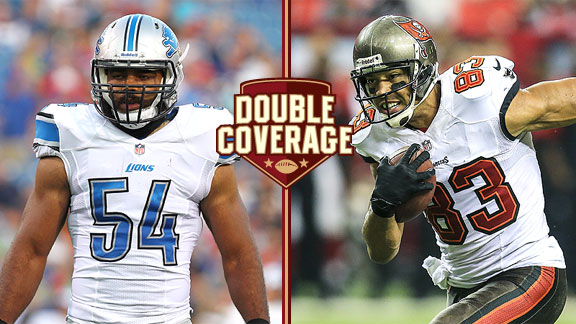 USA Today SportsDeAndre Levy and the Lions will need to keep Vincent Jackson in check on Sunday.
Tampa Bay started its season terribly before finding some answers the past two weeks. Detroit started its season strong but is suddenly vulnerable and has some questions.
Only the Lions are in the playoff picture heading into the last six weeks of the season. Meanwhile, the Buccaneers can play spoiler and give a damaging blow to the Lions' playoff hopes.
The Buccaneers will try to do that with a rejuvenated defense that caught the eye of Detroit quarterback
Matthew Stafford
.
"They are an extremely talented defense," Stafford said. "Probably the most talented defense we've played all year."
ESPN.com NFL Nation reporters Michael Rothstein (Lions) and Pat Yasinskas (Buccaneers) break down Sunday's matchup.
Rothstein:
What has happened over the past couple of weeks to turn this Tampa team around?
Yasinskas:
The short answer is that the Bucs suddenly have gotten much better at finishing games, a huge problem early in the season. But it goes much deeper than that. Coach Greg Schiano has a reputation for being stubborn and inflexible. But he's changed in recent weeks. His mood has been lighter on the practice field and when he's met with the media. More importantly, he's adjusted some things on the field. He's stopped stunting so much on the defensive line, and that's created more straight-ahead rushes for defensive tackle
Gerald McCoy
. Schiano has used cornerback
Darrelle Revis
in more man-to-man coverage after playing him in a lot of zone early in the season. The Bucs also have been running the ball much better, and that's a tribute to the offensive line.
Speaking of McCoy, he and
Ndamukong Suh
came out in the same draft, and early on, it looked like Suh clearly was the better player. But McCoy has been outstanding of late. What kind of a year is Suh having?
Rothstein:
Suh's actual statistics are fairly pedestrian and wouldn't really stand out to anyone if they were just watching Detroit from afar. But he has faced a lot of double-teams throughout the season and has been somewhat consistent throughout the year. He played his best in the two games against Chicago -- four quarterback hurries in Week 10, two sacks in Week 4 -- but he and the rest of the Detroit defensive line almost inexplicably struggled to reach Pittsburgh quarterback
Ben Roethlisberger
this past Sunday.
Detroit has not blitzed much this season, putting a lot of pressure on the front four, starting with Suh.
That'll lead into my next question -- how has
Mike Glennon
been progressing this season, and how does he move when he is pushed in the pocket a little bit?
Yasinskas:
Glennon has been a pleasant surprise. He was thrown into the lineup when
Josh Freeman
was benched, and he struggled at first. But Glennon has steadily improved and has been very good in recent weeks. He had only three incompletions in Sunday's victory over Atlanta. He's shown poise and leadership. Glennon's strength is his big arm, and the Bucs are trying to develop more of a deep passing game. They showed signs that's catching on when
Vincent Jackson
caught two long passes against the Falcons.
I first saw Glennon when I was covering the filming of "Gruden's QB Camp" this past spring. Watching Glennon's college tape, I thought he didn't have the mobility to succeed in the NFL. As it turns out, I was wrong. Glennon is not a running threat, but he's not a statue, either. He's been extending some plays by scrambling.
Speaking of deep passing games, the matchup I can't wait to see is
Calvin Johnson
against Revis. I saw the Lions-Steelers game, and it seemed like Johnson disappeared in the second half. What was all that about? Revis and Johnson went head-to-head in a 2010 game, and Johnson caught just one pass for 13 yards. Do you see Revis, with a little bit of help, being help to keep Johnson quiet?
Rothstein:
It depends on what Tampa tries to do defensively. When teams have tried covering Johnson with single coverage, he's destroyed opponents. It happened a good amount against Dallas and early against Pittsburgh. It goes to the situation most teams have had to face this season -- do you double-team Johnson and give a lighter box to
Reggie Bush
and
Joique Bell
, or do you play single high to focus on Bell and Bush and put Johnson in lighter coverage?
That said, Revis is one of the best corners in the league -- something Stafford acknowledged Tuesday -- and it should be an intriguing matchup Sunday. Johnson likes going against the top corners in the league and has had some success this season in those matchups, notably against Arizona's
Patrick Peterson
(six catches, 116 yards, two touchdowns) and Dallas'
Brandon Carr
(14 catches, 329 yards).
One of the other ways teams have had success against Detroit is to pressure Stafford, which hasn't been easy this season. It goes back to that first question with McCoy, but is he the key to any pressure Tampa might get?
Yasinskas:
McCoy is the central piece of the defensive line, and everything feeds off him. But he's not alone in the pass rush. End
Adrian Clayborn
has some pass-rush skills, and the Bucs have started lining up outside linebacker
Dekoda Watson
as a rush end. But the Bucs also like to use their linebackers as blitzers, and
Lavonte David
(five sacks) is a very good pass-rusher. But it all goes back to McCoy. The Bucs rely on him to push the quarterback off the spot, and the other players can clean up.
You mentioned Bush. At least from a distance, it seemed like he got himself in the doghouse by fumbling against Pittsburgh. Is Bush in good graces with the coaching staff, or will we see less of him Sunday?
Rothstein:
Doghouse? No. But he needs to work on protecting the ball better and hanging on to it, period. He's struggled with drops all season and lost fumbles two of the past three weeks. He's too big a weapon for Detroit to move away from him -- especially at home -- but if he continues on this trend, Bell might steal some of his snaps.
November, 7, 2013
11/07/13
12:00
PM ET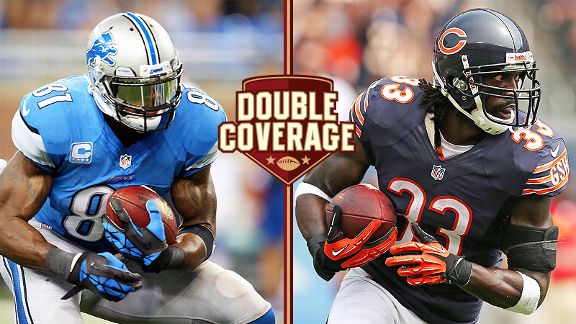 Getty ImagesCalvin Johnson's Lions and Charles Tillman's Bears meet in a divisional duel Sunday.
Coming off an upset victory over the
Green Bay Packers
on "Monday Night Football," the
Chicago Bears
face a short turnaround Sunday when they host the
Detroit Lions
, who are coming off a bye week with extra time to prepare.
Jay Cutler
tossed three interceptions the last time these teams met, and the Lions scored on six consecutive possessions to seize a 30-10 lead in the second quarter en route to a 40-32 win. With sole possession of first place in the NFC North on the line, obviously the Bears hope for a different result this time around. But the Lions are hungry as they hold a share of the division lead for the first time in more than 10 years.
ESPN.com Bears reporter Michael C. Wright and Lions reporter Michael Rothstein break down the matchup.
Michael C. Wright:
It's been more than 10 years since the Lions were at the top of the division standings after the first half of the season. How is Detroit handling the success?
Michael Rothstein:
They seem to be handling it fine thus far, but that could be because a lot of these guys haven't been around for a lot of the losing seasons. Plus, a lot of the guys who have been around in the past were on Detroit's playoff team in 2011. So they have seen some Lions success and not the consistent failure of the early to mid-2000s. There is also a confidence level about this team, something you saw two weeks ago in the final seven minutes against Dallas, which seems to be different than in prior years. This team believes it can win close games, and that in itself is a big difference.
Wright:
The Lions incorporate tons of speed on offense, but what happens when they're on a slower track such as what they might encounter with the conditions at Soldier Field? Is there anything the Lions would try to do to counteract what might be a sloppy field?
Rothstein:
It's slower for everyone, though, right? In all seriousness, I don't know how much they would do differently. Perhaps Detroit will use
Joique Bell
a little bit more out of the backfield instead of
Reggie Bush
, but that could be due to Bush potentially playing more in the slot Sunday depending on
Nate Burleson
's health. Detroit's offense won't change much. It'll still rely heavily on
Matthew Stafford
's ability to find open receivers,
Calvin Johnson
's ability to make big plays and Bush's capability to make plays in small spaces.
Wright:
Nate Burleson recently returned to practice. But what's his status for Sunday? If he's available, what does he bring to the offense?
Rothstein:
His status is completely questionable and likely will be until Friday. Burleson wants to play. He's been focused a lot on this week as a potential return date and he is practicing. But Detroit is going to be cautious with its No. 2 receiver because it doesn't want him to reinjure the arm by coming back too fast and taking a bad hit. Burleson's big thing now isn't conditioning -- he says he's in pretty good football form -- but learning how to fall and not use his arm to brace said falls. He could play Sunday, but Detroit is going to need him for the stretch run.
The Jay Cutler situation is obviously pretty fluid. How, if at all, does the Bears' offense change if he does not play?
Wright:
It doesn't change much at all. In fact, the only difference in the offense would come down to a matter of personal preferences for McCown. The coaching staff includes the quarterbacks when putting together a game plan, and it always asks them which plays they think they could be more successful with. Obviously McCown and Cutler are different people with different preferences. So that would be the only change, schematically. In terms of overall play, McCown's arm isn't as strong as Cutler's. So he incorporates more anticipation in his game than the starter. McCown is decisive with the ball, makes smart decisions and won't take unnecessary risks, which is a little different than Cutler, who sometimes gambles and forces throws into coverage in part because of his confidence in his arm.
Rothstein:
The last time Detroit saw Chicago,
Lance Briggs
was in the middle. How much has his absence shifted the defense from the last time the Lions saw the Bears?
Wright:
Well, they've played only one game since Briggs fractured his shoulder Oct. 20 at Washington, and the defense on Monday night suffered through many of the same struggles they've gone through all season with the veteran in the lineup. The Bears now have two rookies in the starting lineup at middle linebacker in Jonathan Bostic (middle) and Khaseem Greene, who has taken over on the weak side for Briggs. Against the Packers the club struggled with gap fits against
Eddie Lacy
, who rushed for 150 yards. The pass rush improved a great deal, and the team finished with five sacks. But stopping the run has been a challenge. Surprisingly, the Bears are 3-1 this season when they allow a running back to gain 100 yards or more with the only loss under those circumstances coming to the Lions.
Rothstein:
This has probably been somewhat forgotten, but Lions vice chairman Bill Ford Jr. called the Bears the "same bunch of thugs" earlier this season. Has that been mentioned at all? Does it matter?
Wright:
It was mentioned by cornerback
Tim Jennings
in the aftermath of the last matchup, but it hasn't been since.
Asked about Ford's comments, Jennings said: "So he wants to call us thugs. We can take that as a compliment, I guess. We like to think we're playing nasty. But we play within the rules, you know? I don't know whether he's just meaning we're dirty or we're just a nasty defense. We weren't too nasty when we played them. So I don't know what he's trying to get out of it."
It's quite obvious these teams don't like one another, and surely the Bears want to atone for the 40-32 beatdown the Lions put on them in the first matchup. But my sense is with a short week of preparation, the Bears are focused and want to downplay any type of bulletin board material.
October, 24, 2013
10/24/13
12:00
PM ET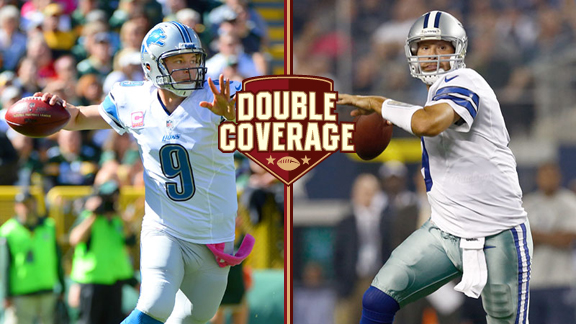 Getty ImagesBoth Dallas quarterback Tony Romo and Detroit quarterback Matthew Stafford have seen needed improvements in certain aspects of their games this season.
It is a matchup between two potential playoff teams and two of the best wide receivers in the game,
Calvin Johnson
and
Dez Bryant
.
But the Dallas-Detroit game on Sunday has other twists, too. For the Lions, Sunday is a chance to grab back some momentum from a strong start to the season. For the Cowboys, it could be a chance to widen their lead on their NFC East opponents.
Dallas NFL Nation reporter Todd Archer and Detroit NFL Nation reporter Michael Rothstein break down what you might see Sunday afternoon.
Rothstein:
Let's start here -- last week in Detroit there was a lot of discussion of
A.J. Green
and Johnson as two of the best receivers in the league. Now it is Bryant and Johnson this week. What is it that Bryant does that should really concern Detroit's cornerbacks, who let Green go for 155 yards Sunday?
Archer:
Bryant can go get the ball. He is virtually impossible to defend in the red zone (and sometimes he'll push off too), but cornerbacks just don't have a chance on him. He's a better route runner now than he was last year and the Cowboys are using him on more varied routes. When he came into the league he would make the spectacular play but couldn't make the boring play consistently. Now he's doing both. But his No. 1 attribute is his physical style. He will fight for the ball and fight for yardage. He's special in that regard.
The Cowboys have had
Brandon Carr
follow Demaryius Thomas,
Pierre Garcon
and
DeSean Jackson
the past three games. I'm sure they'll do the same with Calvin Johnson. When teams have matched up with Johnson like that, how has or hasn't it worked?
Rothstein:
There haven't been too many teams that have single-covered Johnson -- at least not for extended periods of the game. The closest would have been against Arizona in Week 2, but the Cardinals have
Patrick Peterson
and Johnson had six catches for 116 yards and a touchdown against him. Really, the only thing that has slowed Johnson this season was a knee issue that kept him out of the loss to Green Bay and limited him against Cleveland a week later. Not surprisingly, Johnson still draws a ton of attention with a safety rolling to him over the top.
What that has done is opened up the offense underneath for
Reggie Bush
and, to an extent,
Joique Bell
. When both are healthy and playing well, the Lions have had a pretty strong offensive threat from deep threats to short bursts. How does Dallas plan on dealing with that, especially considering
DeMarcus Ware
's questionable status?
Archer:
Running backs and tight ends have hurt the Cowboys in the passing game this year. The safeties have been only OK but are coming off a pretty good game at Philadelphia against
LeSean McCoy
, who's as shifty or more than Bush. The Cowboys had their best tackling game last season against the Eagles.
Sean Lee
and
Bruce Carter
have played better here lately and will be largely responsible for the backs, but safeties
Barry Church
and
J.J. Wilcox
will be a presence too. Losing Ware would be a big blow to a defense that has to get pressure on
Matthew Stafford
. The Cowboys have been rolling in new guys pretty much every week across the defensive line, and added Marvin Austin this week to help at tackle.
Speaking about the defensive line allows me to talk about Rod Marinelli. He has been nothing but great here with those no-name guys, but what's the feeling of him up there considering that 0-16 season?
Rothstein:
That was before my time -- I was still covering the Charlie Weis Notre Dame years when Marinelli was in Detroit -- but I can say I have not heard anything about that season in my short time here and most of the current team arrived in 2009 or later.
But the 0-16 season contributes to the typical angst the Lions fan base has over any success the team has -- as in waiting for the bottom to drop out. But most of this team is so new, there isn't much of that feeling. Plus, as injured receiver
Nate Burleson
said earlier this year, when you go to play in Detroit, you know there are going to be questions about losing streaks to be broken and demons to be exorcised.
Since we're chatting a little bit about defense,
Tony Romo
is being sacked on 6 percent of his attempts, so is Dallas' line doing a good job protecting him or are these more coverage sacks? What's going on with the protections?
Archer:
The line has improved a lot from recent years, especially in pass protection. They revamped their interior line with
Travis Frederick
, their first-round pick at center,
Ronald Leary
at left guard and
Brian Waters
, who did not play last season, at right guard. Tackles
Tyron Smith
and
Doug Free
are performing better than they did a year ago. Romo has taken a number of coverage sacks this year, and he's also elusive for a guy who does not appear to be the most athletic. He has terrific vision and a quick release that can bail him out of trouble. As strange as it sounds, I think Romo also has seen the value of taking a sack and not forcing a throw.
Let's stick with the quarterback play. Stafford is a Dallas kid, so we know his background. He likes to throw it around, but like Romo, his interceptions are down. Is he just being more careful with the ball or has the attack changed a little?
Rothstein:
Having Reggie Bush in the offense has allowed Stafford to throw the ball shorter more often and as an old coach I used to cover once said, "Short passes are happy passes." They are also more likely to be completed passes. Here's something to consider with Stafford as well. His numbers could be much better, but his receivers have dropped 6.9 percent of his passes. Hold on to even half those and he's completing around 65 percent of his passes this season. He also has gotten much better at throwing the ball away instead of forcing passes. That's been a big change. There is an accuracy component to it as well, but he isn't taking nearly as many downfield chances.
Speaking of semi-homecomings, you mentioned Carr earlier. Does this game mean more to him because he is coming home as he grew up and played his college ball in Michigan? And second thing on that, has Dallas changed a lot from last season or can a guy like
Kevin Ogletree
help this week?
Archer:
I'm sure it does but Carr will attempt to downplay it. He still carries that Grand Valley State/fifth-round pick chip on his shoulder even if the Cowboys gave him a $50 million deal last year as a free agent. He has done a terrific job here the past three weeks as we talked about earlier. Jason Garrett even went out of his way to praise Carr's work on special teams, so you can see the Flint in him hasn't left. As for the Ogletree angle, he had a hard enough time with the offense that I don't think he would help with the defense. The Cowboys have a completely different scheme from Rob Ryan's 3-4 to Monte Kiffin's 4-3. Ogletree will know some personnel, but the corners are playing a little different than they did a year ago so I don't think it will matter much.
I haven't asked about the Lions defense yet. Just by looking at the numbers they seem to be pretty good situationally: third down, red zone. Is that the wrong read here?
Rothstein:
The defense is kind of a little bit of everywhere. Great on third down over the first month of the season -- not as much over the past three weeks. Perhaps a corollary here is the defensive line not getting quite as much pressure on opposing quarterbacks the past three weeks as it did during the first month of the season. Red zone defense has been pretty good. Overall, it is a decent Lions defense.
DeAndre Levy
is having a Pro Bowl-caliber season at linebacker and the defensive line and safeties have been good. Cornerback has been a bit up-and-down, though.
My final question to you sticks with this theme. We touched on the Dallas offensive line earlier, but how do the Cowboys deal with
Ndamukong Suh
? He is a guy who can change games on his own.
Archer:
This is part of the reason why the Cowboys wanted Frederick, Waters and Leary. They're stout players. The Cowboys have not had much power in the middle and it has hurt the running game as well as pass protection. Suh, obviously, offers a different challenge. Waters has the strength necessary but he does not move like he did a few years ago. The Cowboys will give him some help but not all the time. And I think Romo can help out the line as well by getting rid of the ball quickly. The Cowboys only take a handful of downfield shots a game, relying mostly on underneath stuff to work their way down the field.
The Lions are 4-3 like the Cowboys and this is a huge game for both when you start thinking about December and playoff chases. You touched on this earlier, but is the town ready to get behind the Lions, especially because the Tigers aren't in the World Series and it's still early in the Red Wings' season?
Rothstein:
I think there is some of that, for sure, and I think there is the hope among the fan base that this year's Lions team is for real. But as I mentioned earlier, there is going to be that sense of dread -- which is why a win for Detroit on Sunday would really go a long way to bolster that fan base confidence. And probably to maintain the confidence in the locker room as well.
.
October, 17, 2013
10/17/13
12:00
PM ET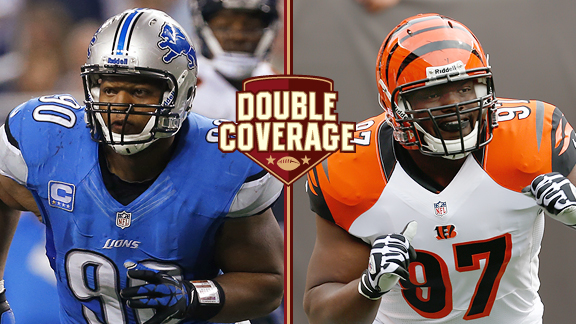 AP PhotoNdamukong Suh and Geno Atkins lead two of the league's best front fours.
The
Detroit Lions
have a chance to solidify themselves for a playoff push. So do the
Cincinnati Bengals
. They may be in different conferences, but this game should be a good test for both teams as to where they stand in the larger picture of the NFL.
Both teams lead their divisions, and both won on the road last week. And in the wacky world of the NFL, Detroit has beaten both teams Cincinnati has lost to (Chicago and Cleveland) while the Bengals have beaten one of the two teams the Lions lost to (Green Bay).
As for this week's game, Bengals reporter Coley Harvey and Lions reporter Michael Rothstein break down what should be an interesting matchup.
Rothstein:
Detroit's cornerbacks continue to either be banged up (starters
Chris Houston
and
Rashean Mathis
) or really young (rookie
Darius Slay
). How much of a problem is
A.J. Green
going to pose in this situation? Does he feast on these matchups?
Harvey:
Given the Lions' lack of experience and consistency at cornerback, that could be a problem for Detroit this weekend. Or maybe it will be a good thing. Here's what I mean: Green does well when he's going one-on-one against particular defensive backs, and he seems to relish having opportunities to expose both really good and really poor corners. Against Buffalo's
Leodis McKelvin
on Sunday, Green caught six passes for 103 yards and a touchdown. He was targeted 11 times as the Bengals went more to their receivers than they had the week before. As good as McKelvin is, though, he's no
Charles Tillman
, whom Green caught nine passes against in Week 1. He also isn't
Joe Haden
, who allowed Green to catch seven balls but held him to just 51 yards in Cleveland three weeks ago. So Detroit having a revolving door at corner could be problematic since Green has had his opportunities against some of the league's best this season.
As far as the inexperience and inconsistency at the position being a good thing for the Lions, I say that because that might prompt Detroit to double-team Green. As we've seen this season, Green struggles when safeties are able to come over the top and help out in coverage against him. If double coverage ends up being a cornerstone of the Lions' game plan, Green could have a tough day.
We'll stick with receivers, and I'll ask you, Michael, about
Calvin Johnson
. We know he's hobbled a bit with that knee injury, but how much do you think he's looking forward to squaring off with a guy like Green, who also is considered one of the game's best receivers?
Rothstein:
Johnson seems to enjoy seeing other top receivers on the field, but he gets more excited to see topflight opposing cornerbacks like
Patrick Peterson
. For instance, he and Peterson swapped jerseys after their Week 2 game.
His knee is a concern. He didn't quite look like himself against Cleveland on Sunday, dropping a couple of passes and not being his typical deep threat. But when he is out there, teams still have to pay extra attention to him because he is the top receiver in the game.
Johnson's presence changes a lot, even if he can't go deep. Detroit can still use him on underneath routes, and he's still likely to draw the double-team or added attention, especially in the red zone. As long as he can do some things and run some routes, Johnson will be out there and making a difference.
That leads me to this question -- how will Cincinnati's defense handle both the questionable health of Johnson combined with everything else Detroit's offense has to offer?
Harvey:
Cincinnati's top corner,
Leon Hall
, likely will draw the bulk of reps against Johnson, even though, at 5-foot-11, he stands some six inches shorter than his 6-5 counterpart. It'll be interesting to see how Hall and the other defensive backs handle the threat of the deep ball, assuming Johnson can run better and get underneath those passes this week. If he's forced to go underneath, the Bengals feel confident their cover linebackers --
Rey Maualuga
,
Vontaze Burfict
and
Michael Boley
-- and cover safety
Taylor Mays
can disrupt short- to intermediate-range passes.
When it comes to stopping
Reggie Bush
in the run game, the Bengals have the type of defensive front that will make such a matchup intriguing. Last week, against the No. 3 rushing offense in the NFL, they gave up 130 yards on the ground but limited
Fred Jackson
to just 35 yards on 10 carries. With fewer big-play threats in the Lions backfield, the Bengals have to be glad they're keying primarily on one running back this week. That said, it'll be interesting to see what they do with linebacker
James Harrison
. He factored heavily in the run defense last week, but with the passing threat Detroit possesses, he likely won't be on the field as much this week.
Speaking of defensive players,
Ndamukong Suh
continues to be a disruptive force in the Lions' interior. Statistically speaking, though, it seems he wasn't very productive last week. Any idea what happened there, Michael?
Rothstein:
That hasn't been unusual. His numbers have not been astronomical, but he picks up double-teams on almost every play, it seems. So just the attention he draws assists everyone. There have been hurries that have led to interceptions as well. He is playing extremely well and very consistent.
Has
Andy Dalton
said anything about Suh this week? They had a prior run-in, and a hit on
Brandon Weeden
last week is being looked at by the league.
Harvey:
Dalton was asked about the body slam Suh gave him during the 2011 preseason opener. But being the polite politician that he is, the quarterback didn't show any ill will toward Suh. Quite the contrary, actually. Like several of his offensive linemen, Dalton simply called Suh a good player and credited the way he passionately plays the game. Though few linemen wanted to make the Dalton-Suh incident a storyline this week, they will have that play in the back of their minds, rest assured.
Oh, and is there a week when the league isn't looking at one of his hits?
Final question for you, Michael. Why does Bush have only one rushing touchdown this year? Is that a function of being part of a good passing offense or something else?
Rothstein:
It's a misleading number, Coley. He would have had two rushing touchdowns in Week 1, but both were reviewed and taken away at the 1-yard line.
Joique Bell
rushed both of them in instead. And he has two receiving touchdowns, so he is finding the end zone. Detroit is more of a passing team that likes to employ screens with its running backs, so that could be why those numbers look strange. But Bush is having a good season, no doubt.
October, 10, 2013
10/10/13
12:00
PM ET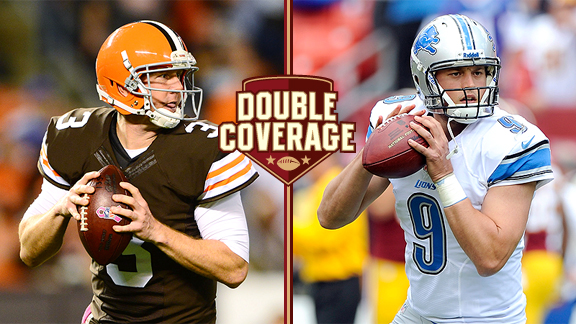 USA Today Sports, Getty ImagesBrandon Weeden returns to his starting role, while Matthew Stafford hopes to have Calvin Johnson to throw to on Sunday.
Cleveland is breaking in its old new quarterback for a second go-round this season in
Brandon Weeden
. Detroit is hoping its offensive catalyst,
Calvin Johnson
, can return after only the fifth missed game of his career.
So on Sunday, there will be two teams that have surprised some opponents this season, hoping for either a continuation of that play or to have the player who contributed to that success return.
All of that starts, though, with Cleveland's quarterback situation as ESPN
Cleveland Browns
reporter Pat McManamon and ESPN
Detroit Lions
reporter Michael Rothstein break down the key issues to Sunday's game.
The obvious place to start with Cleveland is the quarterback situation. Brian Hoyer looked good. Now he's hurt. Can Brandon Weeden recover from the benching to be a capable quarterback at this point?
McManamon
: Yes, it is the obvious place to start. And with the Browns it might be the only place to continue. Weeden struggled in two games but had his moments in relief of Brian Hoyer in his third. If Weeden learned anything from watching Hoyer it had to be to get rid of the ball on time and to not wait for a receiver to get open but throw to a spot. Hoyer showed he grasped that from
Tom Brady
, and it energized the Browns' offense. Weeden, though, tends to hold on to the ball too long -- thus his 16 sacks. If he holds on to the ball too long against Detroit's defensive front, he might be holding on to the bench before the game ends.
Mike, what is the latest with Calvin Johnson? Will he play? If he does, will the injury that kept him out of this past Sunday's game affect him this coming Sunday? And if he doesn't play can the Lions find some offense elsewhere?
Rothstein
: Johnson said he was close to playing Sunday against Green Bay, so another week of rest should be enough to get him on the field against Cleveland. The Lions better hope that's true as well, because the offense was barely able to move without the NFL's top wide receiver. Detroit coach Jim Schwartz said he wouldn't use Johnson as a decoy and I can respect that decision, because if you put him out there and someone hits the knee, then you might lose him for a longer period of time. If for some reason he doesn't play, Detroit has to figure out a way to keep teams from stacking too much on
Reggie Bush
, the Lions' other dynamic playmaker.
Working under the assumption both Johnson and Bush play, how does Cleveland go about stopping that? When those two are healthy, that's when opponents have been flustered this season.
McManamon
: The easy answer is say "duck and cover." But that won't please the home fans. The approach is first based on
Joe Haden
. The Browns want him to be an elite corner. He generally will stay with a receiver as talented as Johnson. Haden has excellent coverage skills and tremendous closing speed. But Johnson is pretty special, so if Haden does to him what he did to
A.J. Green
it will be significant. The second element is pressure. The Browns' defense is based on getting up the field, pressuring and disrupting the quarterback. They feel that is the key to any defense.
Speaking of pressure, Weeden has a bad habit of holding on to the ball too long. He's been sacked 16 times in just less than three games. What does that mean against this defensive front?
Rothstein
: Not good things, Pat. Not good things. If Weeden can't figure out a way to get rid of the ball quickly and with accuracy, Detroit's front four will likely decimate Cleveland's offense.
Ndamukong Suh
commands double-teams by himself and that opens up
Nick Fairley
on the inside and ends
Willie Young
and Ziggy Ansah to make plays off the edge. They have been really good in pressure in every game this season except against Green Bay, and a lot of that had to do with
Aaron Rodgers
and a good offensive line. Weeden isn't in the same galaxy as Rodgers, so if he can't significantly improve his time in the pocket and release time, he could be doing a lot of running.
With Weeden, Pat, I'll ask you this: Is this Cleveland team really getting it done with a lot of smoke and mirrors that will eventually get exposed or is it still a potential contender here? Or is that still too early to tell in the Weeden reign, Part Deux?
McManamon
: Would that be Part Deux or Part Doo? Because Part Uno was ugly. Weeden and the Browns scored one touchdown in two games, and he was sacked 11 times. When Hoyer played, the Browns utilized the short passing game. Snap, drop, throw. He was efficient. Weeden isn't that kind of player, so it seems like Norv Turner junks the short throws and relies on intermediate-to-long routes, increasing the likelihood of a sack, especially against a team like the Lions that can pressure with the defensive front. Weeden was asked at one point what he learned from watching Hoyer. His answer: To get rid of the ball. We'll see.
Mike, the Lions chose Ziggy Ansah one pick ahead of the Browns taking Barkevious Mingo. So far, the Browns are happy with Mingo's play and reckless abandon getting after people. Are the Lions just as happy with Ansah?
Rothstein
: They are. He's provided a strong complement to Suh and Fairley and Young -- some of his production, of course, comes from defenses focusing on those three guys. But he has 3.5 sacks in his first five games, leading Mingo by a half-sack among rookies. He's also tied for the lead among rookies with two forced fumbles. He has been a disruptive force who is still learning the game. The Lions have to be happy with what they are getting from him so early in his career.
.