Detroit Lions:

Dustin Keller
March, 11, 2014
Mar 11
12:00
PM ET
As free agency begins Tuesday and the
Detroit Lions
figure out exactly how to fill the holes they have from other players leaving or just poor performances, certain players will stand out.

And over the past four days, Detroit has also spent time in the beginnings of talks with free agents as they try to maximize what is out there for their dollars as the team has just around $11 million to spend on new players and rookies.
It may sound like a lot -- and it will be enough to get a couple of deals done -- but the total is still in the lower half of the NFL and will keep the Lions from being major movers in the market at least until the team is able to work out a new contract with defensive tackle
Ndamukong Suh
.
If that happens.
As everyone settles in for the insanity that will be the free-agent shuffle, here's a look at players the Lions could target on offense.
QUARTERBACK
Why:
The Lions are set with their starter but need to find a viable backup to
Matthew Stafford
.
Three options:
Shaun Hill: He has been Stafford's backup the past four seasons and has indicated a desire to return if everything made sense. If he wants a chance to start, he'll leave. If he's content wearing a baseball cap the rest of his career, the team might be able to keep him.
Luke McCown: He has familiarity with Lions offensive coordinator Joe Lombardi from his time in New Orleans last season, and he understands the offense. He hasn't played much the past two seasons and has thrown nine touchdowns and 14 interceptions in his career.
Curtis Painter: It would seem unlikely new coach Jim Caldwell would feel comfortable having Painter as his backup considering what happened during the 2011 season when Peyton Manning was injured, but there is a familiarity there and Painter does have more experience now.
RUNNING BACK:
Why not:
The team seems pretty settled there and if
Joique Bell
signs a long-term contract, it would be surprising to see Detroit bring in a veteran with
Reggie Bush
, Bell and
Montell Owens
on the roster. The team tendered Bell with a second-round grade this morning, per ESPN Insider Adam Caplan.
One name to watch:
Vonta Leach
. He has familiarity with Caldwell and if the team wants a fullback, he could be the guy they look to if Owens can't handle the role.
WIDE RECEIVER:
Why:
The team needs a lot of them. Right now four are under contract who had any sort of significant playing time last season --
Calvin Johnson
,
Kris Durham
,
Jeremy Ross
and
Ryan Broyles
. But Broyles is coming off an injury and neither Ross or Durham have shown to be big playmakers at receiver.
Five possible choices:
TIGHT END:
Why:
The team needs to add to the position and while they may do it by re-signing
Brandon Pettigrew
, that isn't a lock as he heads on the open market with multiple teams interested.
Three options:
Pettigrew: The Lions have said he is a priority free agent and the team will remain in the market to sign him. But there might come a point where too many teams are interested and his price becomes too high for a tight end that is versatile but can't stretch defenses over the middle.
Ed Dickson: The former Ravens tight end has that familiarity with Caldwell and although he hasn't put up big numbers the past two seasons, he did catch 54 passes in 2011. He has the blocking/receiving combination Pettigrew did as well.
Dustin Keller/Jermichael Finley: Both players are coming off massive injuries and could be had inexpensively, although the concern about the health of both players and how much they can really contribute could lead to a bargain deal at some point. If the Lions went with either one, they could end up looking to the draft for a tight end as well.
OFFENSIVE LINE:
Why not:
Detroit isn't in the market for a starter, but could pick up a backup tackle or guard here along the way. Center won't be an option. Considering the Lions are somewhat set and have likely plans to draft a center, the Lions likely wouldn't make a move early on an offensive lineman.
February, 17, 2014
Feb 17
8:00
AM ET
The
Detroit Lions
removed themselves from the salary cap crunch last week by releasing two of their veterans,
Nate Burleson
and
Louis Delmas
, but it still does not mean the team is planning on using its
franchise tag this season
.

There just isn't reason to. The team locked up center
Dominic Raiola
to a one-year deal. It won't use the tag on defensive end
Willie Young
. The only player who could conceivably earn the tag is tight end
Brandon Pettigrew
, but considering the likely price on that will be more than $6 million for one year, it seems unlikely the team would use it.
When general manager Martin Mayhew was asked about the franchise tag at the Senior Bowl, he gave his usual noncommittal answer about potentially using it, saying the team needed to evaluate various things with its unrestricted free agents.
And as good as Pettigrew has been at times in the Detroit system, he is not one of the top five tight ends in the NFL, so he isn't going to be worth that type of price tag. While the tight end market might not be massive --
Dennis Pitta
from Baltimore could be the top option out there -- there are players who could fit what Detroit wants and who would come at a potentially cheaper rate.
One of those is Pettigrew, which is another reason to not tag him. But
Dustin Keller
is an intriguing free agent if he can return from his knee injury suffered last preseason. Also, Pitta has experience with Detroit head coach Jim Caldwell.
The draft has some intriguing tight end options as well. So those avenues could be the way the team maneuvers when it comes to filling that spot.
Meanwhile, and not to jump too far ahead, but the talk of the franchise tag will likely be much heavier a season from now, especially if defensive tackle
Ndamukong Suh
does not sign a long-term extension this offseason. Then, this conversation would reach an entirely different category.
February, 10, 2014
Feb 10
3:30
PM ET
ALLEN PARK, Mich. -- Throughout last season,
Brandon Pettigrew
didn't want to talk about the looming offseason and where things could be headed.
He preferred to stay focused on the present, on his fifth year with the
Detroit Lions
and trying to turn himself into one of the NFL's top multi-purpose tight ends. He was in a contract year, but tried not to worry much about that.
He would deflect all of those questions and say he wasn't concerned about it. That he would deal with it after his season ended. Now he has no choice. Free agency is a month away and the team's decision on whether to pursue re-signing Pettigrew is one of the biggest left for the team after they chose to bring back center
Dominic Raiola
on a one-year deal.
[+] Enlarge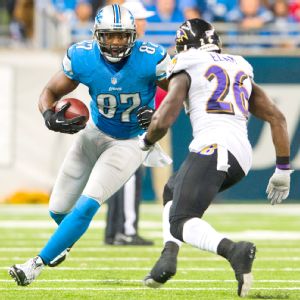 Jason Miller/Getty ImagesBrandon Pettigrew is the type of well-rounded tight end that new offensive coordinator Joe Lombardi covets.
Throughout his five years in Detroit, Pettigrew has gained the trust of
Matthew Stafford
, but has also had streaks of inconsistency where he dropped passes. He improved in that area last season. He had a career-low in drops in 2013 (four) but that also came with the fewest receptions, targets, yards and touchdowns since his rookie season in 2009.
It wasn't that he was being shuffled out of the Lions' offense as he played 925 of 1,158 snaps according to Pro Football Focus and started every game until an ankle injury in Week 15 against Baltimore ended his season. But with a young offensive line and more of a focus on the running game with
Reggie Bush
and
Joique Bell
, the team needed him to run block and pass protect just as much as they needed him to run routes.
His dual ability could lead Detroit to decide it wants to try and keep the 28-year-old Texan. He was, by far, the most well-rounded tight end on the Lions' roster last season as rookie
Joseph Fauria
was more of a route-runner and pass-catcher and
Dorin Dickerson
was a fill-in replacement when Pettigrew and
Tony Scheffler
, who was released, were injured.
And Lions new offensive coordinator Joe Lombardi values what Pettigrew is able to do.
"It's important to have a guy that can block the point of attack," Lombardi said. "That's important. A lot of teams are going to back-or-forth these days and you need a tight end that can hold up against those guys. And then, you want a guy who can be a pass receiver so you're always looking for those well-rounded guys.
"But, again, I've never been in a mode of I want to define exactly what this player is and then you have to go find him for me. Go find the best player you can. And if it is
Jimmy Graham
, we're going to find a way to make it work. We're going to find plays to help him be successful . When it was
Jeremy Shockey
, we might have had a little different philosophy with his strengths and weakness. So you want a guy who is a great blocker and a great receiver, obviously, and those guys are rare and hard to find."
Pettigrew, theoretically, is one of those guys and his potential free-agent value could force the Lions to look somewhere else to replace him.
That could be in the draft, although Detroit has bigger needs than addressing the tight end spot in the first round. But if North Carolina's
Eric Ebron
or Washington's
Austin Seferian-Jenkins
were available in the second round, it could be worth a pick investment. Same with Texas Tech's
Jace Amaro
, Notre Dame's
Troy Niklas
and Iowa's
C.J. Fiedorowicz
in the third or fourth rounds.
Of these players, Seferian-Jenkins and Niklas could be the two most intriguing prospects -- although Ebron is the most talented pass-catching tight end in the draft.
If the Lions choose to re-sign Pettigrew, it would be unlikely the team would also draft a tight end.
The other option, of course, is free agency. While Graham could be the marquee name there, it is highly unlikely he reaches free agency. Even if he did, he would be well out of the Lions' price range. The non-Graham options in the free-agent pool aren't huge names, but there are some players who could fit.
Dennis Pitta
played for Jim Caldwell in Baltimore and has shown to be a combination tight end when he was healthy in 2011 and 2012.
Dallas Clark
also played for Caldwell, but he is 33 years old and probably not worth an investment at this point.
Dustin Keller
, the former New York Jet and current Miami Dolphin, is a free agent and after the knee injury that ended his 2013 season in the preseason, he could be available cheap on a one-year deal. That would give the team a chance to figure out whether or not Fauria or
Michael Williams
, the seventh-round pick last year that ended up on injured reserve, could grow into the full-time starter role. Keller had a $4.25 million cap number in 2013, but after the injury he could be looking for a spot to prove himself again.
While these are some of the potential options, the main thing for the Lions in the next few days and weeks is figuring out how much Pettigrew is worth to them as an organization and whether or not they can find someone to replace him.