Detroit Lions:

Evan Dietrich-Smith
July, 16, 2014
Jul 16
2:30
PM ET
Mike Barwis stepped out of the Mandarin Oriental Hotel just off Columbus Circle earlier this week and he couldn't even make it to the street before being recognized.
The former Michigan strength and conditioning coach had been used to this in Ann Arbor, Michigan, and Morgantown, West Virginia, and occasionally in airports before. It was a small part of celebrity for someone involved with college athletics, for a man who has helped paralyzed individuals walk again and who has a distinct personality even in the world of strength training.
Usually, the recognition would come as thanks for training college athletes or for doing a good job with a specific player. The past few weeks, that has changed.
[+] Enlarge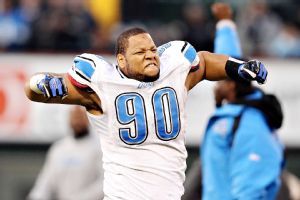 Ezra Shaw/Getty ImagesNdamukong Suh showed off his desire to train during Wednesday night's episode of "American Muscle."
Over the past three years, Barwis has opened his own training center, BarwisMethods in Plymouth, Michigan. He has trained over 30 NFL athletes. He began consulting with the
New York Mets
. And earlier this month, he had a television show, "American Muscle," debut on the Discovery Channel.
Strength coach – welcome to the new reality of reality television star.
"Literally came out of the Mandarin, hit the street, walked on the sidewalk and the bellhop, he said, 'Hey man, your show is absolutely sick,'" Barwis told ESPN earlier this week. "I had to stop for a minute because I'm used to, 'I really respect you and your coaching and I love your energy.' I'm not used to 'your show is really sick.'"
The attention might grow after Wednesday night. After a debut episode featuring
Richard Sherman
, the second episode features polarizing
Detroit Lions
defensive tackle
Ndamukong Suh
, who worked out with Barwis and his crew for a few days during the offseason.
After the show was greenlit, producers Chris and Mike Farah – "Funny or Die" producers who grew up in Ann Arbor, Michigan, – hoped Suh could participate because of his national name along with his local ties to Detroit.
Suh's sister and manager, Ngum, had come down to the facility and helped work everything out for her brother, who is becoming a reality television show veteran. This is his third foray into reality TV after "Splash" and a dating show called "The Choice."
The difference with this show is there is actual benefit in terms of training and strength for Suh.
During Wednesday night's episode, Suh was challenged heavily by
Tennessee Titans
defensive tackle
Mike Martin
, who trained with Barwis both at Michigan and then during every offseason since leaving school prior to the 2012 NFL draft.
Martin particularly went after Suh during lifts and then during sprints. Part of what Barwis and his crew of people were trying to do was push Suh to his mental limit to see if they could get him to react. By the end, almost everyone involved had a positive impression of Suh.
"His physiological capabilities are extremely impressive," Barwis said. "He is a different guy. He's not your average dude. What he can do physically, it's impressive. To me, the way he does it, as strong as he is, as good of body control [as he has] and making adjustments on the fly.
"To biomechanical assessments and things that we were saying, like move this foot here, place that there, this guy can just do it. He's a world class athlete. There's a reason he's an All-Pro status football player. He is the real deal when it comes to his physical capabilities."
One of the things Barwis tried to fix was foot placement when Suh was coming off the line. This is detailed in the episode, but he fixed Suh's mechanics with his toes to help with his speed coming off the line.
And Suh was clearly challenged throughout the episode – but he expected that.
"People like to definitely challenge me," Suh said during the episode. "They see the way I play and they want to see how they measure up to me."
Some other highlights from Wednesday night's episode:
One of the other trainers at the facility, known as "Tank Dog," is a die-hard Packers fan. When Suh showed up, the trainer was wearing a Packers jersey, to which Suh said "Take that weak jersey off." He also covered Suh's car with a Packers banner and Packers signs.

Tank Dog also questioned Suh on his 2011 stomp of Green Bay offensive lineman Evan Dietrich-Smith, but Suh wouldn't go there. He continually just said "Man, that's in the woods, man. That's in the woods, man."

Suh on people judging him: "People are always going to judge you. It's a matter of do they take the time to make that correct judgment of who you are. There's things that I've done in the season in the past that I can learn from and do better, so I don't make the same mistakes."

To me, one of the notable things in the episode was toward the end, when Suh was determined to finish a workout even though his sister was telling him he had to go. Suh ignored it and kept going. That also seemed to strike Barwis.
"That's the kind of guy you want," Barwis said. "It's like picking a team and you're telling me the guy has ridiculous athletic ability, is incredibly bright and likes to train? Sign him up."
November, 27, 2013
11/27/13
8:00
AM ET
Good Morning and ROOOOAARRR!!!
Everything seemed calm Tuesday in the early afternoon, just a normal lead-in to a game with enormous implications for both the Detroit Lions and Green Bay Packers. Then Packers offensive lineman Josh Sitton turned it into something else entirely.
Sitton torched the Detroit defense, its assistant coaches and even head coach Jim Schwartz during a radio appearance Tuesday afternoon, calling them "
dirtbags or scumbags
."
Just in time for the breaking-bread holiday of Thanksgiving.
Considering this game has all the feel of an elimination game for both the NFC North race and the playoffs in general, antagonizing the Lions seems like a pretty questionable thing to do. Yes, these teams have a long history, even with these current players -- from Ndamukong Suh's stomp of Evan Dietrich-Smith to Dominic Raiola's altercation with the Wisconsin marching band earlier this season -- so they aren't all warm and cuddly.
Now, Sitton's comments add an extra layer of intrigue to what will already be an intense game.
And now a look at the rest of the Lions news around the Interwebs:
September, 10, 2013
9/10/13
4:31
PM ET
ALLEN PARK, Mich. --
Ndamukong Suh
can
add to his growing total of fines
, and that statement alone should concern the
Detroit Lions
.
This is Suh's fourth season in the league. He has been fined four times for roughing quarterbacks. Suspended two games for stomping on Green Bay offensive lineman
Evan Dietrich-Smith
. And each time, other than the suspension that cost Suh game checks, the fines have escalated.
The problem isn't that he plays hard or violently. Football is a rough game. Hits and personal fouls are going to happen. But the NFL is clearly concerned about player safety here when it comes to Suh. Hence one of the largest fines in league history for his latest personal foul, a low block on Minnesota center
John Sullivan
.
When you have more fines and suspensions than years in the league, it's a precedent and a pattern -- one he should want to correct.
He hits six figures with this latest fine -- the $100,000 he'll lose being more than what many of the fans who watch him play each Sunday will earn in a year.
Perhaps the $100,000 Suh will lose will lead him to be smarter when it comes to some of the decisions he makes on the field.
Suh said a week ago he wanted to be a captain, an honor given to him by his Detroit teammates in an announcement a few days later. Now he has to show he can lead the team after this latest on-field incident.
He took steps, apologizing to the rest of the Lions in a team meeting. Running back
Joique Bell
said Suh also apologized personally to linebacker
DeAndre Levy
, who lost an interception return for a touchdown because of the penalty, in front of the entire team.
He also apologized to Sullivan, which is another step.
But he has to be more than just remorseful to his teammates and those he committed the penalties against. He has placed himself in a position where he will be scrutinized by the league for any action he takes. He told his teammates he understood that.
If he makes a mistake, he'll likely continue to pay more than similarly penalized players because of his history. And if he meant what he said to his teammates Tuesday, in an apology Bell called "sincere," he'll realize another play like this could cost his team more than a touchdown.
It could cost the Lions his presence in a game.