Detroit Lions:

Flipper Anderson
October, 28, 2013
10/28/13
5:20
PM ET
It was as improbable as it was dramatic, so much so that many
Detroit Lions
fans had already chosen to leave Ford Field.
They had already seen
Calvin Johnson
have the best game of his career, even if they would miss the last two catches in his 329-yard effort, the second most in NFL history.
Those who left -- and Jim Schwartz's daughter was among those who did because she had a soccer game -- missed
Matthew Stafford
go 80 yards in 50 seconds to score with 12 seconds left, giving the Lions a 31-30 win.
Now here's a look at some numbers behind the win. Some of the numbers for this story were compiled by ESPN Stats & Information. Follow Stats & Information on Twitter
@ESPNStatsInfo
.
70th -
- Where Johnson would rank in receiving yards in the NFL with just Sunday's game against Dallas.
7 --
Yards shy of Flipper Anderson's NFL record of 336 yards.
2 --
Incompletions thrown to Johnson on Sunday (one was intercepted, the other almost caught in a juggling catch).
1 --
More win Detroit has at the halfway point this season (five) than the Lions did all of last year (four).
5 --
200 yard games for Johnson, tied for the most in NFL history with Lance Alworth.
61 --
More yards by Johnson on Sunday than the entirety of Dallas' offense.
522 --
Receiving yards in Johnson's career against the Cowboys -- more than any team not in the NFC North.
39 --
Games in the NFL this season where a quarterback threw for as many, if not more, yards than Johnson had receiving Sunday (Stafford has four).
3 & 4 --
The ranks of
Reggie Bush
and Calvin Johnson, respectively, in total rushing and receiving yards this year, behind just
Jamaal Charles
and
LeSean McCoy
. Remember, too, that both Bush and Johnson missed the equivalent of one-and-a-half games each due to injury this year.
75 --
Plays Calvin Johnson was a part of Sunday.
1 -
- Defensive players who played every snap Sunday -- linebacker
DeAndre Levy
.
4 --
300 yard or better games for Matthew Stafford this season.
October, 27, 2013
10/27/13
7:55
PM ET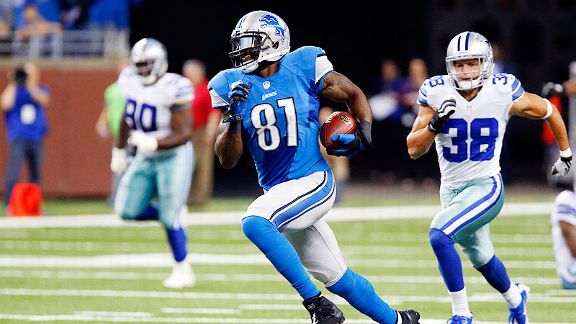 AP Photo/Duane BurlesonCalvin Johnson's 329 receiving yards left Dallas behind and his teammates reaching for superlatives.
DETROIT --
Calvin Johnson
opened the door to the side of the interview room Sunday afternoon, but there was one problem. He entered too soon.
Johnson smiled, turned around and left. He would, for the first time all day, wait his turn.
His quarterback,
Matthew Stafford
, was still talking, explaining how the
Detroit Lions
came from behind Sunday to beat the
Dallas Cowboys
31-30
, how it was his decision to dive across the end zone after a fake spike and about how his receiver is more humble than he is talented. Because after a while, adjectives cease to work describing Calvin Johnson.
How else can you explain what he did Sunday, catching 14 of the 16 passes Stafford threw to him for a team-record 329 yards -- the most yards in a regulation game in NFL history and second only to Flipper Anderson's 336 yards in an overtime win in 1989?
"I've literally never seen anything like that before in my life,"" Lions running back
Reggie Bush
said. "He's the greatest receiver in the history of the National Football League."
And the Lions needed him to be that great in order to win Sunday, to come back from 10 points down with 6:45 left to win on their final offensive play. Johnson caught slants and turned one into an 87-yard reception. He leaped between two Cowboys defenders to catch a 54-yard pass to start a touchdown drive.
Then there were all the other plays in between.
"It's crazy," Johnson said.
Perhaps crazier was how Dallas played Johnson. He said he saw a lot of single coverage. Single coverage on Johnson is almost like not covering him at all.
That would explain why Cowboys owner Jerry Jones, after he watched his team get shredded, said simply, "We could not cover Calvin Johnson."
No one could Sunday. Not even close. Johnson left teammates shaking their heads in amazement. They see it all the time, every day. Center
Dominic Raiola
said after the game he thought he had seen everything with Johnson, anything he could possibly do.
He then admitted he was wrong.
Much was made last week about Dallas receiver
Dez Bryant
saying he could do whatever Johnson could do. On and off the field, Johnson turned it into a nonissue; he said he heard about Bryant's boast only when Bryant texted him to explain things. Then Johnson went out and had one of the best days ever for a wide receiver, while Bryant scored two touchdowns on three catches and got into heated conversations on the sideline with
Tony Romo
and
Jason Witten
.
The thing that endears Johnson the most to his teammates is what Stafford was talking about just before Johnson walked in and then out of his quarterback's news conference. That humble nature. The fact that perhaps the best wide receiver in the history of the game isn't a diva.
He doesn't throw tantrums. He doesn't complain about not seeing the ball. He goes out and makes plays, ones that defy explanation, and all he wants is to win in a city that hasn't seen much of it over the history of the franchise.
Remember, he was part of the Detroit team that went winless in 2008. He saw the lows. To fans, he remained a permanent high point, someone they could latch on to as theirs, as one of the best in the game, much like they did with Barry Sanders during his career.
Now, Johnson is part of a winner, of a team that can come back to pull out a victory down six points with 62 seconds and 80 yards to go. Even his celebration of Stafford's fake spike signal and touchdown dive with 12 seconds left was understated.
He looked at the refs, raised his arms.
"The only thing that went through my mind is that we won the game," Johnson said. "I was happy he did it."
Then he'll get asked about his play, about himself, and he shrugs it off. He'll talk about single coverage and turnovers and his team and its ability to come back.
His teammates, though, will do the lauding.
"I have not ever seen anything like that," receiver
Kris Durham
said. "As a receiver, you're like, yeah, 100 yards would be a great day. I can't tell you what 300 would do. That's probably more receiving yards than I've got on the season. So that tells you something right there."
Durham's close. He has 310 receiving yards, far fewer than Johnson's NFL-leading 821 yards -- and that's with missing a game to rest his ailing knee. But yes, on Sunday, Johnson had 19 more yards in one game than Durham has had all season.
The deep ball helped. Half of Johnson's catches were for 20 yards or more, according to ESPN Stats & Information. He's done that three times in his career now. No other receiver has done it even once since the beginning of the 2001 season.
And there really is no other parallel.
"Amazing," Raiola said. "Nothing more you have to say about him."
There might be one thing even more amazing than what he did Sunday, how he played against Dallas. It might also be the scariest part of all of it.
He might not even be fully recovered from his leg injury yet.
"Just wait," Detroit coach Jim Schwartz said. "Until he's 100 percent."
For the rest of the NFL, that might be the worst news of all.