Detroit Lions:

Gabe Ikard
May, 2, 2014
May 2
12:00
PM ET
The NFL draft is less than two weeks away, which means soon enough the
Detroit Lions
will have to reveal whether all of their
Sammy Watkins
attention and visits from
Jadeveon Clowney
and
Khalil Mack
had substance or were designed to throw everyone off.
But the draft will be more than just one round for the Lions, who will need to use the three days in May to build depth on a roster that is big on stars but small on those players beyond the big names that can turn the Lions into a playoff team.
Every day up until the first day of the draft, we'll look at a different position grouping and see what Detroit has and what the team could end up looking for during the draft.
[+] Enlarge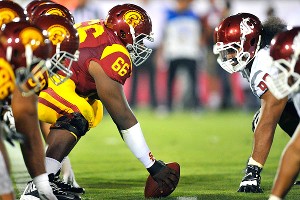 Gary A. Vasquez/USA TODAY SportsUSC's Marcus Martin could fill a future need for the Lions at center.
Today continues with the offensive line.
Previous position groups:
Quarterbacks
;
Running backs
;
Wide receivers
;
Tight ends
Players Lost:
Jason Fox
(signed with Miami);
Leroy Harris
(free agent);
Dylan Gandy
(free agent).
Players Signed
:
Dominic Raiola
(re-signed);
Darren Keyton
;
J.B. Shugarts
;
Sherman Carter
.
Players on the roster
: LT
Riley Reiff
; LG
Rob Sims
; C Raiola; RG
Larry Warford
; RT
LaAdrian Waddle
; OT
Corey Hilliard
; OG
Rodney Austin
; Keyton; Shugarts; Carter.
Draft priority:
High for center; Low-to-medium otherwise.
Potential Rounds:
3-7
Players who have visited or the Lions have met with:
Taylor Lewan
, OT, Michigan;
Marcus Martin
, C, USC.
Analysis:
This isn't a great draft for centers, but the Lions don't need it to be a spectacular one – just one with enough players who could eventually develop, and that should not be an issue.
Once Detroit re-signed Raiola and didn't land
Phil Costa
in free agency, it became apparent that the team's hunt for Raiola's eventual replacement would come from the group of centers in this draft. There isn't necessarily a first-round – or even a second-round – pick in the bunch, but there is talent and there is the opportunity to find a potential starter in the group.
Martin, the highest-rated center in the draft by ESPN.com and the only one known to have visited Detroit, is the No. 54 overall player. Two other players are ranked in the top 100 – Colorado State's
Weston Richburg
and North Carolina's
Russell Bodine
.
One of those three, either in the third or fourth rounds, would be a good pull for the Lions depending on who else is available. Should they wait until later in the draft and those three are gone, Utah State's
Tyler Larsen
and Oklahoma's
Gabe Ikard
could present intriguing options to draft and groom.
Other than center, the Lions have their top three tackles and guards likely set entering training camp, but Detroit has done well finding offensive linemen in the past few years out of the draft, including Warford in the third round last season and Waddle on the undrafted free-agent list a year ago.
The only way Detroit would take a tackle in the first round is if the top tackle on their board fell to them at No. 10 and the Lions either didn't like any of the other options and couldn't trade out of the position. That's the scenario where the team could take either
Jake Matthews
or Taylor Lewan.
Otherwise, finding a fourth guard and tackle could be either a third-day or undrafted free-agent proposition this season as the Lions' top six linemen from last season all return.
Of all reasonable options, I'd take:
If Richburg or Bodine are there in the third round, I'd potentially make a move on one of those players. If not, I'd wait until the third day and take Ikard. Center would be, by far, the only position worth being concerned with before the third day of the draft, and by then the Lions will likely be looking for a backup quarterback, possibly a wide receiver or linebacker and then the best players available to fill out the roster.
That's where they could potentially grab a
Michael Schofield
, who played both guard and tackle at Michigan, or a
Brandon Linder
or
Spencer Long
at guard. I'd anticipate Detroit drafting a tackle or guard at some point in the draft, but unless it is an obvious best player available situation, that won't happen until the third day.
Possible targets:
Center –
Martin, Richburg, Bodine, Larsen, Ikard.
Tackle –
Lewan, Schofield,
Billy Turner
, North Dakota State;
Cornelius Lucas
, Kansas State.
Guard –
Schofield; Brandon Linder, Miami (Fla.); Spencer Long, Nebraska.
March, 1, 2014
Mar 1
12:00
PM ET
Free agency comes in less than two weeks. So do many pro days for teams, including Michigan and Michigan State about 10 days from now. And the new league year is about to begin.
So, too, comes another week of the Lions Mailbag. Remember, the Mailbag is only as sharp as the questions you ask. To submit a question, either tweet a question with #LionsMailbag as a hashtag or email
michael.rothstein@espn.com
. Please include first name and hometown if you choose that option.
The Mailbags will run Saturdays throughout the offseason.
Now, on to your questions.
February, 17, 2014
Feb 17
12:00
PM ET
If you happened to take an Internet break over the past seven days -- and let's face it, at some point everyone could use a break from information -- you missed a lot when it comes to the world of the
Detroit Lions
.
You also happened to come back at the right time, as prospects, agents, media and representatives from every NFL team will be making their way to Indianapolis this week for the annual scouting combine, where workout legends are made and players are routinely overrated and underrated every year.
So here's a quick look at what you might have forgotten about or glossed over from the week that was and what to expect for the week to come.
Let's start with transactions. The Lions finally managed to push themselves under the cap, but it meant the release of
veteran wide receiver Nate Burleson
and
starting safety Louis Delmas
, both of whom had high cap numbers and one year left on their contracts. The releases of Burleson and Delmas mean a definitive leadership shift in the Detroit locker room for 2014, as the two players were often viewed as the emotional centers of the Lions' offense and defense.
Those releases plus the establishment of center
Dominic Raiola
's
2014 cap number of $1.5 million
likely gives Detroit a little more than $3 million in cap room heading into the new league year on March 11.
[+] Enlarge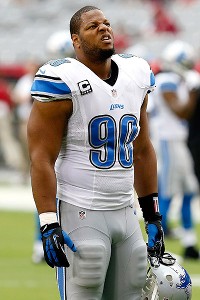 AP Photo/Ross D. FranklinWill the Lions work to extend Ndamukong Suh's contract and reduce his $22.4 million cap figure for 2014?
Chances are, there will be more maneuvering from Detroit between now and then, either in contract restructures, player cap casualty releases or perhaps that long-sought
Ndamukong Suh
long-term extension.
Speaking of that extension, this week could be a big week for it. Everyone is in Indianapolis and discussions about free agents and prospects are sure to take place. The wrinkle with Suh is he
may or may not have hired an agent
after firing Eugene Parker and Roosevelt Barnes, and no one from the potential agency, Roc Nation Sports, has been commenting about who his representation actually is.
Suh has a $22.4 million cap figure for 2014 and how soon the team can remedy that will severely impact how the Lions can improve areas they need to for 2014.
In Indianapolis, Detroit will be focusing on a bunch of different position groups, although the wide receiver corps and secondary will receive the most attention.
The Lions
need to find complements for Calvin Johnson
and now a replacement for Burleson in the slot. In the secondary, Teryl Austin has said his team can never have enough cornerbacks and add that to the release of Delmas, and
improving the secondary is paramount
entering Austin's first season as a NFL defensive coordinator.
So who might the team look at? This receiver class is unbelievably deep, so this could give the team some room to trade down from No. 10 if it wanted to or stay put if there is a receiver they like at that spot. Clemson's
Sammy Watkins
, the top receiver in the draft, isn't expected to be available at No. 10, so the team will have to make a decision whether Texas A&M's
Mike Evans
or USC's
Marqise Lee
, among others, are worth the No. 10 pick. This week will really push forward that evaluation process. But with 14 receivers in ESPN's Top 100 players and 22 in the Top 150, the
Lions will have some options to consider
. A sleeper name to watch -- Watkins' teammate,
Martavis Bryant
. He has the size and speed that, if available in the third round or later, could be a steal.
If not receiver, then secondary is an area the team could address. Alabama's
Ha Ha Clinton-Dix
went from a luxury to potentially a priority at safety and both Oklahoma State's
Justin Gilbert
and Michigan State's
Darqueze Dennard
will get looks. All three of those players could be ideal candidates for Detroit even if it were to trade down a few slots.
Expect Detroit to also look heavily at center -- Oklahoma's
Gabe Ikard
could be a target -- tight end, defensive line and linebacker throughout the draft. A quarterback could also be in play, but that likely wouldn't come until the third day of the draft considering the team's other needs and investment in
Matthew Stafford
.
A week from now, a lot of Detroit's plans over the next handful of months could become much clearer.
January, 25, 2014
Jan 25
3:00
PM ET
Two of the major college all-star games took place last Saturday. The Senior Bowl happens this Saturday with practices all week.
Many of the players selected in May's draft will come from these three games or from underclassmen who decided the time was right to turn professional. Over the next two weeks, pairing with our position outlook series, we'll preview some players to become familiar with over the next four months as the NFL draft process crawls along.
Today continues with interior linemen. The Lions are likely not in the market for a guard -- at least not compared to some other issues with the team. They should, though, be looking for a center. So this list will primarily be centers.
Previous looks
:
quarterbacks
;
running backs
;
wide receivers
;
tight ends
;
offensive tackles
.
NFLPA game:
Shrine Game:
Senior Bowl prospects:
Others not in major all-star games:
January, 25, 2014
Jan 25
12:00
PM ET
A coach has been hired. A staff is being filled out. The
Detroit Lions
' offseason and planning for the 2014 season is officially here.
To start that process, we will look at each position group over the next two weeks, analyze what worked and what didn't before projecting what could happen between now and training camp in 2014, which is only a mere seven or so months away.
Today the series continues with wide receivers.
Previous positions:
Quarterbacks; Running backs; Wide receivers; Tight ends; Offensive tackles.
2014 free agents:
Dylan Gandy
;
Dominic Raiola
Raiola
Warford
The good:
There's a lot to like here for Detroit.
Larry Warford
was possibly the steal of the draft in the third round in 2013. He played every snap this season and became one of the best right guards in the league. He didn't allow a sack -- one of 11 guards to accomplish that.
Rob Sims
allowed only one sack this season according to Pro Football Focus.
Dominic Raiola
had arguably the best season of his career. He didn't allow a sack and graded out as the second-best center in the NFL according to Pro Football Focus. He was one of eight centers, according to PFF, to not allow a sack this season.
The bad:
According to PFF, Sims graded out negatively for the season in run blocking, but the Lions did have a 1,000-yard rusher in
Reggie Bush
and a 650-yard season from
Joique Bell
. That is about the only negative you can say about the interior of Detroit's offensive line this season. Warford and Raiola were particularly strong and Raiola might have played his way into extending his career with the Lions.
The money (using 2014 cap numbers from Roster Management System):
Sims is entering the final year of his deal and is slated to make $3.775 million against the cap, the highest of any returning lineman.
Leroy Harris
, who played in one game this season, is slated to make $2,062,500 against the cap entering the final season of his deal. Detroit's other two returning guards, Warford and
Rodney Austin
, are on the cheap and their first deals. Warford is slated to make $714,250 against the cap and Austin $495,000.
What Caldwell might favor:
At guard, it is tough to say what Caldwell truly favors from a body type, although he does seem to favor having one guard who is taller -- more like a tackle -- than a shorter guard. That said, it is tough to see the Lions moving on from Sims or Warford this season, so any shaping of the line will be done from depth. At center, he appears to like bigger centers as
Jeff Saturday
was 6-foot-2, 295 and
Gino Gradkowski
was 6-foot-3, 300 pounds.
Potential cuts:
Harris is likely a clear restructure-or-go case. He won't beat out Sims or Warford for the starting guard spots and Austin has potential as a backup. If the Lions bring back Gandy -- and he has some familiarity with Caldwell from their shared time in Indianapolis -- there isn't much reason for keeping Harris around when he didn't play a season ago at the money he is slated to be making.
Draft priority:
Expect the Lions to draft a center somewhere in the middle rounds in May -- perhaps a little higher if Detroit chooses to move on from Raiola.
Gabe Ikard
, from Oklahoma, is an intriguing prospect.
Bryan Stork
is the Rimington Trophy winner and could be an interesting choice as well.
Numbers in this post were culled from ESPN Stats & Information and Roster Management System.