July, 24, 2014
7/24/14
12:00
PM ET
Over the next two weeks, we'll be previewing the
Detroit Lions
entering training camp, which begins at the end of July. A reminder – unless a player is an entrenched starter, so much of what will happen over the next month or so will be entirely fluid as players attempt to make an NFL roster.
[+] Enlarge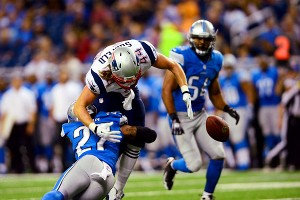 Andrew Weber/USA TODAY SportsSafety Glover Quin should provide stability for the Lions' secondary.
Position
: Safety
Starter:
SS –
James Ihedigbo
; FS –
Glover Quin
Depth (in training camp):
Don Carey
,
Isa Abdul-Quddus
,
DeJon Gomes
,
Jerome Couplin
,
Gabe Lynn
.
Likely roster spots:
4.
What to expect in camp:
For a position in the secondary, there is surprising stability at safety for the Lions along with some flexibility if and when injuries occur. Glover Quin will be the team's free safety and one of the defense's leaders. If necessary, the Lions could slide him over as well. James Ihedigbo, who the team brought in during the offseason to replace
Louis Delmas
, is a reliable, stable option as the starter opposite Quin.
Behind the two of them is where it becomes a little bit more interesting. Don Carey, who signed a three-year deal in the offseason, is the likely third safety and should provide some depth at nickel. He could theoretically back up both spots and will be a major factor in special teams.
Isa Abdul-Quddus and DeJon Gomes, while playing different safety spots, might be competing for one roster slot. Both have good special-teams skills, and this should be one of the more competitive battles in camp. The better special-teams player might end up as the one who makes the roster. There's also a chance, depending on how the rest of the roster develops, both end up squeezing onto the squad but it will be difficult.
The undrafted rookies, specifically the extremely athletic Jerome Couplin, could end up with a practice squad spot if they show enough during camp, but neither are real threats at this point of making the 53-man roster.
What Detroit needs to see:
It knows what it has in Quin, who played well despite an injury last season. The Lions also need a good chemistry to develop between Quin and Iheidgbo – similar to what Quin and Delmas had a season ago. There was a comfort with both of them until Delmas' play started to slip in the second half of the season.
After that, the Lions need to see a competence with the backups – that shouldn't be an issue because all have some level of experience starting games in the secondary in the past – and strong special-teams performances from all three. For a position group in the secondary with so many questions, safety might have one of the more talented roster groups from starters to backups on the roster.
The other key here is how the two starters mesh with the cornerbacks as the corner-safety tandem is just as important as the relationship between the two starting safeties. Detroit needs to see that grow throughout the preseason, especially since corner is the biggest question on the defense and might be the biggest overall concern on the roster.
June, 17, 2014
6/17/14
1:00
PM ET
The offseason workouts have concluded and with players and coaches about six weeks away from the start of training camp, one last rest and individualized training period will commence.
After a month of workouts, though, there have been some players who have made cases for potential roster spots in the fall and others who did not help themselves nearly as much.
Just like the start of the spring workouts, here is a look at the Detroit defensive and special teams depth chart -- along with a post-minicamp guess at the 53-man roster that could end up being the Lions' team in the fall. Remember, a lot can change between now and then.
Changes from
our May defensive prediction
are in parentheses. The offensive roster prediction
lives here
.
DEFENSIVE END:
Starters:
Ezekiel Ansah
(open);
Jason Jones
(closed)
Backups (in projected depth-chart order for now):
Devin Taylor
,
Darryl Tapp
,
Larry Webster
,
George Johnson
,
Kalonji Kashama
.
Thoughts:
Ansah didn't practice this spring but he is a starter and should have a good year. Jones started to look healthier and will likely be pushed by Taylor throughout camp. Taylor may end up winning the job. Tapp is a good veteran and Webster is raw. Really raw.
Roster locks:
Ansah, Jones, Taylor. (no changes)
If picking the roster today, these guys would be on it:
Ansah, Jones, Taylor, Tapp, Webster. (Webster up from practice squad)
DEFENSIVE TACKLE:
Starters:
Ndamukong Suh
,
Nick Fairley
.
Backups:
C.J. Mosley,
Caraun Reid
,
Andre Fluellen
,
Xavier Proctor
, Jimmy Saddler-McQueen, Greg Hickman.
Thoughts:
The Lions cut a lot of marginal veteran weight here during the spring and really somewhat set their defensive tackle depth chart. Suh and Fairley, at least in the spring, look like they could be the dominant pairing the Lions wanted the past few seasons. Both Jones and Taylor can play inside, so that gives the Lions flexibility.
Roster locks:
Suh, Fairley, Mosley (no changes)
If picking the roster today, these guys would be on it:
Suh, Fairley, Mosley, Reid, Proctor (practice squad) (Add Proctor to practice squad)
LINEBACKER:
Starters:
DeAndre Levy
(weak side);
Stephen Tulloch
(middle);
Kyle Van Noy
(strong side)
Backups (in projected depth-chart order for now):
Ashlee Palmer
,
Tahir Whitehead
,
Travis Lewis
,
Julian Stanford
,
Cory Greenwood
,
Brandon Hepburn
,
Justin Jackson
.
Thoughts:
The starters are pretty set here with the two veterans and the rookie, Van Noy. Palmer will end up playing his way onto the team, but watch for Whitehead here. He is a potential candidate to push for playing time or at least be a stable backup in the middle. The last spot here could be between Stanford and Lewis for a mainly special-teams spot. In this version, I cut both Stanford and Lewis in favor of a sixth cornerback, but could easily see that changing by the time the next roster projection is done before camp.
Roster locks:
Levy, Tulloch, Van Noy (no changes)
If picking the roster today, these guys would be on it:
Levy, Tulloch, Van Noy, Palmer, Whitehead, Hepburn (practice squad). (Jackson off practice squad, Palmer to the 53-man roster).
CORNERBACK:
Starters
:
Darius Slay
,
Rashean Mathis
(
Chris Houston
off team).
Backups (in projected depth-chart order for now):
Bill Bentley
,
Cassius Vaughn
,
Chris Greenwood
,
Nevin Lawson
,
Jonte Green
,
Aaron Hester
,
Mohammed Seisay
.
Thoughts:
The release of Houston opens up this competition and a roster spot for another cornerback, potentially. Slay and Mathis are likely starters here with everyone else fighting for time and, other than Lawson, a roster spot. It'll be one of the toughest battles of camp. This was one of the toughest cuts I had to make.
Roster locks:
Slay, Mathis, Lawson. (Add Mathis, subtract Houston)
If picking the roster today, these guys would be on it:
Slay, Mathis, Bentley, Vaughn, Lawson, Greenwood, Seisay (practice squad). (Houston, Green off; Seisay on practice squad).
SAFETY:
Starters:
Glover Quin
,
James Ihedigbo
.
Backups (in projected depth-chart order for now):
Don Carey
, Isa Abdul-Quddus,
DeJon Gomes
,
Jerome Couplin
,
Gabe Lynn
.
Thoughts:
The Lions are good with their top three safeties in Quin, Ihedigbo and Carey. Carey can play both nickel and corner in an emergency, which makes him imminently valuable for the Lions. Abdul-Quddus and Gomes might be competing for one roster spot and that should be an intense battle throughout camp. Between these two was the last cut I made. Initially had both making the roster until the end.
Roster locks:
Quin, Ihedigbo, Carey. (no changes)
If picking the roster today, these guys would be on it:
Quin, Ihedigbo, Carey, Abdul-Quddus, Couplin (practice squad)
KICKER
:
Starter:
Nate Freese
Backup:
Giorgio Tavecchio
Thoughts:
Still Freese's job to lose, but this might be a tougher competition than anticipated. Tavecchio has the stronger leg and if he can add consistency, he'll win the gig. Otherwise, it's Freese's. Right now, it's a toss-up.
Roster locks:
None.
If picking the roster today, this guy would be on it:
Freese.
PUNTER:
Starter:
Sam Martin
Backups:
None.
Thoughts
: None. It's Martin.
Roster locks:
Martin.
If picking the roster today, this guy would be on it:
Martin.
LONG-SNAPPER:
Starter:
Don Muhlbach
.
Backups:
Jordan Thompson
.
Thoughts:
None. Barring injury, Muhlbach will be the team's long-snapper.
Roster locks
: Muhlbach.
If picking the roster today, this guy would be on it:
Muhlbach.
May, 14, 2014
5/14/14
2:30
PM ET
The Detroit Lions announced their undrafted free agents on Monday afternoon -- 11 of them -- and over the next few days, you will get brief primers on them here as the team prepares for rookie minicamp this weekend.
Other profiles:
OT
Cornelius Lucas
; QB
James Franklin
; FB
Chad Abram
; OL
Alex Bullard
; S
Jerome Couplin
; LB Justin Jackson
Name:
Gabe Lynn
Position
: Defensive back
School:
Oklahoma
ESPN pre-draft position rank:
No. 74 cornerback.
Career College Stats:
44 games, 25 starts, 116 tackles, 4 interceptions, 2.5 sacks.
Depth chart he's looking at:
Starters –
Chris Houston
,
Darius Slay
.
Depth –
Rashean Mathis
,
Bill Bentley
,
Jonte Green
,
Chris Greenwood
,
Cassius Vaughn
,
Aaron Hester
,
Nevin Lawson
.
Chances of making it to camp
: 80 percent. Played corner and safety at Oklahoma.
Why him:
A few reasons. It starts with a common theme among a lot of the undrafted free agents -- versatility. Lynn played cornerback and safety for the Sooners and typically had to go up against some of the top offenses in college football throughout his career. He also spent time in the nickel, an important defensive position for the Lions. Plus, despite Martin Mayhew downplaying it, there is clearly a connection between the Lions and Oklahoma as the team has drafted or signed multiple former Sooners in the past few years.
The other attraction regarding Lynn is his height. Defensive coordinator Teryl Austin has mentioned often his desire for tall defensive backs, and Lynn is listed at 6-foot, which has typically been the minimum height for Austin's cornerbacks. So his physical traits actually make him a fairly intriguing long-term prospect for the Lions. His statistics have not been spectacular, but it appeared Oklahoma took a while to find a position for him. He was one of the first players to announce after the draft that he was heading to Detroit, so he was clearly a priority undrafted player for the Lions, although probably not on the level of
Cornelius Lucas
or even
James Franklin
.
May, 11, 2014
5/11/14
11:15
AM ET
Here are some day-after thoughts on how the
Detroit Lions
did in the 2014 draft, with some time to sleep, reflect and also see the entire board of what they were trying to do.
The best pick the Lions made is probably second-round linebacker Kyle Van Noy. He fills an absolute need and Detroit general manager Martin Mayhew all but said Saturday night that he'll be a starter in the fall. That probably means Ashlee Palmer's job is in definite trouble as the third linebacker. But Van Noy gives Detroit some defensive flexibility. In person, he is a lot bigger than I initially anticipated. He's put together pretty well.
I panned the Eric Ebron pick throughout the draft -- not because Ebron won't be a good player, but because of who the team passed on at the point. Detroit desperately needed secondary help entering the draft and still needs help leaving the draft. Frankly, they needed defensive help overall, but they took care of some of those other needs later on -- including Van Noy. But Ebron felt more like a luxury. That said, if he becomes more of a wide receiver, which is entirely possible, it could end up being a very strong pick.
Speaking of the secondary -- this was probably Mayhew's biggest failing during the three-day period. Of the team's eight picks, Detroit used only one on its back seven -- in the fourth round on cornerback Nevin Lawson. Mayhew lauded Lawson's speed, but his height stands out. For months, defensive coordinator Teryl Austin explained how important tall cornerbacks were and in his history, he has often preferred players over 6-foot. Lawson is 5-foot-9. When asked about that, Mayhew said he was a short defensive back, so he can't be prejudiced about that. Nine corners went off the board in the fourth round before Detroit picked Lawson -- and one wonders how many of those were higher up on the Lions' board.
Fourth-rounder Larry Webster could end up being a good one -- but it won't be for a couple of years. He played at small-school Bloomsburg and has a good pedigree since his father played in the NFL. But even Mayhew acknowledged he is very raw at the position. He seems like an ideal candidate to learn for a year before being counted on for anything.
Drafting kicker Nate Freese in the seventh round likely means either John Potter or Giorgio Tavecchio probably won't be long for Detroit. The other will compete with Freese for the Lions' kicking duties.
Really like the addition of Caraun Reid. He is probably a bit of a developmental project as a defensive tackle coming from a small school, but he is an extremely intelligent and well-rounded person having gone to Princeton. As with many late-round guys, he'll make the team because of special teams at first -- and that is where he might excel. He appears to have a knack for blocking kicks, as he did that seven times at Princeton.
T.J. Jones could end up being a surprise as well. He's a receiver from Notre Dame who had 70 catches for 1,108 yards and nine touchdowns last season -- and was targeted 109 times by Irish quarterbacks. He will likely put pressure on Ryan Broyles and Jeremy Ross in the slot for a roster spot and playing time.
Good chance third-round pick Travis Swanson won't play much this season on offense, but he was drafted to be the team's starting center of the future -- unless he ends up as a starting guard. It's a fair bet he replaces either current center Dominic Raiola or left guard Rob Sims by 2015.
If Detroit can get some production out of its third-day players like it did out of the 2013 draft, the Lions' draft will likely look a lot better in retrospect than it does right now. But that's the thing with all of this. Until teams get on the field, this will all be speculation at best. A bit more informed speculation than before the draft, but we'll see how some of these players fit.
The Lions' undrafted free agents and tryout camp players won't be official until at least Monday and things can change quickly, so until it is official, be wary. But former Missouri quarterback James Franklin tweeted he will be joining the Lions -- and since the Lions did not draft a quarterback this weekend, that seems like a pretty safe bet. Among the other players who tweeted they will be a part of either the Lions' roster or rookie camp are Nebraska cornerback Mohammed Seisay, Appalachian State wide receiver Andrew Peacock, Kansas State offensive tackle Cornelius Lucas, Tennessee offensive lineman Alex Bullard and Oklahoma cornerback Gabe Lynn. The Detroit Free Press is reporting William and Mary safety Jerome Couplin, Robert Morris offensive lineman A.J. Dalton and Louisiana-Lafayette tight end Jacob Maxwell will also be undrafted free agents.