Detroit Lions:

Herman Moore
November, 15, 2014
11/15/14
9:00
AM ET
ALLEN PARK, Mich. -- The
Detroit Lions
are, get this, playing for the top record in the NFC on Sunday when they face current top-spot holder Arizona on Sunday.
Who would have thought that at the beginning of the season? The playoffs and more appear to be a distinct possibility for Detroit and we discuss what is going on with the team right now in this week's Lions Mailbag. To ask a question of the Mailbag, use the hashtag #LionsMailbag on Twitter, email me at
michael.rothstein@espn.com
or drop by
my Facebook page to ask the question
.
Now onto this week's queries.
@mikerothstein Agree w/ idea Lions don't have personnel to make no huddle work? Used selectively/sparingly, I think it would. #LionsMailbag

— Joshua Travis (@boomshaka9) November 14, 2014
@mikerothstein: Yes and no. I think the way the Lions are using it now is smart. It offers a faster change of pace during the typical hurry-up, two-minute situations and that can throw defenses back a little bit. The main reason the hurry up wouldn't really work with the Lions, in my opinion, is how much they can formationally substitute on a single play. You might see anywhere from two-to-four different players on the field per play and going no-huddle in that situation will just lead to errors. When Detroit has used no-huddle late in games, it has typically kept the same personnel on the field throughout, save a running back switch or two. That's why I would avoid it.
@mikerothstein while you head to the sun, let's play our weekly game. what tight end catches the most passes this week?#lionsmailbag

— rick sanchez (@Rick_Sanchezez) November 14, 2014
@mikerothstein: Hey, this question has more relevance now! It would appear that the Lions will have their full complement of tight ends Sunday for the first time since the end of September, so there shouldn't be any mixing or matching going on just to find the right personnel. That said -- and this is just a guess -- but I'd say Joseph Fauria is going to have the most receptions for the Lions tight end group Sunday. With Fauria and Eric Ebron back, Brandon Pettigrew heads back to more of a blocking role. Ebron is still learning as a rookie and Fauria provides that tough height matchup that could cause issues for Arizona. Just a wild guess on stat line, but let's say four catches for 50 yards and a touchdown for Fauria and three for 35 for Ebron.
@mikerothstein #LionsMailbag Is Herman Moore a HOF'er? Like ever????

— Brandon (@bfulk80) November 14, 2014
@mikerothstein: As good as Moore was throughout his Lions career, probably not. His 670 catches don't put him in the top 20 in NFL history. His 9,174 yards won't either. Keep in mind Calvin Johnson -- who is a future Hall of Famer -- has closed in or passed all of Moore's records in less than eight seasons while Moore played 11 in Detroit. Plus, Moore plays a position that has exploded over the years, so his numbers will continue to be dwarfed. Moore was an excellent receiver for the Lions and belongs in the Hall of Great, but probably not in the Hall of Fame. This story in FiveThirtyEight illustrates the issue for Moore all too well. Look at the other guys -- many of them Moore's contemporaries -- and his numbers just don't measure up.
@mikerothstein #lionsmailbag I say that if we get past ARI, theres nobody in the NFL we can't beat. Am I being overconfident? #OnePride

— Steven Mallett (@Steven_Mallett) November 13, 2014
@mikerothstein: Yes. I'm of the belief -- and I've said this on the radio this week -- that the Lions can beat anyone they play if they are playing the game in Detroit. Away from Ford Field, though, is entirely different. No matter what happens in the desert on Sunday, I still will be picking New England and Green Bay to beat the Lions in the regular season when they travel to Massachusetts and Wisconsin. The only thing that would change my mind there would be injuries. Don't know if the Lions could win in New Orleans in the playoffs, either. Or Seattle, if they had to go there.
@mikerothstein Do you think Warford's injury will hurt the offense more than the merry-go-round that has been right tackle? #LionsMailbag

— Jeremy Slone (@sloney4) November 13, 2014
@mikerothstein: I do. Even though he hasn't been playing quite to the level of his rookie year, Larry Warford has been Detroit's best lineman this season. He's been really strong in pass protection and decent enough against the run. Plus, he has a very good chemistry with both right tackle LaAdrian Waddle and center Dominic Raiola. They trust him. Travis Swanson is a rookie -- and while the Lions are very high on him, there will be a learning curve here. It doesn't help that Swanson gets Arizona, New England and a good Chicago front four in his first three likely starts. Quite the NFL introduction.
@mikerothstein This game is the most critical game of the year. Could be a tie breaker for a wild card or a bye. Thoughts? #lionsmailbag

— Ryan Terpstra (@trc_terpstra) November 14, 2014
@mikerothstein: Sure, why not, although so much can change in the NFL between now and that last week in December. Take last year as an example. Now, this team is built a lot differently, both mentally and depth-wise, than the 2013 version of Detroit that skidded into the abyss of no playoffs over the season's final two months. But this is a difficult stretch coming up for Detroit. Go 3-0 or 2-1 in it and the Lions are legit contenders for the NFC crown. Go 1-2 and they still look good. Being winless the rest of November would be a bad look, but they'd still have time to rebound.
June, 24, 2014
6/24/14
8:00
AM ET
We'll be looking at the history of the Detroit Lions from a little bit different perspective -- history through the numbers. Each weekday will feature a set of numbers counting down from 100.

The series continues with Nos. 90-81. Most of the numbers came from research on the Detroit Lions website, record books, Pro-Football-Reference.com and ESPN Stats & Information.
90:
Selected with the No. 2 pick in the 2010 draft,
Ndamukong Suh
has worn No. 90 his whole career and has turned into not only the Lions' best current defensive player, but one of the best defensive tackles in the NFL. He is one of the current faces of the franchise.
89:
He never played a regular season game for Detroit, but the Lions would have been glad to have the man they selected with the No. 89 pick in the 1964 draft eventually coach them. That never happened, as Bill Parcells instead won Super Bowls with the
New York Giants
and also led three other NFL franchises. Not the Lions, though, who released him before the 1964 season -- starting his coaching career early.
88:
The age of owner William Clay Ford Sr. when he died on March 9, 2014 after a half-century of owning the Lions. Ford Sr. was the last living grandson of Henry Ford, who created Ford Motor Company.
87:
Yards for Eddie Payton during his punt return touchdown against Minnesota on Dec. 17, 1977, the longest Lions punt return ever against the Vikings. In that same game, he also returned a kick 98 yards for a touchdown as part of a day where he had 289 return yards. He is one of two Lions, along with
Jeremy Ross
, to return a kick and punt for a touchdown in the same game.
86:
Games coached by Potsy Clark -- the first coach of the Lions when they moved to Detroit. He initially took over when the team was still in Portsmouth, Ohio, but also coached the team when they made the transition to Detroit. Clark had a 54-25-7 record in seven seasons and a .684 winning percentage.
85:
Chuck Hughes' jersey number. Hughes collapsed on the field while heading back to the huddle during a play with a little more than a minute remaining against Chicago on Oct. 24, 1971. Doctors attempted to revive Hughes on the field unsuccessfully after he suffered a heart attack. He was transported to Henry Ford Hospital, where he was pronounced dead 50 minutes after the game ended, according to a story from UPI. Hughes played two seasons for the Lions, where he caught nine passes for 194 yards according to Pro Football Reference.
84:
For many years the man who wore No. 84 for the Detroit Lions was widely considered the best receiver in team history. Herman Moore, the No. 10 pick out of Virginia in the 1991 NFL draft, set almost all the records
Calvin Johnson
has broken. In 11 seasons with the Lions, Moore caught 670 passes for 9,174 yards and 62 touchdowns. He went to the Pro Bowl four times and was first-team NFL All-Pro thrice.
83:
Career passer rating for
Matthew Stafford
, the highest of any Lions quarterback. In his career, he has completed 1,485 of 2,497 passes for 17,457 yards, 109 touchdowns and 73 interceptions with a 59.5 percent completion percentage. He is on pace to hold every major passing record for the team.
82:
The career field goal percentage for Jason Hanson (82.4 percent). He made 495 of 601 field goals in a career that spanned from 1992 until 2012. He is the only Lions kicker who lasted more than a season who finished with more than an 80 percent field goal percentage. The next highest was Eddie Murray -- the player Hanson replaced -- with 75.1 percent from 1980 to 1991.
81
: If the Lions ever take another number out of circulation, it'll be this one. Johnson has become synonymous with No. 81 since he was taken with the No. 2 pick in 2007. Called Megatron, Johnson has turned into the top receiver in the NFL and possibly the best wideout in the history of the league. In his first seven years in the league, he has caught 572 passes for 9,328 yards and 66 touchdowns. His 1,964-yard season in 2012 is an NFL record for most receiving yards in a season.
December, 5, 2013
12/05/13
3:25
PM ET
ALLEN PARK, Mich. --
Calvin Johnson
laughed heavily Thursday afternoon. He was answering questions about a report from Fox that he has had his knee drained at points this season.
And it was something he would not confirm or deny. He just laughed instead.
He isn't, though, concerned the ailing knee will curtail his career. He said he believes he can handle fixing the knee in the offseason and hasn't given much thought at all as to when his career will conclude.
[+] Enlarge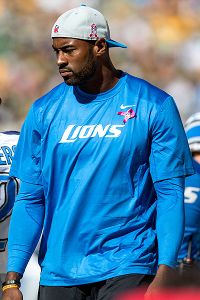 Tom Lynn /Getty ImagesCalvin Johnson needs just 40 more yards to break Herman Moore's team record for receiving yards.
"I'm not worried about that," Johnson said. "Like I say, when the time comes, I'll know, but it's not here right now."
What is coming up for Johnson is yet another record. He is 40 yards from breaking Herman Moore's
Detroit Lions
franchise mark for receiving yards. Moore had 9,174 yards receiving from 1991 to 2001. Johnson said he has gotten to know Moore, who has been around the facility all season working with the team's website.
Johnson, in eight seasons, has 9,135 yards.
"Man, it's crazy all the records and everything that's been going down," Johnson said. "Haven't had too much time to think about it, sit back and reflect on it or anything like that."
Some of what Johnson has been doing has exceeded even what he thought he could accomplish when he was drafted second by the Lions out of Georgia Tech in 2007 after Oakland selected quarterback
JaMarcus Russell
with the first pick of the draft.
Then, he was concerned with working as he had at Georgia Tech and to reward those who had the faith to draft him.
"Never thought I would be in this position that I am right now," Johnson said. "It's truly a blessing."
Since then, Johnson has been through losing seasons and a multitude of quarterbacks. He went through a year where he didn't win at all and Thursday he said he never wanted to leave Detroit. He just wanted to win.
And now, the Lions are winning, in large part due to Johnson, the top receiver in the NFL.
"There's nobody more deserving than Calvin," receiver
Nate Burleson
said. "Herman can see it the same way. If you want somebody to break the record, having Calvin Johnson do it, in the most humble fashion a superstar can do it, he's the right guy to break it."
October, 4, 2013
10/04/13
3:00
PM ET
Each day this week, we'll look at one of the closer calls the Lions had during their 22-game losing streak in Wisconsin.
Date:
Dec. 31, 1994
Score:
Green Bay 16, Detroit 12
Records at the time:
Packers (10-7), Lions (9-8)
What happened:
Of all the losses in the state over the past two-plus decades for Detroit, this one might have been the cruelest.
Detroit had made the playoffs for the third time in four years, having lost to the Packers at home in the wild-card round the year before. And in this game on this winter day in Green Bay, the Lions couldn't do anything on offense.
Running back Barry Sanders was held to minus-1 yards rushing on 13 carries and 3 yards of offense overall. The Lions were actually held to minus-4 yards rushing as a team against the Packers.
The rushing low remains a playoff record.
Yet despite all of that, Detroit almost won anyway. The Lions trailed 16-10 and were on the Packers 17-yard line with 1:51 left, facing a fourth-and-14, according to the Associated Press' account of the game. Quarterback Dave Krieg threw the ball to Herman Moore in the back of the end zone but he came down out of bounds ensuring Green Bay's win.
"I was out of bounds," Moore told the AP after the game. "It's not a lot of mystery as to what took place. It's just a situation where you try to make a play and you just run out of room."
Had Detroit won, it would have snapped this streak before it even really got going and would have advanced to the divisional round of the playoffs for the second time in four seasons.
The 1994 season was an interesting one in the then-NFC Central as well. Four of the five teams in the division made the playoffs. Detroit, Green Bay, Chicago and division champion Minnesota all got in and faced each other on the first weekend of games.
How the season finished:
The Lions' season ended in Lambeau. Green Bay's season would end the next week in Dallas, being crushed by the Cowboys, 35-9.
Previous games looked at:
Dec. 12, 2004
;
Dec. 11, 2005
;
Oct. 3, 2010
;
Jan. 1, 2012