Detroit Lions:

Jadeveon Clowney
May, 7, 2014
May 7
3:45
PM ET
The board has been put together and in a little over 24 hours, the
Detroit Lions
will be able to see exactly how the NFL draft they have planned for over the past five-plus months will actually shake out.
In explaining his team's draft process Monday, general manager Martin Mayhew said because the Lions are at the No. 10 spot, they have their initial draft board, will remove the quarterbacks and then have their essential Top 10 to work with Thursday evening.
Other than the obvious that Clemson wide receiver
Sammy Watkins
is somewhere on their board, here is one man's guess of what their Top 10 board could look like come Thursday -- pulling quarterbacks off, of course, since the Lions are not searching for one. Remember, this is just a guess. Detroit has not tipped much of anything off as to what their board would look like.

Watkins
1.Sammy Watkins, WR, Clemson:
The Lions have made no secret about their love for the player who caught 101 passes last season and is considered the top receiver in the draft. The Lions brought him in for a visit, brought his teammate,
Martavis Bryant
, in for a visit and also brought in his brother,
Jaylen Watkins
, a defensive back from Florida. They ate with Sammy at his pro day, and Mayhew believes he is a good fit for the organization. The question is whether Detroit could really go and get him as he will be long gone by No. 10.
2.Jadeveon Clowney, DE, South Carolina:
There's no way Clowney is lower than third on any team's draft board, and if he is, that team is likely kidding itself. Clowney is a transcendent talent who is the most physically gifted player in this draft and perhaps in the past four or five drafts. For Detroit to get him, it would likely have to trade all the way up to No. 1, but if he somehow fell to No. 3, then it might be worth it to pursue.
3.Khalil Mack, LB, Buffalo:
The second-best defensive player in the draft also fits a position of need for the Lions. While Watkins is often the talk of most trade-up scenarios, it is Mack who could be the player Detroit could end up targeting in that type of scenario. He is an instant playmaker who is a three-down linebacker and would give the linebacking corps an immediate upgrade in talent and depth.
Evans
4.Mike Evans, WR, Texas A&M:
Many of the other rumors surrounding Detroit involve a lesser trade-up scenario for Evans, who was Johnny Manziel's main target with the Aggies. The Lions would likely only have to go up to No. 7 to grab him, so it would cost less in return than Watkins. Lining him up with
Calvin Johnson
and
Golden Tate
would give the Lions one of the scarier passing games in the NFC.
5.Greg Robinson, OT, Auburn:
He is the top tackle in the draft and almost certainly not going to be available for Detroit. If he somehow slipped to the Lions, they would find a way to make it work on the line, most likely moving 2013 left tackle
Riley Reiff
inside to guard.
6.Jake Matthews, OT, Texas A&M:
Matthews could be available, in theory, depending on how the top of the draft goes, what trades are made and the number of quarterbacks selected. He or
Taylor Lewan
are often considered the highest rated tackles in the draft behind Robinson.

Dennard
7.Darqueze Dennard, CB, Michigan State:
After the top six is where it gets tricky -- and this is likely where the Lions' pick will come from. Dennard lacks the ideal size defensive coordinator Teryl Austin would like in a cornerback, but he could be the best cover corner in the draft and likely will be the first cornerback off the board Thursday night. Part of why I didn't consider him in the NFL Nation mock is he wasn't available as Minnesota took him at No. 9.
8.Ha Ha Clinton-Dix, S, Alabama:
Some will think this is high for Clinton-Dix, who I took in the NFL Nation mock draft Tuesday. Former general manager and ESPN analyst Bill Polian panned the pick and said cornerback was the more glaring need. That is a fair assessment, but safety is also a position of need for the Lions and Clinton-Dix is the best safety at a somewhat thin position compared to the rest of the groups in the draft. As I mentioned Tuesday and Wednesday, I believe the Lions will try to trade down.
Donald
9.Aaron Donald, DT, Pittsburgh:
Not necessarily a position of need for Detroit, but he could very well be the best player available for the Lions at No. 10, and as I mentioned Wednesday, the player I believe the Lions should take at No. 10 if he's available. Drafting Donald would offer Detroit flexibility on the defensive line, and he has experience in both a 3-4 and 4-3 scheme, which can help in Austin's defense as he tries to turn it multiple. Plus, he can learn from
Ndamukong Suh
for a season before potentially stepping into a starting role if Suh or
Nick Fairley
departs Detroit in 2015.
10.Kyle Fuller, CB, Virginia Tech:
There are a lot of interesting connections for Fuller with Detroit. Both of his brothers have played for the Lions at some point in their careers. Vincent Fuller was a cornerback for Detroit in 2011 and
Corey Fuller
was drafted by the Lions last season and is on the roster for 2014. Kyle Fuller has outstanding ball skills, but isn't as strong in coverage as Dennard.
Next six:
Taylor Lewan, OT, Michigan;
Odell Beckham Jr.
, WR, LSU;
Zack Martin
, OT, Notre Dame;
Anthony Barr
, DE/LB, UCLA;
Justin Gilbert
, CB, Oklahoma State;
Eric Ebron
, TE, North Carolina.
May, 1, 2014
May 1
8:15
AM ET
The Lions, lying in wait for the new year...
We're a little over a week away from the first round of the NFL draft now, so let's take a quick look at who the latest mock drafts have the Detroit Lions taking.
Our analysts, as covered earlier this week,
have split their opinions
between LSU receiver Odell Beckham Jr. and North Carolina tight end Eric Ebron. With the Lions sitting at No. 10 and a lot of uncertainty about some of the picks ahead of them -- or if Detroit will even stay in its current spot -- there isn't much of a consensus on who the Lions might take.
Or even the position they'll look at.
CBS has five different people doing mock drafts -- and the Lions with
three different players at three different positions
in Oklahoma State cornerback Justin Gilbert, Texas A&M wide receiver Mike Evans and Pittsburgh defensive tackle Aaron Donald, who would be my personal selection if the board fell the right way.
Walter Football has the Lions
going with Ebron
at No. 10. SI.com goes in the defensive backfield and has the Lions
taking another Fuller
-- this time Kyle Fuller from Virginia Tech. The guys from Ourlads scouting have the Lions
going with Gilbert
, who was the player most often pegged to the team at the start of all of this three-plus months ago.
NFL.com has four people doing mock drafts and the Lions with four
different players at four different positions
, including Alabama safety Ha Ha Clinton-Dix. While I believe the Lions should take Donald, I've also felt if Sammy Watkins (obviously) and Evans were off the board, they would likely go with Clinton-Dix.
One thing among this uncertainty is positively certain -- this shows Detroit can do just about anything one week from now.
Oh, and if you're really into this, ESPN2 has a mock draft show at 8 ET tonight.
And now, a look at Lions news from around the Interwebs:
March, 20, 2014
Mar 20
1:00
PM ET
As Pro Days around the country culminate the non-football training portion of the draft process for many prospects, the
Detroit Lions
are starting to have players make the trek to Allen Park, Mich. for evaluations of their own.
On Monday, the team brought Alabama safety
Ha Ha Clinton-Dix
, a potential first round pick, in for a visit. The Lions stayed with the defensive theme Thursday as the team's official reporter said defensive end
Larry Webster
is at the facility.
Webster played at Division II Bloomsburg, where he was a third-team All-American as a senior after making 49 tackles, including 16 tackles for loss and 12.5 sacks his final season. He had a season-high 10 tackles against Slippery Rock.
At the NFL combine in February, he measured at 6-foot-6 with 33 1/2-inch arms and 10 1/8 inch hands. He weighed in at 252 pounds, ran the 40-yard dash is 4.58 seconds, had a 36.5-inch vertical jump, a 12 foot, 3-inch broad jump and put up 17 repetitions on the bench press.
His three-cone drill was 7.29 seconds.
That 40-yard dash time was second to only
Jadeveon Clowney
(4.53 seconds) among defensive linemen, and his vertical jump was fifth among defensive linemen.
ESPN ranks him as the No. 15 defensive end in the draft and the No. 146 player overall.
From his Bloomsburg biography: His favorite cereal is Cookie Crisp, he prefers the Summer Olympics over the Winter Games, and his favorite holiday is Christmas. Webster is the son of Larry Webster Jr., who played in 136 NFL games, starting 36 and recording four sacks according to ProFootballReference.com.
March, 20, 2014
Mar 20
12:00
PM ET
DETROIT – Over the past week, the
Detroit Lions
draft needs have changed a little bit.
The team brought in
Golden Tate
to be the No. 2 receiver and re-signed
Brandon Pettigrew
as the team's tight end. While the signings don't mean those needs have evaporated for Detroit – the Lions need receivers still and could use a stretch-the-field tight end – it made both of those spots less important to draft in the first round.
It also gives Detroit some flexibility, as does not have to draft a quarterback.
The Lions would potentially consider trading up in May's draft or dropping back from the No. 10 slot in the first round. Team president Tom Lewand and general manager
Martin Mayhew
recognize that every option needs to be available
.
"It always sounds good on paper to trade up or trade back. The old adage is it takes two to tango and sometimes opportunities present themselves for trades on draft day or outside of draft day and sometimes they don't," Lewand said Monday night at the MGM Grand in Detroit. "Our position is we always have to be ready to improve our team in whatever way is possible.
"Sometimes we search those things out and they don't materialize and sometimes they are presented to us and we take advantage of them. We have to be ready, no matter what the opportunity is, if there's a chance to improve the defense by trading up or trading back, we'll look at that and if it makes sense, we'll do it."
May's draft offers some intriguing opportunities there. But who would be worth the Lions making a move from No. 10 -- either up or back -- for? That depends somewhat on how the draft falls and somewhat how the Lions final board ends up being set up.
This also focuses mostly on defense.
WORTH MOVING UP:
Sammy Watkins, WR, Clemson:
Watkins is the top receiver in the draft and the only offensive player that would be worth making a move higher into the Top 10 for, although even then, it would be questionable how much Detroit should be willing to give up for him. Watkins is a special talent, but having grabbed Tate in free agency, that alleviated receiver from being the No. 1 need. But if Watkins ends up still on the board at No. 8, it might be worth exploring jumping over Buffalo to ensure Detroit grabs him.
Jadeveon Clowney, DE, South Carolina:
Just putting him here in case the inexplicable happens and he drops beyond the third or fourth pick. If he does, the Lions should trade whatever possible to go and select him. But it would be very, very, very unlikely to happen.
Khalil Mack, LB, Buffalo:
Mack may be the best non-Clowney defensive prospect in the draft and for a little while, it appeared he might end up falling to No. 10. If he did, Mack would almost be a no-brainer selection for Detroit as long as Watkins was no longer available. If Detroit determines Mack is the best player in the draft, it could be worth investigating a move higher for a linebacker that could end up being an All-Pro.
STAY PUT IF THIS PLAYER IS HERE:
[+] Enlarge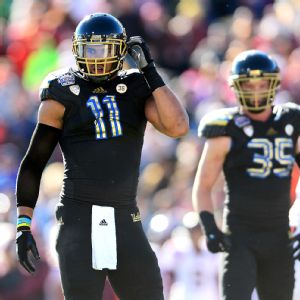 Andrew Weber/USA TODAY SportsThe Lions should address their needs on defense by taking linebacker Anthony Barr in the first round.
Anthony Barr, LB, UCLA:
The Lions are clearly intrigued by Barr, who has extreme athleticism and could improve a good but not great linebacker group immediately. Mayhew was out at his Pro Day to watch him perform. His speed/size/frame combination makes him extremely intriguing.
Mike Evans, WR, Texas A&M/Eric Ebron, TE, North Carolina:
They are both options for Detroit at this spot, but both positions are deep in this draft and are no longer massively pressing needs due to the signings at the top. But if Mayhew and Lewand wanted to go offense, these would be two likely targets.
IF THIS IS THE TARGET, TRADE DOWN AND TAKE A CHANCE:
There are teams below Detroit with needs and other than the defensive backfield, there is not a major pressing need for the Lions in the first round. So the Lions could make a smart play depending who is available and who is interested and try to trade down to stockpile picks in a deep draft. These four potential targets could merit a trade down.
Ha Ha Clinton-Dix, S, Alabama:
He has already come in for a visit with the Lions and is one of the top safeties in the draft. He is rated as the No. 16 overall player and has long, rangy arms. He'll almost definitely be available at No. 10, but if the Lions covet him, they could probably drop down a few places and still nab him.
Calvin Pryor, S, Louisville:
Similar situation to Clinton-Dix. He's a little bit shorter than his Alabama counterpart at 5-foot-11, but he was listed as 6-foot-2 in college. He's rated one spot ahead of Clinton-Dix as the No. 15 overall player and should be available at No. 10, too. For either safety, Detroit could probably trade down as low as No. 14 or No. 15 and still be able to take either player.
Justin Gilbert, CB, Oklahoma State/Darqueze Dennard, CB, Michigan State:
The top two cornerbacks in the draft are both of first round value and should almost definitely be available when Detroit is picking. If the team decides corner is the area they want to go in the first round, they could drop a couple of places and select one of these players.
IF PICKING TODAY, I'D TAKE:
Barr.
Offense may be sexy, but the Lions need to focus on and improve their defense from back to front. They have two strong running backs, two dynamic wide receivers and can add in the draft. But to find an impact starter in the first round, Detroit would benefit from going defense with its first pick and Barr could be the best available. (Dave Birkett of the Detroit Free Press
agreed with this
earlier this week)