Detroit Lions:

Jahvid Best
May, 8, 2014
May 8
12:30
PM ET
Much of the chatter around the
Detroit Lions
and the NFL draft in the past few days has been about the secondary. Many mock drafts -- including the ones at ESPN.com and the NFLNation mock draft -- had the Lions trying to solidify the defensive backfield.
It's an area Detroit has not addressed with a first-round pick in a long time. How long? The last time the Lions selected a safety in the first round, no prospect in this year's draft was born.
Cornerback is a little bit more recent, but Detroit still played in the Silverdome when that player was picked.
So here is a look at the Lions' draft history from the prism of the last time the team selected each position group in the first round.
Stafford
Quarterback:
2009,
Matthew Stafford
, Pick 1.
How that worked out --
He has already emerged as one of the top quarterbacks in franchise history and became the fastest player to throw for 16,000 career yards. He holds the Lions record for career passing yards with 17,457 and has only played five seasons.
Running back:
2010, Jahvid Best, Pick 30.
How that worked out --
He had concussion issues before he entered the league and that continued in the NFL. By the 2013 season, he was already out of the league.
Wide receiver:
2007,
Calvin Johnson
, Pick 2.
How that worked out --
Johnson has become one of the top wide receivers in NFL history, in the same conversation as Jerry Rice. He has played in 101 games, made 572 catches for 9,328 yards and 66 touchdowns.
Tight end:
2009,
Brandon Pettigrew
, No. 20.
How that worked out --
Pettigrew re-signed with the Lions this offseason for three more years. He has had some inconsistencies but can both run routes and is a very good blocker on the line of scrimmage. He has 284 catches for 2,828 yards and 16 touchdowns, but has only played in all 16 games twice in his five seasons.

Reiff
Offensive tackle:
2012,
Riley Reiff
, No. 23.
How that worked out --
Reiff was the third tackle in his rookie year and became the team's starting left tackle in 2013. He gave up seven sacks in 2013, but was part of one of the better offensive lines in the NFL. Depending what happens in the draft, he could end up at guard in the next couple of seasons.
Offensive guard:
1996, Jeff Hartings, No. 23.
How that worked out --
Hartings started for five seasons at right guard for the Lions, but it wasn't until he went to Pittsburgh in 2001 that he flourished, becoming a two-time All-Pro for the Steelers ... at center.
Center:
1945, Frank Szymanski, No. 6.
How that worked out --
Technically, Hartings is a center, but he played guard for Detroit, so that is where I listed him. Before that -- we're looking to the pre-modern era of the NFL. Szymanski played three seasons in Detroit and then one in Philadelphia and one in Chicago. After his career ended, Szymanski became a Probate court judge in Wayne County, Mich.
Ansah
Defensive end:
2013,
Ezekiel Ansah
, No. 5.
How that worked out --
Ansah became a starter in his rookie season and played well above expectations for a player initially viewed as raw and somewhat of a project. Ansah led all rookies with eight sacks and was the first pick of Martin Mayhew's strongest draft.
Defensive tackle:
2011,
Nick Fairley
, No. 13.
How that worked out --
Fairley has been an inconsistent player throughout his career with Detroit. At points, he can be dominant. At other times, he disappears and is inconsistent. This led to the Lions not picking up his fifth-year option, an option that came with little risk.
Linebacker:
2006,
Ernie Sims
, No. 9.
How that worked out --
He played four seasons in Detroit before moving on to Philadelphia, Indianapolis and then the past two years with Dallas. He has made 419 career tackles.
Cornerback:
1998, Terry Fair, No. 20.
How that worked out --
Fair was better known as a return specialist throughout his career, but had 171 career tackles and seven interceptions in four seasons with the Lions. Now retired, he is an assistant coach at the University of Tennessee.
Safety:
1988, Bennie Blades, No. 3.
How that worked out --
Blades played 10 seasons in the NFL -- nine of them with the Lions. He started 125 games for Detroit and had 14 career interceptions between the Lions and Seattle. He also recovered 11 fumbles and made 772 tackles.
April, 29, 2014
Apr 29
3:15
PM ET
At one time, the
Detroit Lions
had the best running back in the history of the NFL. Now, the Lions have turned into one of the most pass-heavy teams in the league with a sometimes-accurate young quarterback and the best wide receiver in the game.
Yet in 2014, the Lions will spend a decent chunk of money -- the most the team has since 2010 -- on their running back corps.
[+] Enlarge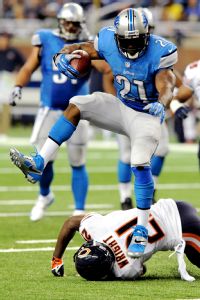 AP Photo/Jose JuarezReggie Bush will account for seven percent of the Lions' cap space used on offense next season.
A salary-cap breakdown of the running backs Detroit has employed since the 2010 season shows increased attention paid to who lines up in the backfield, mostly due to the signing of
Reggie Bush
before the 2013 season.
It'll be like this at least for the next two seasons -- provided Bush and
Joique Bell
remain on the roster -- as the team has committed to both through the 2016 season. The Lions' cap number for running backs, as of now, will be at least $9 million until that year, when Bush, Bell and
Theo Riddick
are all unrestricted free agents.
Whether all three make it to the final year of their contracts is another matter, but compared to prior years, Detroit is starting to invest in its backfield. Here's the breakdown working backward from this coming season to 2010. One other interesting thing to look at is the salary progression of Bell, who has turned into a valuable piece for the Lions. (Non-2014 numbers are end-season cap numbers; numbers culled from ESPN Stats & Information.)
2014
Total numbers
: $10,663,107 (cap value); 16.62 percent (offensive cap percentage); 7.74 percent (total cap percentage); $11,473,297 (cash value).
By players:
Reggie Bush $4.5 million (cap value); 7.02 percent (offensive cap); 3.27 percent (total cap).

Joique Bell $2.3 million (cap value); 3.59 percent (offensive cap); 1.67 percent (total cap).

Montell Owens $1.13 million (cap value); 1.76 percent (offensive cap); .82 percent (total cap).

Mikel Leshoure $1,085,357 (cap number); 1.69 percent (offensive cap); .79 percent (total cap).

Jed Collins $710,000 (cap value); 1.11 percent (offensive cap); .52 percent (total cap).

Theo Riddick $517,750 (cap value); .81 percent (offensive cap); .38 (total cap).

Steven Miller $420,000 (cap value); .65 percent (offensive cap); .31 percent (total cap).
2013
Total numbers:
$4,962,709 (cap value); 8.38 percent (offensive cap); 4.74 (total cap); $7,913,898 (cash value).
By players:
Bush $2 million (cap value); 3.38 percent (offensive cap); 1.91 percent (total cap).

Owens $975,700 (cap value); 1.65 percent (offensive cap); .93 percent (total cap).

Leshoure $929,259 (cap value); 1.57 percent (offensive cap); .89 percent (total cap).

Bell $630,000 (cap value); 1.06 percent (offensive cap); .60 (total cap).

Riddick $427,750 (cap value); .72 percent (offensive cap); .41 percent (total cap).
2012
Total numbers
: $4,550,837 (cap value); 7.30 percent (offensive cap); 3.77 percent (total cap); $3,143,441 (cash value).
By players:
Jahvid Best $1,745,805 (cap value); 2.80 percent (offensive cap); 1.45 percent (total cap).

Stefan Logan $837,305 (cap value); 1.34 percent (offensive cap); .69 percent (total cap).

Mikel Leshoure $730,749 (cap value); 1.17 percent (offensive cap); .61 percent (total cap).

Joique Bell $544,960 (cap value); .87 percent (offensive cap); .45 percent (total cap).

Shaun Chapas $82,058 (cap value); .13 percent (offensive cap); .07 percent (total cap).
2011
Total numbers
: $6,733,718 (cap value); 10.64 percent (offensive cap); 5.76 percent (total cap); $9,131,406 (cash value).
By players:
Best $2,650,500 (cap value); 4.19 percent (offensive cap); 2.27 percent (total cap).

Maurice Morris $2.125 million (cap value); 3.36 percent (offensive cap); 1.82 percent (total cap).

Leshoure $624,396 (cap value); .99 percent (offensive cap); .53 percent (total cap).

Jerome Harrison $575,000 (cap value); .91 percent (offensive cap); .49 percent (total cap).

Keiland Williams $450,000 (cap value); .71 percent (offensive cap); .38 percent (total cap).

Kevin Smith $282,352 (cap value); .45 percent (offensive cap); .24 percent (total cap).

Bell $26,470 (cap value); .04 percent (offensive cap); .02 percent (total cap).
2010
Total numbers:
$4,629,094 (cap value); 6.44 percent (offensive cap); 4.11 percent (total cap); $5,217,000 (cash value).
By players:
Morris $1.8 million (cap value); 2.47 percent (offensive cap); 1.58 percent (total cap).

Best $1.27 million (cap value); 1.74 percent (offensive cap); 1.11 percent (total cap).

Smith $686,631 (cap value); .94 percent (offensive cap); .60 percent (total cap).

Jerome Felton $515,368 (cap value); .71 percent (offensive cap); .45 percent (total cap).

Aaron Brown $420,095 (cap value); .58 percent (offensive cap); .37 percent (total cap).
April, 15, 2014
Apr 15
9:00
AM ET
Over the past two weeks, we took a look at the last 10 first rounds from the
Detroit Lions
-- all the drafts that had
Martin Mayhew
as either the team's general manager or assistant general manager.
This week, we're looking specifically at the Lions' drafts since 2009, when Mayhew has been in charge. This will be a look at the entire class, not just the first-round picks, who are the ones that are the most paid attention to.
We'll take a peek at each of the drafts, what worked, what didn't and one pick that in retrospect we would change. Hopefully this can also give a window into the way Mayhew drafts and some of the decisions he has made in the past that could help influence the 2014 draft and beyond.
Suh
Year:
2010
Complete draft (pick number in parentheses):
Round 1 –
Ndamukong Suh
, DT, Nebraska (2); Round 1 –
Jahvid Best
, RB, California (30); Round 3 –
Amari Spievey
, CB, Iowa (66); Round 4 –
Jason Fox
, OT, Miami (Fla.) (128); Round 7 –
Willie Young
, DE, NC State (213); Round 7 –
Tim Toone
, WR, Weber State (255).
Picks left on the 2014 roster:
1 (Suh)
Picks left in the NFL at the end of the 2013 season:
3 (Suh, Fox, Young)
Best pick:
Suh. Beyond the obvious after looking at this draft that there weren't many contributors for the Lions overall, Suh has been exactly what was expected when the team used the second overall pick on him. He has been a dominant defensive tackle who can change games and demands attention at all times from opposing offenses. He is Detroit's best defender and was named by NFL players as the most feared player in the NFL following the 2013 season.
He became part of a trio of stars for the Lions who have spent their entire careers with Detroit. The biggest question with him now is if and when he will sign his long-term contract extension or a new contract that would lock him up in Detroit for the remainder of his career.
Worst pick:
Best. Considering the Lions moved back into the first round to draft the diminutive running back with a history of concussions and then watched as head injuries ended his career after two seasons, 22 games and 255 total carries, this didn't work out as the team would have expected. As mentioned in the first-round review, the Lions could have had
Dexter McCluster
either at this pick or at the initial No. 34 pick they traded to move up and get Best. Considering McCluster's production in his career, that has to sting.
Best value pick:
Young. For a seventh-round selection, Young turned into a starter and a productive player last season for the Lions. He played in 48 games for Detroit, made 72 tackles and had six sacks. While those numbers might not stand out, consider he had 47 of those tackles and three of those sacks last season in his first significant action. If the Lions were able to get this type of production out of a sixth- or seventh-round pick every season, they would end up being a much better franchise. These are the types of picks that pan out for good teams more often than not. Young is no longer a Lion, having signed a three-year, $9 million deal with Chicago last month. It will be interesting to see if Young continues to develop into the player he was rounding into during his final season with the Lions.
One pick I'd change (other than the worst one):
Considering
Victor Cruz
,
Sam Shields
,
Joique Bell
,
Chris Ivory
and
LeGarrette Blount
all went undrafted, I would flip Detroit's pick of Mr. Irrelevant for 2010 -- Toone -- and draft Bell. While that might seem nice in hindsight (although of those players, Cruz and Shields are better than Bell), he would have been a good local angle for the team to select since he played at Wayne State and ended up in Detroit anyway.
Draft grade overall:
D. If that seems harsh, look at it from the perspective of now. The Lions have one pick left on the roster from that draft. Three picks -- Best, Spievey and Toone -- are out of the league. Fox couldn't stay healthy even when he won the right tackle job last season and signed a veteran minimum deal with Miami this offseason to prove he can be healthy. Young, a seventh-rounder, ended up being the clear second-best pick in that draft. If Suh or Young hadn't panned out, this would have been an F.
April, 8, 2014
Apr 8
12:00
PM ET
In May,
Detroit Lions
general manager Martin Mayhew will run the team for his sixth NFL draft. He'll have been involved with the team's personnel decisions, at that point, for 10 seasons.
While Mayhew's first draft as the team's actual general manager took place in 2009, he had been working with the team since the middle of the 2004 season as the Lions' assistant general manager. He did not make final decisions when it came to the draft in those first few years -- Matt Millen was still the general manager then -- he was certainly part of the group that helped influence what happened with the Lions.
In 2010, the Lions once again had a top-five selection and by the end of the first round ended up having two first round picks for the second season in a row. It would also feature the first first-round selection under Mayhew's watch that wouldn't work out for Detroit in the long run.
Past years:
2005
;
2006
;
2007
;
2008
;
2009
Suh
The picks:
No. 2; No. 30
The player selected:
No. 2 --
Ndamukong Suh
, DT, Nebraska; No. 30 --
Jahvid Best
, RB, California
The player's credentials at the time:
Suh was arguably the best overall college player in the country in 2009. He won the Lombardi, Nagurski and Bednarik Awards and was named the Associated Press' College Player of the Year. He was a rare defensive Heisman Trophy finalist. In his career, he had 215 tackles, 57 tackles for loss and 24 sacks. He also had 38 career quarterback hurries and broke up 15 passes. There was little question he would be one of the, if not the first, non-quarterback taken in the draft.
Best
Best had an electrifying college career when he was healthy. He gained 2,668 yards rushing in three seasons and had 29 touchdowns. He also caught 62 career passes for 533 yards according to ESPN Stats & Information. It was his speed and explosiveness, though, that made him an attractive prospect. He is the type of player, had he not had a history of injuries, that might have gone much higher in the first round.
Who else was available at pick No. 2:
Gerald McCoy
, DT, Oklahoma;
Eric Berry
, S, Tennessee;
Joe Haden
, CB, Florida;
C.J. Spiller
, RB, Clemson;
Dez Bryant
, WR, Oklahoma State.
Who else was available at No. 30:
Chris Cook
, CB, Virginia;
Dexter McCluster
, RB, Ole Miss;
T.J. Ward
, S, Oregon;
Rob Gronkowski
, TE, Arizona.
Did the picks make sense at the time:
Yes. Suh was the best defensive player in the draft and arguably the best overall player. Detroit did not need a quarterback -- it had drafted
Matthew Stafford
the season before -- so taking
Sam Bradford
was not going to happen. Suh was the first defensive player in a while to really make a run at the Heisman Trophy and his ability with the Cornhuskers was devastating. The Lions traded back into the first round to pick up Best, who was the shifty, catch-out-of the-backfield running back then-offensive coordinator Scott Linehan wanted for his offense. The biggest concern with him then -- and it proved to be a major concern -- was his history with injuries, specifically concussions. But from a talent perspective, Best was a smart pick.
Did they end up being good picks:
Yes and no. Suh, as expected, developed into one of the top defensive linemen in the NFL and has become the anchor of the Detroit defense since 2010. The biggest issue with him throughout his career has been his fines and then his brief suspension for stomping on
Evan Dietrich-Smith
in 2011. But there is little doubt Suh became a valuable piece for Detroit and remains so entering the final season of his rookie contract. Best, on the other hand, ended up not working out at all, especially in a trade-up scenario. He couldn't stay healthy and is already out of the NFL because of concussions. He is currently suing the NFL.
Who should the Lions have taken at No. 2:
The team made the right call here. Suh was the intelligent selection and the right selection both for what the team was trying to build defensively and also from a best player available standpoint. They would continue to take Suh in this position every single time they drafted.
Who should the Lions have taken at No. 30:
One of two things would have made sense here. Either don't trade up to grab Best and take a running back at your next draft pick. Or, if they were going to trade up, select McCluster instead of Best. While McCluster has also had some injuries since joining the NFL, he's still in the league, which is the first bonus there. Second, he would have been the perfect type of back for Detroit in that scenario -- and would have also gave the team a dynamic returner. Frankly, he would have ended up as the smarter selection and probably could have given the Lions even better production than he gave Kansas City considering the other weapons he would have had with the Lions.
What can Detroit learn from this:
Again, a two-pick first round won't teach Detroit much with this draft, but the over-arching lesson from Best is to be wary of taking players with massive injury histories -- particularly an injury history with concussions.
September, 5, 2013
9/05/13
5:00
PM ET
ALLEN PARK, Mich. -- When
Reggie Bush
signed with the
Detroit Lions
in free agency this offseason, he was greeted with a piece of meat in his honor.
Seriously.
Hyde Park Prime Steakhouse in Birmingham, Mich., named its 22-ounce bone-in ribeye after the Lions' running back, an honor usually given to Detroit's biggest stars.
It showed, almost immediately, the anticipation of Bush's arrival in Detroit. In 2010, Detroit drafted
Jahvid Best
for a similar role to what Bush will have -- the do-everything running back who can catch a ton of passes underneath and run the ball with similar precision.
[+] Enlarge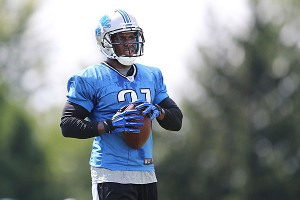 Leon Halip/Getty ImagesWith Reggie Bush Detroit may finally have the missing piece of their offense.
"Some of the things you've seen with Jahvid in the past (are) back in with Reggie," Detroit offensive coordinator Scott Linehan said. "It's a little different. Everyone has their own personality, a little bit different.
"He's a guy who has performed very well in space and has throughout his career. I can see those being some of the things we do more of."
Best's story displays why there is hope in Detroit now, why Bush is being viewed as the difference for a franchise which had struggled since Best last played an NFL game against San Francisco on Oct. 16, 2011.
When the Lions drafted Best, Detroit already had an emerging quarterback in
Matthew Stafford
and a star wide receiver in
Calvin Johnson
. The catch-all running back could be the missing piece in a dynamic offense. Defenses would struggle to adequately cover all the weapons in Detroit's arsenal. For a little while, it worked, too.
Detroit went 6-10 in Best's rookie year, including a four-game winning streak to end the season. Best did a bit of everything, leading the team in rushing with 555 yards and four touchdowns while catching 58 passes for 487 yards and two scores. The next season, when the Lions went 10-6 and made the playoffs, the Lions started off 5-0. Best had 390 yards rushing and 287 yards receiving.
The Lions, which to that point had not had a winning season since 2000 and went 0-16 in 2008, were actually winning. There was promise. Then Best suffered a concussion against the 49ers, his second of the season.
He never played again. The Lions made the playoffs that season -- finishing 10-6 before losing to New Orleans -- but the part of their offense which made it so dangerous was gone. The Lions floundered, going 9-19 since Best's injury. Last season, the Lions were 4-12.
Now comes Bush. The No. 2 pick in the 2006 NFL draft. The player who made his entire career on being a multi-purpose running back. In many ways, he's a better version of what the Lions had in Best. The bonus for Detroit: Unlike Best, Bush is proven in the NFL.
"Reggie can do a little bit of everything," receiver
Nate Burleson
said. "That guy can line up and play receiver and be just as explosive as any receiver we've got. We can put him in the backfield and hand the ball off to him.
"As long as guys are getting their blocks on the perimeter, you're going to see him running past safeties. He's a splash offensive player, which means at any given moment he can make a huge splash and really change the complexity of the game."
Defenses now have to account for a player going deep (Johnson), pass-catching tight ends and slot receivers over the middle and Bush, who can take a screen pass or a dump-off and score from anywhere. That's not even mentioning he can run the ball well out of the backfield, gaining 4,162 yards in his first seven seasons.
Bush will take pressure off Stafford, who attempted 727 passes last season. This is, in many ways, the offense Detroit always imagined.
"He opens up a plethora of options," Minnesota defensive end
Jared Allen
said.
Part of Detroit's pitch in free agency was how they would deploy Bush.
"From the first time when they recruited me here, they talked about getting me out in space and always moving around and running the ball and catching the ball out of the backfield," Bush said. "Lining up at receiver, motioning, shifting, that's everything that we are doing.
"That will help this team be effective, more effective, and that's what I look forward to."
The preseason hasn't been the best gauge, because Johnson played in one game for two series, the offensive line was still forming, and Bush himself didn't play a ton. But there's a confidence around the Lions now. They have the guy their offense might have been missing all along. The guy everyone is interested to see.
"I'm interested, too," Bush said. "I'm excited to be here and I feel like it's going to be a fun ride.
"I look forward to the journey that we're about to embark on."
September, 1, 2013
9/01/13
10:15
AM ET
As news of the
Detroit Lions
' roster moves trickled out Saturday, I saw a plenty of references on Twitter to Martin Mayhew's drafts over the past five years. The Lions' cutdown to 53 included three more of Mayhew's draft picks, leaving 21 of his 38 picks over the span of five drafts still on the roster.
(I was a bit off in the wee hours of Saturday night with some of those figures.)
I tweeted out that number with no context. Many of you asked the fair question: What does that number mean? How does it compare to other teams and general managers?
[+] Enlarge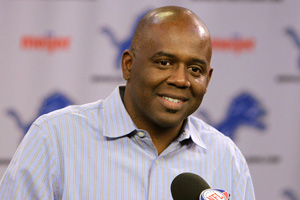 AP Photo/Carlos OsorioMore than half of the players that Lions GM Martin Mayhew has drafted in the past five years are still on the team's roster.
For the most part, I think it's difficult to find an apples-to-apples comparison because of the varying team-building philosophies in the NFL. Some teams value quantity of draft picks, leading to higher raw numbers. Some general managers start off with better rosters than others, impacting the chances of draft picks making the team. You could make the argument that undrafted rookie signings should fall into the same category. There is also the question of quality: who is starting and who is a backup? We could go on.
So what I decided to do is draw up a comparison between the Lions/Mayhew and the team that most NFL observers consider the most draft-driven in the league. I think we can all agree that under general manager Ted Thompson, the
Green Bay Packers
have almost exclusively built through the draft -- especially during the most recent five-year period that matches up with Mayhew's tenure with the Lions.
By no means will this look be exhaustive, but let's run through some basics here:
The Packers' roster as of Sunday morning includes 26 of the 44 players they drafted between 2009-2013. That does not include two first-round picks, lineman Bryan Bulaga and Derek Sherrod, who are on various injury-related lists. Still, that's 59 percent. The Lions' percentage on the 21-of-38 figure is 55.2 percent.

The Packers' likely 24-man starting lineup (including kickers) features 11 players Thompson has drafted in the past five years. (Seven more were drafted between 2005-08.) The Lions' likely lineup also includes 11 Mayhew draft picks. (Two others were drafted before 2009.)

So in total, regardless of time period, the Packers drafted 18 of their 24 starters. The Lions have drafted 13.

The Packers' 53-man roster includes a total of 34 players they once drafted. That works out to 64 percent. The Lions' includes 23, or 42 percent.
So what do we make of all this? In some cases, frankly, I was surprised to see the numbers as close as they were. No team is more committed to the draft than the Packers, and their roster hit rate in recent years hasn't been much better than the Lions'. The biggest distinction might be in depth: The Packers have 16 backup players that they have drafted, while the Lions have 10.
I would agree that Mayhew's drafts have fallen short in some areas. The Lions haven't had a good success rate in turning mid-to-late-round draft picks into solid backups and special-teams players. In fact, only three players taken below the second round between 2009-11 are still with the team.
It's also true that a few of Mayhew's high-profile risks have blown up, most notably running back
Jahvid Best
and receiver
Titus Young
. (Best had a concussion history in college, while Young was considered a character concern by many teams.)
But like many things, you can probably find a combination of figures to support any argument you wish to make. What this exercise helps us realize is that every team has draft failures, no team hits on all of them and there are various mitigating circumstances.
In this era, the responsibility for success of draft picks doesn't fall solely on the general manager. The speed with which these players are often asked to contribute puts a premium on development from coaches, something I think Packers coach Mike McCarthy and his staff deserve credit for. Consider this: 51 of the 53 players on the Packers' current roster have never taken a snap for another NFL team.
The Lions' roster was so bare when Mayhew took over in 2009 that it should have been easier for his draft picks to make the team than it was for, say, the Packers'. I get that argument. In the end, however, it's a lot more difficult than it sounds.