Detroit Lions:

Jimmy Graham
June, 18, 2014
Jun 18
11:35
AM ET
It likely won't be an issue for a half-decade with the
Detroit Lions
, and by then much might have changed in the NFL and how tight ends and bigger wide receivers are viewed.

Ebron
But there has to be a lot of interest in what is going on down south in New Orleans right now, where the Saints
are in a grievance hearing
with tight end
Jimmy Graham
, who is trying to be labeled a wide receiver for franchise tag purposes instead of a tight end.
Up until May, this would not have been an issue in Detroit. By the time
Brandon Pettigrew
's next contract is up, he will be old enough that the team won't use the franchise tag on him.
Joseph Fauria
has not shown enough at this point to warrant the tag.
But in May the Lions drafted
Eric Ebron
, a fast, rangy, tight end who made the majority of his plays in college lined up essentially as a wide receiver. And the Lions are implementing an offense similar to what New Orleans runs -- one where Graham has been utilized all over the field in varying ways -- so how the ruling comes down could be of massive interest for Detroit's distant future.
[+] Enlarge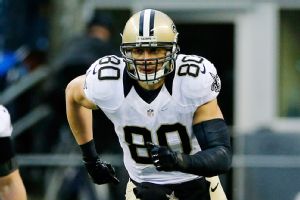 AP Photo/Ric TapiaJimmy Graham's desire to be labeled a wide receiver could impact receiving tight ends across the NFL.
If the Saints win the grievance, the Lions will have precedent if Ebron pans out and the team needs to eventually use the franchise tag designation to keep him -- six years from now. If Graham wins, though, it would make Ebron one of the players who would almost assuredly be in the same category in the future.
While Ebron has maintained he does not want to be the next Jimmy Graham or anything like that -- he has consistently said he's Eric Ebron, not Jimmy Graham -- his role in the Detroit offense is going to be somewhat similar to how the Saints used Graham.
Though Ebron has the tight end designation, the way he plays is almost like a tall wide receiver both in his route running and where he will line up on the field. While he will have the same positional designation as Pettigrew, they won't be used in the same way at all.
This is part of the evolution of the tight end from a player used primarily close to the offensive line or as an in-line player to someone utilized everywhere on the field, in-line, in the slot and on the outside. This is likely part of Graham's argument now.
And it will likely be part of the conversation if Ebron ever reaches the point of a grievance. Yes, it is a distant future where much can change between now and then since only two coaches in the Super Bowl era have lasted with Detroit to a sixth season -- Wayne Fontes and Monte Clark -- but the team is hoping Ebron's skills transcend whatever happens with the franchise.
Of course, the team drafted him to help them win.
So decisions like this are worth paying attention to -- and even Ebron himself acknowledged Wednesday that he is watching what is happening with Graham in New Orleans.
"Really Interested To See What Happens To Jimmy Graham," Ebron tweeted Wednesday morning.
He likely isn't the only one within the Lions organization with a major interest in the outcome.
April, 28, 2014
Apr 28
8:00
AM ET
The Lions, lying in wait for the new year ...
Calvin Johnson isn't going to let the new NFL rules change the substance of his post-touchdown routine. All the Detroit Lions wide receiver will have to do is alter it a little.
That is his message, as told to the Detroit Free Press, about the NFL's
new rule banning dunking over the goalposts
. If anything, Johnson's new old maneuver will become more athletic than what he has done in the past, as his new challenge will be simulating a dunk without touching or shaking the goalpost.
He's one of two players in the NFL who will likely be able to do this with ease, joining the other NFL post-touchdown dunker, New Orleans tight end Jimmy Graham.
Good on Johnson for taking a mini-stand with this. While the NFL appears to be trying this rule out to keep from altering the goalposts and then extending game times by fixing them, Johnson won't let it take his fun out of the game. And remember, as big of a business as the NFL has become, it is still in many ways just a game. And there is nothing wrong or lewd or even mildly upsetting about the way Johnson -- and Graham -- celebrate their touchdowns.
If anything, it just shows how gifted the two of them actually are.
On a personal note, thank you for all of your messages, notes and kind words on the passing of my mother on April 18 at age 62. She is missed immensely by her friends, her family and, obviously, by me. This was the
eulogy I delivered
at her funeral on April 20. Hopefully you could take something from it.
Again, thank you and it is good to be back at work.
And now, a look at Lions news from around the Interwebs:
March, 14, 2014
Mar 14
9:06
AM ET
The
Detroit Lions
are bringing back
Brandon Pettigrew
and this ensures one thing in Detroit: While the team will have an offense that might look schematically like the
New Orleans Saints
' offense, this guarantees it won't be Saints-like.
At least not in the same construct of what New Orleans likes to do.
Pettigrew is not a
Jimmy Graham
-like tight end. He won't stretch the field. He won't create an obvious mismatch against anyone who lines up against him. Though Detroit had said he was a priority free agent throughout the offseason, he is a different type of tight end than Graham.
He is more of a dual-threat tight end, as much of a blocker as a pass-catcher. He was integral in Detroit's running game as a player who can line up on the line of scrimmage as well as in the slot and even outside. His versatility and flexibility has been one of the more attractive things about him.
He will not, though, break a defense.
In his five seasons in Detroit, his longest-ever reception has been 35 yards. In 2010. He has had only four games in which he had a reception of 30 yards or more, and only one of them came after the 2010 season. Last season he had fewer yards (416) than any season but his rookie year, and also fewer drops (four) than any season in his career. His two touchdowns were his fewest since his rookie year.
He also had declining receptions the past two seasons after an 87-catch, 826-yard season in 2011.
While Pettigrew is still productive and still young enough at age 29, part of the reason Detroit might have brought him back is the lack of experience at the position otherwise. If the team had not kept Pettigrew, the only tight ends on the roster would have been
Joseph Fauria
,
Michael Williams
and
Matt Veldman
. Fauria and Williams were rookies last season, and of the three, only Fauria had any extended playing time or even caught a pass.
Williams spent last season on injured reserve and Veldman was signed for the last game of the season from the practice squad.
With a thin tight end market, there were not going to be any options better than Pettigrew available for Detroit to sign as a veteran.
Owen Daniels
,
Jermichael Finley
and
Dustin Keller
all could have been intriguing options, but they have significant injury histories that made them more of a risk than Pettigrew, who the team drafted in 2009. And Pettigrew has developed a rapport with quarterback
Matthew Stafford
.
Pettigrew's signing also probably means the team might avoid taking a tight end early in May's draft, although depending on how the Lions really feel about Fauria and Williams, it might not completely preclude them from doing so.
But this was the safe signing for Detroit. He was the player the team knew and the one the front office was the most familiar with. With little other options out there, it was also the one that ended up making the most sense.
Even if he can't do some of the things the team might want him to be able to in the offense.
March, 8, 2014
Mar 8
12:00
PM ET
A lot of great questions this week, so let's get right to it.
If you have a question for next week's Mailbag, tweet the hashtag #LionsMailbag or email
michael.rothstein@espn.com
.
---
Jason from email asks:
I am only asking this because I just read your article and I am deploying soon so I may not get to follow how it all plays out. Do you think with the new Lions coaches being in place, they will keep
Kellen Moore
on the roster? I know he was brought in by (Jim) Schwartz right after the draft. I am a huge Boise State Broncos fan and I have had the fortune of meeting Kellen a few times and I think he could be a
Drew Brees
type QB if given the chance. I think he is also a great backup to Stafford and a valuable asset on the other end of that helmet mic calling in calls for Matt. What are your thoughts on him being on ours or any other team's roster in the future? #WENEEDMOOREKELLEN
Jason,
Creative hashtag at the end and before I answer, thank you for your service to our nation. Much appreciated. Now to your question -- I think there's a chance, but I'm not sold on Moore. He won big in college, is a smart player and a high character guy. But I just don't know if a coach like Jim Caldwell, who lost his job in Indianapolis in large part because
Peyton Manning
had no serviceable backup, will take a chance on Moore being the backup to Stafford. If the team chose to keep three quarterbacks, maybe they stick with Moore for one more season, but unless he shows the Lions coaches something unexpected, I don't know how long he'll be around. His arm strength is not great and he has yet to play in a regular-season NFL game. I just don't see it happening.
---
Craig from Murrieta, Calif. asks:
Should the Lions try (since the Saints can match the offer) and give up two first-round picks for
Jimmy Graham
after the Saints put the franchise tag on him instead of signing Pettigrew?
Calvin Johnson
, Graham and company on the same team would be unstoppable.
Craig,
In a word, no. Other than franchise quarterbacks and a Hall of Fame star at another position, first round draft picks are the most valuable thing teams can possess during a season. Considering the average NFL career and the amount of injuries in the NFL (not long and very high), being able to replenish talent with talent is one of the most important things a team can do. Giving up two first round draft picks for a tight end -- even one like Graham -- would be a poor, poor decision. On the plus side for me, it would give plenty of column fodder, but it would be a terrible decision for Detroit. Even more so with guys like
Eric Ebron
,
Austin Seferian-Jenkins
and
Troy Niklas
in the draft.