Detroit Lions:

Jon Gruden
July, 31, 2014
Jul 31
10:45
AM ET
ALLEN PARK, Mich. –
Calvin Johnson
, like almost every other college prospect in the NFL, had no control over where he was headed in the 2007 NFL draft. He did, though, have an idea of where he thought he might end up.
And it wasn't with the
Detroit Lions
, who selected him with the second pick in that draft.
"I thought I would either be in Tampa or Atlanta, honestly," Johnson said. "Both of them were not too far from the top in the draft, and I figured one of them might be able to move up. I really thought I was going to go to Tampa because I liked [Jon] Gruden, had a really good workout with those guys."
[+] Enlarge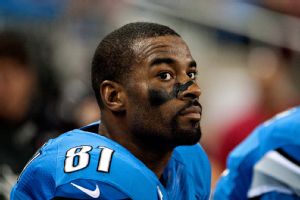 Tim Fuller/USA TODAY SportsCalvin Johnson has his eyes on helping the Lions make a run in the postseason.
Johnson said that Gruden brought some of his quarterbacks and receivers in for Johnson's workout and that he felt it went well. The Buccaneers had the fourth pick in the draft and appeared enamored with Johnson -- for obvious reasons. With Atlanta, the Falcons picked eighth and Johnson is a native of suburban Atlanta.
Those seemed like solid options. Looking back now, Oakland passing on Johnson in favor of quarterback JaMarcus Russell, who is out of the NFL, seems preposterous. That is the inexact nature of the draft, though, from talent evaluation to trying to figure out where you'll go as a prospect.
In retrospect, Johnson said "it didn't bother me" that he wasn't taken with the first pick because the Raiders are far from Georgia and he wanted to be closer to home. Detroit then selected Johnson with the No. 2 pick, and he turned into a franchise centerpiece for the Lions.
It is a franchise, though, that has struggled to win despite having the best receiver in the game, a receiver who has three straight 1,400-yard seasons and is the most difficult offensive matchup in the NFL.
Yet Johnson's career feels incomplete because of the lack of team success for the Lions.
"It's been, I can't say it's been exactly what I wanted," Johnson said. "When I first came into the league, my first three, four years, I had a teammate from college win a Super Bowl."
Johnson said he doesn't want to see the rings his former teammates have because his team, the Lions, continues to try to reach the final game of the season for the first time. Although he obviously would like to reach that point, he said he can't really be frustrated by it because there's only so much he can do on his own.
And it's why he looks at Detroit's talent now and looks at his career, as he enters his eighth season, and is focused even more intently on team success.
"That's all I'm focused on," Johnson said. "I had great stats in my career, you know, but really you want to win. You want to get to the playoffs again. That's a great feeling when we did a couple years ago.
"We want to get that feeling back. We have a lot of guys that have been there, that have won Super Bowls, and a coaching staff that has won Super Bowls, and it's great to have that experience."
Some of those players, such as
Reggie Bush
and
Golden Tate
, along with a coaching staff that has extensive playoff and Super Bowl experience as assistants, are where Johnson gets his confidence that finally he'll be able to have some of that postseason experience, as well.
January, 6, 2014
Jan 6
12:15
PM ET
The
Detroit Lions
have officially asked for permission to talk with Cincinnati offensive coordinator Jay Gruden,
a source has told ESPN Insider Adam Schefter
.
Schefter reported the Lions are one of four teams to request to talk with Gruden, the brother of ESPN analyst and former Tampa Bay coach Jon Gruden, joining the Titans, Vikings and Redskins.
Gruden fits the profile of what Detroit is looking for in its next head coach. He has head coaching experience, albeit at the Arena Football League and United Football League levels, but was successful in the AFL, winning two league titles.
He is an offensive mind, having run the Cincinnati offense since 2011, and helped develop quarterback
Andy Dalton
over his first three seasons. Dalton is a 60.9 percent career passer with 11,360 yards, 80 touchdowns and 49 interceptions during his first three seasons.
The Bengals were the No. 10 offense in the NFL this season in yards per game, but were 20th in 2011 and 22nd in 2012. So there is some question about his productivity there.
"Jay has done an incredible job with Andy but also with implanting all of our young players and to me, that's where we are in the NFL right now," Cincinnati coach Marvin Lewis said in October. "You've got to interject the young guys, you can't draft them and have them stand behind us. We have to get them in there, get them going and making them productive."
Presumably, Gruden had done that, as he was the coordinator for both Dalton and receiver
A.J. Green
, a combination that could make him familiar with using
Matthew Stafford
and
Calvin Johnson
.
Gruden would be an interesting choice for the Lions, who have appeared to make head coaching experience a priority for them during this cycle because the team believes they have the pieces in place to win now, just with some fine-tuning.
The 46-year-old Gruden played college football at Louisville, where he was a quarterback. He then played in NFL Europe and in the Arena League. Other than Cincinnati, his other NFL experience came with Tampa Bay, where he worked under his brother, Jon.
He split time between coaching and playing in the AFL from 2002 to 2008 while also coaching with the Bucs, according to his bio on the Cincinnati website.
He is the second candidate to officially surface with the Lions, joining Baltimore offensive coordinator Jim Caldwell, who
interviewed with the team Friday
.