Detroit Lions:

Josh Sitton
November, 28, 2013
11/28/13
7:30
PM ET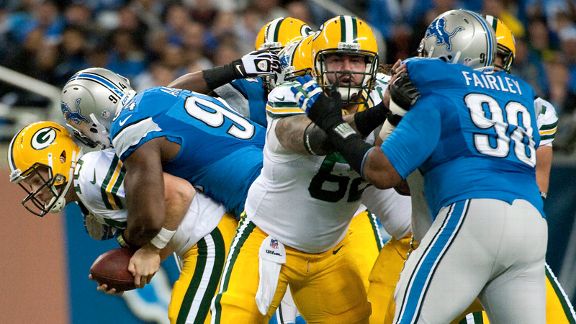 Tim Fuller/USA TODAY SportsDetroit's defensive line stuck to its team approach Thursday, getting after Green Bay QB Matt Flynn.
DETROIT -- In some ways, the
Detroit Lions
' defensive line was sleeping most of the season. It had been inconsistent. It was a group in the middle of the NFL in sacks, a group long on talent and short on statistics.
They would see stacked protections -- to the point that defensive end
Willie Young
would joke with opponents they were on the wrong side just to try to find an opening. They would pressure the quarterback but never actually reach him.
Then Green Bay offensive lineman
Josh Sitton
spoke. Called the Detroit defensive linemen dirtbags. Scumbags. Insulted Lions coach Jim Schwartz. It might have been all the poking
Ndamukong Suh
and
Nick Fairley
needed.
"It's waking up sleeping dogs," cornerback
Rashean Mathis
said. "But that's how he felt. He expressed it.
"We responded."
By the time the Lions'
40-10
thrashing of the Packers ended, the Lions' once-hibernating defensive front was wide awake. And there could be another easy word to describe them.
Dominant. Utterly and completely dominant.
"It's just the performance we always believe we can have," defensive tackle
C.J. Mosley
said.
When the Detroit defensive line plays like it did Thursday -- with 16 tackles, seven quarterback hits, five sacks, two fumble recoveries, one forced fumble and a safety -- the Lions can be one of the top teams in the NFL.
The pressure Detroit's front four can place on an opposing quarterback -- and it appeared the Lions blitzed linebackers and safeties Thursday more often than they usually do -- changes the entire game.
When Detroit can combine that with taking away a quarterback's first read, which the Lions did to
Matt Flynn
, it'll give the Lions enough time to reach the passer.
This was, by far, the best the Lions defense played this season and, by far, the best the Lions have played overall. The way the defense played eliminated pressure on
Matthew Stafford
and the offense because they knew they might get extra opportunities and wouldn't have to score on every possession to win.
It begins with the defensive line, a group that insisted it approached things the same way every week, always rushing the quarterback, but due to quick-twitch passers or protections featuring linemen, tight ends and running backs, it was unable to actually sack the quarterback.
"Every game, we go out and do the same thing over and over," rookie defensive end
Devin Taylor
said. "Every time, something happens. We get closer and closer.
"Finally, today, we were actually able to get back to the quarterback."
It all started before the game. Instead of coming out individually during introductions, the defensive line -- and safety and the soul of the defense,
Louis Delmas
-- ignored that. When Young was announced, the entirety of the line came out.
Together.
After the game, the Lions' defensive linemen said it had nothing to do with being called scumbags and dirtbags by Sitton. It was an idea, Suh said, that came from
Andre Fluellen
to show solidarity.
How they played backed that up. With perhaps a little bit extra because of Sitton.
"Unreal," center
Dominic Raiola
said. "They looked unblockable today. Seriously."
They pretty much were. It wasn't just the line, either. The defense held Green Bay to 24 rushing yards and sacked Flynn almost as often as he completed passes (seven sacks, 10 completions).
Ndamukong Suh
reached the end zone for a safety. That's more than the Packers' offense did all day long.
"It's embarrassing," Sitton said. "We got our a-- beat. Plain and simple. They smacked us today."
Of course, Sitton influenced that. While Detroit's defensive line -- those guys Sitton thought were scumbags and dirtbags a couple of days ago -- tried to downplay what he said, the line played differently Sunday.
The linemen played as if they were trying to prove something. To themselves. To Sitton. To the rest of the NFL.
From the veterans such as Young, who had five tackles and a fumble recovery, and Suh, who had the safety sack, to the rookies such as Taylor and
Ziggy Ansah
, who each had three tackles and two sacks, the entire group appeared both present and almost possessed by a singular goal of flattening Flynn.
"I know it motivated some guys, especially the D-line," offensive tackle
LaAdrian Waddle
said. "I feel like it did motivate them.
"[Green Bay] kind of hurt themselves by saying that, I feel like. Just because it was another thing to add into the pot of extra motivation for those guys."
It was something already percolating, too. Detroit had heard a lot about the dirtiness of its defensive line over the past month, from Chicago's
Brandon Marshall
to Sitton. Combine that with a two-game losing streak to teams with losing records. And giving up two leads in the fourth quarter the past two weeks.
Motivation wasn't going to be an issue. Add Sitton's words and it turned combustible.
It blew up on Sitton. The Packers are now under .500 and well behind Detroit in the NFC North race.
It blew up for Detroit. The Lions once again gained tenuous control of the division, with a 1½-game lead on Chicago because of the tiebreaker they have over the Bears.
It all started with the defensive line, a group that can now be called whatever they want.
"It was, you can say it was a dominating performance. It's just something we've got to string together, man," Mosley said. "I think that'll kind of take us to the next level where we want to be as far as the postseason.
"We've got to string performances like this together."
If they do, the Detroit Lions, up one week, down the next, might just end up making the playoffs after all.
November, 28, 2013
11/28/13
2:04
PM ET
DETROIT -- Three halftime thoughts from Ford Field, where the
Detroit Lions
lead the
Green Bay Packers
,
17-10
.

Dominating defense:
Josh Sitton
called the Detroit Lions' defense scumbags and dirtbags on Tuesday. On Thursday, the Lions' defensive line -- who the comments were really directed at -- walked out of the tunnel during introductions together.
Then they shut down the Green Bay offense completely. The Lions' front four gave
Eddie Lacy
no room to run, holding him to 13 yards on seven carries. They pressured
Matt Flynn
, sacking him thrice and hitting him five times. Rookie Ziggy Ansah had two of those sacks. Flynn didn't have much success throwing, either, completing 3 of 8 passes for 45 yards. Even when he did throw, he made poor decisions.
Good Stafford, Bad Stafford:
Matthew Stafford
did not have a good first half. The Lions had three turnovers on their first four possessions, two by Stafford. He fumbled the ball on his 12-yard line and it was recovered for a Green Bay touchdown. Yes,
Riley Reiff
blew his blocking assignment, but it will still be credited to Stafford as a fumble.
The second turnover was all Stafford, though. He threw the ball essentially right to Green Bay cornerback
Tramon Williams
, who stepped inside of
Kris Durham
. Williams caught the ball and if not for a rough tackle by Durham, could have been an interception returned for a touchdown as well.
Of course, right after that, Stafford leads an 85-yard drive for a touchdown. It's part of the deal with Stafford. With the good comes the bad. Stafford finished the first half 14 of 20 for 202 yards, one touchdown and one interception.
Return of Ross:
Earlier this season,
Jeremy Ross
was cut by the Packers after fumbling the ball on a return. The Lions picked him up and stashed him on the practice squad before promoting him on Oct. 19. Since then he's seen a smattering of snaps -- less since
Nate Burleson
returned from injury -- but against his old team he went off in the first half on both special teams and on offense.
Ross returned two punts for 36 yards, two kicks for 57 yards, gained 24 yards on a reverse and also caught a 5-yard touchdown pass from Stafford. When Ross was signed, he said he understood why he was released and that he still had friends on the Packers. So far, he looks like he's trying to prove a point to his old team.
November, 27, 2013
11/27/13
7:00
PM ET
Things seemed focused completely on football this week -- at least for a day.
Then Packers offensive lineman
Josh Sitton
changed all of that Tuesday evening when he went on WSSP Radio in Milwaukee and gave his opinion of the Detroit defense, particularly the defensive line.
It wasn't a pretty assessment.
"They go after quarterbacks. Their entire defense takes cheap shots all the time. That's what they do. That's who they are," Sitton said. "They're a bunch of a dirtbags or scumbags. That's how they play, and that's how they're coached. It starts with their frickin' coach. It starts with the head coach, [Jim] Schwartz. He's a d---, too. I wouldn't want to play for him. It starts with him, and their D-coordinator and their D-line coach. They're all just scumbags and so are the D-line."
Well then.
In a game with the feel of an elimination contest, Sitton added another layer of fun and intrigue -- at least in the pregame. ESPN.com Lions reporter Michael Rothstein and Packers reporter Rob Demovsky break down the Thanksgiving Day matchup.
Rothstein
: There is a long history with these two teams -- even on Thanksgiving going back to the
Ndamukong Suh
stomp of
Evan Dietrich-Smith
-- so were you surprised at all that Sitton decided to rip into the Detroit defense and Lions coach Jim Schwartz?
Demovsky
: If anyone on the Packers was going to pop off, Sitton would be the first guess followed by his offensive linemate
T.J. Lang
. They're the two most outspoken guys on the team. Let's face it: Sitton probably said what a lot of people around the league have been thinking about the Lions. That said, it probably wasn't the smartest move to make before a game that you're going into with your backup quarterback. It was already going to be an uphill battle. As entertaining and refreshing as it was, I don't see how this helped the Packers' cause.
Rothstein
: I see your point there, but I also wonder how much it really matters. I've never been a believer that this type of talk -- especially on the professional level -- really matters a whole bunch in an actual game. It's fun for fans and gives us something to chat about, for sure, but when you're dealing with grown men, I just don't know how much it really changes a game.
Moving on, Rob, what happens at the quarterback position this week with Green Bay? Does
Matt Flynn
's history with Detroit play a role here?
Demovsky:
When Mike McCarthy said
Aaron Rodgers
' chances of playing on Thursday were "slim to none," it seemed obvious that Flynn would be the starter even though McCarthy wouldn't commit to anything. He was much more effective than
Scott Tolzien
because he can do more in the offense. He's much better versed in running the Packers' version of the no-huddle, which has become a staple of their offense in recent years. Flynn actually has played two games against Detroit. Everyone remembers that 2011 game -- the one that made him about $15 million with his 480-yard, six-touchdown performance -- but don't forget he also struggled in relief of Rodgers in the 2010 game at Ford Field after Rodgers left with a concussion.
How are the Lions approaching the Packers' quarterback situation?
Rothstein:
Seemingly by preparing as if Rodgers was going to play. Detroit doesn't see much of a change in the offense from Rodgers to Flynn, so they are going to prepare for the same offense the Packers usually run. Of course, the Lions could be in better shape if Green Bay chooses to run the ball more since the Lions haven't given up a rushing touchdown since Week 4. So if the Packers roll with a heavy dose of
Eddie Lacy
, that could be a benefit for the Lions.
This obviously leads into the next question: How does Green Bay's offense change with Flynn in the lineup, or is Detroit accurate in how it says it is going to prepare? And how much different is this offense from what the Lions saw in October?
Demovsky:
Of all the backup quarterbacks the Packers have played this season, Flynn is probably most like Rodgers, although none has the arm strength Rodgers possesses. But in terms of knowing the system, being able to read defenses and having the freedom to make checks at the line of scrimmage, Flynn is probably the next best option. Still, without Rodgers, there are major differences. Flynn doesn't throw the deep ball as well, and he doesn't have the touch. That was evident on the third-and-goal play in overtime when Flynn badly overthrew
Jordy Nelson
on a fade.
Speaking of different offenses, the Packers got a break by not having to face
Calvin Johnson
in the first meeting. Now, the Lions not only have Johnson but also have
Nate Burleson
back. What's the dynamic with those two?
Rothstein:
The dynamic is pretty good and should give the Lions another playmaker the rest of the season. The biggest issue for Detroit's offense Sunday was
Matthew Stafford
's inaccuracy, but when he was on, the offense was able to move well with Burleson, Johnson and
Reggie Bush
out there. If teams focus on those three guys,
Brandon Pettigrew
and
Kris Durham
have shown, in spurts, to be effective. That's the entire plan with this offense.
Of course, it still only resulted in 21 points last Sunday, but that is at least Detroit's plan.
Both of these teams remain in the playoff picture despite fairly average seasons thus far. What do you think this says about the Packers -- and the NFC North?
Demovsky:
It's amazing that the Packers haven't won since Rodgers got hurt yet they're only a half-game out of first place. Certainly, Rodgers gave them a nice cushion with a 5-2 record, but the Lions and Bears certainly missed opportunities to bury Green Bay over the last month. There's probably only two or three elite teams in the NFC, and none of them resides in the North. Can you see any of these teams going on the road in the playoffs and beating a team like the Saints or Seahawks? I can't.
The Packers might not admit it, but I think this is an elimination game for them. Do you think it would have the same consequences for the Lions if they lose?
Rothstein:
Tough to say for the Lions, but it would certainly put them in a bad position having lost three straight games. I think it all depends on what Chicago does. If the Bears were to lose, then it's still a race. Otherwise, the Lions would be chasing two teams and that won't bode well for a team that hasn't won a division title this century. If Detroit loses, it becomes a very difficult path to the playoffs. It would still be possible, but there would certainly be a lot of doubt for a franchise that just doesn't make the playoffs all too often.
November, 27, 2013
11/27/13
3:40
PM ET
It started with some responses on Twitter and turned into a half-hour long podcast with Jeff Moss of DetroitSportsRag.com, but former
Detroit Lions
defensive lineman
Lawrence Jackson
had a lot to say about Jim Schwartz and the Detroit Lions on Wednesday.
Jackson was responding to comments made by Green Bay offensive lineman
Josh Sitton
on Tuesday night calling the Detroit Lions defense "dirtbags" and "scumbags" and calling Schwartz "a d---."
I don't disagree with him about Jim, but the other stuff...it's sharks in the water...if you don't want any problems...protect your QB...

— Lawrence Jackson (@LoJackson94) November 27, 2013
Jackson, who was with the Lions for three seasons from 2010 to 2012, recording 80 tackles and 13 sacks, then responded to followers on Twitter about what he thought of Sitton's comments, Schwartz and the Lions in general. This led to a podcast with Moss and really, just another day in the land of the Lions.
Here are some of his other comments from Twitter:
"@sanman20: @LoJackson94 what do you have against Jim?" I don't have anything against him. I just don't have a ton of respect for him.

— Lawrence Jackson (@LoJackson94) November 27, 2013
@sanman20 not everyone is held to the same standard and things are done because he wants to do them not because they're good for the team.

— Lawrence Jackson (@LoJackson94) November 27, 2013
@BigRed6810 his attitude is different. There's only one Bill Belichick. There's a lot to being honest and doing whatever it takes to win.

— Lawrence Jackson (@LoJackson94) November 27, 2013
Some of the highlights from the podcast, which one can listen to
in its entirety here
:
Jackson said he felt the sacrifices he made for the team were "overlooked," especially when the Lions signed Jason Jones in the offseason. He was concerned about loyalty Schwartz had to other players.
Jackson also questioned some of the team's moves between the 2011 and 2012 seasons: "Going into the year after the playoff run, the thing was from good to great and he brought up a clip from 'Mad Men' that talked about that. But as players there was a lot of questions about why didn't we bring in any free agents? Why didn't we necessarily draft guys that would help us right away and get us over the hump? Different things like that. As players you see how the team is right now and where you need help and we really made no improvements from the playoff year to the next year. You have to realize that year we started off 5-0 but I don't believe we beat a winning team."
He also said he never heard the coaches challenge quarterback Matthew Stafford in meetings in the three years he was there. "I've never heard them challenge Stafford in a team meeting at all. Other people were challenged, things like that, but I never heard him being challenged. There was a lot of mistakes that he made. He's a good quarterback and he can throw the ball really well and obviously having Calvin [Johnson] makes his job a lot easier. But you have to hold people accountable. I don't know what was going on."
As mentioned above, the entire interview is pretty interesting and revealing. It is worth a listen.
November, 27, 2013
11/27/13
12:45
PM ET
When
Ndamukong Suh
has been asked in the past about his fines and his play, he'll sometimes respond by saying some equivalent of that's your opinion.
Sitton
Well, Green Bay guard
Josh Sitton
-- someone who Suh has said in the past he has enjoyed facing --
offered his on Tuesday
and predictably it was about as pleasant as a harsh Michigan winter.
Sitton called the Lions defense "dirtbags" and "scumbags" and Detroit's head coach, Jim Schwartz, a slang word for male genitalia. So, you know, clearly Sitton's got an opinion.
It just happens to be a strong one. And that's fine and it is something the Lions have heard before -- well, at least about their defense. Not sure if anyone has ever called Schwartz a "d---" publicly before.
But the Lions, having lost two games in a row, have bigger issues than Sitton's words right now.
A lot of what Sitton said about the Lions defense -- not Schwartz -- is similar to what other players and coaches have said over the years. There's a reason Suh has been voted the dirtiest player in the NFL and why the Lions are often looked at when fines come down from the league for late hits and roughing the passer calls.
Some of that, in the past, has had to do with immaturity. Most of the Detroit defensive line -- and let's be real here, most of this has to do with Suh,
Nick Fairley
and
Willie Young
as
Ziggy Ansah
,
Devin Taylor
,
C.J. Mosley
and
Israel Idonije
have been around less than a year -- have been young players still learning in the league.
Except the problem that it is only so believable when you look at facts. Among penalties that are usually plays that might be fined, no Lions player is in the top 10 according to ESPN Stats & Information. Both Fairley and Suh each have three such penalties (generally, horse collar tackles, low hits, roughing the passer, late hits, etc...), but they don't lead the league.
As a team, among the 20 penalties I flagged in the ESPN Stats & Information database as ones that could draw fines, the Lions are second, defensively, with 15 behind Tampa Bay with 21.
But the flags don't necessarily correspond with the feelings of the reality of what is being called against the Lions. Penalties don't mean everything. Suh was fined for a play that went unflagged against Cleveland this season and refs surely miss some things.
But this, again, is a case of reputation and semi-reality converging into a nice, neat package for a player to rip. Suh, Fairley and friends play aggressively. And it is something they are coached to do, something Young confirmed as much to me earlier this season.
So the chances of these opinions ever changing is minimal. It's just something Detroit needs to deal with and brush off. The Lions season is teetering right now, so they should have bigger things to fix than what an opposing lineman is calling them.
November, 27, 2013
11/27/13
8:00
AM ET
Good Morning and ROOOOAARRR!!!
Everything seemed calm Tuesday in the early afternoon, just a normal lead-in to a game with enormous implications for both the Detroit Lions and Green Bay Packers. Then Packers offensive lineman Josh Sitton turned it into something else entirely.
Sitton torched the Detroit defense, its assistant coaches and even head coach Jim Schwartz during a radio appearance Tuesday afternoon, calling them "
dirtbags or scumbags
."
Just in time for the breaking-bread holiday of Thanksgiving.
Considering this game has all the feel of an elimination game for both the NFC North race and the playoffs in general, antagonizing the Lions seems like a pretty questionable thing to do. Yes, these teams have a long history, even with these current players -- from Ndamukong Suh's stomp of Evan Dietrich-Smith to Dominic Raiola's altercation with the Wisconsin marching band earlier this season -- so they aren't all warm and cuddly.
Now, Sitton's comments add an extra layer of intrigue to what will already be an intense game.
And now a look at the rest of the Lions news around the Interwebs:
October, 5, 2013
10/05/13
12:00
PM ET
ALLEN PARK, Mich. -- Chances are, you might have heard about this already.
The last time Detroit won in Green Bay,
Matthew Stafford
was not even in kindergarten yet. So yeah, it's been a long time. Since 1991.
Yet it was the quarterback of the Packers who made this curious statement.
"Well, you know, streaks are meant to be broken. Records are meant to be broken,"
Aaron Rodgers
said this week. "I was just emphasizing it would be nice to not have that happen when I'm at quarterback.
"But they are a really good football team and it's tough to win on the road, as we found out this season. But it can be done."
How can Detroit do it? Here are four keys for the Lions.
Houston
Stick with the wide receivers:
Yes, Green Bay is touting a much-improved run game, and the return of
Eddie Lacy
should pay dividends for the Packers, but Green Bay will win this game if
James Jones
,
Jordy Nelson
and
Randall Cobb
are allowed to find open spaces.
Chris Houston
returned to practice Friday and appeared to look good enough that he could go against Green Bay. This is a plus for the Lions, but if he isn't 100 percent, I'd imagine Rodgers is going to test him early no matter who he is matched up against.
Do not think about the streak
: Detroit has been good about not making a big deal of having not won in Wisconsin since 1991. But there is something about the ghosts of a place where a team hasn't won in a long time -- especially when the opponent happens to be good -- that can sometimes creep into a team's head. Green Bay has been a mess of sorts for Detroit, full of close calls and heartbreaking defeats. That said, if Detroit wins this week, it'll place itself in legitimate conversation to be a playoff contender the rest of the season.
Use the pass:
This seems obvious for Detroit, but Green Bay has struggled defensively when teams choose to throw. Opponents are averaging 311 yards a game against the Packers, completing 68.2 percent of their passes. This fits well in Detroit's overall scheme of using short passing to
Reggie Bush
and
Joique Bell
to try and eventually wriggle
Calvin Johnson
free for big gains. This is where losing
Nate Burleson
could hurt. Detroit received nice contributions from tight end
Brandon Pettigrew
and receiver
Kris Durham
against Chicago last week, but both need to do this on a consistent basis for Detroit. Perhaps this is another big week for
Joseph Fauria
, who either scores a touchdown or doesn't catch a pass, depending on the week in his young career.
Keep getting pressure with four:
Four games in and so far, so good for Detroit's defensive line getting enough pressure into the backfield and on quarterbacks with its rotating batch of defensive linemen. When the Lions could have issues this season is when those four aren't effective enough to cause havoc. Then Detroit might have to blitz a linebacker and alter things in the back seven.
Ndamukong Suh
and
Nick Fairley
against
Josh Sitton
,
Evan Dietrich-Smith
and
T.J. Lang
could be a fun matchup to watch on the line Sunday. The winner of this group could make the difference Sunday.