Detroit Lions:

Justin Tucker
July, 4, 2014
Jul 4
8:00
AM ET
We have looked at the history of the Detroit Lions from a little bit different perspective -- history through the numbers. Each weekday will feature a set of numbers counting down from 100.
The series concludes with Nos. 10-0. Most of the numbers came from research on the Detroit Lions' website, record books, Pro-Football-Reference.com and ESPN Stats & Information. And happy Independence Day.
10:
Training camp homes Detroit has had in franchise history. The Lions started at Cranbrook from 1934-41 before moving to Charlevoix (1942), West Shore Golf Club in Grosse Ile (1943-44), Assumption College in Windsor, Ontario (1945), Alma College (1946-48), Michigan State Normal College (1949-56), Cranbrook again (1957-74), Oakland University (1975-89), Pontiac Silverdome (1990-96), Saginaw Valley State (1997-2001) and the team's practice facility in Allen Park (2002-present).
9:
Number worn by quarterback
Matthew Stafford
, who has already set the franchise records for career passing yards; passing touchdowns in a season; passing attempts in a career, season and game; completions in a career, season and game; and completion percentage in a season, among other things.
8:
Career punt returns for touchdowns from Jack Christiansen, a Detroit Lions record. Christiansen returned those punts from 1951 to 1957 and had four of his eight returns for scores during 1951, his rookie season. He had two in his second season, 1952, and then one each in 1954 and 1956. He ended up with 1,084 punt return yards in his career.
7:
Dutch Clark's jersey number. The Hall of Fame back played in 75 games, starting 49 of them during the 1930s. He led the Lions to their first championship and completed 114 of 250 passes for 1,507 yards, 11 touchdowns and 26 interceptions in his career. He also ran the ball 606 times for 2,772 yards and 36 touchdowns. He was named All-NFL every year from 1931 to 1937.
6:
Most field goals in a game by a Lions player -- accomplished twice, both against Minnesota. Garo Yepremian hit his six-pack on Nov. 13, 1966. Almost 33 years later,
Jason Hanson
made six field goals on Oct. 17, 1999. Also the most field goals by an opponent in a game, made by
Justin Tucker
from Baltimore in 2013.
5:
Kick return touchdowns for
Mel Gray
with the Lions, a franchise record. No other Lions player has had more than two in his Lions career. In all, Gray had six kick returns for scores in his career, but he had five with the Lions -- including three in the 1994 season. It was one of three seasons with Detroit he was named an All-Pro.
4:
Championships for the franchise since its inception. All four came in the pre-Super Bowl era -- in 1935, 1952, 1953 and 1957.
3:
Lions players who were killed in service during World War II. Lt. Chet Wetterlund was killed stateside in a plane crash during a patrol mission in New Jersey on Sept. 5, 1944. Sgt. Alex Ketzko was killed in France on Dec. 23, 1944. Lt. Charles Behan was shot down by gunfire in Okinawa on May 18, 1945. Ketzko played one season for the Lions in 1943, starting three games as a tackle. Wetterlund completed 13 of 44 passes for 230 yards, no touchdowns and 10 interceptions along with 23 carries for six yards in 1942, his only season with the Lions. He also had 11 punts for 449 yards and had an interception on defense. Behan had four catches for 63 yards in 1942, his only season with the team.
2:
Most kick and punt returns for a score in a game by a Lions player -- accomplished by many players, most recently
Jeremy Ross
against Philadelphia on Dec. 8, 2013.
Eddie Drummond
(Nov. 14, 2004), Eddie Payton (Dec. 17, 1977) and Jack Christiansen (Oct. 14, 1951 and Nov. 22, 1951) are the other players to accomplish this.
1:
Playoff wins in the Super Bowl era for the Detroit Lions. It came on Jan. 5, 1992, when the Lions beat Dallas, 38-6. The next week, the Lions lost to Washington in the NFC title game, 41-10.
0:
Wins during the 2008 season, the worst in NFL history. The Lions were the first team in the history of the league to lose 16 games in a season. The season led to the firings of Rod Marinelli and general manager Matt Millen.
July, 2, 2014
Jul 2
8:00
AM ET
The series continues with Nos. 30-21. Most of the numbers came from research on the Detroit Lions' website, record books, Pro-Football-Reference.com and ESPN Stats & Information.
30:
As in 1930, the first year the club started playing football. Then known as the Portsmouth Spartans playing in Ohio, the club went 5-6-3 in its first season before going 11-3 in its second year. The team was awarded to Portsmouth, Ohio on July 12, 1930 and stayed in Ohio until moving to Detroit on June 30, 1934.
29:
Times the Lions have appeared on "Monday Night Football" in their history. Detroit has a 12-16-1 record in those games, including 10-10 at home and 2-6-1 on the road. Their last MNF game was on
Dec. 16, 2013
, when
Justin Tucker
made six field goals to beat the Lions. Detroit opens its season on "Monday Night Football" against the
New York Giants
this year.
28:
Points scored by Detroit the last time the Lions made the playoffs, a
45-28 loss
to New Orleans in 2011. It would be the Lions' first playoff appearance since the turn of the century and was a game Detroit led, 14-10, at halftime.
27:
Years spent on the Lions' coaching staff by Don Clemons, who retired following the 2011 season. Clemons started his Lions career in 1985 as a defensive assistant and strength and conditioning assistant and spent his entire career with Detroit on the defensive side of the ball in various roles. He now coaches linebackers at Moravian College, where his son, Corey, is a junior quarterback.
26:
The number worn by Dick Jauron, who both played and coached for the Lions during his career. He was drafted in the fourth round by Detroit in 1973 and spent five seasons with the Lions as a player, where he intercepted 14 passes and played in 58 games, starting 51 according to Pro-Football-Reference. Jauron then returned to the Lions in 2004 and 2005 -- first as the team's defensive coordinator and then the interim head coach over the final five games of the 2005 season, when he went 1-4.
25:
Pass attempts by Rodney Peete in Philadephia's 58-37 win against Detroit in the wild-card round of the 1995 playoffs. Peete, a one-time Lions quarterback, was 17 of 25 for 270 yards, three touchdowns and no interceptions. Peete helped push the Eagles to a 51-7 lead before Detroit scoured four touchdowns in the second half to make the game closer.
24:
Individual points in a game accounted for by Doak Walker on Nov. 19, 1950 against Green Bay, Cloyce Box on Dec. 3, 1950 against Baltimore and Barry Sanders on Nov. 24, 1991 against Minnesota. They are tied for the most individual points scored in a game in Lions history. Coincidentally, all of those games came on the road.
23:
The number of interceptions thrown in the 1951 season by Bobby Layne and the 1979 season by Jeff Komlo, tied for the most in a season by a Lions quarterback. Layne's team went 7-4-1 in 1951 and ended up in the title game with Layne for the next three seasons. Komlo wasn't as lucky. The Lions went 2-14 in 1979, the only time Komlo was essentially a full-time NFL starter.
22:
Number worn by Bobby Layne. The quarterback led the Lions to three NFL championships in the 1950s before the team traded him to Pittsburgh during the 1958 season. He left the Lions as their all-time leader in passing yards with 15,710 until
Matthew Stafford
passed him during the 2013 season. Layne still holds the career touchdowns record with 118 -- although Stafford will likely pass him in the 2014 season as he starts with 109.
21:
Tackles in a game by Paul Naumoff against Cleveland on Nov. 9, 1975 -- the most ever by a Lions player in one game. He played 12 seasons for the Lions and made the Pro Bowl in 1970.
January, 16, 2014
Jan 16
4:00
PM ET
Over the next two weeks, we will look at 10 critical plays that shaped the
Detroit Lions
season in one way or another.
Not all of them will be bad and certainly, with the way the Lions cratered to a 7-9 finish, they will not all be good. And some may be have just been fantastic plays.
As always when it comes to these sorts of lists, this is subjective and are plays, for good or bad, that stuck out to me when I made this list. Agree or disagree vehemently, let's chat about it. Oh, and we'll be going in reverse order from 10 to 1.
Past plays:
No. 10 --
PI in Arizona
; No. 9 --
Reggie Bush
's screen vs. Minnesota; No. 8 --
Calvin Johnson
gets the drops; No. 7 --
Jeremy Ross
' snow-covered return; No. 6 --
Matthew Stafford
's pick-six; No. 5 --
Mike Nugent
's game-winning field goal; No. 4 --
The kneel to end regulation in Giants-Lion
s; No. 3 --
Stafford's fake spike
Today, we present Play No. 2
When:
Dec. 16, 2013
[+] Enlarge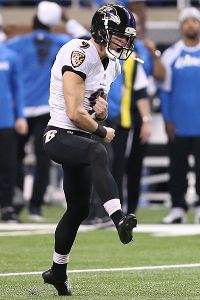 Leon Halip/Getty ImagesThe Ravens' Justin Tucker effectively sunk the Lions' season with his 61-yard field goal on Monday Night Football.
Where:
Ford Field, where the Lions lost to Baltimore, 18-16, on Monday Night Football.
What happened:
It wobbled and hung in the air for what felt like a minute even though it was a few seconds in reality. But
Justin Tucker
's 61-yard field goal gave Baltimore a win on Monday Night Football in a game in which the Lions' offense was impotent for the most part and the defense held Jim Caldwell, now theirnew coach, without a touchdown. The Ravens didn't need it, though, as they made six field goals and won the game.
What they said about it:
Matthew Stafford:
"Off the foot, I thought it was going to be short just because it had so much height. Obviously, they have a lot of confidence in their kicker. He's done a great job for them all year."
Safety Glover Quin:
"[Tucker] made a great kick. He was their whole, I mean, he hit what, six field goals tonight?"
Former head coach Jim Schwartz:
"The only assurance we need is we have two games to play and we're one down in our division. That's the only thing we need to worry about. That's the only thing that we need to concern ourselves with right now. We need to find a way to come back with a win against the Giants, go on the road and beat the Vikings and let the dust settle and see where that takes us."
Tucker:
"I'm glad to come through of course for my reality team but also for all my fantasy owners."
How the Lions' season was impacted:
For the first time in two months, Detroit no longer controlled its playoff fate -- something the Lions had heading into the game. It was another in a string of fourth-quarter collapses for Detroit, although this one had all the implications of sending a season in trouble into disarray. By losing this game, the Lions had to win out in order to make the playoffs. Instead, they lost out and Jim Schwartz was fired, opening the position for Caldwell to take this week. Of all the plays that happened this season for Detroit, this one appeared to be the most crushing for its players because of the implications involved and how well the Lions' defense had played for most of the game.
December, 17, 2013
12/17/13
2:45
AM ET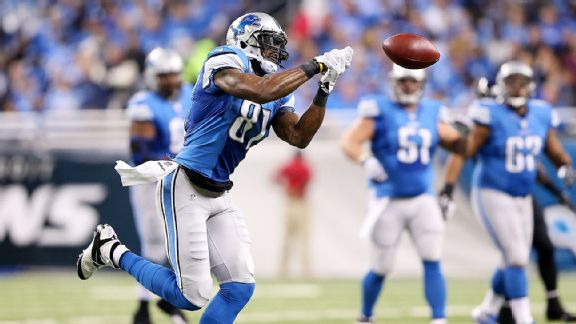 Leon Halip/Getty ImagesTurnovers and drops -- even by Calvin Johnson -- resulted in another late loss for the Lions.
DETROIT -- The mantras seem empty now, feel more hollow than before. All week the
Detroit Lions
talked about more focus, more urgency and how Monday night was supposed to be the start of a final push to the playoffs.
And it might be a push that ended before it really started, a playoff run halted by a combination of the foot of
Baltimore Ravens
kicker
Justin Tucker
and the same follies that plagued the Lions from the moment they started to look like an actual playoff contender.
Monday night, in an
18-16 loss
to Baltimore that pushed the Lions from leading the NFC North to third place in the division, had all the familiar refrains. Too many turnovers. Bad decisions. The inability to finish a game they led in the fourth quarter.
And add, after all that talk, the feeling of a lack of offensive urgency. It was noticeable from high atop Ford Field as Detroit had drive after drive stall. And it was evident from at least one player, too, that the Lions didn't have the necessary urgency to win what was essentially a playoff game.
"Nah, nah, it wasn't," running back
Reggie Bush
said of the urgency being there. "It was pretty evident. When we needed to make plays, we just didn't have it and we got to do a better job. Obviously, turnovers hurt us. I can't really speak for the defensive side of the ball. …
"Third downs, we had some third-down conversions that we should have came up with, that we can do easy, that we could have made easily. We just didn't come up with plays and I don't know."
That -- the lack of urgency from the offense after it was preached so much by offensive players -- might be the most baffling of all. It's the most glaring piece of evidence something isn't working in Detroit right now. All week the Lions talked of making plays. Of knowing what a win would mean or what a loss could do.
They could dream about the win, but the loss is the reality -- a loss that came after Detroit's defense didn't allow a touchdown.
The offense, other than two drives, couldn't do much at all.
Detroit now has four losses in its past five games. It committed three or more turnovers in each loss. The Lions had fourth-quarter leads disappear in all of them, and now they have a head coach, Jim Schwartz, potentially two games from not being the head coach anymore.
"The only assurance we need is we have two games to play and we're one down in our division," Schwartz said. "That's the only thing we need to worry about. That's the only thing that we need to concern ourselves with right now.
"We need to find a way to come back with a win against the Giants, go on the road and beat the Vikings and let the dust settle and see where that takes us."
Right now, that place is not a good one. Even with two wins, they'd need help to win the division.
The Lions said all the things they are supposed to say after a devastating loss -- that they will bounce back and that they will be resilient. Right guard
Larry Warford
said receiver
Nate Burleson
preached many of those things to Detroit after the game.
Except they haven't shown that resiliency -- the kind that won them games in the first half of the season -- since October. Inside the locker room after the game there was no loud music, just players talking in hushed tones about opportunities lost and needing help instead of being able to help themselves.
"Everybody knew," Warford said, "that we let this one slip."
This isn't the first time Detroit has said that. It has been a theme for these Lions since the fake field goal call gone bad against Pittsburgh in Week 11.
Detroit seemed to lose its momentum then, both in the game and the season. When the fake didn't work, the Steelers took control in the game. Since then, the Lions have won just once.
For so long this season the Lions had said this team was different, was a new and invigorated group that would not fall to the same struggling ways of so many previous Detroit teams. But the same problems showed up again. Another fourth-quarter lead lost. Another game with three or more turnovers. Another game with three or more drops.
Another opportunity, perhaps the final one for Detroit this season, squandered.
"Some of the stuff that happened to us was just kind of self-inflicted," quarterback
Matthew Stafford
said.
That, the self-inflicted punishment, the mistakes and errors and lost leads, are what took the Lions from potential playoff contenders to within two weeks of having their season end.
And maybe Schwartz, who is now clearly in a situation where his job may be in jeopardy, was prophetic with all of this. At the midway point of the season, with his team doing well, he said over and over that the second half of the season would write the story of these Detroit Lions.
So if this was indeed the beginning of the end for Schwartz and for the Lions' playoff chances, the first scene of the final act had drama like Shakespeare and horror like Wes Craven. It had all the heartache of the middle of a romantic comedy disguised in a 61-yard field goal attempt that some of the Detroit players couldn't even bring themselves to watch.
And as Tucker's kick sailed through, as the look on the faces of some of the Lions players turned from celebratory to stunned, for the first time all season this had the feeling of a five-act play that would not have a happy ending.
No, potentially not at all.