Detroit Lions:

Khalil Mack
May, 7, 2014
5/07/14
3:45
PM ET
The board has been put together and in a little over 24 hours, the
Detroit Lions
will be able to see exactly how the NFL draft they have planned for over the past five-plus months will actually shake out.
In explaining his team's draft process Monday, general manager Martin Mayhew said because the Lions are at the No. 10 spot, they have their initial draft board, will remove the quarterbacks and then have their essential Top 10 to work with Thursday evening.
Other than the obvious that Clemson wide receiver
Sammy Watkins
is somewhere on their board, here is one man's guess of what their Top 10 board could look like come Thursday -- pulling quarterbacks off, of course, since the Lions are not searching for one. Remember, this is just a guess. Detroit has not tipped much of anything off as to what their board would look like.

Watkins
1.Sammy Watkins, WR, Clemson:
The Lions have made no secret about their love for the player who caught 101 passes last season and is considered the top receiver in the draft. The Lions brought him in for a visit, brought his teammate,
Martavis Bryant
, in for a visit and also brought in his brother,
Jaylen Watkins
, a defensive back from Florida. They ate with Sammy at his pro day, and Mayhew believes he is a good fit for the organization. The question is whether Detroit could really go and get him as he will be long gone by No. 10.
2.Jadeveon Clowney, DE, South Carolina:
There's no way Clowney is lower than third on any team's draft board, and if he is, that team is likely kidding itself. Clowney is a transcendent talent who is the most physically gifted player in this draft and perhaps in the past four or five drafts. For Detroit to get him, it would likely have to trade all the way up to No. 1, but if he somehow fell to No. 3, then it might be worth it to pursue.
3.Khalil Mack, LB, Buffalo:
The second-best defensive player in the draft also fits a position of need for the Lions. While Watkins is often the talk of most trade-up scenarios, it is Mack who could be the player Detroit could end up targeting in that type of scenario. He is an instant playmaker who is a three-down linebacker and would give the linebacking corps an immediate upgrade in talent and depth.
Evans
4.Mike Evans, WR, Texas A&M:
Many of the other rumors surrounding Detroit involve a lesser trade-up scenario for Evans, who was Johnny Manziel's main target with the Aggies. The Lions would likely only have to go up to No. 7 to grab him, so it would cost less in return than Watkins. Lining him up with
Calvin Johnson
and
Golden Tate
would give the Lions one of the scarier passing games in the NFC.
5.Greg Robinson, OT, Auburn:
He is the top tackle in the draft and almost certainly not going to be available for Detroit. If he somehow slipped to the Lions, they would find a way to make it work on the line, most likely moving 2013 left tackle
Riley Reiff
inside to guard.
6.Jake Matthews, OT, Texas A&M:
Matthews could be available, in theory, depending on how the top of the draft goes, what trades are made and the number of quarterbacks selected. He or
Taylor Lewan
are often considered the highest rated tackles in the draft behind Robinson.

Dennard
7.Darqueze Dennard, CB, Michigan State:
After the top six is where it gets tricky -- and this is likely where the Lions' pick will come from. Dennard lacks the ideal size defensive coordinator Teryl Austin would like in a cornerback, but he could be the best cover corner in the draft and likely will be the first cornerback off the board Thursday night. Part of why I didn't consider him in the NFL Nation mock is he wasn't available as Minnesota took him at No. 9.
8.Ha Ha Clinton-Dix, S, Alabama:
Some will think this is high for Clinton-Dix, who I took in the NFL Nation mock draft Tuesday. Former general manager and ESPN analyst Bill Polian panned the pick and said cornerback was the more glaring need. That is a fair assessment, but safety is also a position of need for the Lions and Clinton-Dix is the best safety at a somewhat thin position compared to the rest of the groups in the draft. As I mentioned Tuesday and Wednesday, I believe the Lions will try to trade down.
Donald
9.Aaron Donald, DT, Pittsburgh:
Not necessarily a position of need for Detroit, but he could very well be the best player available for the Lions at No. 10, and as I mentioned Wednesday, the player I believe the Lions should take at No. 10 if he's available. Drafting Donald would offer Detroit flexibility on the defensive line, and he has experience in both a 3-4 and 4-3 scheme, which can help in Austin's defense as he tries to turn it multiple. Plus, he can learn from
Ndamukong Suh
for a season before potentially stepping into a starting role if Suh or
Nick Fairley
departs Detroit in 2015.
10.Kyle Fuller, CB, Virginia Tech:
There are a lot of interesting connections for Fuller with Detroit. Both of his brothers have played for the Lions at some point in their careers. Vincent Fuller was a cornerback for Detroit in 2011 and
Corey Fuller
was drafted by the Lions last season and is on the roster for 2014. Kyle Fuller has outstanding ball skills, but isn't as strong in coverage as Dennard.
Next six:
Taylor Lewan, OT, Michigan;
Odell Beckham Jr.
, WR, LSU;
Zack Martin
, OT, Notre Dame;
Anthony Barr
, DE/LB, UCLA;
Justin Gilbert
, CB, Oklahoma State;
Eric Ebron
, TE, North Carolina.
May, 7, 2014
5/07/14
10:30
AM ET
We had our first
Detroit Lions chat
Tuesday and there were a ton of questions we couldn't get to, and so many questions about the draft, that I decided to pick out a few more to answer them this morning.
Here are those questions and those answers. We'll be chatting most Tuesdays at noon, at least through the start of the season.
Bob (Detroit): Hi Michael. If the Lions are so high on Evans why not trade up to seven or eight? Seems like they could pull that off with #10 and their 4th rounder.
Bob,
It is certainly a possibility that would happen, although my guess is a third-round pick would end up being involved here instead of a fourth-rounder. Detroit can make this move if it chooses to but as I've mentioned many times before in this space -- and experienced during our live mock draft -- finding a trading partner can sometimes be a difficult task.
If Atlanta, Tampa Bay, Minnesota or Buffalo are not willing to trade with the Lions, the Lions won't be able to move up in that scenario to draft Evans. That's the biggest key here for the Lions, finding someone who will trade with them, not the willingness to make a deal on Detroit's part.
----
Scott (Detroit): If Nick Fairley was offered up in a draft day trade, what do you think the max value is? A second-round pick?
Scott,
This is an interesting question. In our mock draft Tuesday, I offered up Fairley in trades to move up both in the top of the first round and then again to try to move back into the first round from the second round. There weren't really any takers then, and while I believe Fairley has trade value, there are concerns. These are the same worries Detroit has, mostly about his motivation and work ethic. Detroit chose to decline his fifth-year option, so that could also hurt Fairley's trade value because unless a team knows it can sign him to a long-term deal, bringing him in could be a one-year rental. In the NFL, that is not an attractive thing to trade for in the draft.
----
Justin (KY): If the Jags, Rams or Browns gave the Lions their first round pick and a second or third for Stafford, should the Lions do that and draft (Johnny) Manziel?
Justin,
No. Just ... no.
-----
Stephen (Kalamazoo): It seems like every year there is a player who everyone can't believe is still available on day two, or round two before the day split...Any guesses on who it could be in this draft?
Stephen,
I really like this question and other than about 10 guys this season, it could be almost anyone. I know he's been predicted to be falling, but it would not shock me if
Teddy Bridgewater
was still available Friday evening when the second round begins. Otherwise, in this draft, not much would stun me unless a player like
Darqueze Dennard
or
Anthony Barr
or Odell Beckham Jr. fell all the way down. But I don't see that happening -- at least not to the level of the second round.
The good thing for a lot of teams is there is enough depth in this draft that there could be first-round quality players available throughout the second and third rounds as well this season.
----
Dave (WI): With all the OL needy teams behind us, there has to be someone looking to come up, right? Also possible with Titans, Giants, Rams having potential QB needs someone might want to move up. Barr, Donald, Ha Ha? I think a move down is probable.
Dave,
Depending how the draft ends up unfolding, there are likely scenarios where Detroit would want to trade down and definitely the potential for the Lions to do so. This year, though, there is also a good chance the Lions investigate moving up for
Sammy Watkins
,
Mike Evans
,
Khalil Mack
or even
Jadeveon Clowney
.
The issue, as mentioned earlier, is needing a partner to trade. Giving up picks in this draft is going to be tougher to do because of the overall depth of said draft. However, if a player like
Taylor Lewan
is available at No. 10, the Lions should try to use that to encourage someone to move up and trade with them to draft him. If
Aaron Donald
is there at No. 10, the Lions should select him.
----
Steve (Phoenix): Is the second round too high for (Weston) Richburg or (Marcus) Martin? I know the Lions are looking for a center to groom to replace (Dominic) Raiola.
Steve,
Probably not, but the Lions should be searching for a starter with their second-round pick Friday evening. If Richburg, Martin or
Russell Bodine
from North Carolina are there in the third round, that's when I'd personally consider them more heavily. But the Lions need to still find starters and strong depth in this draft. Yes, finding Raiola's eventual replacement is part of this draft strategy after the team lost out on
Phil Costa
in free agency, but the second round might be too much in this draft where the Lions are looking to win now and immediate starters being available.
----
Ben (Charlotte): ESPN mocks from Kiper and McShay have projected Odell Beckham Jr. to the Lions recently, does that surprise you? I don't think Lions writers have mentioned him a ton.
Ben,
I've seen that and Beckham is an extremely good talent. The Lions have bigger needs with quality players available at those positions, so I think that is part of it. Also, drafting a 5-foot-11 receiver at No. 10 is a tough thing for Detroit to really do, especially when the defense has such glaring needs. That said, depending how the board falls, Beckham is definitely a possibility, but not a probability.
May, 6, 2014
5/06/14
4:43
PM ET
The NFL draft is less than a week away, which means soon enough the
Detroit Lions
will have to reveal whether all of their
Sammy Watkins
attention and visits from
Jadeveon Clowney
and
Khalil Mack
had substance or were designed to throw everyone off.
But the draft will be more than just one round for the Lions, who will need to use the three days in May to build depth on a roster that is big on stars but small on those players beyond the big names that can turn the Lions into a playoff team.
Every day up until the first day of the draft, we'll look at a different position grouping and see what Detroit has and what the team could end up looking for during the 2014 draft.
Today continues with the linebackers.
Other previews
Players Lost:
Rocky McIntosh
(free agent)
Players Signed
: None.
Players on the roster:
Stephen Tulloch
;
DeAndre Levy
;
Ashlee Palmer
;
Cory Greenwood
;
Tahir Whitehead
;
Travis Lewis
;
Julian Stanford
;
Jon Morgan
;
Brandon Hepburn
.
Draft priority
: Medium
Potential Rounds:
Any
Players who have visited or the Lions have met with:
Khalil Mack, Buffalo;
Kyle Van Noy
, BYU;
Khairi Fortt
, California (per Detroit Free Press);
Kevin Pierre-Louis
, Boston College (per Detroit Free Press).
Analysis:
This is an intriguing position for the Lions, mostly because they have talent set at two of the three major linebacker spots, but unproven at the third and have very little depth. If this sounds familiar, it was the same situation Detroit was in a season ago.
The Lions made no alterations to the linebackers during the offseason, leaving their best chance for an upgrade to be in this week's draft. Here's the problem: After Mack and, maybe,
C.J. Mosley
, there are not any sure-fire dynamic options at No. 10. There could be some solid picks later on, either if the Lions trade down a few slots or wait until the second round.
But this is a position that needs some addressing, particularly if the Lions want to be more multiple in their fronts, which means they'll at least need a third definite competent linebacker to go with Tulloch and Levy.
It's possible Palmer or Whitehead are able to turn into that consistent player but Palmer didn't see a ton of action last season as Detroit played mostly nickel and Whitehead has been a special teams player thus far.
If one of them can improve enough, then the Lions need to only build depth. But if they don't believe in Palmer or Whitehead, then finding a linebacker could be a top priority for Detroit.
Of all reasonable options, I'd take:
If the Lions stay at No. 10, I would pass on
Anthony Barr
– who is kind of a hybrid defensive end/linebacker -- and wait until the second round to try and get Van Noy out of BYU. He can pass rush and has excellent instincts to get to the ball. He can also cover.
Of course, if the Lions are able to trade up into the top five picks of the draft, I'd go with Mack over Watkins there, as Mack could end up being a defensive stalwart for the next decade for Detroit if that happened. But Van Noy in the second round would be the choice.
Possible targets:
Mack; Barr; Van Noy;
Chris Borland
, Wisconsin;
Jeremiah Attaochu
, Georgia Tech;
Trent Murphy
, Stanford;
Shayne Skov
, Stanford;
Chris Kirksey
, Iowa;
Jordie Tripp
, Montana;
Denicos Allen
, Michigan State.
May, 3, 2014
5/03/14
12:00
PM ET
After weeks and weeks and weeks and months of speculation and determination and breaking down what could and should and might happen, the NFL draft will actually occur starting Thursday.
So this, finally, will be the last mailbag with 2014 pre-draft questions -- although I'm sure there will be a ton of them later on once Detroit has actually made its picks.
So let's get on to it, and remember that the Mailbag is only as good as the questions you do or do not ask. Email
michael.rothstein@espn.com
or Tweet with the hashtag #LionsMailbag to get those questions in.
.
---
Craig from Murietta, Calif. asks via email:
If the lions draft a safety early in the draft, would there be any chance
Glover Quin
would move back to corner? I know corner was his original posistion out of college, but I'm not sure how well he played there.
He's staying at safety, Craig, unless a lot of injuries were to occur. Quin played well back there for Detroit and is the team's best defensive back of the present and the immediate future. The team won't mess around with moving him unless they absolutely had to. There would be a better chance that you'd see Don Carey, currently the third safety and potential nickel along with Bill Bentley, head back to corner and have either James Ihedigbo or the drafted safety as the No. 3 safety if someone went down. Quin's not headed anywhere.


---

Kyle asks via email: Can you shed some light on why the Lions pick 10th in the first round but 13th in the second round? I hope they don't miss out on someone they really like because of this.



Kyle, because the Lions finished with the same record as other teams, their pick moves around by round. They nabbed the No. 10 pick because their strength of schedule was the worst among 7-9 teams. Due to that, the Lions would then get the worst pick of 7-9 teams in the second round, so on and so forth along the way. No conspiracy theory here, that's just how it works.
May, 1, 2014
5/01/14
8:15
AM ET
The Lions, lying in wait for the new year...
We're a little over a week away from the first round of the NFL draft now, so let's take a quick look at who the latest mock drafts have the Detroit Lions taking.
Our analysts, as covered earlier this week,
have split their opinions
between LSU receiver Odell Beckham Jr. and North Carolina tight end Eric Ebron. With the Lions sitting at No. 10 and a lot of uncertainty about some of the picks ahead of them -- or if Detroit will even stay in its current spot -- there isn't much of a consensus on who the Lions might take.
Or even the position they'll look at.
CBS has five different people doing mock drafts -- and the Lions with
three different players at three different positions
in Oklahoma State cornerback Justin Gilbert, Texas A&M wide receiver Mike Evans and Pittsburgh defensive tackle Aaron Donald, who would be my personal selection if the board fell the right way.
Walter Football has the Lions
going with Ebron
at No. 10. SI.com goes in the defensive backfield and has the Lions
taking another Fuller
-- this time Kyle Fuller from Virginia Tech. The guys from Ourlads scouting have the Lions
going with Gilbert
, who was the player most often pegged to the team at the start of all of this three-plus months ago.
NFL.com has four people doing mock drafts and the Lions with four
different players at four different positions
, including Alabama safety Ha Ha Clinton-Dix. While I believe the Lions should take Donald, I've also felt if Sammy Watkins (obviously) and Evans were off the board, they would likely go with Clinton-Dix.
One thing among this uncertainty is positively certain -- this shows Detroit can do just about anything one week from now.
Oh, and if you're really into this, ESPN2 has a mock draft show at 8 ET tonight.
And now, a look at Lions news from around the Interwebs:
April, 22, 2014
4/22/14
4:48
PM ET
Maybe the
Detroit Lions
are just doing their diligence on as many potential draft picks as possible, but Tuesday's visit by former Buffalo outside linebacker
Khalil Mack
should only fuel more speculation that general manager Martin Mayhew might try to move up from No. 10.

Mack
Todd McShay currently projects Mack will go third to the
Jacksonville Jaguars
in
his latest mock draft

, while Mel Kiper Jr. has the
Oakland Raiders
taking Mack at No. 5 in
his latest mock draft

.
Mack is at least the third top prospect to make a pre-draft visit to the Lions. Potential number one overall pick
Jadeveon Clowney
of South Carolina
visited last week
.
This month,
the Liions also hosted
Clemson receiver
Sammy Watkins
, projected by Kiper Jr. to go third to the Jaguars and by McShay to go fifth to Oakland.
In reporting on the visit,
the Lions' team website
quoted Mack as saying it would be fun to play in a defense like Detroit's.
"Just talking to coaches you can't help but get excited," Mack told DetroitLions.com. "Just being able to be mentioned with and play with a guy like
[Ndamukong] Suh
and
[Nick] Fairley
and all those guys inside.
"Knowing all those guys they have around them in
[DeAndre] Levy
.
[Ziggy] Ansah
is a new addition to the madness coming off the edge. Somebody has to get single blocked, and that's fun."
April, 5, 2014
4/05/14
11:00
AM ET
A month from now, the
Detroit Lions
will have some new players on their roster and between now and then, there will be a lot of debate as to who the team will take.
Or what side of the ball they will focus on.
Will they go wide receiver? Secondary? Linebacker? One of the lines?
This is discussed in this week's Lions Mailbag, filled with your questions. Remember, the Mailbag is only as good as the questions you ask. On Twitter, use #LionsMailbag as the hashtag to ask. Through email, send questions to michael.rothstein@espn.com.
Now, on to your questions.
March, 20, 2014
3/20/14
12:00
PM ET
DETROIT – Over the past week, the
Detroit Lions
draft needs have changed a little bit.
The team brought in
Golden Tate
to be the No. 2 receiver and re-signed
Brandon Pettigrew
as the team's tight end. While the signings don't mean those needs have evaporated for Detroit – the Lions need receivers still and could use a stretch-the-field tight end – it made both of those spots less important to draft in the first round.
It also gives Detroit some flexibility, as does not have to draft a quarterback.
The Lions would potentially consider trading up in May's draft or dropping back from the No. 10 slot in the first round. Team president Tom Lewand and general manager
Martin Mayhew
recognize that every option needs to be available
.
"It always sounds good on paper to trade up or trade back. The old adage is it takes two to tango and sometimes opportunities present themselves for trades on draft day or outside of draft day and sometimes they don't," Lewand said Monday night at the MGM Grand in Detroit. "Our position is we always have to be ready to improve our team in whatever way is possible.
"Sometimes we search those things out and they don't materialize and sometimes they are presented to us and we take advantage of them. We have to be ready, no matter what the opportunity is, if there's a chance to improve the defense by trading up or trading back, we'll look at that and if it makes sense, we'll do it."
May's draft offers some intriguing opportunities there. But who would be worth the Lions making a move from No. 10 -- either up or back -- for? That depends somewhat on how the draft falls and somewhat how the Lions final board ends up being set up.
This also focuses mostly on defense.
WORTH MOVING UP:
Sammy Watkins, WR, Clemson:
Watkins is the top receiver in the draft and the only offensive player that would be worth making a move higher into the Top 10 for, although even then, it would be questionable how much Detroit should be willing to give up for him. Watkins is a special talent, but having grabbed Tate in free agency, that alleviated receiver from being the No. 1 need. But if Watkins ends up still on the board at No. 8, it might be worth exploring jumping over Buffalo to ensure Detroit grabs him.
Jadeveon Clowney, DE, South Carolina:
Just putting him here in case the inexplicable happens and he drops beyond the third or fourth pick. If he does, the Lions should trade whatever possible to go and select him. But it would be very, very, very unlikely to happen.
Khalil Mack, LB, Buffalo:
Mack may be the best non-Clowney defensive prospect in the draft and for a little while, it appeared he might end up falling to No. 10. If he did, Mack would almost be a no-brainer selection for Detroit as long as Watkins was no longer available. If Detroit determines Mack is the best player in the draft, it could be worth investigating a move higher for a linebacker that could end up being an All-Pro.
STAY PUT IF THIS PLAYER IS HERE:
[+] Enlarge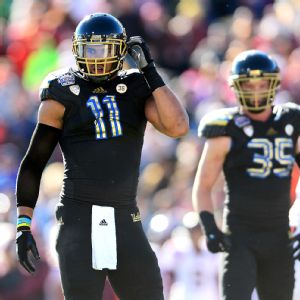 Andrew Weber/USA TODAY SportsThe Lions should address their needs on defense by taking linebacker Anthony Barr in the first round.
Anthony Barr, LB, UCLA:
The Lions are clearly intrigued by Barr, who has extreme athleticism and could improve a good but not great linebacker group immediately. Mayhew was out at his Pro Day to watch him perform. His speed/size/frame combination makes him extremely intriguing.
Mike Evans, WR, Texas A&M/Eric Ebron, TE, North Carolina:
They are both options for Detroit at this spot, but both positions are deep in this draft and are no longer massively pressing needs due to the signings at the top. But if Mayhew and Lewand wanted to go offense, these would be two likely targets.
IF THIS IS THE TARGET, TRADE DOWN AND TAKE A CHANCE:
There are teams below Detroit with needs and other than the defensive backfield, there is not a major pressing need for the Lions in the first round. So the Lions could make a smart play depending who is available and who is interested and try to trade down to stockpile picks in a deep draft. These four potential targets could merit a trade down.
Ha Ha Clinton-Dix, S, Alabama:
He has already come in for a visit with the Lions and is one of the top safeties in the draft. He is rated as the No. 16 overall player and has long, rangy arms. He'll almost definitely be available at No. 10, but if the Lions covet him, they could probably drop down a few places and still nab him.
Calvin Pryor, S, Louisville:
Similar situation to Clinton-Dix. He's a little bit shorter than his Alabama counterpart at 5-foot-11, but he was listed as 6-foot-2 in college. He's rated one spot ahead of Clinton-Dix as the No. 15 overall player and should be available at No. 10, too. For either safety, Detroit could probably trade down as low as No. 14 or No. 15 and still be able to take either player.
Justin Gilbert, CB, Oklahoma State/Darqueze Dennard, CB, Michigan State:
The top two cornerbacks in the draft are both of first round value and should almost definitely be available when Detroit is picking. If the team decides corner is the area they want to go in the first round, they could drop a couple of places and select one of these players.
IF PICKING TODAY, I'D TAKE:
Barr.
Offense may be sexy, but the Lions need to focus on and improve their defense from back to front. They have two strong running backs, two dynamic wide receivers and can add in the draft. But to find an impact starter in the first round, Detroit would benefit from going defense with its first pick and Barr could be the best available. (Dave Birkett of the Detroit Free Press
agreed with this
earlier this week)
March, 1, 2014
3/01/14
12:00
PM ET
Free agency comes in less than two weeks. So do many pro days for teams, including Michigan and Michigan State about 10 days from now. And the new league year is about to begin.
So, too, comes another week of the Lions Mailbag. Remember, the Mailbag is only as sharp as the questions you ask. To submit a question, either tweet a question with #LionsMailbag as a hashtag or email
michael.rothstein@espn.com
. Please include first name and hometown if you choose that option.
The Mailbags will run Saturdays throughout the offseason.
Now, on to your questions.
January, 10, 2014
1/10/14
8:00
AM ET
Good Morning and ROOOAARRRR!!!!!
While a lot of the attention around the
Detroit Lions
in this space has been about the coaching search -- and rightfully so -- we've also tried to mix in some of the beginnings of what the team will look for in May's NFL draft.
And colleague Kevin Weidl, a former scout with the Jets,
broke down the draft needs of the NFC North recently

, including the Lions. Weidl agrees with what I've written before. The Lions need help at wide receiver, cornerback and weakside linebacker -- although in my opinion the linebacker situation could be dictated by the defensive scheme of the new coach.
Weidl's concern -- and it is a valid one -- is that as of now there are no surefire elite cornerbacks in this draft. The closest would be Justin Gilbert from Oklahoma State, as I
wrote about the other day
. Darqueze Dennard from Michigan State has the chance to be a riser as well, but isn't there yet.
Weidl also says if Sammy Watkins, the receiver from Clemson, is available at No. 10, Martin Mayhew should take a strong look at selecting him. Agreed here.
Whether he is there or not is the issue. Todd McShay has Watkins at
No. 4 on his latest

Top 32 and has USC'S Marqise Lee at No. 9 and Gilbert at No. 10. Also, he has linebackers Khalil Mack from Buffalo and C.J. Mosley from Alabama (not the
C.J. Mosley
who is a defensive lineman already on the Lions) as in his Top 10. Considering the quarterback needs at the top of the draft, at least one of those players should fall to the Lions.
For what it's worth, if the Lions end up with the linebacker Mosley, writers and editors everywhere will have to figure out a Mosley system for notation in stories after first references.
Meanwhile, Mel Kiper Jr.
moved Watkins up to No. 6 on his Big Board

with Lee at No. 14 and Mike Evans from Texas A&M at No. 15. Gilbert is No. 16 and Dennard is No. 19.
Those are the names to watch for now, but that will surely change over the next four months until the draft.
And now a search around the Interwebs for Lions news: