Detroit Lions:

Kris Kocurek
September, 21, 2014
9/21/14
7:45
PM ET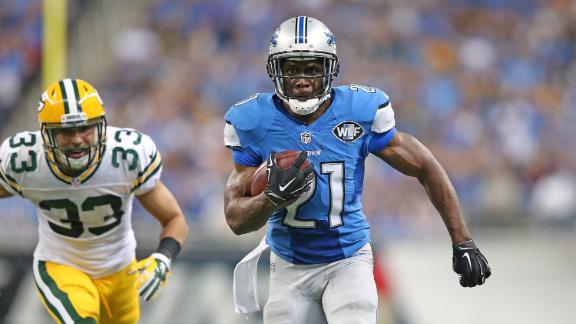 DETROIT -- Each Saturday in the
Detroit Lions
' defensive line meeting, coaches Jim Washburn and Kris Kocurek handed out a link to a chain.
There are, defensive tackle
Nick Fairley
said, 10 chain links. Each of the Lions' 10 linemen then talks about what he will do the next day. After the exercise, the chain is put together. The next day it comes out onto the field with the Lions before the game.
If you're looking for a strong link for this Detroit team, it resides with the defensive line. Injuries have decimated the secondary -- they played their fourth, fifth and sixth slot cornerbacks of the season Sunday -- and middle linebacker
Stephen Tulloch
missed most of the game with a knee injury.
Yet the Detroit defensive line shut down Green Bay's run and flustered Packers quarterback
Aaron Rodgers
throughout the Lions' 19-7 win. It's a win where the defense actually outscored the Packers' offense, 8-7.
That started with the defensive line.
"Every time in the defensive line room, man, our main thing is staying on gap and staying fundamental," Fairley said. "They are not going to be able to run the ball if we're able to do that. If we don't shoot ourselves in the foot, we're going to be able to stop the run ... nine times out of 10, that's what we're going to be able to do the whole year."
Through three games, Detroit has managed it well. The Lions entered the game with the stiffest run defense in the league, allowing 2.5 yards a carry. Gap integrity remained intact Sunday as the Lions allowed 3.5 yards a carry and picked up a safety on a run.
The first Detroit touchdown came off a Green Bay run, too.
Eddie Lacy
got the ball on the Packers' second offensive play. Fairley moved into the gap between the Green Bay center and left guard. Lacy bounced to the 'B' gap between the guard and tackle. Fairley was stuck, but he was able to 'just put my arm out and was able to get my hands on the ball."
Lacy's fumble led to a
Don Carey
touchdown and started a day for the Detroit defensive line that saw it produce three tackles for losses, two quarterback hits and the Fairley forced fumble. The line also helped put enough pressure on Rodgers to produce a career-worst performance against the Lions.
Detroit rushed its front four on 25 of Rodgers' 29 dropbacks, according to ESPN Stats and Information. Against that pressure, Rodgers completed just 58.3 percent of his passes for only 5.8 yards an attempt. That was possible because Detroit shut off the run.
"The plan was, basically, keep Aaron in the pocket, stop the run, and at least on the pass get in his face," defensive end
Jason Jones
said. "Make him uncomfortable back there."
Detroit gambled in trusting its front four. The Lions played both safeties high -- something Rodgers noticed quickly -- throughout the game. Rodgers said Green Bay never adjusted and did what Detroit wanted.
"We really took it as a challenge, playing two high safeties against them," Lions linebacker
DeAndre Levy
said. "You kind of have to with how good a quarterback he is and how great of receivers he has. I think it's kind of a risk-reward thing.
"You take the risk of maybe not being as tight in the run, but you'd rather Lacy have the ball than Aaron Rodgers. Not to knock Lacy, he's a great running back, too, but we kind of put it on ourselves and stepped to the challenge."
January, 17, 2014
1/17/14
1:17
PM ET
Two days after officially coming on board as the
Detroit Lions
head coach, Jim Caldwell already has a majority of his staff in place -- including one of his coordinators.

Teryl Austin, who had been the Baltimore secondary coach the past three seasons, will get his first shot at being a defensive coordinator in the NFL. He was Florida's defensive coordinator in 2010.
"He's a guy, obviously, that is extremely bright," Caldwell told WDFN in Detroit on Friday morning. "He's a guy that has, without question, has a great balance in terms of overall experience. Energetic and really has an outstanding feel for defensive football. Outstanding communicator as well."
Here's a look at what
Austin has done in the past and what his defense could look like
.
Caldwell also has some of the other staff ready to go.
Bill Sheridan, who was Tampa Bay's defensive coordinator in 2012 and 2013, has been hired as the team's linebackers coach. Sheridan is a Detroit native who spent time on both the Michigan and Michigan State staffs in the past coaching linebackers. He also coached linebackers at Miami from 2010 to 2011.
So far those are the only two new coaches Caldwell has brought in, although he has chosen to retain a lot of members of the staff.
Offensive line coach Jeremiah Washburn will return, along with assistant offensive line coach Terry Heffernan. Tight ends coach Bobby Johnson is also back, but Dave Birkett from the Detroit Free Press is reporting it is as an offensive line assistant.
Jim Washburn (assistant defensive line),
Kris Kocurek
(defensive line) and Curtis Modkins (running backs) were also retained, although it is not clear if all will remain in their same roles.
As reported Thursday, special teams coach John Bonamego will also return.
This means defensive coordinator Gunther Cunningham, linebackers coach Matt Burke and secondary coach
Marcus Robertson
were also not being brought back. Offensive coordinator Scott Linehan, wide receivers coach Tim Lappano, assistant wide receivers coach Kyle Valero and quarterbacks coach Todd Downing were previously announced as not retained.
The biggest holes left to fill for Caldwell now are offensive coordinator, wide receivers coach and defensive backs coach, although Austin has extensive experience coaching the secondary.
Here's a look at the coaching staff chart (with obvious flexibility for staff movement):
Head coach --
Jim Caldwell
Offensive coordinator --
TBD
Defensive coordinator --
Teryl Austin
Quarterbacks --
TBD
Running backs --
Curtis Modkins
Wide Receivers --
TBD
Tight ends --
TBD
Offensive line --
Jeremiah Washburn (asst. Bobby Johnson or Terry Heffernan)
Defensive line --
Kris Kocurek (asst. Jim Washburn)
Linebackers --
Bill Sheridan
Secondary --
TBD
Special Teams --
John Bonamego
January, 15, 2014
1/15/14
12:05
PM ET
Jim Caldwell is the new
Detroit Lions
coach, and though there has been a lot of consternation about the hire, the Lions will succeed or fail based upon his decisions and his ability to develop players, notably quarterback
Matthew Stafford
.
Caldwell will meet with the media for the first time Wednesday, and based on what I've heard and been told about his interview on Jan. 3, he has a detailed plan for how he is going to fix both the Lions and Stafford.
Those are his two most important tasks as Detroit's head coach. If he is unable to do that, he'll join the line of Marty Mornhinweg, Steve Mariucci, Rod Marinelli and Jim Schwartz as coaches who couldn't quite reach the level the team wanted.
[+] Enlarge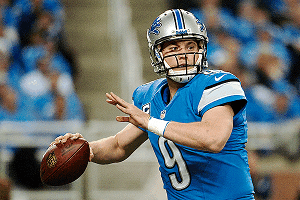 Tim Fuller/USA TODAY SportsDeveloping Matthew Stafford is one of the most important tasks facing new Lions coach Jim Caldwell.
If he can succeed, he'll have a chance to do something only one coach in the Super Bowl era, Wayne Fontes, has even come close to doing with the Lions: turn the team into a consistent winner.
Here's a look at five things Caldwell will have to do early in his tenure with the Lions.
1. Hire a competent staff:
He could have some names as early as his introductory news conference, but Teryl Austin is a name I've been told multiple times as a likely defensive coordinator. Bill Lazor was a name for offensive coordinator, but h has been hired by Miami. If Caldwell doesn't put together a strong staff, that will be an issue early on. Former Ohio State coach Jim Tressel also could end up on Caldwell's staff.
2. Make smart decisions about free agents with GM Martin Mayhew:
Dominic Raiola
and
Brandon Pettigrew
are two of the bigger free agents for the Lions. Raiola is a strong presence in the locker room, and it might be smart to bring him back for continuity on an offensive line that was one of the best in the league last season. Pettigrew could be interesting. He is an important cog, as was
Dallas Clark
, Caldwell's tight end in Indianapolis and with the Ravens this season. Of course, Clark is also a free agent, so Caldwell might push to get him to Detroit.
3. Matthew Stafford:
Part of the reason Caldwell was hired was to work with Stafford, with whom the coach met on his interview. Stafford, according to receiver
Kris Durham
, seemed to like Caldwell. That relationship will be critical to any success Caldwell has in Detroit. He believes he has a plan to fix Stafford -- both
Joe Flacco
and
Peyton Manning
are high on Caldwell's ability to help quarterbacks -- and the coach will have to be able to implement that plan as soon as possible.
4. Keep at least two current assistants:
This goes with the first point. John Bonamego did a really good job with special teams almost all season, including finding strong gunners in
Don Carey
and
Jeremy Ross
. Jeremiah Washburn turned an offensive line with two rookies on the right side into one of the top groups in the NFL, and players seemed to really like him. Jim Washburn and Kris Kocurek did a good job with the defensive line, and Matt Burke was strong with the linebackers. Consider at least some of them to keep some continuity.
5. Get out in the community:
This might sound silly, but Caldwell is not a popular hire with the Detroit fan base. By all accounts, he is a good, well-intentioned man, so by doing a lot of community outreach early on, he could turn some people who are currently not pleased about the hire. Of course, the best way to do that is to win games, but getting out in the community would be a strong start.
October, 11, 2013
10/11/13
6:00
PM ET
ALLEN PARK, Mich. -- He needed the experience. He wanted the opportunity. Yet for the first three years of
Willie Young
's career in Detroit, he mostly sat.
Watched. Waited. Understood he had a very specific role in the Lions defense as an end rushing opposing quarterbacks, backing up veterans
Cliff Avril
and
Kyle Vanden Bosch
, the same guys he was learning from every day.
[+] Enlarge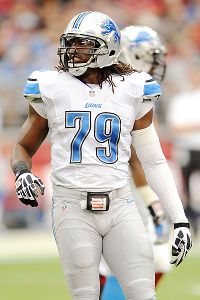 AP Photo/John CordesWillie Young has waited three seasons for his chance to be a regular on Detroit's defensive line.
They taught him how to be a professional. Meanwhile, he had no choice but to bide his time. This, in some ways, was Detroit's plan all along for Young when the Lions drafted him in the seventh round out of North Carolina State in 2010.
They saw a raw pass-rusher with a lot of skills that needed to be funneled into production. It was frustrating, but in some ways necessary for the success he is having now in his first year as a starter for Detroit.
"It's all about growing up," Young said. "All about growing up in this league. You just got to understand your position, understand your role and take advantage of every opportunity you get."
He realizes how few those opportunities were initially. He played seven snaps his rookie season, 238 his second year and 307 his third year. That may sound like a lot, but then consider a third of the way through this season, Young has already played 223 snaps and has come close to matching his production from those other seasons.
He already matched his career-high in solo tackles (nine) and is one tackle away from tying his career-high in total tackles. He has 13 total tackles and only one sack this season, but he has become an integral part of a defensive line that is among the best in the NFL.
This opportunity started at the end of last season. Avril and Vanden Bosch did not return to Detroit, leaving holes on the Lions defensive line.
When Detroit drafted Young, the Lions coaches always envisioned him sliding into a larger role. Now that would happen.
"You've always seen the talent with him," Lions defensive line coach
Kris Kocurek
said. "You always knew Willie was, every time we put him in a game he always seemed to be around the quarterback, affecting the quarterback.
"You hoped as he got more experience under his belt that he would progress to where he is right now. We drafted him four years ago in the seventh round, we weren't drafting a guy we didn't think could play. We knew he had talent. His talent had to develop."
What stood out to coaches initially and even to players now is how fast his first and second steps are. His explosion at the snap is part natural and part cultivated from studying offensive tackles and understanding where blocks are coming from.
When Detroit's veteran defensive ends left and the Lions brought
Israel Idonije
in from Chicago, it was the first thing he noticed.
"He just has a lot of natural ability and a skill set," Idonije said. "His quickness. His speed. Me coming in and watching him, he still has a ceiling he hasn't reached. That's what is exciting to watch about him.
"Just all the ability he has, he really understands that defensive end position and that dance between him and the O-lineman and putting together his personal plan of attack for the week. It's going to be great to watch him for years to come."
With Avril and Vanden Bosch gone, Young said he spends time with Idonije, picking up different tricks and hints the former Chicago Bear has used throughout his career to be successful as Young gets his first chance at a major role.
That goes back to the opportunity, the one Young waited for. The one that left him frustrated at times during his first three years. He always believed he had the ability to play as he is now, he just hadn't received the chance to show it.
Multiple times in a 10-minute conversation, Young referenced being a professional, and learning how to be consistent. This season, combined with those opportunities, he has.
"That's a part of my game, man," Young said. "Always been a part of my game plan. Just, my opportunities, I have opportunities to get quality snaps and you're just now able to see what I'm capable of doing."