Detroit Lions:

LeSean McCoy
May, 29, 2014
May 29
10:35
AM ET
It has been almost 15 seasons now since his abrupt retirement from the NFL, when
Barry Sanders
indicated he had enough of what had been going on with the
Detroit Lions
and chose not to play anymore.
Though there is a complete generation of fans who have seen him play only on grainy highlights from the old, decaying Silverdome, he still remains popular. He beat out
Adrian Peterson
last year to be on the cover of Madden and has become part of
this season's Madden cover vote
.
[+] Enlarge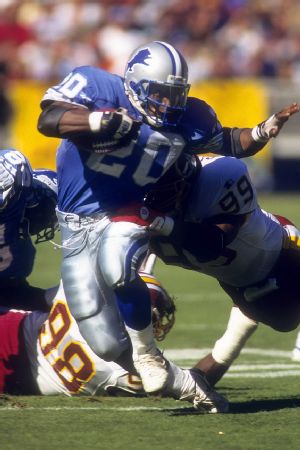 Focus on Sport/Getty ImagesBarry Sanders scored 99 rushing touchdowns and is third on the all-time rushing list.
Considering how well he is still regarded and how familiar his name is to NFL fans young and old, the obvious question is how would the running back do today in an NFL now predicated on shotgun and passing instead of the running focus from when he played.
"I don't know. I think I could adjust," Sanders told ESPN.com this week. "I think I would just have to do more things in the passing game and out of the backfield, which I think that can make you more dangerous and you see that with a guy like [LeSean] McCoy and a guy like
Jamaal Charles
. In some cases that can make certain guys more dangerous.
"The two elements really kind of feed off each other and really go hand-in-hand. If you're a dangerous running back and you can catch the ball out of the backfield, I think that makes your running game more dangerous and your passing game more potent as well. If you're one-dimensional, I think it's easier to contain you."
In that list of do-it-all backs, Sanders also mentioned Detroit running back
Reggie Bush
as a player who has taken advantage of the new style of offense and running backs.
Sanders, for his time, was about as multipurpose as it came. Besides his 15,269 yards rushing over 10 seasons, he also caught 352 passes for 2,921 yards. Though he never caught more than 48 passes in a season -- 1995 -- he never had fewer than 24 receptions, either.
If one can imagine his explosiveness and ability in an offense like New Orleans or Philadelphia or what is expected with the Lions this season, he probably would put up similar numbers to what he did in his 10-year career.
So unlike some players from other eras, Sanders would have almost definitely been able to adjust and have his skills fit in with the NFL of today just as well -- if not better -- than they did in the 1990s.
December, 9, 2013
12/09/13
4:30
PM ET
It took three quarters, but Philadelphia finally began going to its zone-read rushes in the fourth quarter on Sunday during the Eagles' 34-20 win against Detroit.
And it changed the game.
Perhaps no play shifted things more than
LeSean McCoy
's 57-yard run in the fourth quarter, a touchdown where Detroit's once-stout run defense fell completely apart, part of a fourth quarter when the Lions couldn't stop anything or any rusher the Eagles used.
[+] Enlarge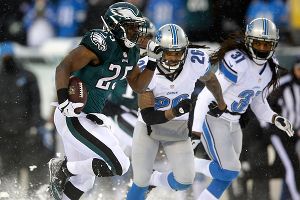 AP Photo/Michael PerezLeSean McCoy ran past Detroit's Louis Delmas, 26, on his way to a 57-yard TD in the fourth quarter.
It was the second big touchdown rush of the game for Philadelphia, and was the last time the Lions had the lead Sunday.
Everything Detroit tried to do on the play essentially failed.
The Eagles lined up in shotgun with 13:24 left in the fourth quarter and the Lions up, 20-14. They had McCoy to the right of quarterback
Nick Foles
and three receivers to the left side, the side McCoy would eventually try to run to.
Detroit had its nickel package on the field, including two defensive backs playing within two yards of the line of scrimmage. Foles snapped the ball and used a zone-read to eventually give the ball to McCoy moving forward behind the left side of his offensive line.
At the time the ball was snapped, the Eagles' offensive line also had a good jump on the Detroit defensive front.
Nick Fairley
was blocked wide to open the hole for McCoy, and he was also blocked into linebacker
DeAndre Levy
, essentially taking him out of the play as well.
This was only the start of Detroit's issues on the play.
"It was just a missed run fit, somebody was in the wrong gap and they split us," Levy said.
This opened up a hole for McCoy, who was already at the second level and almost the third level of the defense. This was what he did much more effectively in the fourth quarter -- he essentially made one cut and then accelerated forward.
Meanwhile, the Lions were struggling with assignments and tackles.
"They lost gap integrity a couple times," Philadelphia center
Jason Kelce
said. "That's when you saw Shady (McCoy) get those big runs."
Once McCoy got past the initial line,
Stephen Tulloch
was slow on his read of the run, taking him out of the play.
Ndamukong Suh
appeared to be held early on the play as well, but he likely wasn't going to be able to get there fast enough to make the play at the line.
What turned this particular run into a touchdown was receiver
Jason Avant
. The veteran was downfield and had Detroit nickel back
Bill Bentley
blocked well. What sealed the touchdown was the angle safety
Louis Delmas
took to the ball.
It appeared Delmas was heading the opposite direction of McCoy anyway, but then Avant blocked Bentley into Delmas, knocking him off track as well. Delmas then tried to catch McCoy, as did
Willie Young
from the back side of the run on the line, but neither could catch him.
"Missed tackles, missed tackles," Delmas said. "You've got to find a way to get the ball on the ground. You've got to grab cloth or pick up a snowball and hit him in the back of the head with it.
"But you've got to find a way and we didn't."
Young actually ended up being the closest player to McCoy when he reached the end zone. Delmas dove for him after the mistake and missed, and
Rashean Mathis
couldn't catch up with him, either.
It was just part of what Detroit coach Jim Schwartz said were 180 yards after missed tackles Sunday. And part of what was a record-setting day from McCoy.
"The guys up front gave me opportunities one-on-one by blowing those guys off the ball," McCoy said about his running game in general. "I think everybody was so intimidated and scared up front, but I thought the big guys on my team took the challenge and stepped up.
"The whole week they talked about just running the ball and giving me different matchups one-on-one. Not only myself, but with the backs that we have, I think in one-on-one opportunities, we're going to win. (Sunday), that's what happened."
December, 9, 2013
12/09/13
12:45
PM ET
ALLEN PARK, Mich. -- The
Detroit Lions
would probably like to forget about a lot of what happened Sunday, from the frigid weather that forced some players to change socks at halftime, to what occurred in the fourth quarter against the Eagles.
It was a complete and utter face-plant for a game Detroit had handled well for the majority of the game. Then
LeSean McCoy
found some creases, the Eagles went back to what works so well for them -- the zone-read -- and the Lions couldn't handle any of it.
It resulted in Philadelphia's 34-20 come-from-behind win against Detroit, a game where the numbers show at least a little bit of what went wrong and how the Eagles shifted in the last quarter.
Some of these numbers came from ESPN Stats & Information. Follow Stats & Information on Twitter
@ESPNStatsInfo
.
0 --
Zone-read rushes attempted by Philadelphia in the first three quarters.
1 -
- Extra points attempted by either team Sunday, a blocked attempt by
David Akers
.
2 --
Special teams touchdown returns for
Jeremy Ross
on Sunday, the first time a Lion has returned a kick and punt return for a touchdown in the same game since 1977.
3 --
Consecutive losses where the Lions have lost a fourth-quarter lead.
4 --
Rushing touchdowns allowed by the Lions on Sunday, all in the fourth quarter. Entering the game, they allowed five all season.
5 --
Targets for
Calvin Johnson
on Sunday, the fewest in a game for him since Week 14 of the 2011 season.
7 --
Fumbles by the Lions on Sunday. They lost three.
13 --
Missed tackles by the Lions on Sunday, according to Pro Football Focus.
17 --
Zone read rushes by the Eagles in the fourth quarter, resulting in 204 rushing yards.
28 --
Fourth quarter points scored by Philadelphia.
40 --
Matthew Stafford
's completion percentage Sunday, the lowest of his career.
148 --
passing yards for Stafford, his fewest yards since Week 1 of 2010. It was the third fewest yards Stafford has thrown for in a game in his career.
217 --
Rushing yards for McCoy on Sunday, the fourth time since 1960 a running back has gained 200 yards on the Lions, joining Michael Turner (2008), Barry Word (1990) and O.J. Simpson (1976).
228 --
Offensive yards for the Lions on Sunday.
243 --
Return yards for Ross on Sunday.
69,144 --
Paid attendance in the snow in Philadelphia.
December, 9, 2013
12/09/13
8:00
AM ET
PHILADELPHIA -- Four hot issues from the
Detroit Lions
' 34-20
loss
to the
Philadelphia Eagles
.
Fourth-quarter follies:
This is Detroit's third straight loss in which it had a lead in the fourth quarter, and while Sunday could be viewed as more of an aberration due to the weather conditions, the way the Lions have lost these games is certainly a cause for concern. Two of those losses -- at Pittsburgh and at Philadelphia -- ended up being by double digits. Against Pittsburgh, three of the Steelers' last four drives ended in points -- a field goal in the third quarter and two touchdowns in the fourth quarter.
On Sunday in Philadelphia, the Eagles scored touchdowns on five of their final six drives and could have scored on the game's final drive except they chose to run the clock out instead. Considering how close most playoff games are and how little room for mistakes Detroit has to even make the playoffs, this is a big concern.
[+] Enlarge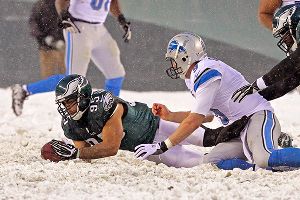 Elsa/Getty ImagesThe Lions lost three fumbles and the turnover battle to the Eagles, 3-1.
Turnovers:
Again, this game is probably an anomaly for judging statistics, but with three turnovers Sunday -- all of them fumbles -- the Lions now have three or more turnovers in four straight games and five of their past six. It isn't a coincidence Detroit has struggled in these games, now losing three of their last four. The Lions haven't won the turnover margin -- a statistic that most consider a good barometer of team success -- since Week 6 against Cleveland.
Jeremy Ross:
The Lions made some good free-agent signings during the offseason, including starting running back
Reggie Bush
and starting cornerback
Rashean Mathis
. Returner Jeremy Ross is making Detroit look very good again as an in-season signing. The Lions picked him up after division rival Green Bay discarded him, and he has been an impact special teams player. He had two returns for touchdowns Sunday (one kick, one punt) but has consistently been giving the Lions good field position since he won the job from
Micheal Spurlock
. The job is his for the immediate future, too, since Detroit released Spurlock on Saturday to make room for cornerback
Chris Greenwood
.
Run defense issues:
There is a bit of a skewed look here because of the weather, but
LeSean McCoy
shredded Detroit in the second half and that he was able to do it in a game in which few players were able to get any true footing is a concern. The best the Lions can do, especially defensively, is wash away this game because they can't let this loss linger from a run-defense perspective. Detroit has been good against the run all season, particularly with how the defensive line has played to open up lanes for linebackers
DeAndre Levy
and
Stephen Tulloch
, but they need to remember how they played for the past two months instead of just on Sunday.
December, 8, 2013
12/08/13
4:13
PM ET
PHILADELPHIA -- A few thoughts on the
Detroit Lions
'
34-20 loss
to the
Philadelphia Eagles
.

What it means:
What a complete collapse by the Lions. They held Philadelphia to essentially nothing in the first half: no points and fewer than 100 yards in a mess of a snowstorm. But then the snow subsided, and so did the Lions' control of the game. Philadelphia scored 34 points in the second half and ended up with 299 yards rushing for the game -- literally running right past Detroit in the second half. The Lions, who had one of the top run defenses in the league entering the game, allowed 6.5 yards per carry after giving up fewer than 2 yards a carry in each of their past four games. They hadn't allowed a rushing touchdown since September and only five the entire season. They gave up four Sunday.
It was yet another second-half mess, the third time in four games Detroit has surrendered a lead in the fourth quarter. Now it has three games to try to hold on to the NFC North lead and a playoff berth.
Stock watch:
Rising:
Jeremy Ross
. The returner had a career day with 172 kick-return yards and 71 punt-return yards, two touchdowns and more total yards -- 243 -- than the Lions' offense did. Falling: Detroit's run defense. The Lions had been stout up the middle and contained running back after running back. Not Sunday.
LeSean McCoy
had a career-high 217 yards and rushed for two touchdowns, completely embarrassing the Lions. Meanwhile, fumbles. The Lions had seven of them and lost three -- two from
Joique Bell
, who scored Detroit's only offensive touchdown, and one from
Matthew Stafford
.
Ross has a career day:
Two weeks ago, Ross started to claim the punt- and kick-returner gig as his own. He might not let go of it for a while now. Ross returned a punt 58 yards for a touchdown and a kick 98 yards for a touchdown -- the first time a kick and punt return for a touchdown happened in the same game for the Lions since Dec. 17, 1977, when Eddie Payton, the brother of Walter Payton, accomplished the feat.
What's next:
The Lions have two straight home games -- two critical home games -- first on Dec. 16 against the
Baltimore Ravens
, then against the
New York Giants
the next week.
December, 6, 2013
12/06/13
3:55
PM ET
ALLEN PARK, Mich. -- The plays look fairly similar, but the innovation in Chip Kelly's offense with Philadelphia comes not necessarily through what those plays are designed to do, but through two other things.
The difference is the pacing and tempo, the speed at which the Eagles run their plays compared to most of the other teams in the NFL.
This is where Kelly is hoping to have that advantage in Philadelphia, why his Eagles are 7-5 and in a tight NFC East race with Dallas. It's not the plays, see, it's everything that happens once the ball is actually snapped.
[+] Enlarge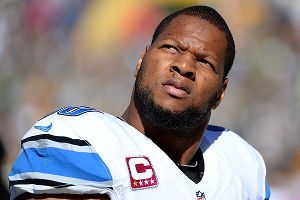 Harry How/Getty ImagesNdamukong Suh and the Lions' defensive line is preparing to play at a faster pace against the Philadelphia Eagles' up-tempo attack.
"We don't do anything different than anybody else in the NFL," Kelly said. "Everybody else runs open sets with three receivers on one side and one on the other, and one back sets. That's kind of what everybody else in the league is doing, and what everybody at every level is doing.
"It's nothing revolutionary."
No, it isn't, although not every team in the NFL runs sets and packages like Philadelphia and Kelly.
But the Lions, who will see the Eagles on Sunday, understand the main difference in all of it. It is that speed and how Philadelphia will try to spread out the Lions.
"They spread you out, obviously," safety
Glover Quin
said. "So when you're spread out, you have to do a good job in space. You got to do a good job in tackling. You've got to do a good job covering 1-on-1's, things like that.
"It's going to be a bunch of space, and they are going to spread you out and they have a bunch of options on every play, and so everybody is going to be on top of their game."
To prep for Philadelphia, Detroit defensive coordinator Gunther Cunningham said he went back and watched some film of Oregon along with tape of the Eagles. Kelly, though, said his offense is different now than what he did in college.
There are elements, sure, but his offense is more of a combination of what he ran at Oregon and New Hampshire, along with some of what Pat Shurmur did in Cleveland. There are both elements of college and NFL offenses in the Philadelphia offense, much of which causes them to look a little different.
And one thing Detroit is going to be paying attention to is what happens when the Eagles fake handing the ball off to running back
LeSean McCoy
.
"The primary thing is they fake the run and throw what we call a bubble screen to (
DeSean Jackson
), who is sitting right behind the offensive tackle," Cunningham said. "So he's doing a lot of things like that. [The] issue for the defensive coaches is the work, the preparation work for the game and to let your players know to stay patient, let's do what we do and let's get the ball back for the offense. That's the approach I think teams need to take."
Prepping for Philadelphia is two-fold. First is McCoy. The Eagles' lead back already has 1,088 yards and five touchdowns this season, but has only rushed for more than 100 yards in a game once in the second half of the season -- a 155-yard game against Green Bay in Week 10. In 12 games this season, Philadelphia has run the ball more than it has passed it seven times, passed more four times, and had perfect balance between run and pass once -- last week against Arizona.
Having McCoy able to run the ball has opened things up for quarterback
Nick Foles
, who has 19 touchdown passes and no interceptions this season. Foles has been the key for a more balanced attack in Philadelphia during its four-game winning streak.
"Our whole offense is based on what the defense can give us," Kelly said. "I'll throw it a thousand times a game, I'll run it a thousand times a game. Depends on what the situation is."
Considering Detroit's run defense this season, perhaps expect more pass. The Lions have yet to allow a 100-yard rusher this season. Over the past month, they have not allowed a team to average more than two yards a carry.
Scoring on the ground? Forget it. Detroit hasn't allowed a rushing touchdown since September.
Much of that has to do with Detroit's front four, the group that could be most affected by the pace Philadelphia plays with. So the mantra this week for the Lions has been simple, even as they deal with the Eagles' offense.
Three-and-outs would mean a less tired Detroit defense.
"The quicker they run the plays, the quicker we can get them off the field," Quin said. "The quicker they run, the quicker we get them off the field and get the ball to our offense."